Law enforcement is a broad category. It encompasses a host of degrees applicable to this field. Examples are degrees in criminal justice, criminology, sociology, forensic psychology, crime scene investigation, and many more. This spectrum of degrees affords choices for those aspiring to enter law enforcement in a variety of roles.
Diversity of Jobs
Law Enforcement offers a range of professions. At the metropolitan level, you can be a police officer, probation officer, police dispatcher, detective, or crime scene investigator. At the county and state level, you can be a state trooper, corrections officer, sheriff, or constable.
There are multiple choices at the federal agencies, sometimes referred to as the alphabet agencies. These are the DEA, FBI, ICE (Immigration and Customs Enforcement), CIA, and NCIS (Naval Crime Investigative Services). Also at the federal level are the U.S. Marshals, U.S. Customs and Border Patrol (CBP), and Secret Service.
Range of Education Levels
High School Diploma/GED
Many jobs in law enforcement require only a high school diploma. Earning a high school diploma or GED (General Equivalency Diploma) is the minimum formal education requirement for most police officers. Most applicants need to be a U.S. citizen, have a valid driver's license, and be at least 18 or 21 years old, depending on department policy. Applicants also need a clean criminal record, although some police departments may allow those with criminal records as long as their offenses were minor. Felonies will disqualify someone from this profession.
Associate's Degree
This degree creates will likely create more job opportunities in law enforcement. Other advantages are the shorter time (two years) to complete and cost savings. Many community colleges offer a degree in criminal justice. There are also many online programs to choose from.
The curriculum for an Associate of Science in Criminal Justice introduces you to a broad spectrum of ideas, theories, and information across the many topics and issues related to the criminal justice system. Typical coursework covers the justice model in a systematic way whereby students delve into the juvenile justice system, legal and judicial process, and correctional operations.
Bachelor's Degree
With each step on the degree levels, the curricula expand your knowledge in criminal justice and offer more advanced job opportunities. In a bachelor's program, you will explore the impact of criminal behavior on society; examine how police, courts, corrections, and the U.S. Department of Homeland Security work to prevent and control adult and juvenile crime; and apply insight and analysis from various disciplines to detect, prevent, solve, and prosecute crimes.
For any of the federal agencies, you need the minimum of a bachelor's degree. Most states do not require a bachelor's degree to become a state trooper officer. However, there are also states that require applicants to have at least two years of college experience. To meet that requirement, it may be preferable to have an Associate's degree in criminal justice.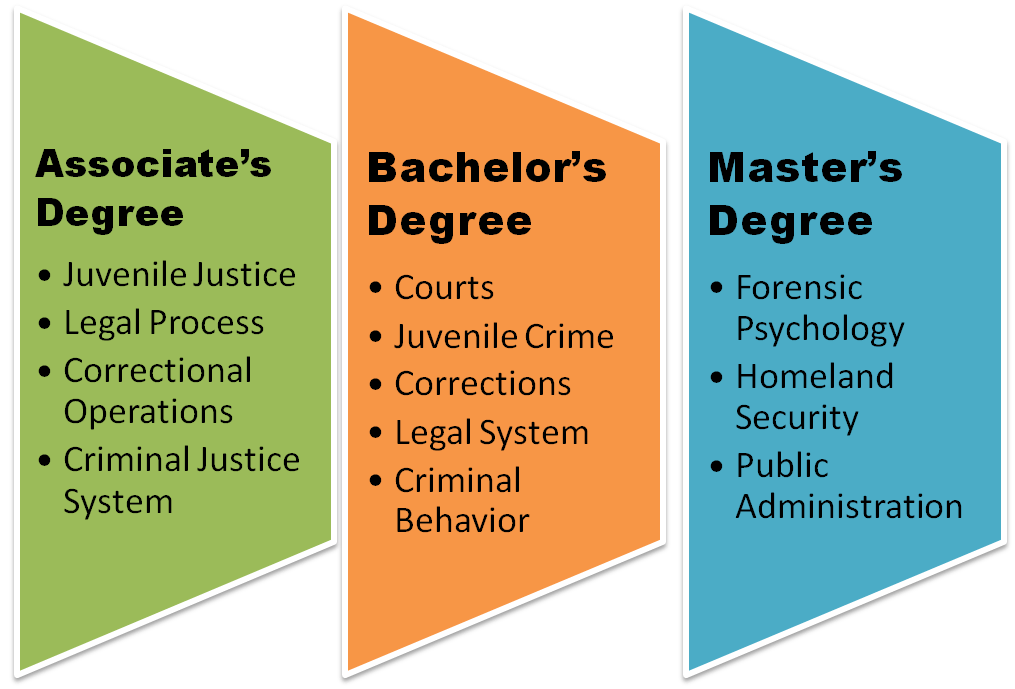 Master's Degree
At the graduate level, there are choices within the respective programs to specialize. This allows you to home in on a particular area of interest in criminal justice. Examples are:
Forensic Psychology:  Trains current and prospective criminal justice professionals in the application of psychological principles and practices to the administration of criminal justice.
Homeland Security: This concentration suits criminal justice professionals seeking leadership roles in the administration and management of homeland security organizations. In addition, you learn the skills to execute homeland security responsibilities at all levels of government.
Public Administration:  Provides present and future leaders in the field of criminal justice in the development and execution of criminal justice policy, and the leadership and management of criminal justice organizations.
Federal agencies covet the master's degree for applicants. For example, the Drug Enforcement Agency (DEA) requires candidates to have at least a four-year degree in criminal justice or a related program such as police science or criminology. Preferably, they will hold a master's degree in criminal justice or criminology.
The FBI requires candidates to have a four-year degree from a college or university accredited by one of the institutional associations recognized by the United States Secretary of Education. However, due to the competitive nature of jobs in the agency, a master's degree will benefit you in lieu of experience.
Compensation
Jobs in law enforcement pay well. Depending on your title, education level, and specific duties, a career with the CBP offers an average salary of $78,450 for Border Patrol Agents and $79,932 for Customers Officers, according to PayScale. Those working in management and program analyst roles earn an average of $102,518.
FBI salaries have an average of $93,839 per year, depending on experience and seniority, according to Indeed.com. Jobs for Special Agent/Investigator listed on the CIA website show a salary range of $74,872-$136,771.
The average salary for police officers, according to the U.S. Bureau of Labor Statistics, is $62,960 as of May 2017. As expected, the metropolitan areas with the highest salaries have the highest cost of living. Examples are Los Angeles ($103,320), Chicago ($79,690), New York ($74,560), and Washington, D.C. ($71,480).