Biology is a hugely important field dealing with everything from the identification of plants, to the study of genetics, to the relationship between the climate and organisms.
Though Aristotle is said to be the "father" of biology, it hasn't been until the last two hundred years that the true importance of the science has emerged. Emerging technologies in the imaging of microscopic life, the ability to analyze and sequence the genome, and an increasingly "explored" world have made biology one of the most all-encompassing natural sciences.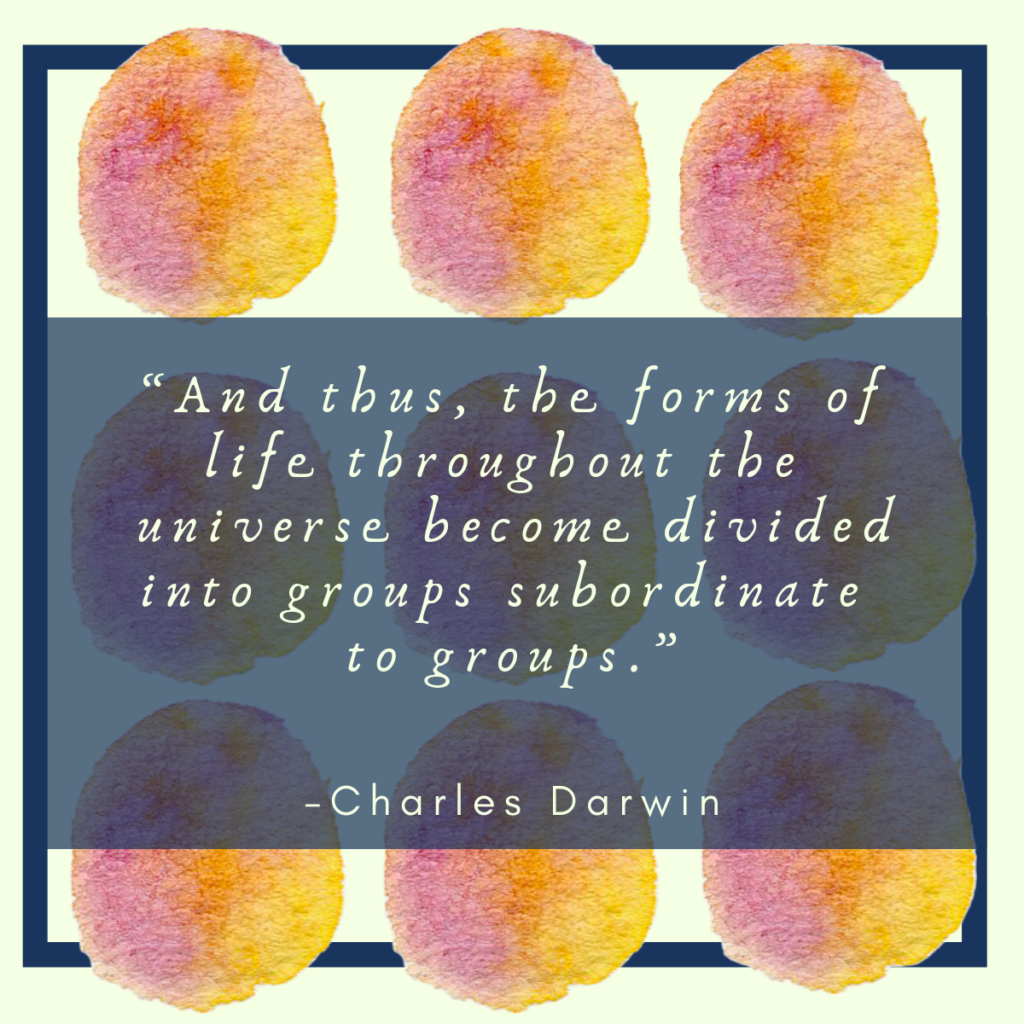 Biology is also a useful degree in that it can be pursued for its own sake or is a great route to prepare you for study in a related field. Many medical doctors, pharmacists, and forensics analysts start as biology majors.
Below we'll jump into exactly what you can do with a degree in biology.
Some of the most common questions we see regarding biology degrees are listed in our biology FAQ section below.
Don't see what you're looking for? Check out our biology degree-centered FAQs below. Also, be sure to scroll down to see the remainder of our guide on what you can do with a biology degree.
What is Biology?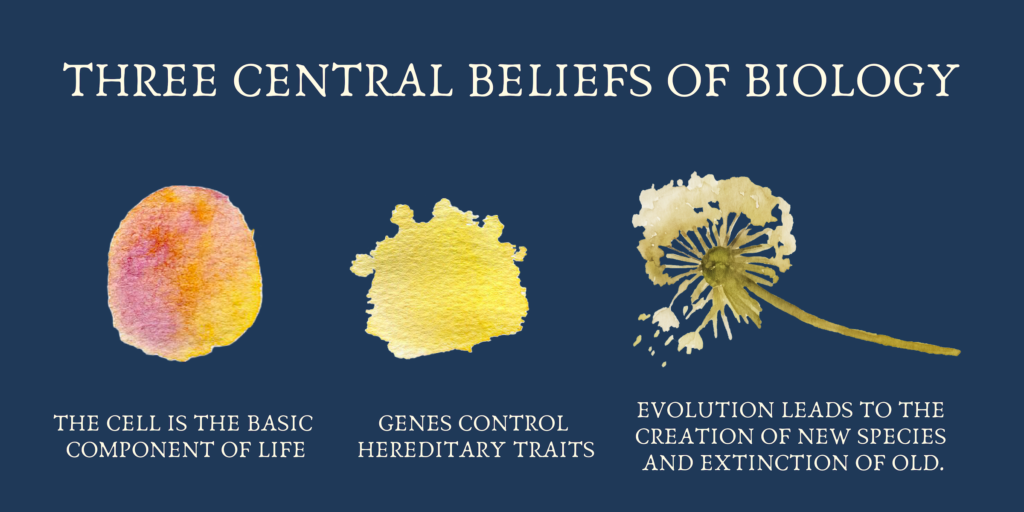 At the most general level, biology derives from the ancient Greek "Bios" (life) and "-ology" (the study of). Where physics takes the atom as the basic component of the world, and chemistry takes chemicals as one lens through which to understand the world, biology takes the cell as the central component of life.
Beyond the cell, biology holds two central notions at the center of its science:
Genes are the basic unit controlling heredity.
And the theory of evolution propels long-term changes in genetics.
The implications of the study of these branches of biology are vast. And with the study of heredity and evolution included in biology, a lens emerges through which to analyze everything from cancer treatments to genetically modified crops. As one may guess, this leads to a wide range of jobs and focus areas among those loosely grouped as biologists.
For the purpose of our discussion of "what you can do with a degree in biology," we'll break up biology into four groups.
In the most general terms, the four main focus areas of biology include:
Structural Biology
Physiological Biology
Evolutionary Biology
And Ecological and Environmental Biology
Structural biology studies the structural components of living things. This leads to sub-disciplines in structural biology including a focus on molecular interactions within living beings, on cellular interactions in living beings, in the anatomy of living beings, the genetic makeup of living beings, and the study of how living beings grow and change.
Experts are needed in each of these sub-disciplines and include the likes of geneticists, experts of anatomy, molecular biologists, and cell biologists.
Physiological biology focuses on studying the function of systems within living things. Generally, this field is divided into plant physiology and animal physiology, though there is a great deal of overlap.
Physiological biology is concerned with systems as a whole and may study the role of the circulatory, nervous, or immune systems (among others). This makes physiological biology central to a number of medical disciplines. Most notably, physiological biology shares a great deal of overlap with neurology and immunology.
Physiological biologists work in a range of settings including pharmaceutical research, biotechnology, plant science, and agriculture.
Evolutionary biology focuses on classifying the emergence and extinction of species over time, including what species evolved from others and when. Due to in-depth focus on classifying individual types of living organisms into a taxonomy, evolutionary biology relies heavily on scientists of individual types of organisms. These scientists include botanists, mammalogists, ornithologists, herpetologists, among others.
Evolutionary biologists inform other branches of biology as to connections and diversity between different forms of life. This is important in practical applications including agriculture and medicine.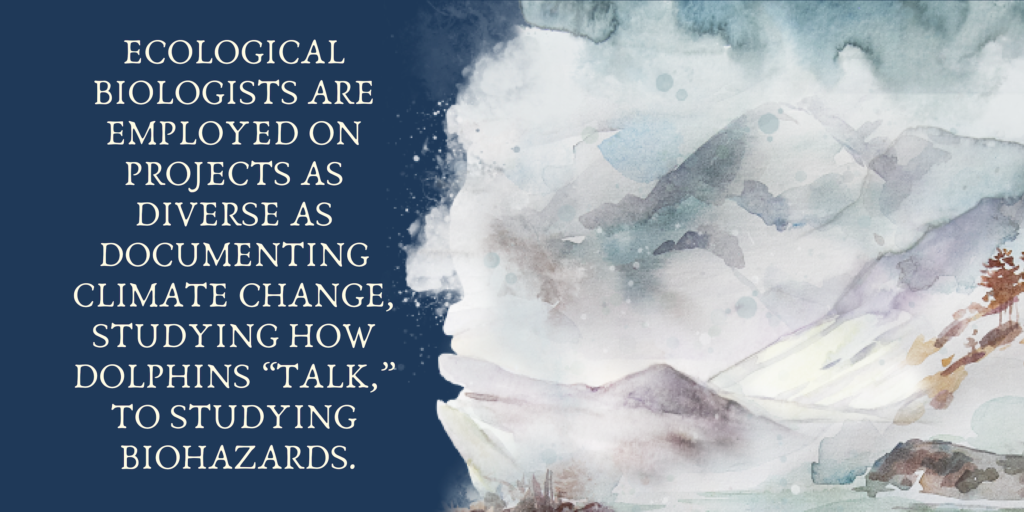 Ecological and environmental biology focuses on systems of living organisms within an environment. The study of the distribution of organisms of a given type, as well as their abundance, is crucial to tracking sustainability, and the population of certain diseases, viruses, and microbes.
Two fields closely intertwined with ecological and environmental biology include ethology — the study of animal behavior — and Biogeography, the study of the spatial distribution of living organisms.
Now that we've covered — in broad strokes — many of the types of work that biologists employ themselves with, let's take a look at the range of degrees that can help you to work in biology.
What Biology Degrees are Available?
The most straightforward way to get into biology is to pursue a degree in biology (of course!). Biology degrees are available at the associate's through doctoral levels.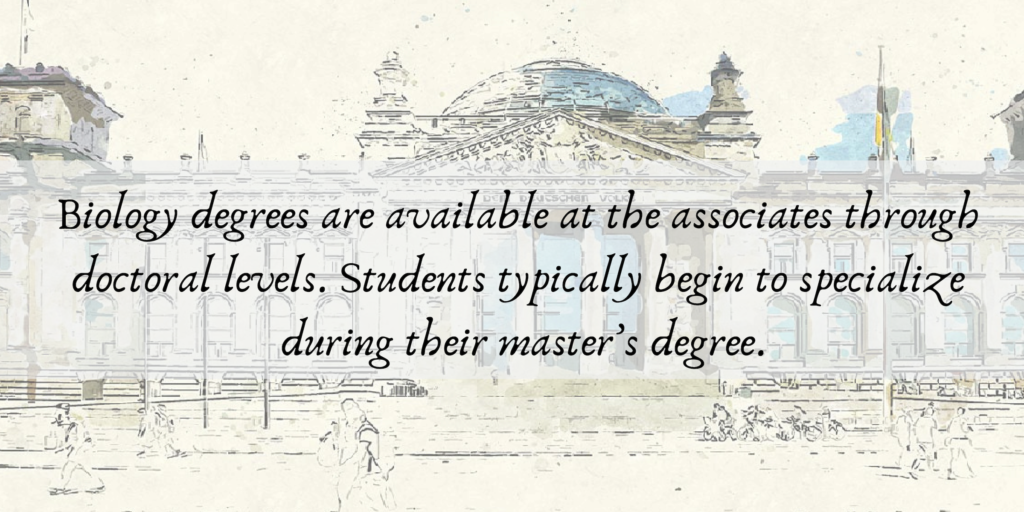 While associates and bachelors degrees in biology just cover general foundational knowledge, graduate degrees in biology can be quite specialized.
Associates degrees in biology require 60 credit hours and around 2 years to finish (on a full-time schedule). Some common courses within biology in this level of degree may include:
General Biology
General Chemistry
Organic Chemistry for Science Majors
Pre-Calculus
Calculus
Statistics
Human Anatomy
Human Physiology
General Microbiology
Cultural Anthropology
Introduction to Sociology
Associates degrees can prepare students for technician jobs in labs, medical settings, or out in the field. Additionally, many students opt to finish their first two years of undergraduate study in a community college level and then transfer to a four-year school. This can save a good deal of money, as community colleges are generally much more affordable than full-fledged universities. Some community colleges are even free in select states and metro community college districts.
A bachelor's in biology is likely the most popular of biology degrees. This is in part because it is a great preparatory degree for graduate programs in a variety of fields including medicine, engineering, or biology subdisciplines.
Bachelor's degrees require 120 credit hours and around four years of full-time study with no transfer credit. A great deal of overlap with the associates program in biology exists at the bachelor's level. Though bachelor's students likely have more choices of electives and potentially a large research project or thesis at the end of their major.
Common bachelor's-level courses in a biology major include the following:
Physiology
Animal Biology
Behavior
Biochemistry
Biotechnology
Botany
Cell Biology
Chemistry
Ecology
Embryonic Development
Evolution
Genetics
Immunology
Marine Biology
Microbiology
Neurobiology
Parasitology
Additionally, a number of biology-heavy or biology-related degrees are available at the bachelor's level. These related degrees that draw heavily from biology include:
Environmental Studies
Environmental Science
Sustainability Studies
Ecology and Biodiversity
Zoology
Biochemistry
Biophysics
Some bachelor's degree programs are led by faculty specialized in one area of biology. This may lead to undergraduate programs that allow students to specialize earlier than many other programs. Undergraduate degrees are at times offered in:
Structural Biology
Molecular Biology
Photobiology
Radiation Biology
While there are some bachelor's degrees that allow students to specialize in an area of biology, most students of biology start to specialize at the master's level.
Generally speaking, master's degrees will have a declared focus depending on the faculty and research opportunities available to students. Additionally, some master's in biology programs will offer a range of specializations to choose from.
Some of the most widely-sought specializations at the master's level include the following:
Biotechnology
Bioinformatics
Conservation and Biodiversity
Biology Education
Chemical and Environmental Toxicology
Biochemistry
Data Science
Health Sciences
Marine Biology
Taxonomy
Molecular Biology
Oncology
Physiology
Cell Biology
Evolutionary Biology
Among Others
As you can see, biology is a huge discipline with many sub-specialties. This only makes sense with a science that's purview is "all of life." Living organisms can be studied at many levels, and there are living organisms of many, many types.
Most master's degrees in biology require around 30 credit hours. For students that are admitted to doctoral programs after undergraduate study, master's degrees are gained "en route" to a doctorate after the completion of a thesis.
At the doctoral level the most common degree for most biology fields is a doctor of philosophy (Ph.D.) in one of the subdisciplines within biology. This means that Ph.D.'s in Biochemistry, or Photobiology, or Environmental Studies are all within the realm of biology doctorates. Additionally, many schools will also award Ph.D.'s in Biology generally, though students of the programs will have specialized in one or more subdisciplines within the science.


When choosing a doctoral degree, one of the most important things to note is whether the program you are pursuing is a research or professional doctorate. All Ph.D. programs are research doctorates. This means that a central goal of the academic course of study is to prepare students to be university lecturers and perform original research. Original research in a Ph.D. is meant to lead to a hundred+ page document known as a dissertation.
Ph.D. programs in biology-related fields commonly take 3-5 years to complete, depending on the amount of time spent on a dissertation.
Potential students should also know that there are many careers related to or in biology that are available to students that have degrees of multiple types. Students with a master's in biology may pursue a doctor of medicine degree, or a Ph.D. in data science, or a D.Eng. in Bio-engineering. All of these degrees can build on a basis on biology to make you a subject matter expert in a biology-heavy field.
Biology touches on many subjects. Think you might be interested in a degree related to biology? Check out our guides on related degree types:
Can You Take a Biology Degree Online?
As with most degrees today, biology degrees are available from some universities fully online. As the degree requires a significant number of labs, biology is not as heavily online as other disciplines.
A trend we've noted at DegreeQuery is that many universities will offer more research heavy biology degrees on-campus, while providing less research-intensive options online.
Of biology degrees, those most commonly available online or partially online include bachelor's degrees, master's degrees, and education degrees centered on biology.
While many degrees are available online today, studying online isn't for every student. There are definite pros and cons to online study.
Some of the most commonly cited benefits of online education include lower fees for study, the ability to log into class from wherever and whenever, the ability to juggle a busy work and life schedule, and no need to move or commute.


On the flip side, some of the commonly-cited drawbacks of online education include less meaningful relationships with classmates or professors, less access to on-campus events, and the need to be more self-motivated than in-person degrees.
Biology touches on many subjects. Think you might be interested in a degree related to biology? Check out our guides on related degree types:
What Can You Do With a Degree in Biology?
Now that we've covered what biology is, the major degree types of biology, as well as where you can pursue a degree in biology, let's look at the practical stuff.
Biology degrees prepare students not only for biology-specific jobs. Rather, they are a rigorous natural science degree that teaches quantitative skills, experimental skills, articulation, and reasoning. These skills are applicable in a wide range of real world scenarios as well as a wide range of degree programs. Many biology students at the undergraduate level choose to pursue medical school or graduate degrees in other scientific disciplines.
With that said, many biology degree-seekers are looking for employment in biology. We'll address both options below.
What Can I Do With an Associates in Biology?
Associates in biology are most commonly used to transfer-in to a bachelor's degree program in biology or a related science.
At the level taught in an associates degree, biology can lead to positions as a lab technician, a healthcare related technician, or a field biology technician.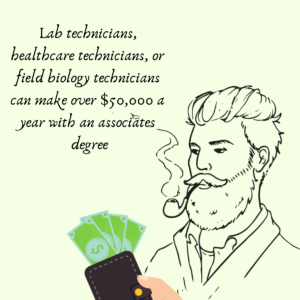 Technicians are an integral part of scientific experimentation. They may be tasked with gathering data, preparing equipment, taking notes, running routine scientific tasks, and more.
For an associates degree, lab technicians have quite high earnings. The average salary for a medical lab technician in the United States is $51,505 a year.
For those continuing their course of study, associates in biology degrees share many of the same courses with pre-nursing and pre-med courses of study. This means that an associates in biology can be a great first step towards a wide range of more advanced degrees.
What Can I Do With an Bachelors in Biology?
Bachelor's in biology are the most popular of biology degrees, in part because of their versatility. Biology majors can be used as a preparation for medical or scientific careers in a variety of disciplines.
For students that plan to work immediately after obtaining a bachelor's in biology, the following biology-related careers are common:
Pharmaceutical Sales Representative
Lab Technician
Science Teacher
Environmental Scientist
Occupational Health and Safety Specialist
Research Assistant
Or Food Science Technician
These career paths all rely directly upon knowledge obtained as a bachelor of science in biology degree holder. Of those listed above, the only career requiring additional schooling of any sort is science teacher. Alternative teacher licensing paths like Teach for America can help to accelerate the time until one can teach without an education degree down to a few months. In fact, there's a large shortage of skilled science teachers, and many states have pipelines through which biology degree holders can quickly get into classroom positions.
Of the above careers, earnings vary. Pharmaceutical sales representatives receive a large portion of their compensation based on the deals they close with health care practitioners. The most successful pharmaceutical sales representatives make well over $100,000 a year.
Of the other biology-related careers above, most earn between $45,000 and $60,000, within an average range for bachelor's-degree holders nationwide.
Additionally, many bachelor's in biology seekers will obtain a second degree in tandem with their biology focus. Some of the most common degrees may include engineering to focus on biotechnology, statistics to focus on actuarial or bioinformatics studies, or nursing to become a registered nurse. All three of these career paths show the versatility of a biology degree and can be quite lucrative.
What Can I Do With a Masters in Biology?
At the master's level, biology degrees can begin to prepare students for a range of employment opportunities as biologists.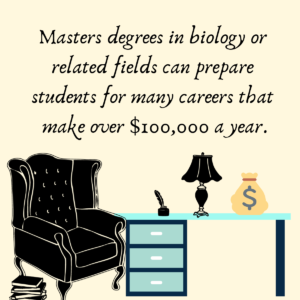 Genetic counselors work to educate and counsel individuals with genetic-based diseases or undergoing genetic treatment for a variety of health reasons. They seek to inform individuals of the chances of passing diseases on to their offspring as well as future risks for themselves. This job often requires a master's degree. Individuals working as genetic counselors should be able to explain complex scientific concepts to individuals without scientific backgrounds. They also must be able to stay up-to-date with the latest scientific literature about genetics. Genetic counselors make an average salary of $72,090.
By the numbers, many master's degrees related to biology are education degrees. This is due to the massive need for science educators, particularly at the high school level. A master's degree in science education helps to ensure a teaching license, as well as to prepare individuals for pedagogical tactics related to teaching the sciences. The average salary for a public high school science teacher is $86,060. This number can be boosted even further by gaining the preparation necessary to teach AP or IB courses to the most advanced students at a school.
Students that choose to build on a bachelor's in biology degree by pursuing a medical degree often pursue a master of science in nursing. This degree can lead to the in-demand and quite lucrative profession of being a nurse practitioner. Nurse practitioners often lead teams of nurses in hospital settings or see patients one-on-one under the supervision of a doctor in primary care settings. In some states, nurse practitioners even have their own practices under the supervision of doctors. The average salary for nurse practitioners is presently $105,757.
For individuals that focused on a particular area of biology within their masters degree, they may find employment as scientists under the direction of someone with a doctorate in biology or a related field. These positions may include positions in botany, zoology, marine biology, and more. Settings may include pharmaceutical companies, agricultural companies, biotechnology companies, zoos, national parks, and more.
Finally, a range of communications jobs relies on individuals who have a background in biology or the natural sciences. These positions may include health communications specialists, technical writers, and health educators. All three may be involved with informing the general public about biology-related concepts. Pay varies by roles but can rise to over $70,000 a year.
What Can I Do With a Doctorate in Biology?
Doctoral degrees in biology help to prepare recipients for original research. Those that hold doctoral degrees in biology may be referred to as biologists, or a term describing their subdiscipline in which they specialized in.
Some common specialization paths in biology may lead to the following careers:
Biologists
Biochemists
Biophysicists
Toxicologists
Forensic Analysts
Bioinformatics specialist
Zoologists
Botanists
Agronamists
And many more
Generally speaking, three employment sectors emerge depending on what a doctoral degree related to biology focuses on. These three employment sectors include health care settings, pharmaceuticals or biotechnology settings, and pure biology research. Those on research tracks may work in university settings, for federal agencies, or for institutes like zoos and national parks.
If you're thinking about pursuing a degree in biology, one thing is for sure: you won't be lacking for interesting, rewarding, and lucrative careers you may follow.
Didn't see a career you're interested in? DegreeQuery has you covered with guides on a whole host of biology degree-related careers. Check out some of our FAQs on biology jobs below: