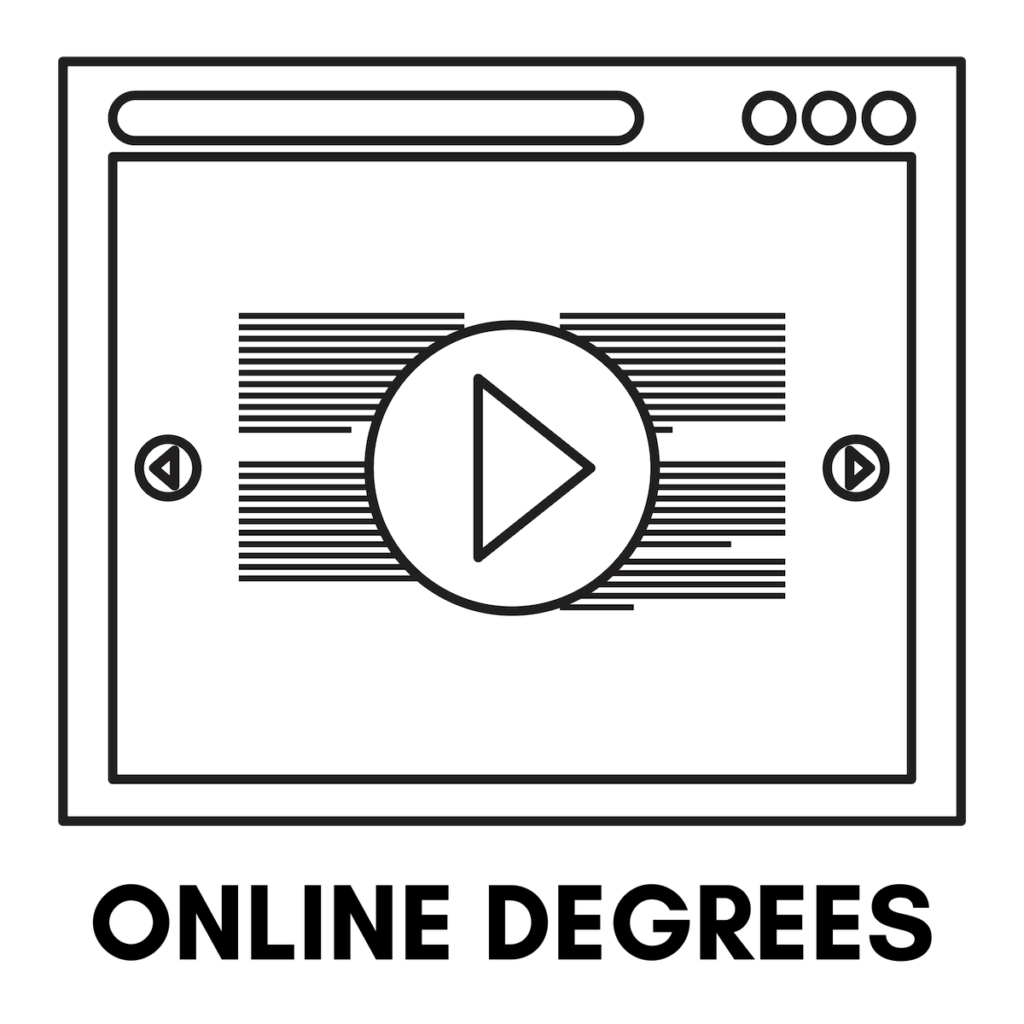 Getting your degree online can have many benefits. Most importantly an online degree is more flexible and better able to fit your life than a traditional degree. You can work on it from home and at night or in your spare time.
With that said, we know that many future students have never taken a course online. Even if you're interested in the idea of an online degree, you likely have a number of questions before "jumping in."
In this guide, we'll aim to address many of the most common questions and concerns potential students have about gaining a degree online.
If you already know you're interested in an online degree. Be sure to scroll down to our online degree ranking section to take a look at some of the top-ranked schools for online degrees.
DegreeQuery.com is an advertising-supported site. Featured or trusted partner programs and all school search, finder, or match results are for schools that compensate us. This compensation does not influence our school rankings, resource guides, or other editorially-independent information published on this site.
What's it Like to Get an Online Degree?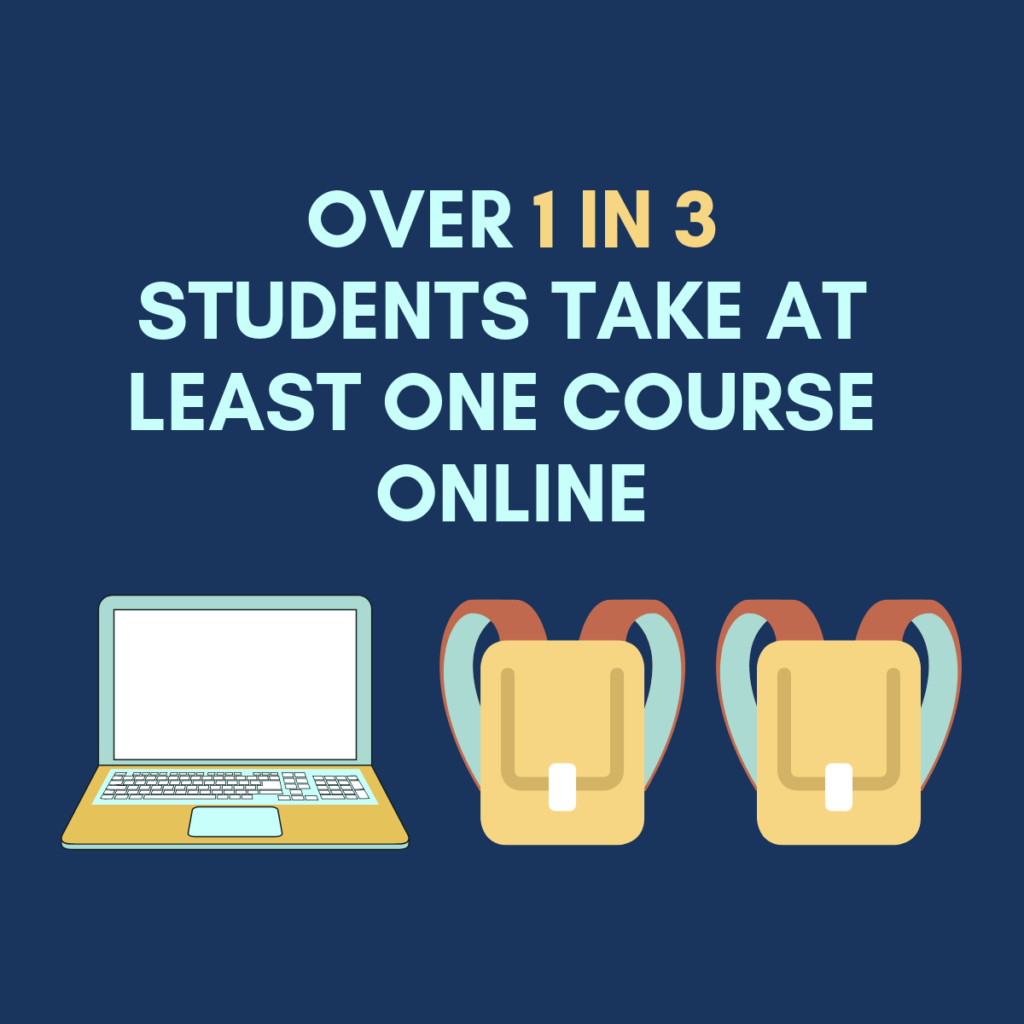 For some an online degree is a golden ticket, helping them return to school and finish a degree while balancing work and life. For others, online degrees require too much self-discipline, leading to frustration and (unfortunately) dropping out.
With that said, all online degree programs are different. Professors provide different levels of support. Different online universities have different expectations and services.
This means that one of the most important things you can do before starting an online degree is really researching the school and program you're interested in.
Though a great deal depends on what university and program you choose, there are a number of common elements shared by most schools offering online courses.
Before we jump into the specifics of what online education is like, we'll need to make a distinction. The two main types of online degrees include synchronous online degrees and asynchronous online degrees. There are pros and cons to both. Though for individual students, one option generally suits learning styles and needs better than the other.
For now, all you need to know is the following:
Synchronous Online Degrees require students to log on at certain times. Students attend "live" classes, and participate through instant messaging, video chat, or voice chat.
Asynchronous Online Degrees do not require students to attend live classes. Class sessions are likely still recorded, and often required. But students may work through course material on their own time. This doesn't mean that everything is self-paced. There are due dates on assignments. But students don't have to work on coursework at any one time in the day.
As you can see "what it's like to get an online degree" depends greatly on whether you're enrolled in a program that is synchronous or asynchronous.
Below we'll describe online degrees of types as well as their similarities.
What Asynchronous Online Degrees Are Like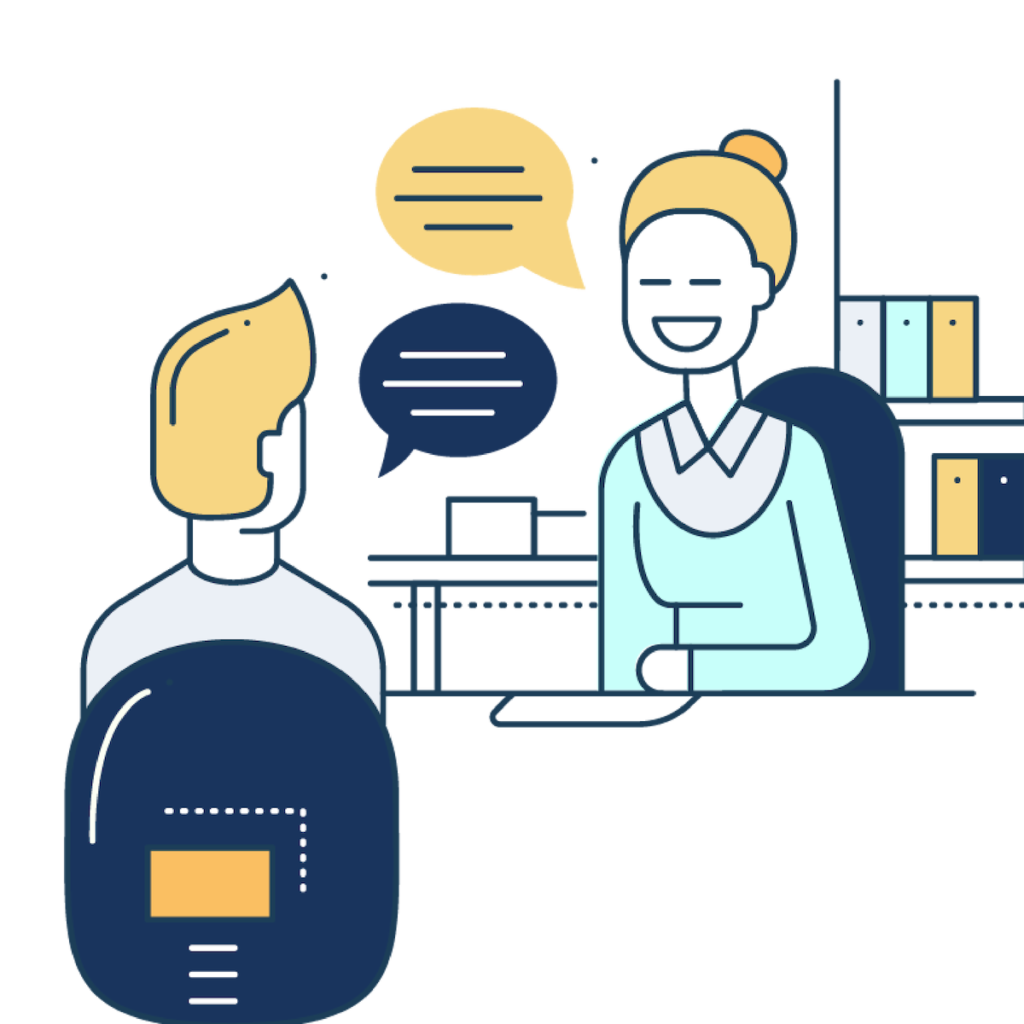 Log on when you can to watch videos of courses or read e-books.
"Attend" courses before work, or after the kids are in bed, or on your lunch break.
Interact with "on-call" tutors. Often available 24/7.
Communicate with class mates on message boards.
Work through a variety of online resources to learn material.
Less centered on "lecture-time" and teacher interaction than traditional degrees.
What Synchronous Online Degrees Are Like
Required to "log in" to class at specific times.
Ask questions and talk to classmates and instructors via video chat, text chat, or voice chat.
Get to know classmates and professor similarly to brick and mortar schools.
Get "called on" to answer questions in class.
Class sizes similar to "traditional" universities.
What Asynchronous and Synchronous Online Degrees are Like
Have access to a wider range of digital resources than most brick and mortar degrees.
Browse a digital library, schedule counseling or tutoring appointments online.
Annotate digital learning materials with notes, questions, or bookmarks.
Utilize productivity tools online.
Obtain the same degree available at brick and mortar universities.
Obtain the same financial aid as brick and mortar universities.
Ditch a commute or the need to move to obtain a degree.
The Benefits of an Online Degree
For many students, online degrees can be a "God-send," allowing successful returns to school while juggling work and family life. Online education has definite trade-offs with brick and mortar schooling. Recent advancements in testing and support services, however, have made online and traditional schooling more similar.
No need to move to obtain a degree.
Most programs are built for adults and non-traditional students.
Obtain the same degree offered in brick and mortar programs.
Self-motivated students can often accelerate time until graduation.
Access to online support services including tutoring, counseling, and more.
Access to 24/7 study help (in many cases).
More online learning resources than traditional degrees.
The Downsides of an Online Degree
While online education has become increasingly popular, it was initially plagued with lower graduation rates than traditional schooling. On the flip side, access to education through online means has provided a vehicle for many to gain education otherwise impossible. Only education can work (very well), but you must determine whether you have the proper mindset to make it work.
No one "looking over your shoulder" ensuring you do work.
Relies on self-motivation more.
Often less interaction with classmates and professors.
Limited access to on-campus events (if a school has on-campus events).
Learning format many students aren't used to or haven't experienced.
The Cost of an Online Degree
Higher education is a large investment. And online higher education is no different. With that said, online education can be much more affordable than traditional education.
Even in the event tuition rates are identical for brick and mortar and online programs, online students save through
Access to e-textbooks
Heightened ability to work while pursuing a degree
No need to move to the location of school
No commute times and associated costs
The conditions above are often summarized in a school's "total cost of attendence." Tuition is just one component of what makes many schools expensive. Tuition is generally similar in online and brick and mortar programs.
Average Tuition Cost By Degree Level
Public Two Year College (Per Year): $3,570
In-State Four-Year Public College (Per Year): $9,716
Out-of-State Four-Year Public College (Per Year): $21,629
Four-Year Private College (Per Year): $35,676
The total cost of attendance for online education, however, is much less expensive.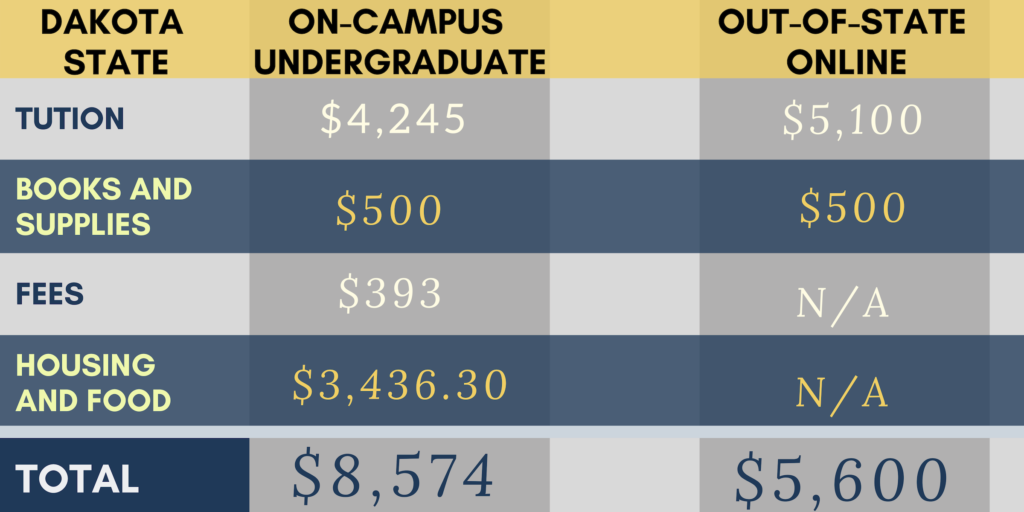 Brick and mortar programs support a large number of initiatives and programs through fees. A sampling of on-campus fees that may be added to tuition includes:
Athletics Facilities
Legal Counseling
Student Health
Renewable Energy
Religious Facilities
Student Recreation
Scholarships for Online Degrees
Scholarships can come from a variety of sources. Some of the most common include the institution you're enrolled at, social clubs, non-profits, state of federal government, governmental agencies, businesses, and employers.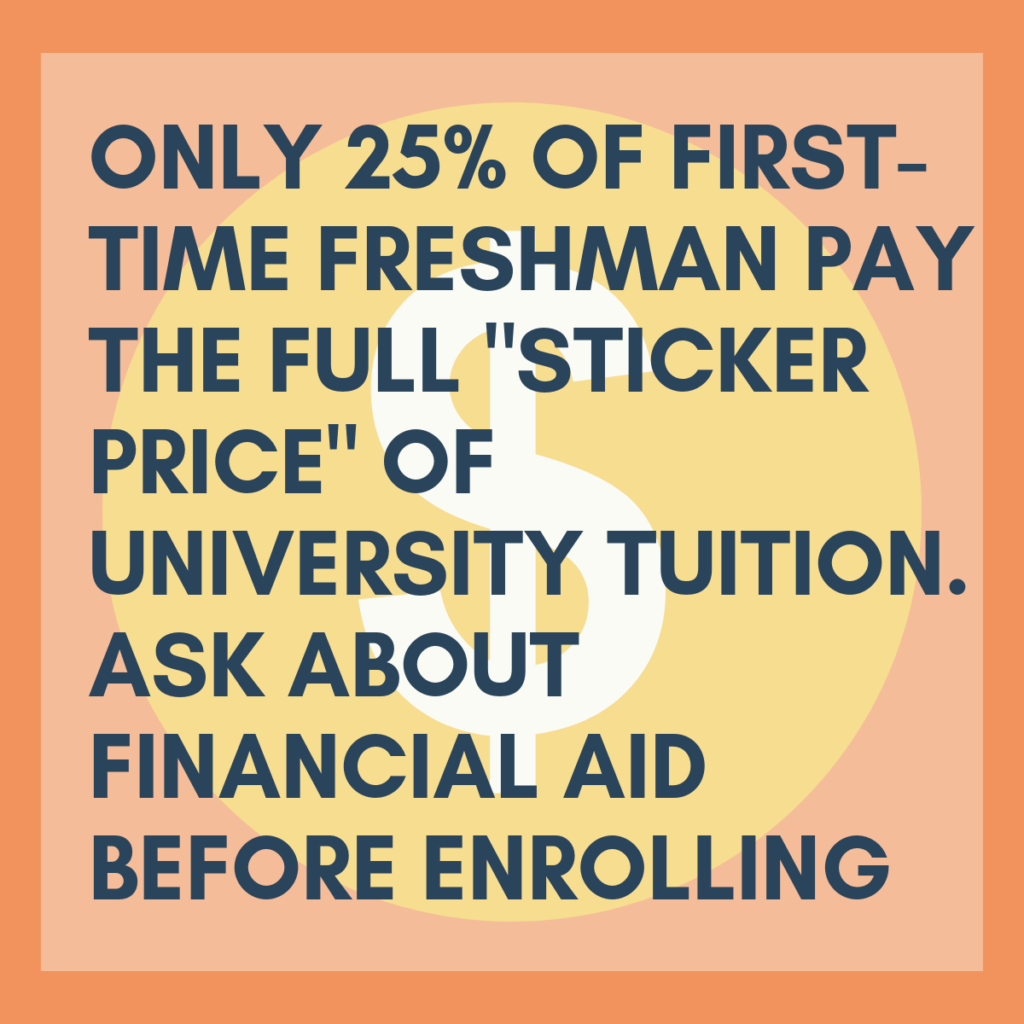 A vast majority of these scholarship sources give out scholarships to online students just as they would to students of brick-and-mortar programs.
While similar levels of scholarships are available to online and brick and mortar students at most degree levels. One area exists in which financial aid is quite different. Graduate students at brick and mortar institutions often lower their cost of attendance by becoming teacher assistants or instructors. This isn't possible with most online programs. Similarly, undergraduates may often gain a work study to offset some of their tuition. Online programs often don't offer these opportunities.
Also, keep in mind that scholarships are just one part of your overall financial aid. Nearly all reputable colleges and universities provide a great deal of financial aid to most students enrolled.
One way to ascertain exactly what financial aid may be available is to fill out your FAFSA application before enrolling in a school. With your results — which include your "expected family contribution" — reach out to the financial aid department at the university. Most reputable schools have financial aid departments that are willing to work with you to make college more affordable.
And finally, remember that very few undergraduate students pay the "full sticker price." If a university is telling you will need to pay full tuition, you may want to look elsewhere.
Accreditation for Online Degrees
Online degree-offering colleges and universities are accredited by the same bodies as "traditional" institutions of higher education.
Note that there are two types of accrediting bodies that ensure that academic programs are top notch. Both play a crucial role in helping students to determine if a degree is quality.
Regional Accreditation is the gold standard for accreditation of US colleges and universities. This form of accreditation looks at institutions as a whole. There are seven regional accrediting bodies that accredit for a region of the nation.
National Accreditation, also called programmatic accreditation look at a specific type of program nationwide. After you've determined whether an institution is regionally accredited, you may want to look to see that the program you are interested in is programmatically accredited. Though not every program of merit does hold a national accreditation.
A good rule of thumb is to look for regional accreditation first and foremost in your search for an online degree.


Regional accreditation is offered by the following bodies:
Middle States Commission on Higher Education
New England Association of Schools and Colleges
Higher Learning Commision
Northwest Commission on Colleges and Universities
Southern Association of Colleges and Schools
Western Association of Schools and Colleges
Accrediting Commission for Community and Junior Colleges
You should be able to easily discover if a college of university is regionally accredited by looking around their home page or searching the name of the school you are interested in along with "regional accreditation."
Regional accreditation ensures that employers will view your degree as "valid," that you can apply for Federal financial aid, and that you can transfer credits to other regionally accredited institutions. Very important!
Secondarily, national accreditation can be a mark that individual programs are highly regarded. There are many, many national or programmatic accrediting bodies. A sampling includes the following:
The Academy of Nutrition and Dietetics
The National Bar Association (Law)
The Accreditation Commission for Education in Nursing
Council on Social Work Education
And so on
What Degrees can you get online?
The short answer is that you can obtain almost every type of degree you can gain in-person, online.
Over the last thirty years, online degree offerings have grown from experiments in distance education to an educational option that many students expect.
Online degrees are particularly prevalent in certain disciplines. Disciplines that readily adopted and promoted online education include many in which students often return to school with a family or job. Online education was a particularly good fit in these fields due to the increased flexibility online offerings can offer.
Some of these disciplines that adopted online education early and today provide many options online include education, theology, business, and computer science-related fields.
There are some gaps in online education offerings. Degrees that require a great deal of hands-on experience or time in lab settings are less common online. These degrees include physics, engineering, medicine, and law. There are universities that offer online degrees in these disciplines, but not many.
Additionally, many of the highest-ranked universities in the nation do not offer online degrees except for in education and business.
If you are interested in pursuing a degree that requires in-person training, practicums, or lab work, you should still inquire about online degrees. Many degree programs that require in-person experience will arrange for you to take all academic coursework online while arranging a practicum location local to where you live. In this sense, these degrees aren't entirely "online." Though they are at least offered online and with local experiential learning (even if the university offering the degree is in another state).
A second option that is prevalent at many universities is what is called a "hybrid" or "blended" delivery degree. Hybrid or blended degrees offer a great deal of your academic work online, with periodic meetings in-person. Common examples of this include MBA programs that meet once a month on a weekend in-person. Or, teacher education programs that meet online during the school year and in-person during the summers.
If you need to be able to pursue your degree 100% online, be sure to verify the delivery method with your university of choice. Many programs are 100% online. Yet many also require occasional visits to campus or other learning environments.
Do Employers Respect Online Degrees?
Education is the foundation of many careers. Holding a bachelor's or master's degree often gets your "foot in the door" in many fields. And many recruiters will not grant you an interview without the requisite degree.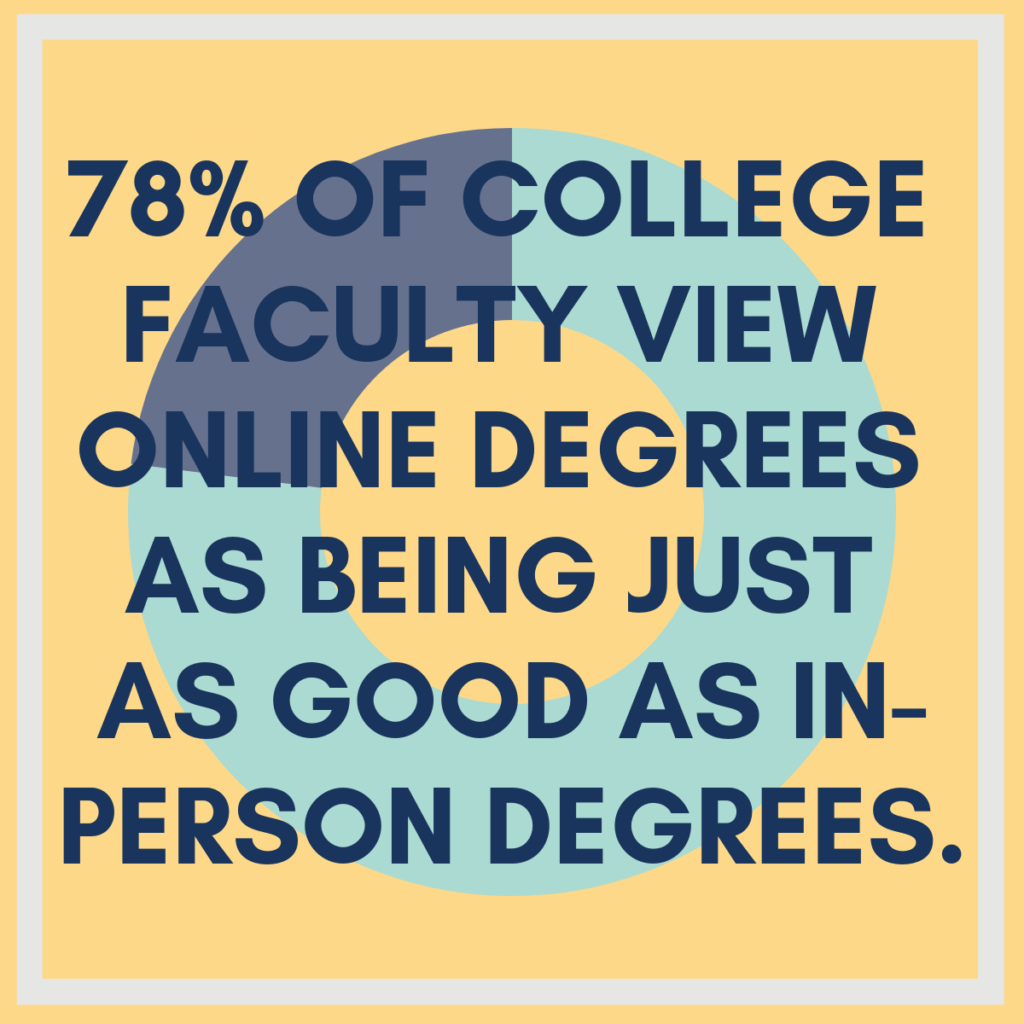 With that said, what many employers truly care about is whether or not you can perform your tasks at work. This is shown through past experience, the interviewing process, and personal attributes.
All this is to say that degrees matter, but many employers care much more how you perform on the job.
In recent polls, a majority of employers do not distinguish between online and in-person degrees. And in some cases, employers report that online degrees are more impressive due to the level of self-motivation online degrees require of many students.
One final note on how employers view online degrees is that employers often don't know whether a degree is gained online or not. Colleges and universities don't note whether a degree was gained online or not on your diploma. When you graduate from an online program, you graduate from the exact same program as students that attended "in-person."
How are Online Degrees Flexible?
One of the major reasons students opt for online degrees is that they are often much more flexible than traditional programs. Though opportunities for flexible academic programming vary between university, there are many opportunities for the following in online programming:
Life, work, or military experience credits
Transfer in prior college credit
Test out of subjects you already know
Log in when you would like to attend class
Proceed through courses as quickly as you would like
Year-around academic programming to accelerate time-until-degree
No commute time
Instant access to e-learning tools
24/7 tutoring and support services
Interact with classmates around the world
Access to counseling and support services from home
Fast Online Degrees
Some people want to earn their degree faster than usual, and online programs are especially well suited to help speed things along. Many only programs are accelerated, and some allow you to set your own pace. Below is a list of some of the fastest programs by degree level.
Fastest Online Degree Programs Ranking
Fastest Online Associates Degrees Ranking
Fastest Online Bachelors Degrees Ranking
Fastest Online Masters Degrees Ranking
Easy Online Degrees
Some online programs are easier than others and below we've tried to help you out but highlighting some of the easier online degrees to attain.
Easiest Online Associates Degree Rankings
Easiest Online Bachelors Degree Rankings
Easiest Online Masters Degree Rankings
Affordable Online Degrees
College is not cheap. But some online schools are more affordable than others. To help you choose an online degree within your budget, we've gathered together the following lists:
The Most Affordable Online College
The Best Free Online College Courses
The Cheapest Online Bachelors Degrees
The Cheapest Online Masters Degrees
The Most Affordable Online Graduate Schools
Best Online Bachelors Degrees by Subject
If you know the subject you want to study for a bachelor's degree, you should browse through the following rankings to find our ranking of the best online bachelor's degree programs available in your field.
The Best Online Bachelors in Marketing
The Best Online Bachelors in Environmental Science
Best Online Masters Degrees by Subject
If you know the subject you want to study for a master's degree, you should look at the rankings below to find our ranking of the best online master's degree programs available in your field.
The Best Online Masters in Recreation, Tourism, and Coaching
The Best Online Masters in Cyber Security
The Best Online Artificial Intelligence Degree Programs
The Best Online Applied Behavioral Analysis (ABA) Degree Programs
Top 10 Graduate Degree Programs in Criminal Justice
The Best Overall Online Degree Programs
If you're still trying to choose the right degree for you, these guides should come in handy.
Best Online Degrees Ranking
Best Online Associates Degrees RankingBest Online Bachelors Degrees Ranking
Best Online Bachelors Degrees Ranking
Best Online Masters Degrees Ranking
Best Online Business Degrees Ranking
Best Online Social Science Degrees Ranking
Best Online Medical Degrees Ranking
Miscellaneous Online Rankings
Online Bachelor's Degree in Fire Science Ranking
Highest Paying Online Degrees Ranking
Online Degree FAQs