"The best executive is the one who has sense enough to pick good men to do what he wants done, and self-restraint to keep from meddling with them while they do it." – Theodore Roosevelt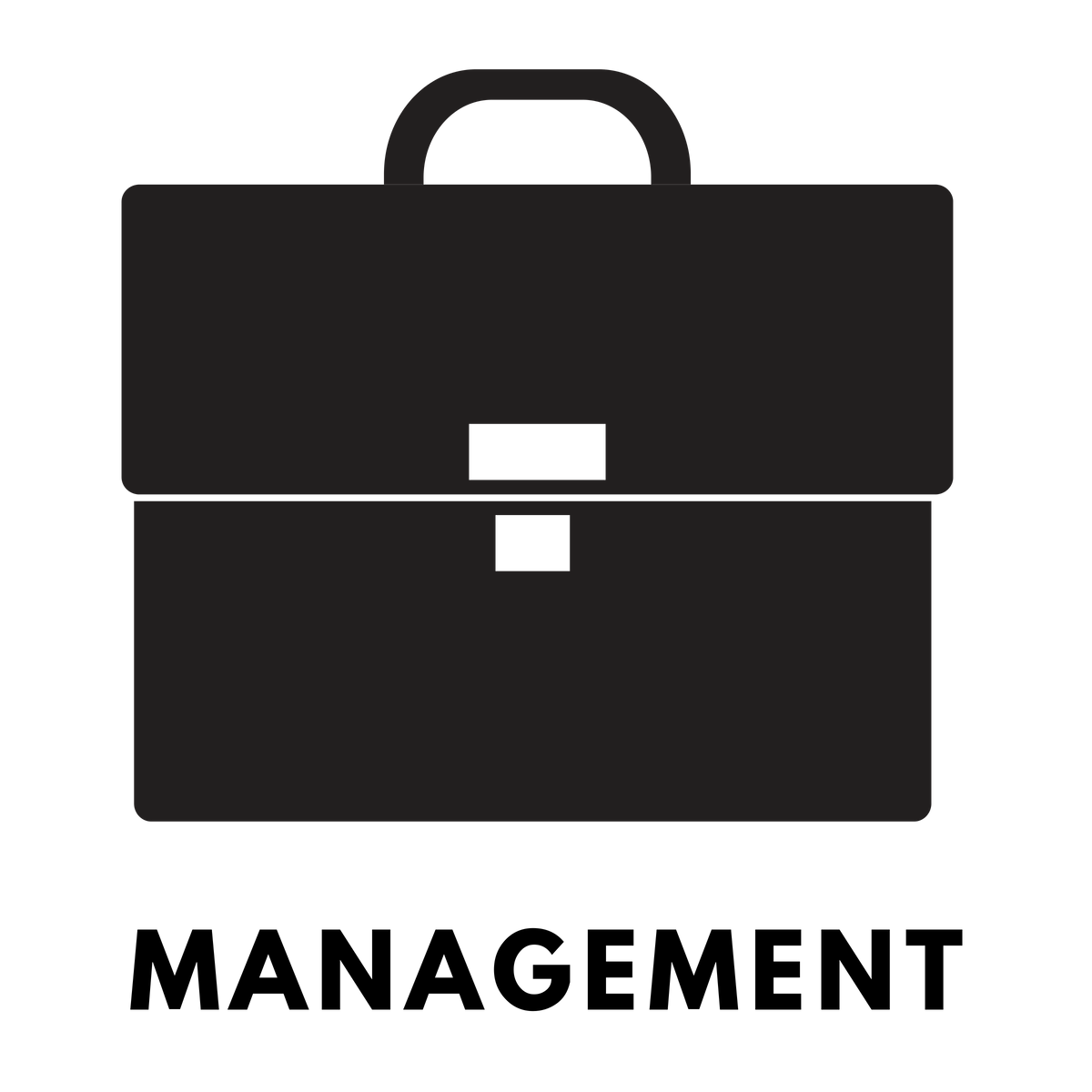 Managers work in all organizations throughout the economy, ensuring organizational goals are met, boosting efficiency, and working to bolster harmony between employees, ownership, and the audience that interacts with a specific organization. Managers set goals for groups and individuals, organize the work they do, communicate and motivate the people they manage, measure their performance, and develop employees' knowledge and abilities to make them more valuable to their organizations, and the workforce at large.
Managers are incredibly versatile, indispensable parts of businesses, non-profits, schools, government agencies, and other organizations. People become managers in many different ways. Some people work their way through organizations from more entry-level positions, while others get recommended for managerial roles at new organizations based on their past work, but a great way to begin a management career is through earning a degree in the field. There are also many different areas of management that you can specialize in, and the field is expected to see significant changes in hiring and continues to adopt new techniques. There are several ways to set yourself apart from the competition for management positions.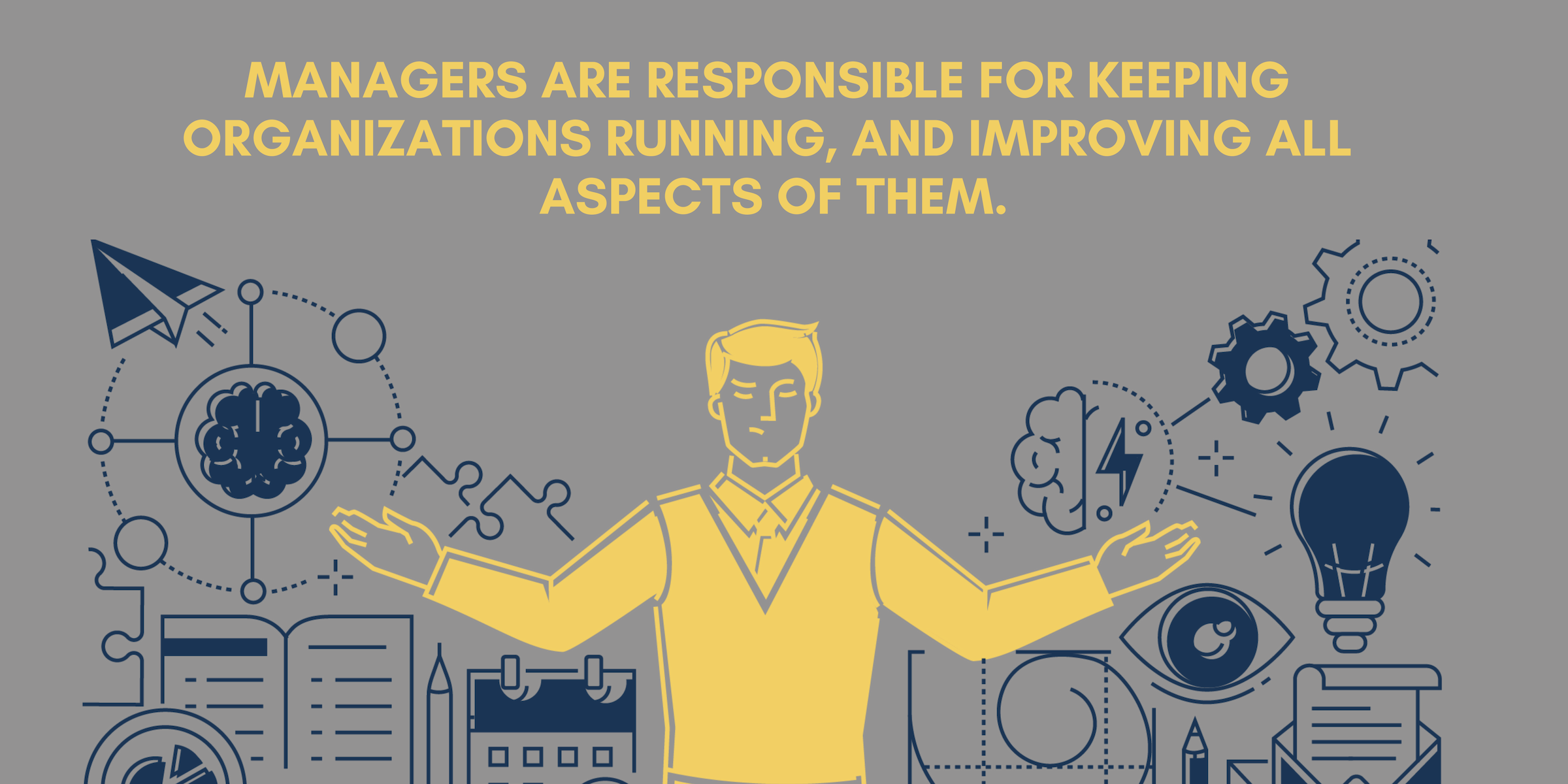 In this guide we'll examine what managers do, what makes them successful, the different levels of management degrees, different specializations within management degrees, look at what we here at Degree Query have already written on management education and career opportunities, and more. We've set out to help you find your niche within education and your career. Our content on management will help give you the tools you'll need to reach your goals, including finding the best management degree for you.
While you explore this guide, please ask yourself and consider:
What has been your career and educational experience? How has your employment and education background geared you to study and work in management?
What degree level in management is right for you considering your educational background?
What would you like to accomplish in the next five years? How would a management degree prepare you to reach these goals?
Management is a broad field, with many different subsets and specializations. If you know what sector of business or the economy you'd like to be a manager in you'll have a much easier time selecting an academic program that will position you appropriately. We'll inspect the different specializations within management later.
How much can you afford to pay for a management degree, and how much would you need to borrow to pay for one?
There are many different costs associated with earning a management degree depending on where you earn your degree, where you reside and the delivery format you choose. Will you need to work full or part-time while you attend your management program? How do individual programs facilitate working while you earn a management degree?
You should always strive to avoid private, high-interest loans and choose public ones. Preferably you'll choose a management program you can afford or one that gives you grants/scholarships that help you pay. You can also choose management programs that are delivered online, so you don't have to pay for room and board.
How much time can you spend earning your management degree daily, weekly, and in total before you graduate?
What's the best delivery format for you in a management degree program? Do you want to go to school full-time, part-time, in-person, online, or in a hybrid of online and on-campus education?
What part of management would you like to study to specialize in? Some of the options include technology management, marketing management, business administration, finance management, among others.
Where would you like to live and work during and after earning your management degree?
Some cities, states, and regions have a greater demand for specific types of managers than others. The school you attend can also help you gain a competitive advantage for local jobs with their professional network, and the connections you'll make through professors and peers while you attend their management program.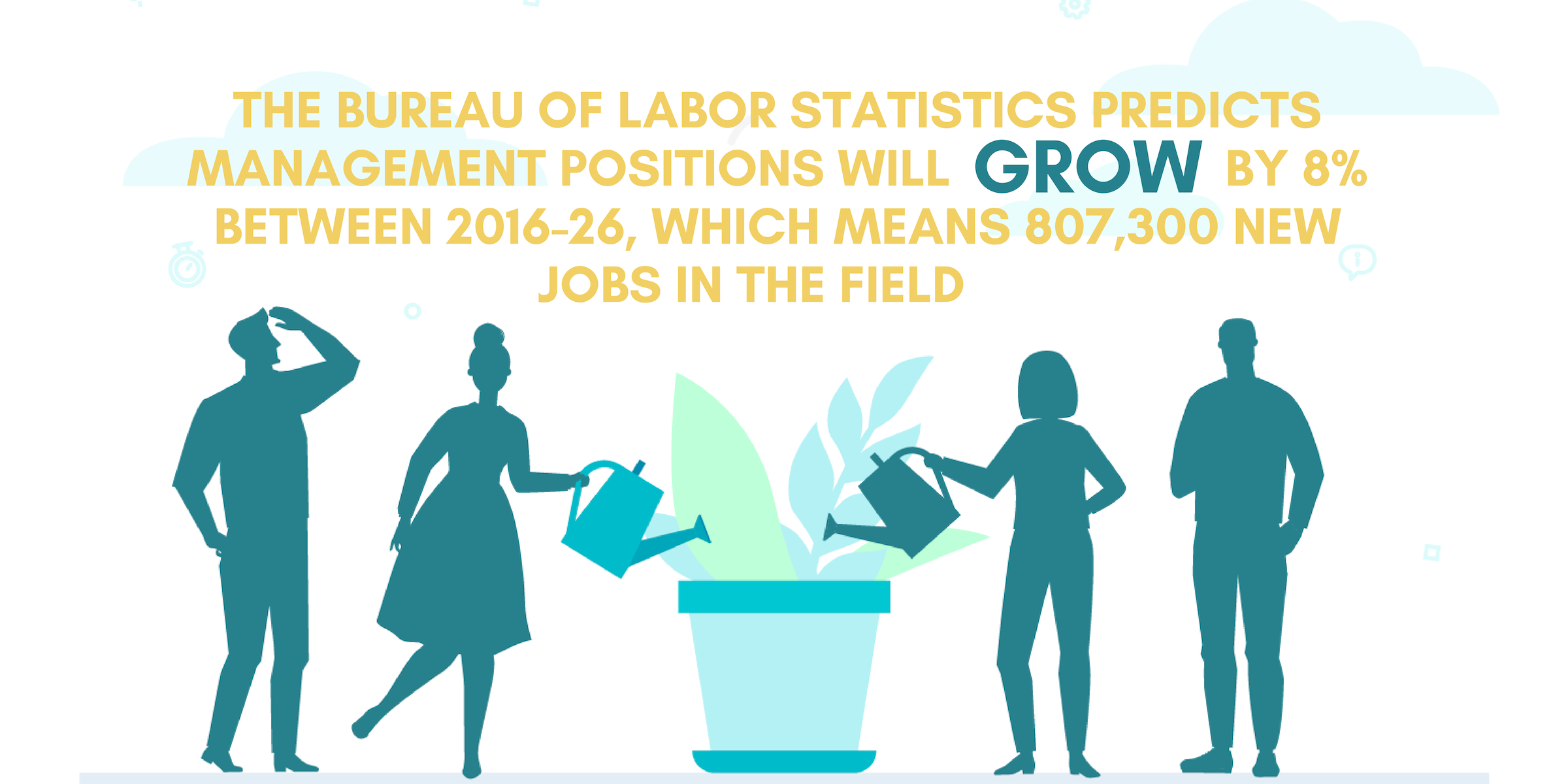 So what are some of the specializations within management that you can study? Let's explore:
DegreeQuery.com is an advertising-supported site. Featured or trusted partner programs and all school search, finder, or match results are for schools that compensate us. This compensation does not influence our school rankings, resource guides, or other editorially-independent information published on this site.
What are Your Management Degree Specialization Options?
There are scores of areas you can study to become a manager in. More general management degree programs will give you the tools to become a manager without putting you on a specific management path, while other specializations will set you up to become a manager in a field like finance, agriculture, entertainment, or elsewhere. Let's explore some of your options by looking at a dozen management degree specializations:
Agricultural Management
In these programs you'll study business, economics, and biological sciences. They might be called agribusiness programs, and feature coursework in farm management, public policy, agricultural law, commodities markets, and food industry sales, agrarian marketing, retail sales, among many others. Graduates might work to market agricultural products, sell farming equipment, run organic farms or gardens, trade agricultural commodities, or work in sales, grain merchandising, an agribusiness office, PR firm, and more.
Applied Management
Here you'll build critical thinking and analytical chops, and see how they can improve the management of a business or organization. You'll study business communication, human resources, economics, and accounting, among many other topics, and how they apply towards running an organization. Courses will likely include business law, organizational behavior, microeconomics, managerial finance, and much more. These degrees can lead to management positions in virtually any organization.
Biotechnology Management
The health and medical business sector is expanding rapidly with more significant needs from an aging population and businesses creating and utilizing technological breakthroughs in the field. In degree programs specifically targeting biotech management you'll study areas like bioinformatics, the ethical and societal issues that impact the field, biotechnology project management, and managerial accounting. If you want to become a leader in this vital, constantly evolving field, a biotechnology management degree is a great choice.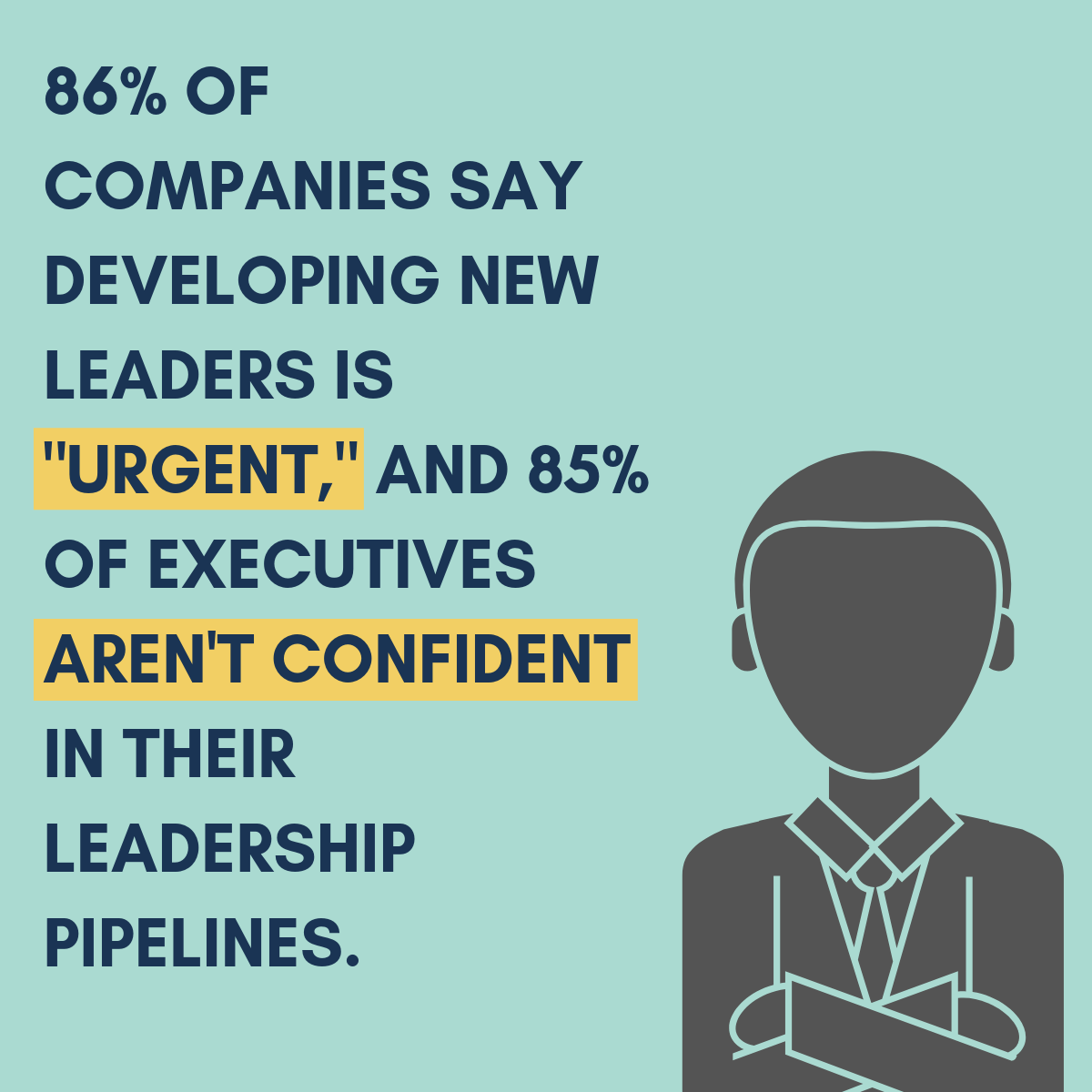 Business Administration
Like applied management, these degrees will give you a broad, diverse set of skills that apply towards working or supervising within corporate structures, nonprofit organizations, government agencies, and other organizations. You can specialize in areas like finance, marketing, accounting, supply chain management, and more. You'll study human resources, mathematics, economics, marketing, business ethics, and much more.
Athletic Administration
If you've ever dreamed of working for a professional sports team, collegiate athletic program, or in fitness or athletic management, these degree programs would make a great fit. You'll study organizational leadership from a sports or fitness perspective, and learn what impacts athletic performance, sports economics, and much more. The sports and fitness industry is also set to expand exponentially as pop culture becomes more obsessed with health and fitness, which presents many opportunities for athletic administrators and managers in the coming years.
Construction Management
Construction isn't going anywhere and is a field with unique demands for efficient leadership. In these degree programs you'll study the theories behind effective construction management, trends and evolving strategies in the field, evaluating and improving construction plans, legal issues that impact construction, construction project management, and much more. You'll also explore the latest construction technologies, and how construction projects are financed.
Energy Management
The energy sector is going through significant changes as it simultaneously embraces and resists making desperately needed changes to our energy infrastructure and fuel sources. In these programs, you'll learn about energy policies throughout the world, new technologies, renewable energy, nonrenewable resources, and much more. You'll study negotiations, financial analysis, and the management strategies and theories that impact energy in many different business settings.
Engineering Management
There will always be a high demand for engineers in all facets of construction, manufacturing, energy, public services, among many other areas of the economy. In these degree programs, you'll learn to design, control and evaluate engineering projects and workers. You'll study advanced math and science including chemistry, calculus, and physics. You'll also tackle concepts and applications related to engineering finances, leadership, operations management, quality control, and analysis.
Financial Management
In these degree programs you'll study how to help people maximize the returns on their investments, calculate and mitigate financial risk, manage businesses, and much more. You might end up working as a financial advisor, accountant, or in a leadership role in many different companies and organizations. Typical courses include bank and money management, financial risk management, investment theories and tactics, international finance, and financial evaluations.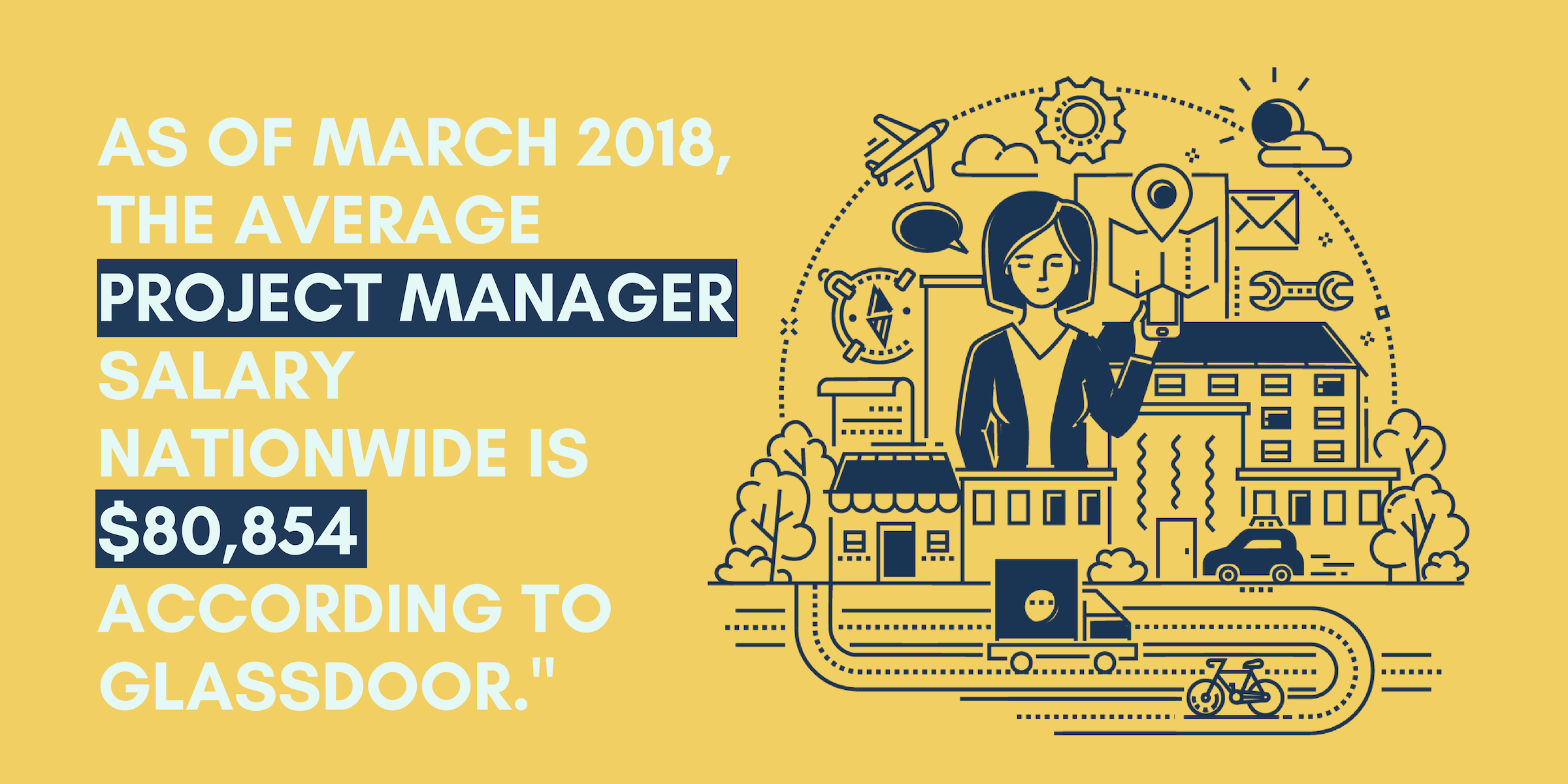 Healthcare Management
There are many different degrees within this overall umbrella, including Health Information Technology (working with electronic health records), Health Services (healthcare administrative work, delivery, and more), Hospital Management, Public Health, and Global Health, among other specializations. The healthcare system in America is in a state of flux, and always in need of good management.
Information Technology and Information Security Management
In Information Technology Management you'll learn to learn how to create websites, software, apps, databases, and more, as well as manage those that do. In Information Security Management you'll work to protect digital information at a time when it's wildly unprotected, and its theft and corruption are costing companies significant amounts of money. You'll study internet security, data management, digital communications, cybersecurity, preventing cyber attacks, network design and maintenance, disaster planning, and more.
Project Management
These degrees give you the perspective and strategic tools needed to work in management for a wide array of organizations. You'll become immersed in the practical application of teamwork, budget analysis, strategic management, and structured, goal-oriented projects across economic sectors. You'll study organizational theory and behavior, corporate communications, project planning, and managerial decision making.
Remember, these are just some of your options within management degrees. We're constantly updating our content on management and all other educational disciplines, which brings up:
How Can We Help You Find a Degree and Career in Management:
When trying to choose a management degree, it's prudent to balance specific career interests with a degree that will give you practical skills and experience that applies throughout the job market. You also want to take time to research the different management positions that are available, plus how to qualify for and get them. Let's take a look at some of the work we've done to help answer common questions about management, management certifications, management degrees, and specific management programs.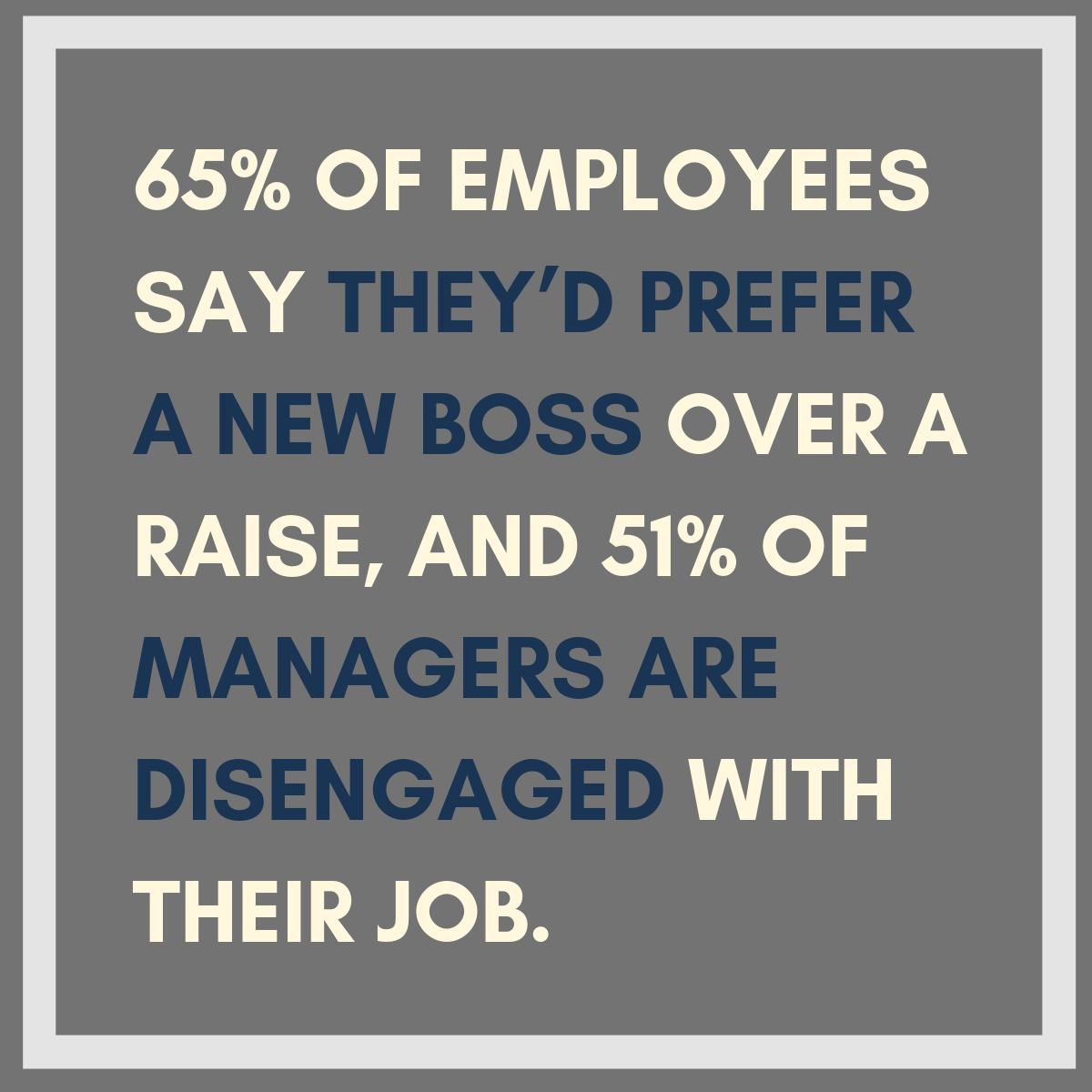 Frequently Asked Questions We've Answered About Management: Management Career Examinations Management Degree Program and Certification Rankings
Remember, this is just some of the content we've produced about management. To see all that we've done on the topic, go to our management category. If you find a management program, you're interested in through our content, or otherwise, we strongly recommend reaching out to them directly to get more information about the program and ask for assistance with the application process.
Now that we've checked out what we've written on management degrees and career options, Let's look at the different levels of management degrees:
What are the Different Levels of Management Degrees?
Associates in Management Degrees
In these two-year programs, students will learn foundational concepts in financial management, communication, micro and macroeconomics, entrepreneurship, human resources, organizational methods, accounting, marketing, and more. Graduates will be prepared to work as trainees, clerks, and administrative service managers, among other entry-level positions at numerous organizations. You can also take what you learn and apply it to starting a business of your own. These two-year programs can also be a great stepping stone to further degrees, and if you earn one at a community college or online you can save significant money in comparison with traditional brick and mortar degrees at four-year universities.
Bachelors in Management Degrees
Here you'll have several options. You could earn a Bachelor in Business Administration, Accounting, Economics, Commerce, or other business related degree, but if you prefer a degree with more focus on management and leadership skill building and curriculum, consider a Bachelor of Business Management (BBM) or Bachelor of Management Studies (BMS). In these degrees, you might major in Human Resource Management, Operational Management, Marketing Management, or Financial Management. You could also specialize in areas like accounting management, business law, organizational behavior, economics, ethics, entrepreneurship, supply chain management, among many other areas. There are many, many options for Bachelor's in Management, so if you have specific interests or other criteria for a prospective program apply them precisely in your search.
In these programs you'll generally study for 3-4 years full-time. You'll also likely complete a professional internship, work placement or study abroad program for 11-12 months.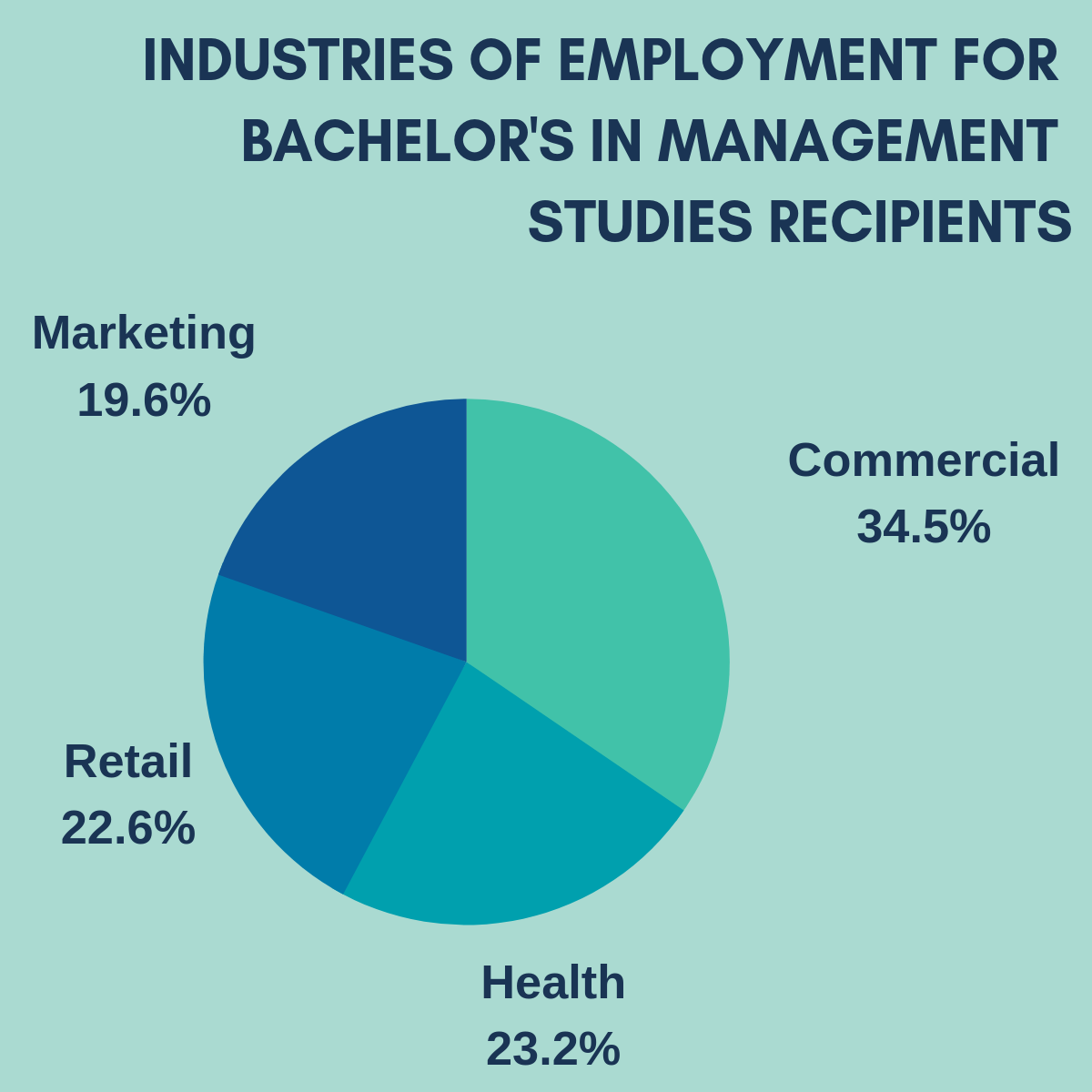 Masters in Management Degrees
Here you'll either earn a Master of Management (MM, MBM, MIM, MMgt), Master of Business Administration, Master of Science in Management or related degree. These programs require an undergraduate degree (sometimes in business or management) and are completed after one to two years of full-time study. They are aimed at helping graduates achieve advanced leadership positions at many different organizations. Masters in Management degrees come in an incredible number of specializations including Management Theory, Marketing Management, Human Resources Management, Financial Management, Accounting Management, Supply Chain Management, Entrepreneurship, Nonprofit Management, and more.
Doctoral Degrees in Management
A Doctor of Management (D.M., D.Mgt. or DMan) is the terminal degree in management. It requires advanced research and study, and graduates of these programs receive a Ph.D. or D.M. degree. The former focuses on theoretical knowledge, while the latter concentrates on applied research. These programs require a Master's degree, and often three to five years of management experience. They can be completed in three to six years of study, and often culminate in the conception, execution, and defense of a dissertation. Graduates go on to executive roles in businesses and other organizations, do significant research in management and business, teach university-level management courses, and more.
Of course, degrees aren't the only credentials that can help advance a management career. There are also several certifications in management that demonstrate your commitment, education, and experience within the field:
What are Common Certifications in Management
Some of the top management certifications associated with higher wages include:
Certified Associate in Project Management
The CAPM is an excellent certification for anyone looking to demonstrate project management competencies. Project Management focuses on planning, designing, creating, enacting, controlling, and measuring organized, temporary plans based on high standards that meet organizational goals. This certification lets professionals showcase their understanding of standardized practices in project management. An estimated 15.7 million new Project Management jobs will be created by 2020, and this certification is an excellent way to show your readiness to work in these roles. You'll show you can handle increased responsibility and work in project management roles at your current organization, or as you continue in your career.
The price for this certification exam is $225 for members of the Project Management Institute members and $300 for non-members. Students need a secondary degree and 1,500 hours of project experience to sit for the exam or 23 hours of project management education. You maintain this certification by retaking the exam once every five years. The test is made up of 50 multiple choice questions, and you have 3 hours to complete it. There are also several other project management certifications you can go on to earn, including the Professional in Project Management (PPM), Master Project Manager (MPM), Project Management in IT Security (PMITS), CompTIA Project+ Certification, among others.
American Management Association Certificates in Analytical Skills
Through three levels of certificates you can build and demonstrate skills in analysis, strategic decision making, use vitally necessary software, translate abstract ideas into concrete plans and results, work with visual data, judge the credibility of information, and much more. These programs involve seminars and cost $3,495. AMA also offers certifications in Leadership Development, Management Development, Business Communication, and more.
Association of International Product Marketing and Management (AIPMM) Certified Brand Manager
In this certification you'll learn to build strong consumer experiences, look at their relationships with organizations, brand identity and positioning, core values, how to maximize brand value, and much more. It costs $3,995-4,995 depending on when you register. It's offered in Dubai.
These are just some of the certifications you can earn to enhance your management credentials.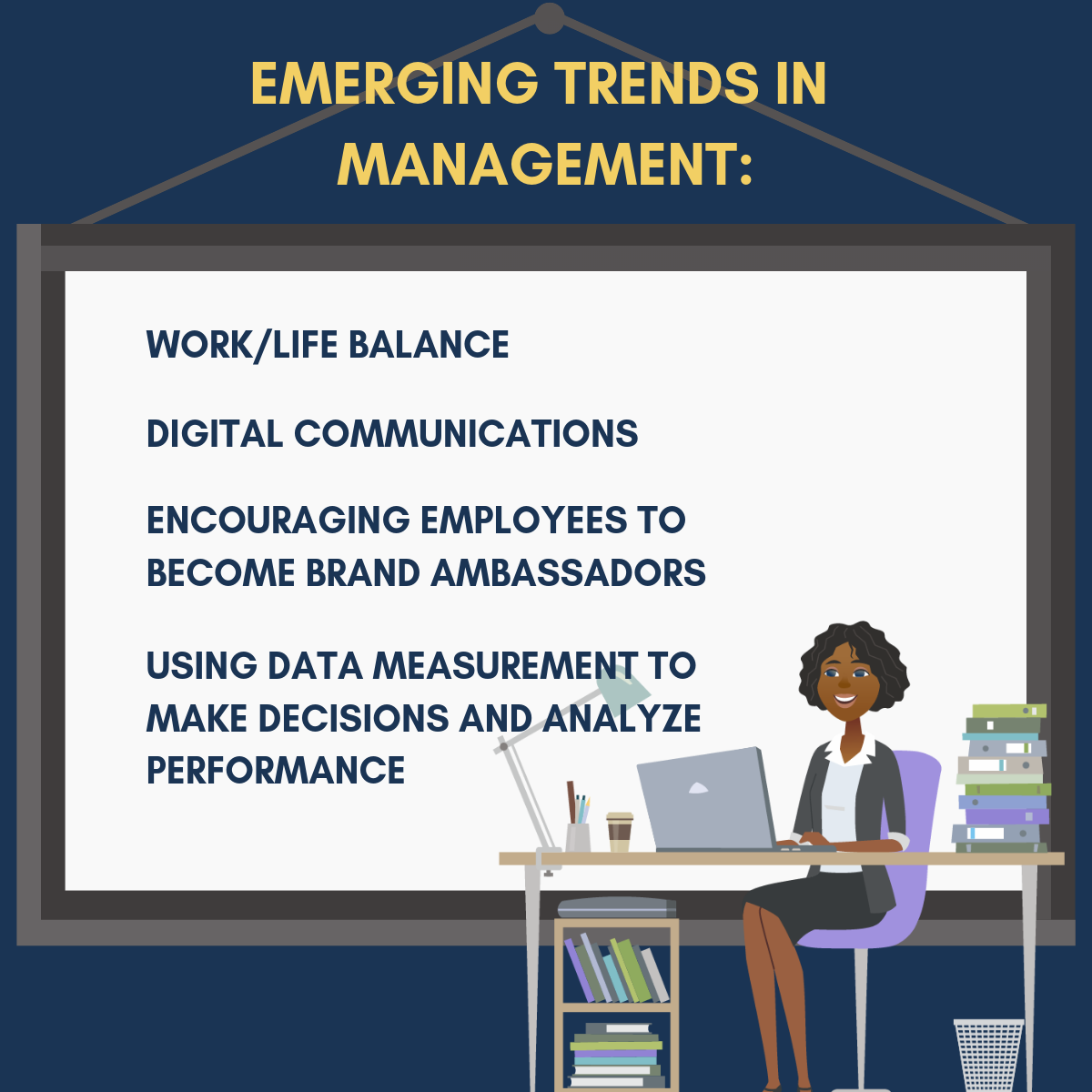 Management Degrees in Conclusion
We hope you've found this guide helpful and informative. To see all of our management content, remember to check out our management category page of content. If you find any school with a management degree program you're interested in; it's beneficial to contact them directly to learn more about their program and assistance in the application process. Good luck!
For Further Reading:
How Much Can I Make With a Degree in Digital Marketing?
What Salary Can I Expect With a Human Resources Management Degree?