"The thing that makes a creative person is to be creative and that is all there is to it."- Edward Albee
The theater is a magical place.  Everyone involved in theater knows it. There's nowhere else on earth where you'll meet such interesting people, experience such profound emotions, and feel the gratification of a grateful audience so acutely.  It's the place where you can go and be your most creative self.  
Theater is a full-on endeavor that takes physical as well as mental strength.  It requires a wide range of skills and is not for the faint of heart.  Joining a theater troupe is a bit like joining a motorcycle gang.  It's a wild ride.
Having a degree in theater arts can be a crucial addition to a career in theater arts because these degrees aim to prepare you for the versatility required for a life on stage.  They prepare you to take that wild ride.  
Being creative is a risk and so having a little preparation ahead of that risk may only increase your chances of having a long and lasting career in the world of theater.  Ready to take on a theater arts degree?  Find out all about what you can do with a theater arts degree below. 
Not finding what you're looking for?  Check out these related programs: 
DegreeQuery.com is an advertising-supported site. Featured or trusted partner programs and all school search, finder, or match results are for schools that compensate us. This compensation does not influence our school rankings, resource guides, or other editorially-independent information published on this site.
What Is a Theater Arts Degree?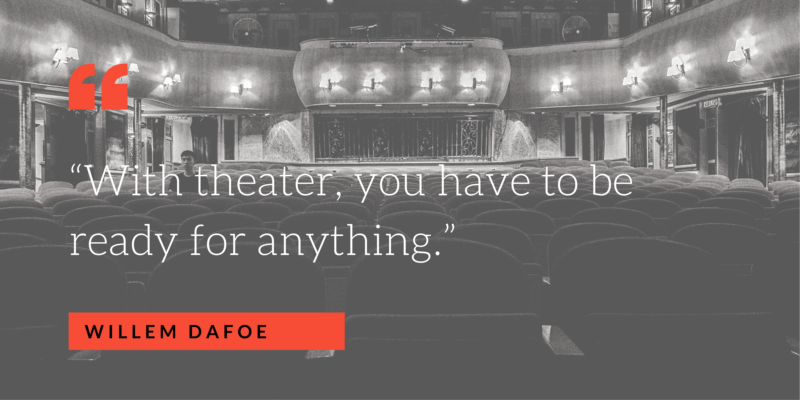 A theater arts degree is dedicated to the study of theater . These programs typically contain an academic component as well as experiential coursework. The goal of these types of programs is to train theater artists such as actors for careers in their craft.  
Theater arts degree programs are typically competitive and small.  Many theater arts bachelor's degrees or Bachelor of Fine Arts (BFA) in theater, only admit a dozen or so students.  This means that if admitted theater arts students often get a lot of time with professors and work closely in a cohort.  Each school's theater program is different and admission policies of course will vary. 
What Will I Study in a Theater Arts Degree? 
While no two theater arts programs are identical.  One should expect to find all or some of the following as part of their theater arts degree: 
Acting 
Voice and Speech
Movement
Theater Ensemble 
Stagecraft
Dramaturge
Theater Practice
Some schools offer a specialization in acting along with the theater arts performance specializations. 
Students are typically exposed to a wide variety of movement techniques such as Alexander Technique or commedia dell'arte.  
Theater performers learn to move their bodies and use their voices as well as work in an ensemble. Additionally many students wish to learn about musical theater.  
Musical Theater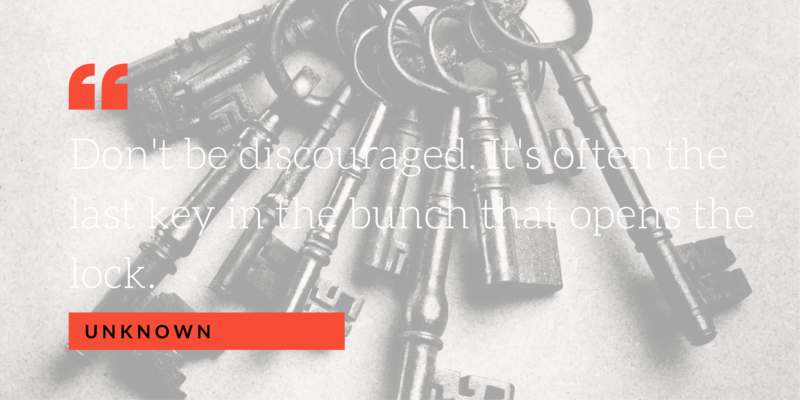 Musical theater is often offered as a concentration or as an intensive.  Musical theater focuses on singing, teaching the speaking voice to sing, movement and character development. The repertoire for these programs will vary including everything from opera, to contemporary rock to ethnic singing. Students who pursue a musical theater intensive should also expect to learn some dance as part of their experience. 
Many people who are interested in theater arts may wish to pursue something other than a performance focus. Some may be interested in a career as a theater designer.  
As you know, putting on a theatrical production is a huge task requiring many different types of talents. The actors and directors are just one aspect of the production, but there are many more creative talents involved in theater arts known as the theater design crew.
Theater Design
Students who wish to complete a theater production and design program may wish to specialize or major in the following areas: 
Stage Management 
Costume
Scenic, Lighting, Sound 
Design and Production
Technical
Some Combination of the Above 
These programs give students the opportunity to focus their attention or explore a wide variety of theater arts skills.  Many students who pursue a program like this are expected to learn how to design costumes, build sets for a production, design lighting and sound and much more. (Learn more about what degree you need to become a lighting designer.)
Many of the best programs for theater design give students the opportunity to work closely with world class faculty making their productions visible to a wider audience. Some programs offer students an opportunity to take their work to a professional arena through summer internships.  
Internships and Study Abroad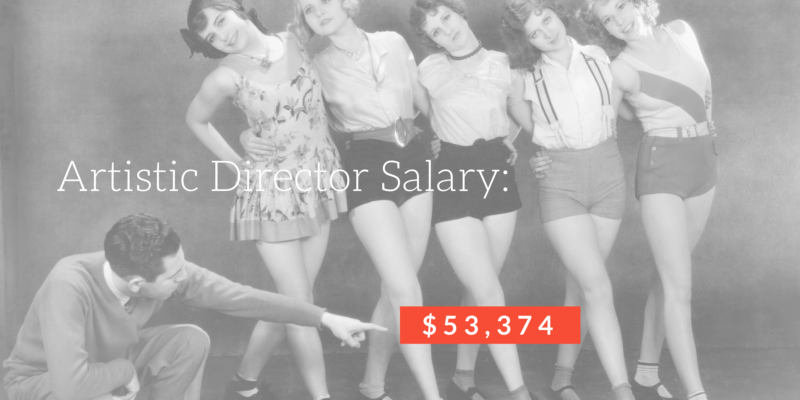 Internships and study abroad opportunities are a big part of a theater arts degree program.  Internships are an excellent opportunity for an actor or designer to gain novel experiences.  Variety is the spice of life is very true where theater is concerned.  Versatility is the key to getting booked regularly throughout a person's career.
Study abroad experiences provide similar opportunities to students- providing a novel setting and set of experiences in which a student may gain new skills and stretch their versatility.  Study the commedia dell'arte in Italy or Shakespeare at the globe in London.  Study abroad experiences are rich experiences that many students site as their most significant memories and opportunities. 
Not finding what you're looking for?  Check out these related programs: 
What are Theater Education, and Theater Management Degrees? 
Theater education and theater administration degrees are great opportunities for individuals to learn how to run a theater or pass on their love for the subject. 
The advantage of these programs is certainly in how versatile they are. There are likely many more theater teaching opportunities than there are performance opportunities and teaching theater is an opportunity for many to pass on what they love to the next generation of actors.  
Theater Management Degree
Theater Management degrees are often master's degrees. These programs are designed to teach best practice management that address contemporary issues facing theater including: engaging audiences, creating sustainable budgets,making decisions based on evidence, creating a mission that benefits artists, audience and organization and more. 
Arts organizations benefit from managers with not only experience but an advanced degree in the subject. Some of the best programs in theater management include experiential learning opportunities as part of the course. These programs encourage students to solve problems in the real world- making them excellent candidates for an entry level job. 
If you are interested in theater management, it may be a good idea to seek out degrees that offer these real world opportunities. 
Drama Teacher Certification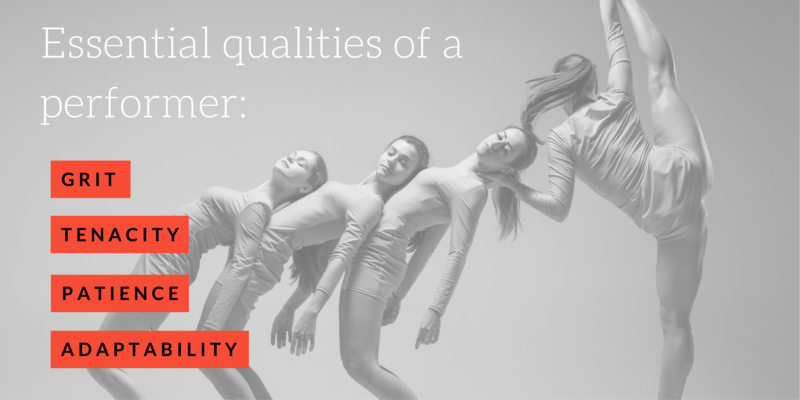 Teaching drama at a high school is a great idea for a career. Many students associate the drama program with fun and engaging lessons.  You may even become your student's favorite teacher. Drama teacher certification often varies from state to state so if you are interested in becoming a certified high school drama teacher, check in with your state's requirements. 
What will I Teach as a Drama Teacher? 
High School drama teachers work to inspire students who may be looking to pursue a career in the theater. For this reason, high school drama teachers often teach a wide-range of theater arts skills including: 
Character analysis 
Blocking 
Character development
Auditioning
Directing
Set Design
Theater History 
Costuming 
Improvisation 
Additionally, a drama teacher is an inspiration to their students and a mentor.  Students need all of the encouragement they can get to even consider pursuing their calling in theater.
Most drama teachers will need to have experience with production. Afterall, what would high school drama be without the school production? This is the opportunity for your students to get immersive hands-on experience. 
As you can see becoming a high school drama teacher is a great outlet for your creative side as landing consistent employment in the theater arts can be very tricky to achieve. 
In addition to a theater arts degree, you will need to obtain a state certification to teach drama. 
Not finding what you're looking for?  Check out these related programs: 
What Jobs Can I Get With a Theater Arts Degree?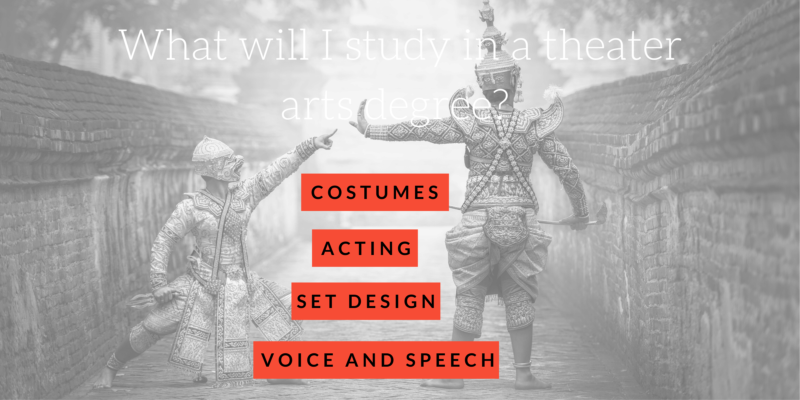 Actor 
An actor builds a character for a role. The actor is responsible for their actions and words.  Some actors are required to dance or sing and should feel comfortable taking direction. 
All actors need to be able to audition, stay in great shape, memorize lines, memorize body movements and blocking, work well with others on stage, attend rehearsals and much more.  Acting is often done for lengthy periods of time and for long hours.  If you are interested in becoming an actor it is essential that you have a great personality, fantastic memory, and the ability to deliver your role with ease. 
Dancer 
A dancer uses their body to perform and may be cast to dance solo, in duets, or in an ensemble.  Professional dancers must practice for several hours every week and should expect to be in rehearsal for many hours each day.
Dancing is a physically demanding job that requires the professional to be in fantastic physical shape, strong, and very flexible.  Professional dancers should be able to take cues and feedback and dance in a wide variety of styles.
Many dancers work with a dance company and may take on additional roles with the company such as dance instructor, creative director, and choreographer. 
Choreographer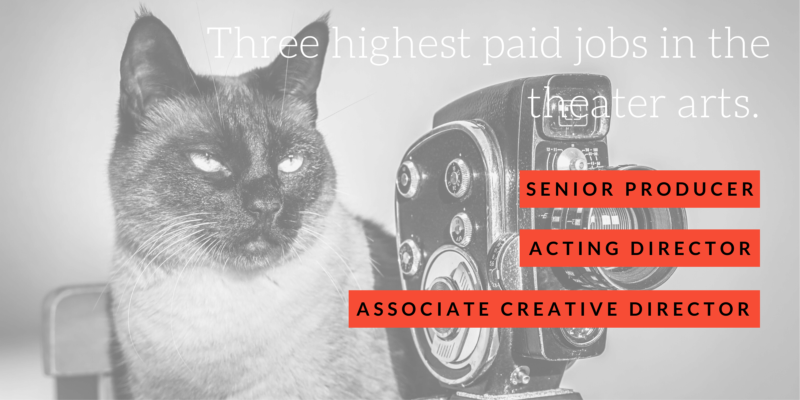 Many choreographers are also professional dancers or were professional dancers. Some choreographers were gymnasts. 
Choreographers work intimately with stage directors to gain an understanding of their vision for a production or routine.  Choreographers design these routines for a wide variety of performances including dance performances, ballets, musicals, and gymnastics. 
Choreographers work intimately with dancers and must be able to effectively communicate their vision. They should be team players as well as teachers with the ability to be able to dance the moves themselves.  
Teacher certification is not required for choreography. 

Theater Arts Instructor- Post Secondary
An instructor in theater arts typically works in a community college, college, or university setting. This individual may have a Master's degree or a Ph.D. in addition to multiple years of experience on the stage.   
Post-secondary educators are responsible for teaching a class or a series of classes and typically focus on their areas of expertise, though not always.  Some theater arts teachers teach literature courses as well as many of the great works of literature are plays.  
A post-secondary instructor may work either as a full-time or part-time faculty member.  As a faculty member you are also considered to be a representative of the school where you work.  These instructors design curricula, create lesson plans, attend departmental meetings, prepare students for productions, hold auditions, mentor and train outside of the classroom, and more. 
Theater Stage Manager 
A theater and stage manager is responsible for just about everything when it comes to running a production.  Established theater companies typically rely on the theater stage manager to liaise with every aspect of the production and ensure that each part runs smoothly. Just a few of the responsibilities of a theater stage manager include  setting up and coordinating a rehearsal schedule, locating all props for the production, liaising with the production manager, cue the lighting and sound technicians, manage the backstage during the production, and coordinate the set up and tear down of the production among many other essential job duties.  
This crucial job is a good fit for any person interested in theater production.  It is hands-on and requires good people skills as well as organizational skills. It is an opportunity to remain intimately involved in multiple productions throughout a season.  
Theater Director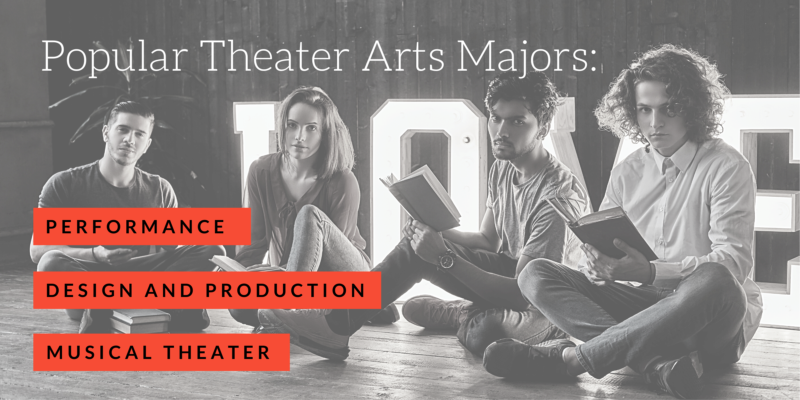 The theater director is the person with the artistic vision for the play. This person (typically along with an assistant director) will cast the play, make decisions about the costumes and set and have a strong connection with every person involved in making the play including those who run the theater itself. 
To be considered for a position as a director you will first need a degree and the minimum requirement is a bachelor's degree. Next it is essential to have experience in the role as director. This can be achieved through work in community theater. Some of the best opportunities come from within. So remember never to be afraid to found a small community theater or hold an audition in your community and create a low-budget production. A minimalist set goes a long way. 
Set Designer 
A set designer is the person responsible for designing the scenery on stage. The set designer works intimately with the director as well as the technical crew, producer, costumer designer and any other member of staff. 
Set designers are creative individuals with a wide range of technical skills. To be a great set designer, one will need to have clear communication skills. Depending on the size of the organization and its budget the set designer may need to meet with external construction companies who help to build the set though oftentimes, a set designer will do that themselves or with a team they assemble. 
The set designer is a versatile person who is flexible and hard-working.  A set designer should be able to draw, and build as well as be flexible enough to make adjustments to the set. 
Stage writer (Playwright)
A playwright is the person responsible for writing the material that is to be performed on stage. A playwright will take original material or adapt material and create dialogue to be used in a production.  
Stage writers are different from performers in that they often work behind the scenes entirely.  Many stage writers are not part of the production process.  
In smaller productions, however, it is not uncommon for a stage writer to double up and do an additional role such as produce or even direct a play.  Many smaller productions with smaller budgets may not have the ability to secure the rights to a previously written work and additionally may not have the budget to hire multiple people to carry out these various roles.
This is just one reason theater arts programs, especially bachelor's level programs offer their students the option to learn about these various aspects of the theater arts.  
What Does It Take To Become An Actor?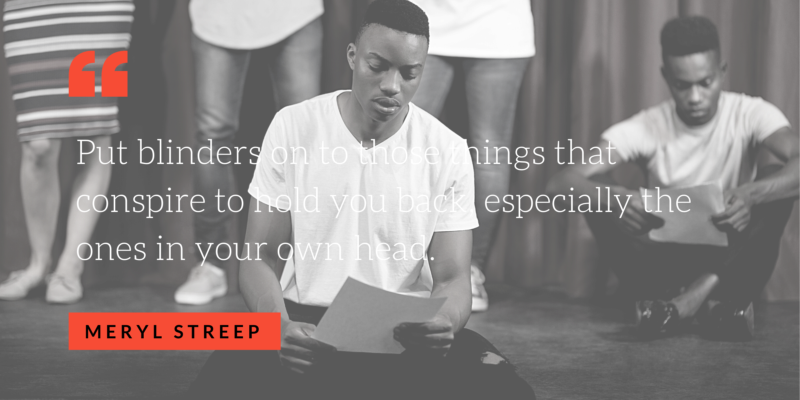 If you are thinking about making acting your career then there is a lot to consider. 
First of all, the majority of actors are not hollywood actors making millions of dollars per shoot. Furthermore, stage actors committed to this craft have extremely different skills and expectations to film actors.  According to the Bureau of Labor Statistics, the median hourly rate for actors is just $20.43. 
If you are looking to become a stage actor then chances are you are passionate about the craft of acting and are hungry for the opportunity to perform.  
Acting for the stage is a rigorous act that always requires long hours and an extremely resilient and flexible mindset. Optimism will be your best friend.  There is very little room for pessimism in the often grueling profession.  
If you're not afraid of hard work, then read on.
After you have completed your degree in theater arts, then you have a great number of the skills necessary to do the physical job of acting.  You likely have already practiced performing and understand how a professional production works.  
Landing a job on the stage can be very difficult to do, but like anything worth pursuing you should be willing to try again and again and again without faltering. 
The mental skill of rejection is not really something that can be taught in a classroom.  Be prepared to hear the word "no" or to see a "sorry but…" in your email inbox a lot.  
You may have all of the specifications for a role and feel like you have nailed your audition and still see absolutely no results.  This level of rejection does not exist in professions outside of the arts, so even though it may feel discouraging, keep in mind that rejection is the norm.  
Don't Knock Gig Work. Here's Why
Every few months a position may open up that you are right for and you may decide to go and audition. You may find out that you didn't get the part and then wait a month or more to find another part to audition for. This is entirely normal but let's face it waiting around for an audition to open up doesn't pay the bills.  Almost all actors utilize gig work to help pay for their life in a city.  Gig work is useful for when you do get cast in a production.  You need a job that is okay with your saying "sorry but I can't work these days for the next few months." Having a reliable gig is an essential asset to an actor and may be just what keeps you steady enough to actually nail your audition.
Getting ready for an audition? Bring these five things.
Five Things to Bring to An Audition
An Extra Monologue 
If you're a Woman: heels 
A positive attitude 
Tons of charisma
Memorized sides 
Just remember when it comes to auditions to keep on going.  Getting discouraged is normal but if you show up prepared and remain professional chances are you will eventually get cast.
Being cast in a production is exciting and likely will lead to more opportunities down the road. This snowballing effect may just be what launches your career.  
Once you're cast in a production it is important to show that you are open and available.  Many people aren't successful because they don't make time for the production itself. It may seem a no-brainer but being available, early, and ready with lines memorized are the best things you can do to create even more opportunities in the future.  
Three Things Pros Do
Make Themselves Available
Show Up Early
Memorize Lines Quickly 
As you can see life in the theater arts is never dull or boring, but rather it takes the most courageous of us all to be successful. If you are truly passionate about the theater arts, then having a theater arts background is invaluable.  You'll learn the necessary skills, meet an incredible group of people, and gain insights that may never come your way otherwise.  All the world may be a stage but very few of us have the courage to step on it.  
Not finding what you're looking for?  Check out these related programs: