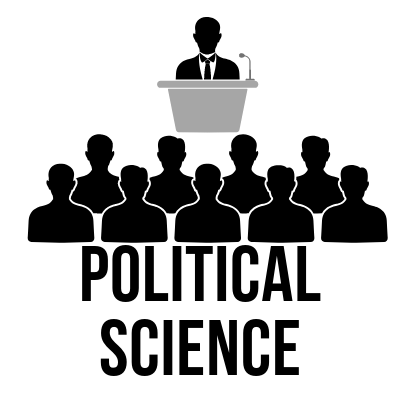 The exercise of power, individual and collective rights, and responsibility for the future all converge in one field: politics. The political arena impacts every aspect of our lives, from private markets to the free press, from the quality of our water to the actions of our military. If you want to play a part in shaping the governance of your city, state, or nation, or even taking part in global affairs, a political science degree can help prepare you.
No matter whether you care about economic prosperity, human rights, climate sustainability, or national security, political action is crucial for progress. A recent article in Foreign Policy notes that today's fraught political climate- at both the domestic and international level- demands action that's both decisive and prudent, which can only be achieved by educated and experienced leaders.
If you're energized by the idea of leadership, want to have a hand in steering the world's decision-makers, or care about influencing the policies that impact the people of people today and the future, you'll want to consider a political science degree. A degree in political science can lead to jobs in government, advocacy, diplomacy, or academia. The skills developed in a political science degree program also translate well to other fields where analysis, influence, and communication matter. If you're curious about a political science major, our guide to What Can I Do with a Political Science Degree? can get you oriented.
Jump To:
DegreeQuery.com is an advertising-supported site. Featured or trusted partner programs and all school search, finder, or match results are for schools that compensate us. This compensation does not influence our school rankings, resource guides, or other editorially-independent information published on this site.
What is Political Science?
Political science, in a nutshell, is the formal academic study of politics. Political science covers the study of all forms of government, political thought, and political activity.
Political Science traces its roots further back than you might think. In ancient times, political philosophy was discussed and taught by the Socratic political philosophers, Plato and Aristotle. In fact, Aristotle is sometimes called "The Father of Political Science," and his most famous treatises, such as "Politics" on the subject were written as far back as 335–323 BCE. These works applied principles of logic and philosophy to political problems, such as who should rule and how citizens should behave. The Western world was not alone in this type of reflection. In India, the early political work "Arthashastra of Chanakya" was written back in the 3rd century BCE.
Today, political science (or "PoliSci") is very widely taught, and most schools and colleges offer a PoliSci major. As an academic discipline, political science is one of the many social sciences- disciplines that cover the formal study of people and their relationships. Other social sciences include: anthropology, archaeology, economics, and history.
The social sciences fall within the larger category of liberal arts, alongside subjects like Literature and History. And while social scientists don't run experiments or work in labs the way most scientists do, they do use scientific methods of inquiry, including data gathering and analysis. As a political scientist or political science student, you may research historical records and documents, read and evaluate scholarly journal articles, perform case studies, and run statistical analyses.
What Types of Political Science Are There?
Governance is complicated. The advent of instant communication, exponential population growth, and an increasingly connected and globally interdependent world have only made today's political world even more complicated. Understanding current political systems, making strategic decisions, and shaping forward-thinking policies requires a deep understanding of many complicated and interdependent factors.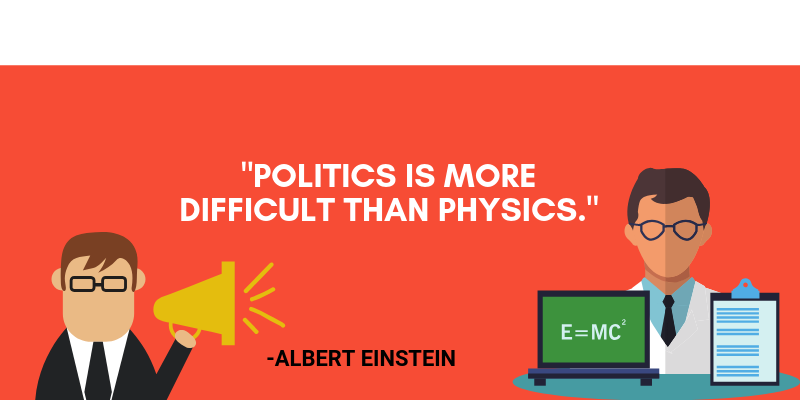 It should come as no surprise that Political Science has many branches and specialities, each of which focuses on a single strand within the larger fabric of politics. Some of these include:
comparative politics
global relations
political economy
public policy
political methodology
political theory
public administration
Political science is also an interdisciplinary field, with many different components. Some of the disciplines that political science draws on include:
psychology
sociology
geography
history
law
economics
There are also a number of schools of thought in political science. These are especially important in the world of academia, where political theory and interpretation matters. Each of these provides a lens for interpreting history, world events, and policies. Some of the most prominent academic approaches to political science are:
positivism
rational choice theory
interpretivism
behaviouralism
structuralism
post-structuralism
realism
institutionalism
pluralism
A degree in political science will typically touch on all the areas discussed above. PoliSci students can expect to become familiar with topics in the different branches of political science, learn the basics of the major schools of political thought, and cover studies in different related disciplines like economics and psychology. An undergraduate degree in political science will make you conversant in each of these many areas, which a graduate degree in political science will develop your expertise in just one or two.
What is the Difference Between Political Science and Public Policy or International Relations?
If you're interested in governments, diplomacy, and politics, you've likely encountered the terms Political Science, Public Policy, and International Relations when researching degrees. All of these degrees relate to politics, and incorporate studies in political theory, history, economics, and sociology. And all of them can lead to careers in the government (as well as roles in marketing, fundraising, media, journalism). So, what's the difference between Political Science and Public Policy or International Relations? Depending on your perspective, both international relations and public policy can be seen as forms of political science, each with a specific focus.
Public Policy
Public Policy focuses in on political decision-making and domestic policies. Public policy analysis and reflection on the values that shape political decisions is a big part of the formal study of public policy. Both public policy and political science cover how people vote and how government decisions like regulations affect citizens, and both use quantitative analysis to understand how policies impact voting and other political activities. But political science is a broader field, covering things like the evolution of political systems, political theory, and different forms of government.
Learn more about what degree you need to be a policy analyst.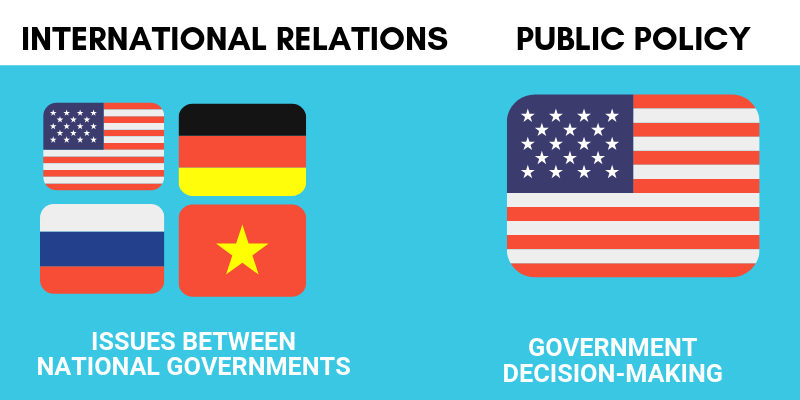 International Relations
Sometimes called "International Affairs" or "Global Affairs," International Relations is all about politics on a global scale. While public policy concerns itself with domestic federal policies, regulations, and elections, international relations looks at how relationships between nations play out. An international studies degree program will cover topics like international law, diplomacy, and global history, as well as foreign language study. Students majoring in International Relations will usually specialize in relations between the US and one particular region, such as the Middle East or Western Europe.
What Classes Will I take for a Degree in Political Science?
Every school has its own curriculum for degree programs. In the case of political science degrees, this is especially true. The political world is simply too big and complex to distill into a single program, and the interdisciplinary nature of political science means pulling in studies from other departments, like history and psychology, as well. Political science degree programs tend to differ in their areas of emphasis. Some schools focus more on domestic electoral politics, some provide more training in political theory, and some emphasize international politics.
Many political science degree programs offer a wide selection of courses and allow students a high degree of personal tailoring in their choices. Prospective students should plan to compare schools based on their political science course offerings and weigh these based on their personal interests and professional goals. Typical classes offered in political science at both the undergraduate and graduate degree level include:
Ideology and Political Conflict
Theory and Practice of American Democracy
Law, Politics and Public Policy
Comparative Politics
Social Issues in Gender
Electoral Politics
Human Rights
Cultures ands Civilizations in Global Politics
Global Ethnic Politics
Quantitative Political Analysis
What Can I do with a Bachelor's in Political Science?
A bachelor's in political science provides a broad knowledge base and has a wide range of career applications. A bachelor's degree usually consists of 120 credits, and takes four years to earn on a full-time basis. For those who want to finish faster, there are accelrated degree programs that offer the same course of study compressed into just three years.
As noted above, political science is considered part of the liberal arts, so a bachelor's in political science is usually offered as a bachelor of arts (rather than a bachelor of science). The goal of a bachelor's of arts (BA) is to produce well-rounded scholars with a high degree of general knowledge, who have familiarity with many different subjects. That, in turn, means that your undergraduate political science degree will have a high number of general education credits required– as many as half of your 120 bachelor's credits. These core general ed classes will cover humanities, natural sciences, math, and composition. Examples of common more classes include:
English Literature
Foreign Language
Statistics
Psychology
Biology
Art History
Economics
The remaining 60 credits or so are specific to the political science major. Many schools allow students to select a political science concentration through their choice of electives. A concentration shows specialization and an area of special expertise and interest. An internship and concentration focused on the same area is an excellent way to demonstrate an area fo skill and knowledge to potential employers. Common concentrations offered as part of a political science bachelor's include:
foreign policy
global politics
environmental politics
American politics
Political communication
comparative politics
political economy
international security
Most liberal arts undergraduate degrees don't heavily emphasize experiential learning, though it tends to be a requirement for master's degrees in general. But for political science, internships and other experiential learning programs tend to be quite important, and are highly recommended by most schools. One reason for this is the applied nature of political science in the real world- working on an election campaign or lobbying push is very much a field-based, real-world experience, and one that's hard to simulate in the classroom. another reason is the special importance of demonstrated skills and professional networking in the political arena. Doing real work and connecting with professionals and leaders as a political science intern will go a long way towards building your resume and growing your career prospects.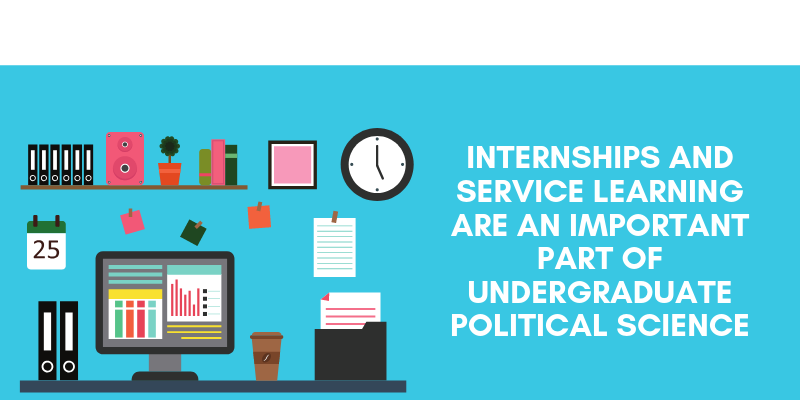 Students in a political science bachelor's program can look for internships with organizations, political groups, government offices, interest groups, and legal offices. If you're interested in national or international politics, schools in metro areas or even in the nation's capital are excellent choices. Some schools also offer off-site internships in geographically separate locations, allowing students to gain experience in politically important locations like Washington DC.
A bachelor's degree in political science can lead to immediate hiring in entry-level positions in politics and government, such as legislative assistant, assistant policy analyst, and assistant research analyst.
Not everyone with a bachelor's in political science goes into politics. In the private or nonprofit sector, the skills this degree develops in communication, research, and analysis can be applied to roles like social media manager, public relations specialist, program director, or fundraiser. Many people with a bachelor's in political science also go on to earn advanced degrees in related fields like business or law. Others earn advanced degrees in political science in order to advance their careers within this field.
What Can I Do with a Master's in Political Science?
A master's degree traditionally comprises 36-54 credits, and takes two years to complete when students take classes full time. Those looking to finish their studies faster can look for an accelerated master's degree, which covers the same number of credits in a shorter time span, often as short as 18 months.
There are no general education requirements at the master's level; at this point, you'll be developing advanced expertise in the specific domain of political science. You can expect about two-thirds of your classes to be political science courses. The rest will be electives from both the political science discipline and in other departments related to the major or to your area of focus. For instance, if you choose t focus on environmental politics, you may take geology or environmental science classes.
Many master's degrees require a thesis (culminating research project) for graduation, but a large number of political science master's degrees do not require a thesis or make it entirely optional. As with a bachelor's in political science, internships and other experiential learning opportunities are usually encouraged, and concentrations in particular areas of political science are often available. Master's students are also usually encouraged to collaborate in cross-disciplinary projects with students from related departments, such as law and business.
What Can I Do with a PhD in Political Science?
A PhD is also called a terminal degree, signifying that it's the highest possible level of scholarship. A PhD in Political Science marks the highest level of expertise in the field, and it's an intentionally long and difficult process to earn one, requiring years of dedicated training and scholarly work. Students earning a PhD will need to take required graduate-level classes, then complete a dissertation. A dissertation is a work of original research, conducted under the guidance of a thesis advisor provided through a student's school. PhD students usually serve as teaching fellows at their university while conducting their dissertation research and writing. After literally "writing the book" on their research topic, PhD candidates must defend their dissertation before an expert panel.
The entire PhD process can take between 4-7 years, depending on whether you already hold a master's in political science, your PhD course load, and your pace of thesis completion. At the end of the process, you'll be among an elite group of scholars– only about 750 PhDs in political science are awarded annually, according to the National Center for Education Statistics.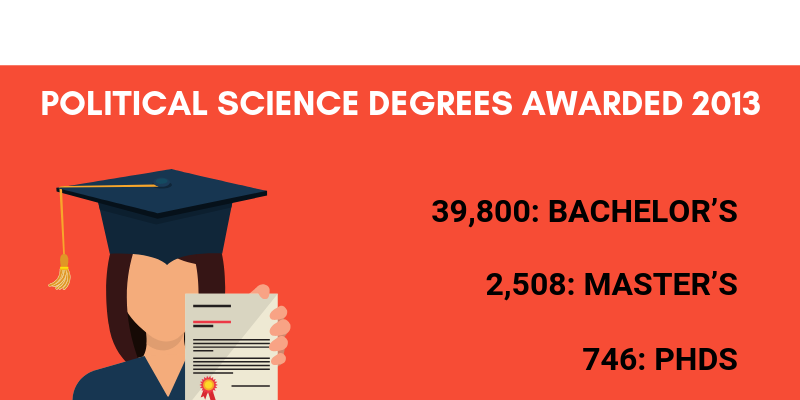 When it comes to the liberal arts, the reason to earn a PhD is to become a professional academic scholar. It's possible to teach as an associate professor in colleges and universities with only a master's degree, but PhDs are strongly preferred, especially in the liberal arts disciplines like political science. With a PhD in political science, you'll be eligible for tenure-track professorship. Achieving tenure as a faculty member means job stability and academic freedom, allowing you to teach and research topics of your choosing. As a political science professor, you'll be expected to conduct and publish scholarly research in peer-reviewed journals, as well as teaching and mentoring students and being active in the political science department. Outside of academia, a PhD in political science can help you land a job in a political think tank or as a government policy analyst.
What Jobs Can I Get with a Degree in Political Science?
Political science is a flexible major that can be applied to jobs in and outside of the political arena. With a degree in political science, you can set your sights on jobs supporting campaigns or shaping policy, or can even become a career politician yourself. According to The Balance Careers, a political science degree prepares graduates for political jobs such as:
lobbyist
campaign manager
pollster
communication manager
diplomat
politician
campaign staffer
legislative aid
policy analyst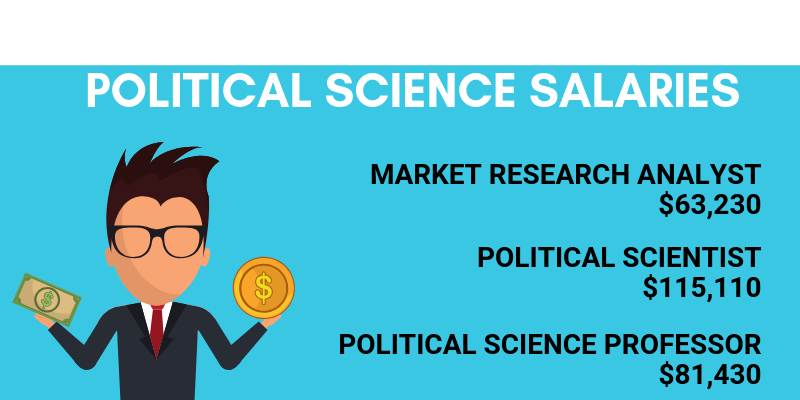 Outside of politics, a degree in political science is still useful. Political science degree programs provide training in both the soft skills of communication and persuasion and the hard skills of quantitative analysis and research. These skills are particularly useful in fields where understanding and shaping values and attitudes matter, such as in advocacy, or marketing. Political science majors have experience in both scholarly and persuasive writing, as well as in managing conflict and delivering sensitive messages. These skills are especially in demand for fields like media and law. According to The Balance Careers, a political science degree provides preparation for such non-political jobs such as:
lawyer
market research analyst
business manager
public relations manager
social media specialist
fundraiser
journalist
professor
Of course, some of these positions will require specialized training or degrees beyond a political science degree. For instance, you'll need a law degree and passing score on your state's Bar Exam to become a lawyer, and an MBA will be strongly preferred for business management careers. Regardless of field, most careers associated with a political science degree have strong salaries. The Bureau of Labor Statistics reports that a political scientist makes $115,110 per year on average, and that political scientists working for the federal government make an average salary of $126,060.
Further Reading: