Social work is one of the few areas of education that prepares you to help improve the quality of people's lives in myriad ways. In social work, you'll help at the individual, family, group, and community level providing services that include child welfare, mental health, policy advocacy, assist specific populations (elderly, immigrants, etc.), substance abuse, insurance, social welfare programs, and much more.
There are many different paths within social work that you can explore, but a licensed career as a social worker is dependent on earning a Council on Social Work Education accredited social work degree. To work as a social worker you'll need at least a Bachelor's of Social Work (BSW), but often a Master's of Social Work (MSW), and in some cases a Doctorate or Ph.D. in Social Work, depending on your career goals. If you have a Bachelor's degree that isn't in social work and are looking for a change of career, social work can be a welcoming field. Most MSW programs accept students who didn't earn a BSW.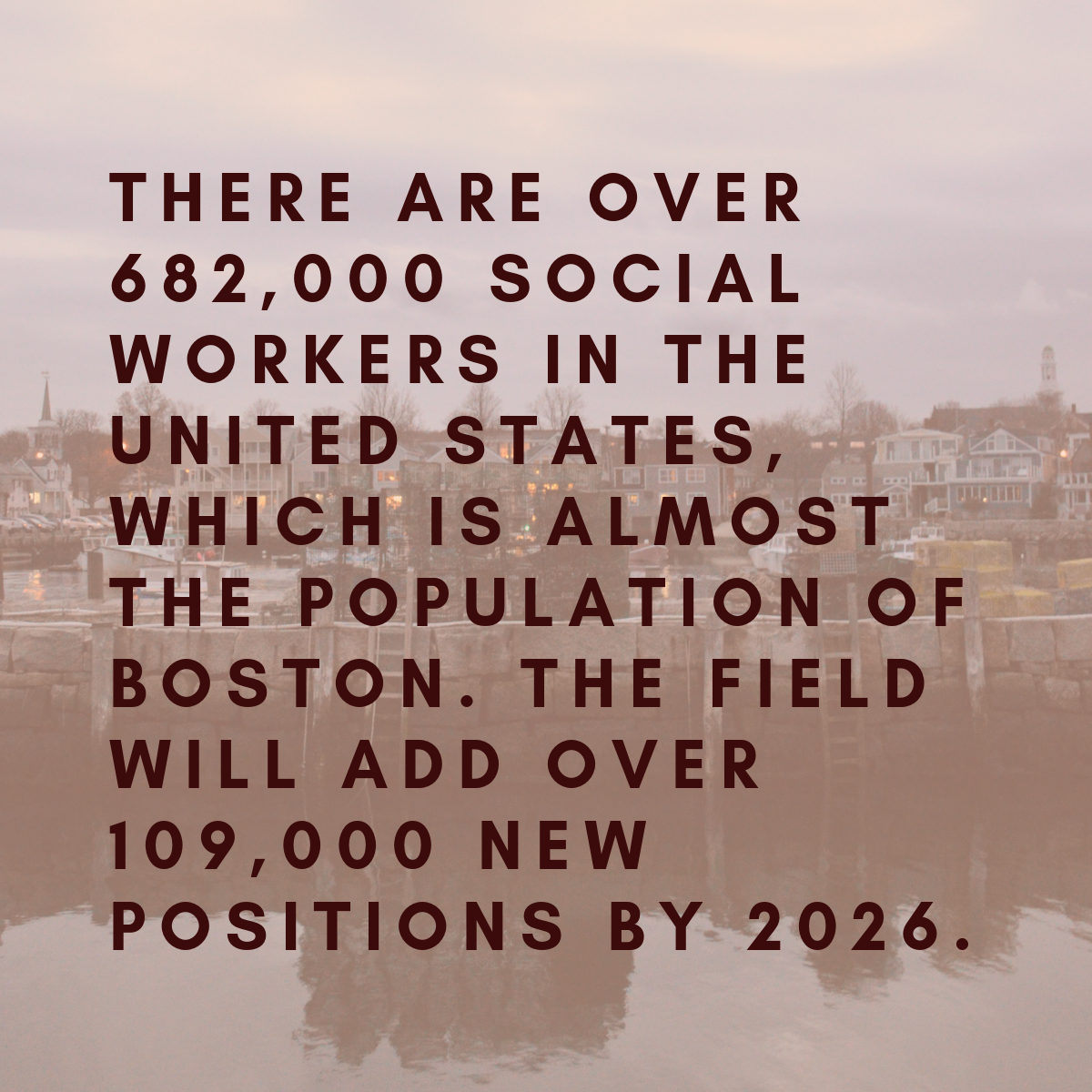 Two prominent social workers, Philip Popple and Leslie Leighninger, describe the seven core functions of social work as:
1) Engagement: the social worker must first engage the client in early meetings to promote a collaborative relationship
2) Assessment: data must be gathered that will guide and direct a plan of action to help the client
3) Planning: negotiate and formulate an action plan
4) Implementation: promote resource acquisition and enhance role performance
5) Monitoring/Evaluation: on-going documentation through short-term goal attainment of extent to which client is following through
6) Supportive Counseling: affirming, challenging, encouraging, informing, and exploring options
7) Graduated Disengagement: seeking to replace the social worker with a naturally occurring resource
In a social work degree program, you'll study to work in clinical, policy, or administrative roles. Social work is dependent on interdisciplinary skills and knowledge, and you'll examine aspects of economics, anthropology, health, law, psychology/psychotherapy, politics, sociology, criminology, ecology, education, philosophy, counseling, and more.
Social Work traces its history to mid-19th century England. It started to counter the poverty created by the Industrial Revolution and the era of laissez-faire capitalism it ushered in. Since then it's expanded drastically, and began to help people with all kinds of issues and needs. In 2016 the U.S. Bureau of Labor Statistics found there were 682,100 social workers in the United States. They predicted a 16% growth (much faster than average) in the field between 2016-26, which will translate to 109,700 new jobs. Social work isn't a profession you go into to make a lot of money, but the median annual wage for social workers was $47,980 in 2017. That same year the highest 10 percent in the field earned over $79,740, and the lowest ten percent made less than $29,560.
By earning a degree from a top social work program, you can better your chances of getting a position in the field that matches your career and personal goals, and one that can support you and your family. In this guide, we'll look at what we at Degree Query have done to educate you on your options within social work. We've answered commonly asked questions about social work, looked at social work degree programs, and more. While using this guide, consider the following: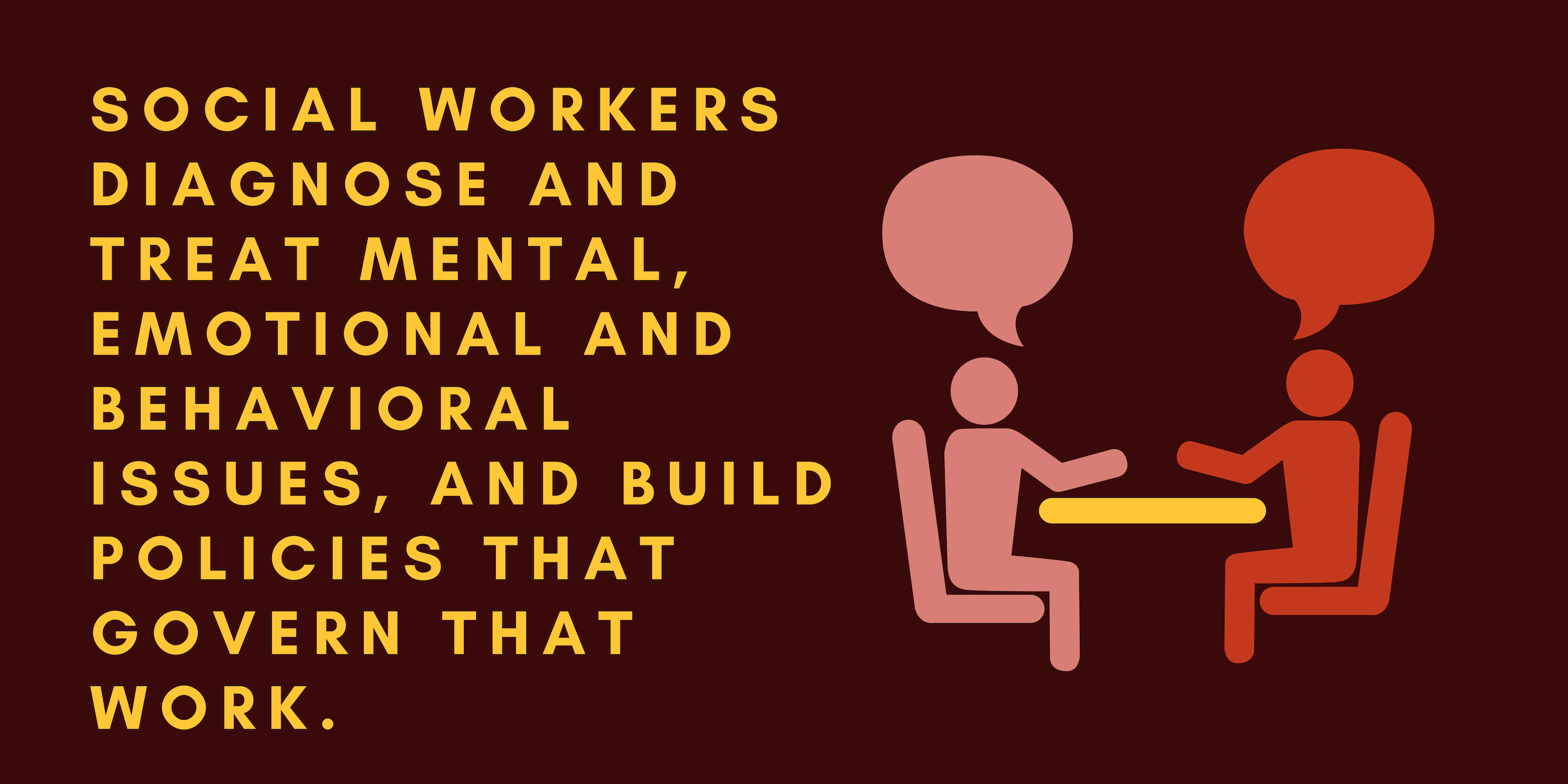 What is your career and educational experience? How has it prepared and motivated you to study and work in social work?
If you have experience working with certain communities, or know that you prefer to study clinical, or policy social work, that can help narrow your search for a degree.
What degree level in social work is right for you considering your educational background? If you've earned a Bachelor's degree, an MSW might be right for you.
What are your immediate career goals? How would a social work degree help you reach them?
How much can you pay in tuition and other associated costs for a social work degree, and how much would you need to borrow to pay for one? Keep in mind that there are more affordable options for social work than other fields.
However, there are many different costs associated with earning a social work degree depending on where you study, if you live on-campus, and whether you take classes online or in-person.
Do you need to work full or part-time while you attend your management program?
Look at how prospective social work programs build time into their programs for work, especially considering they require internship work as part of earning your degree.
Whenever you can try to avoid private, high-interest loans and choose federal or state ones. If you can, choose a social work program you can afford or one that gives you grants/scholarships.
How much time can you sacrifice earning your social work degree daily, weekly, and in total on your route to graduation?
What's the best delivery method for you in a social work degree program? Do you want to go to school online, in-person, part-time, or full-time? Social work is a discipline that will require in-person training and work.
What part of social work would you like to study and practice? There are larger areas like administrative, policy, and clinical, and then dozens of niche areas you can delve into through electives and internships.
Where do you need to work and live during and after earning your social work degree?
Some cities, states, and regions have a greater demand for social workers, or social workers in a specific area than others, so if you know what you want to do explore where in the country you'd be in demand.
Let's take a look at what it takes to become a social worker: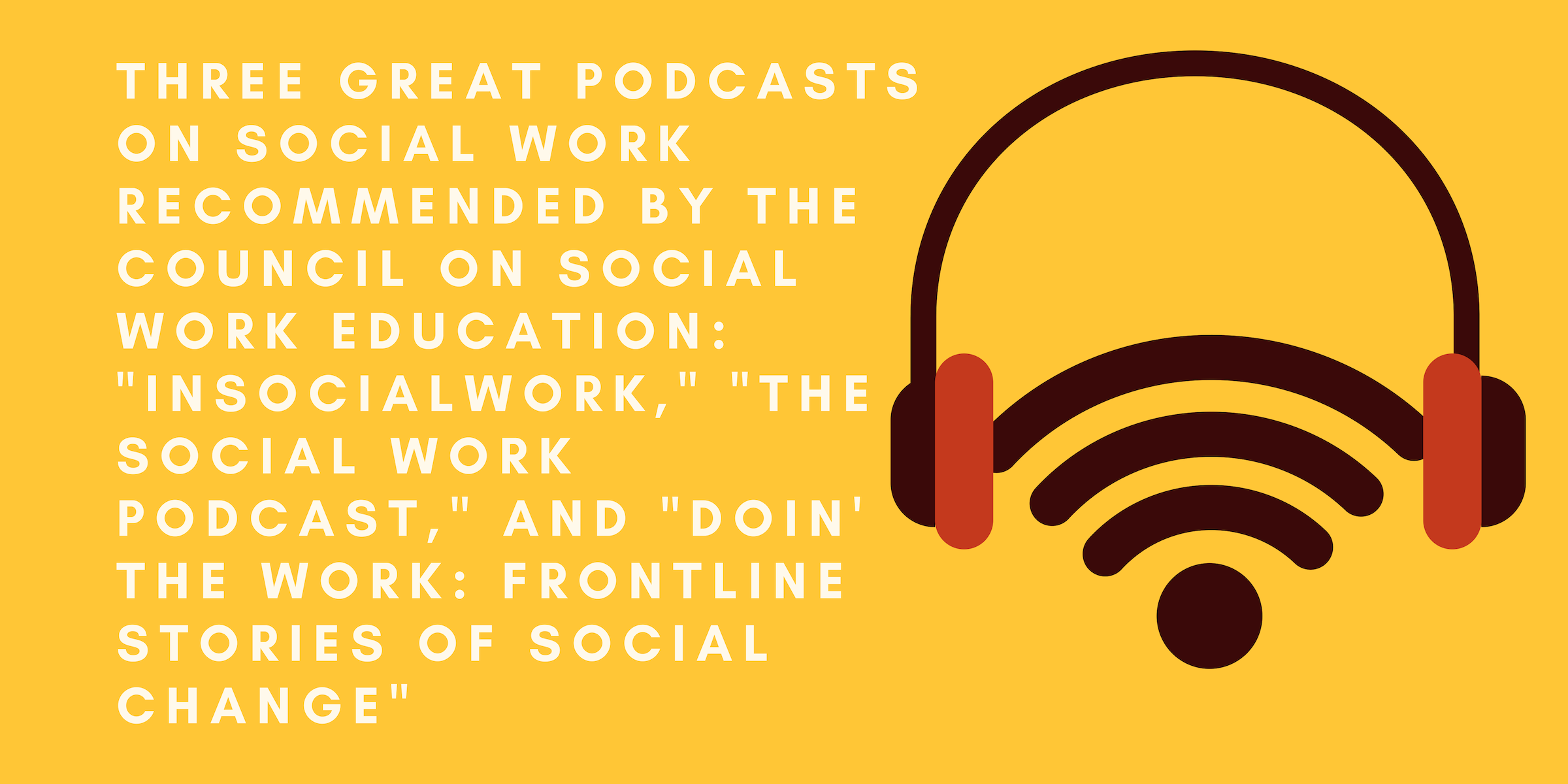 DegreeQuery.com is an advertising-supported site. Featured or trusted partner programs and all school search, finder, or match results are for schools that compensate us. This compensation does not influence our school rankings, resource guides, or other editorially-independent information published on this site.
Top Qualities Associated with Social Work
Being a social worker is tough, backbreaking work, often demanding long hours, prime organizational skills and significant emotional labor. It's not for everyone. Social workers face high stress in their jobs, and will repeatedly confront the ways bureaucracies fail people. They'll also see their labor completely change peoples' lives for the better. Here are some of the attributes you'll need to be successful as a social worker:
Patience: Social work can be extremely frustrating and involves a lot of listening, waiting, and understanding. You'll work with people under extreme stress, and have to move past bad results despite your best intentions and efforts. It's crucial to practice extreme patience with yourself, the people you're working with, and the bureaucracies that govern their lives.
Empathy: The ability to engage with how other's feel isn't only necessary as motivation for social workers, it's also instrumental to your success at solving problems and getting results from government agencies, non-profits, clients, and other people you'll encounter in and out of your career.
Superb Organization: Social workers are often overworked, and your ability to balance different aspects of your job, people you're working with, cases, and your other responsibilities demands strong scheduling, planning, and recording skills, along with a strong desire to maximize your efforts and follow through on them despite obstacles.
Awareness: You'll consistently improve your work throughout your education and career in social work. Successful social workers can take in criticism and praise appropriately while maintaining an objective view of their work, strengths, and weaknesses.
Maintaining Boundaries: Social work is a selfless pursuit, but to be effective you'll need to balance your work and what you can accomplish realistically with your personal needs and self-care.
These are just some of the aspects of being a successful social worker. If you feel like you embody these, or can build them up in yourself over time, and are motivated to become a social worker, these are the social work degrees that you can earn to develop these attributes further and gain the practical training you'll need to have a social work career: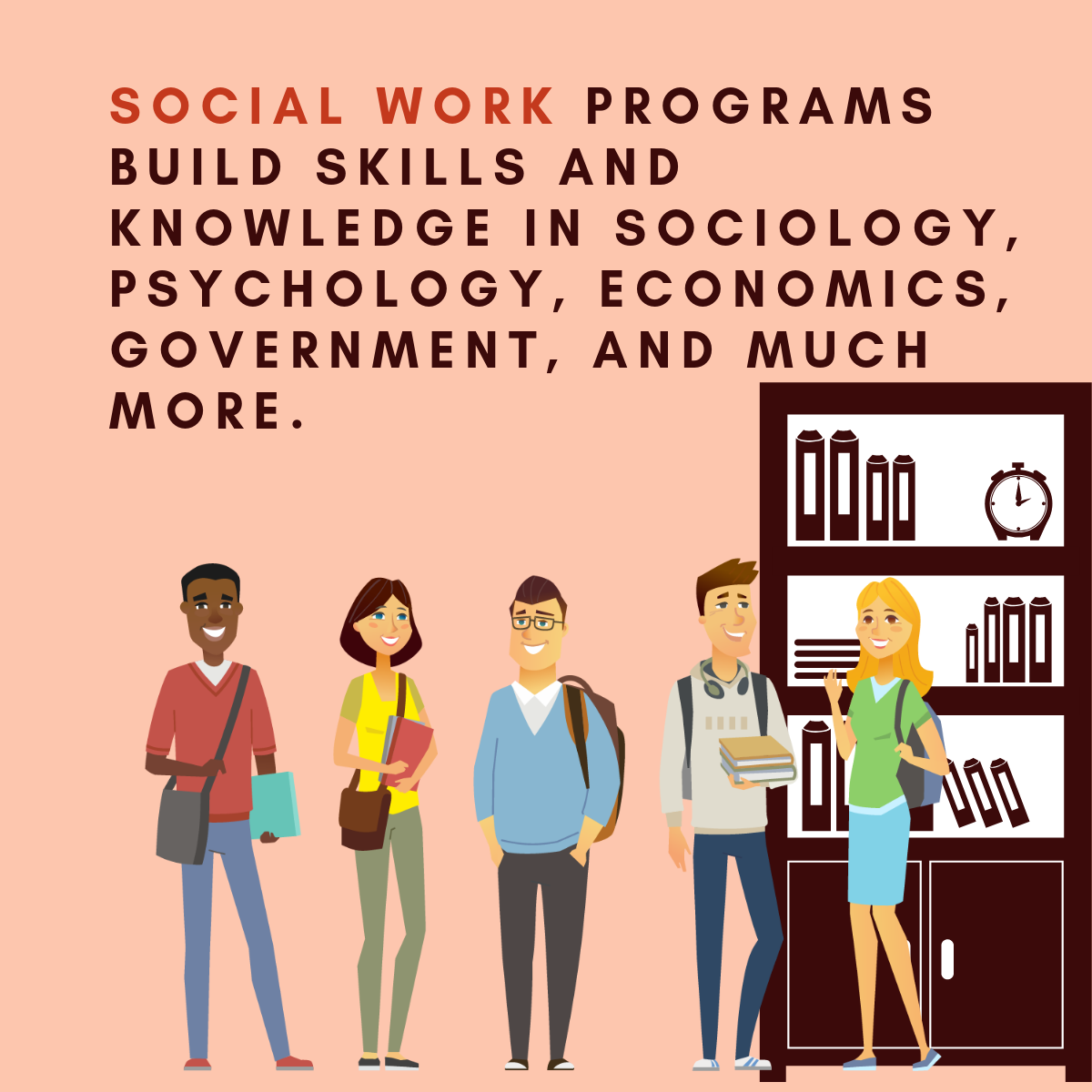 Social Work Degree Levels
Depending on where you're at in your education currently, you should consider one of the following degrees in social work:
Associate's in Social Work
In these two-year programs you'll build foundational skills in social work, studying diverse areas that include sociology, psychology, economics, American law, and much more. If you haven't attended college, these programs are a great way to earn credits towards further degrees, including a Bachelor's in Social Work, while paying less than you would for a traditional, four-year on-campus program. You can often take these degrees online, or from a community or junior college to save money. Graduates will be ready to fill positions as social work assistants, community health workers, mental health assistant, and more.
Bachelor's in Social Work
Here you'll study full-time for four years (or less if you've earned an associate degree in the field) to obtain either a BSW or Bachelor of Art in Social Work (BASW). You'll train to provide services to individuals, groups, communities, and families. These degrees are great for gaining entry-level jobs in social work and depending on where you want to live and work; they can lead to professional licensure. You'll closely study social welfare, research methods, human behavior, cultural diversity, social justice, and much more. You may find online options for these degrees, but because social work is dependent on in-person interaction and practice, you should consider a more traditional program. Regardless of what program you choose you'll often be required to do in-person work to earn this degree. Also, to make sure you receive your professional license you'll likely need a Master's degree in Social Work:
Master's in Social Work
The MSW is the gold standard for professional social work positions and licensure. These degrees take one to two years to earn and involve intense internship experiences that build out student's professional experience in preparation for them to enter the field. You can opt for clinical, policy, administrative, and other specializations in these degrees. Graduates will be prepared to work in medicine, mental health, and education working as therapists, in healthcare, schools, and as clinical social workers, among many other positions. Through your internships and classes, you can specialize in working with specific populations or treating individual issues. You can choose online programs, but once again, in-person work and study is instrumental in becoming a successful social worker.
Doctorate or Ph.D. in Social Work
To enter these programs you'll need an MSW or graduate degree in a related field. In three to five years of study (full-time, part-time, and longer depending on how long your dissertation takes) you can earn a Doctor of Philosophy (Ph.D.) or a doctorate in social work (DSW). In the former, you'll be prepared to work as a researcher, scholar and educator, and in the latter you'll work on more practical, clinical skills. Both degrees lead to advanced positions throughout social work. These programs require a dissertation and the defense of it.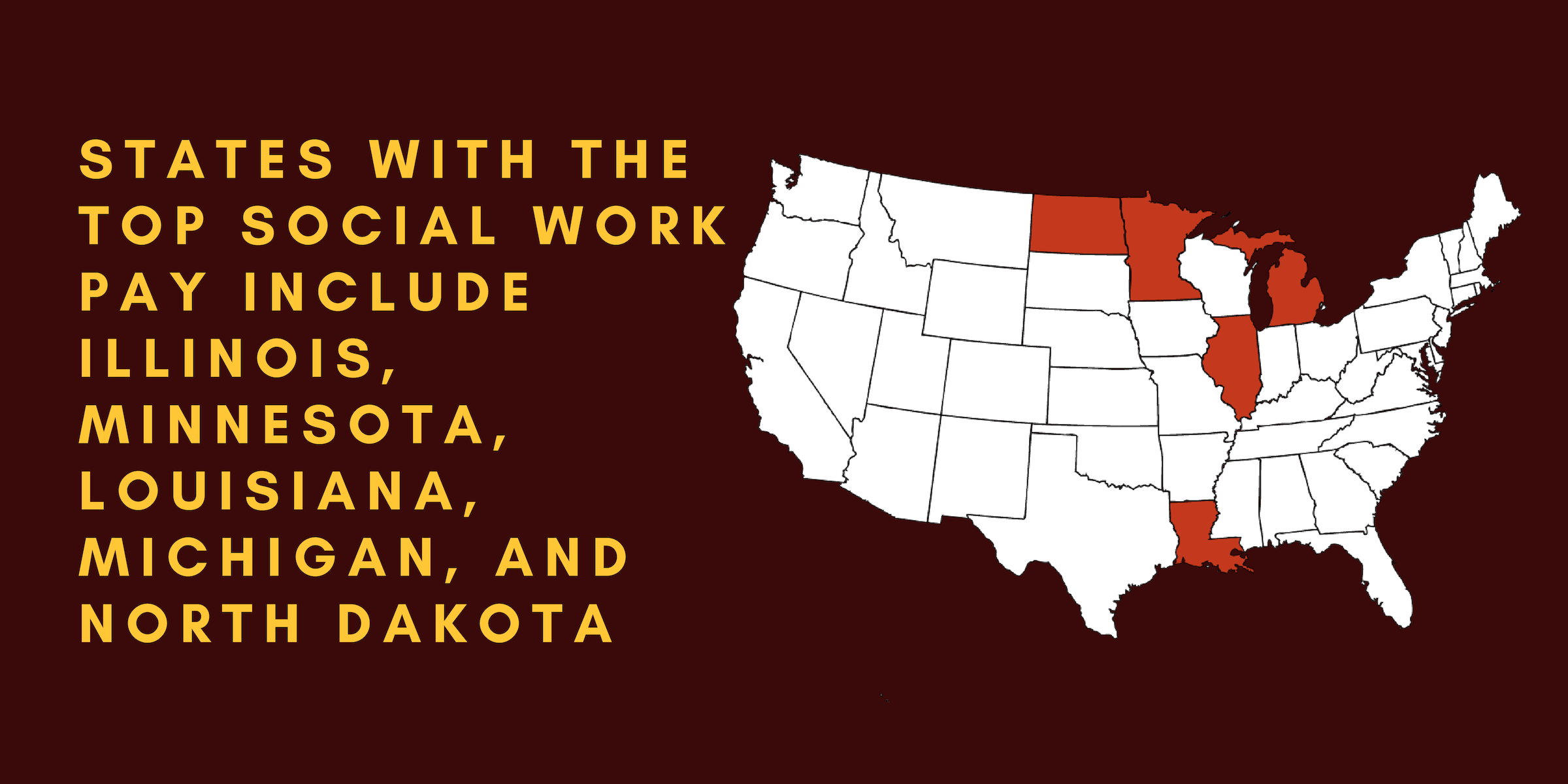 How Can We Help You Choose a Social Work Degree and Begin Your Social Work Career?
Here at Degree Query, we've worked hard to provide content that will help you choose a social work degree, better understand what you need to do to be successful in social work, and much more. We've answered common questions about social work, like: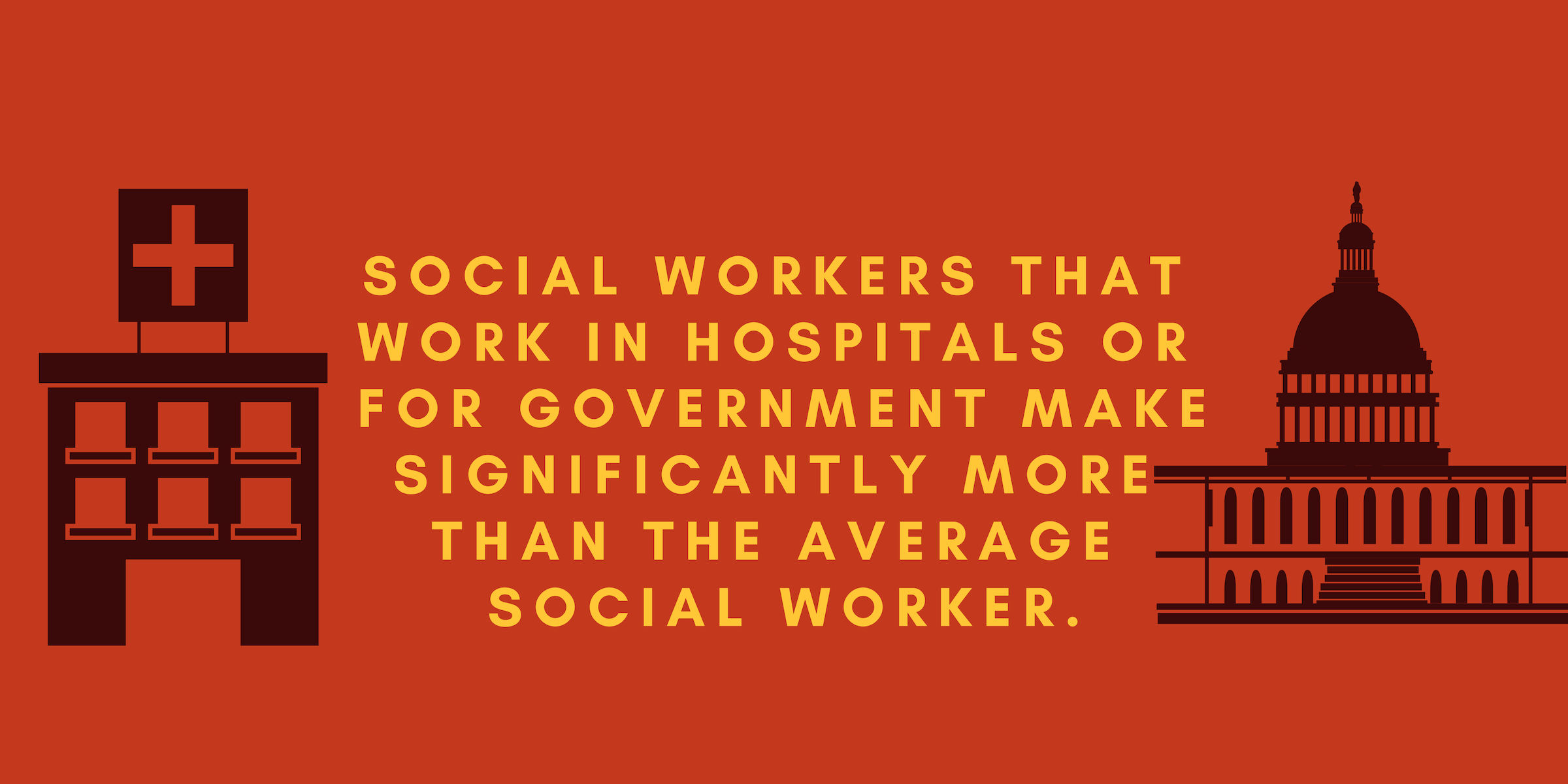 We've also built rankings that will help you in your search for a social work degree and job:
This is just some of the content we've produced on social work. To see all of the work we've done on the field, please go here. We're constantly updating our content, so be sure to check back for more on social work or any other educational discipline you're looking for. If you find a program that you feel is a good fit, it will behoove you to reach out to support staff at the school that offers it to request more information from them directly. You'll often find helpful, dedicated staff members eager to give you more information about programs you're interested in and help you in your application process.
Now let's look at different professional and educational areas in social work:
Specializations in Social Work
There are many different roles within social work. They include larger areas like clinical, administrative, education, and policy, and also areas like working in child welfare, or with the homeless. Here are some of your options:
Clinical
In this overarching area of social work you'll assess, diagnose, treat, and prevent problems that include mental illness, behavioral disturbances, emotional issues, domestic violence, substance abuse, and more. You'll need an MSW to become a licensed social worker. You'll use counseling, psychotherapy, and other forms of therapy and treatment in clinical settings while dealing with different cases. You'll often work at government agencies or non-profits and can find yourself in environments that include hospitals, mental health, and community health clinics, prisons, educational institutions, military facilities, child welfare agencies, and substance abuse clinics. These are the roles people most often think of when they imagine social work, but they aren't all that exist.
Policy
In these programs you'll study how to shape policy, manage administrations, and much more through lenses that include business, human behavior, budgets, human behavior, the social problems that fuel social work, among other areas. These are often specializations in MSW programs that prepare future leaders in the field, and help graduates grip what it takes to be a clinical social worker while also studying leadership and management principles. You could further specialize in areas like geriatric policy, or education policy, etc. Graduates of these programs that end up in policy leadership positions are paid significantly more than their clinical counterparts on average.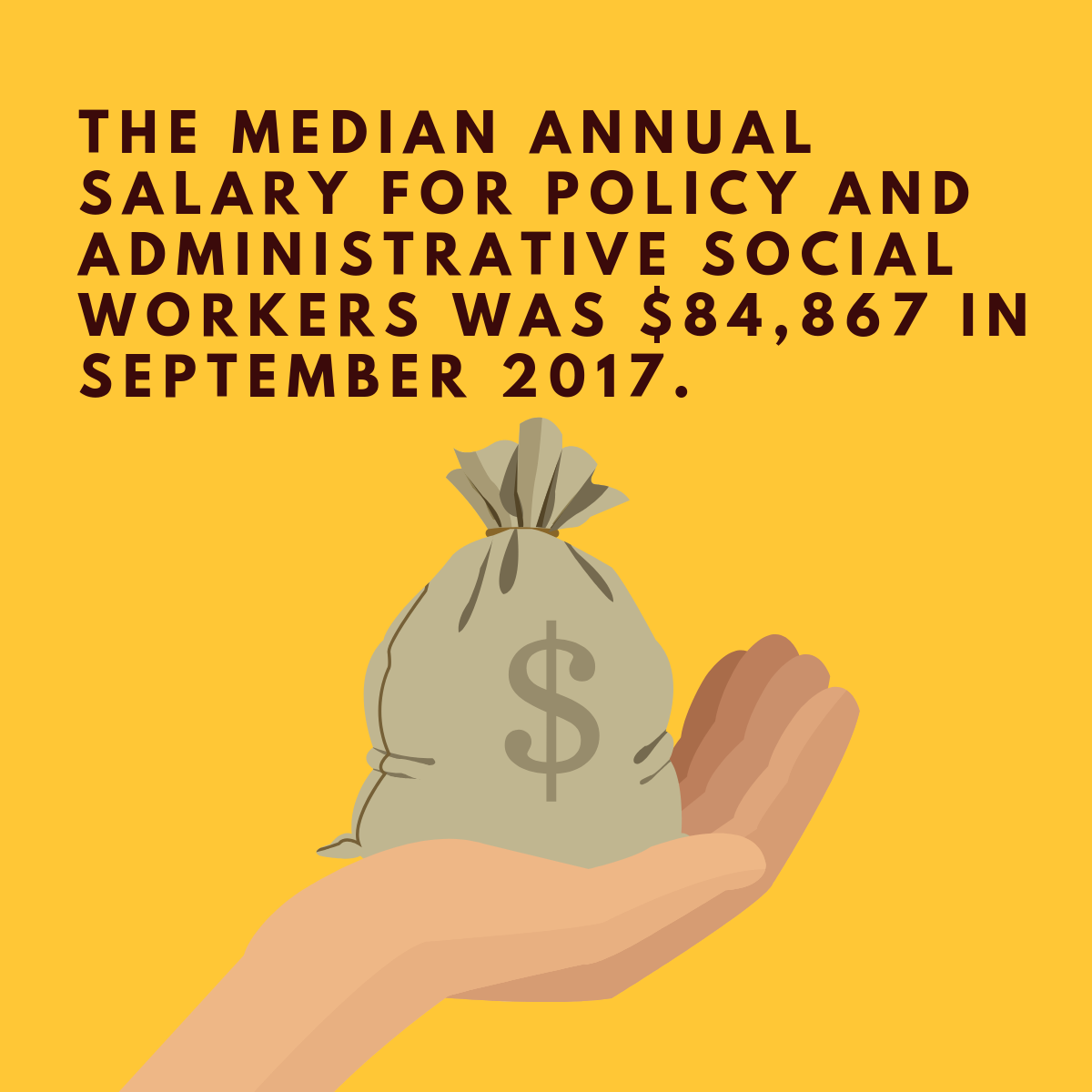 School Social Work
In this area of social work you'll study and work in schools, acting as a bridge for students, teachers, families, and school administrations. You'll work to get students the unique services they need, and foster productive communication between the different populations in and related to schools and other educational institutions. You might study or work in even more specialized areas like sex education, substance abuse, crisis intervention, academic or personal counseling, health ed, truancy, and more.
Homelessness
Working with the homeless — to help them find shelter, jobs, health services and more — is difficult, desperately needed, and incredibly rewarding. Here anything you do to help can be the only aid they're receiving in the world, and whatever services or therapy you provide can be the difference between life and death for people largely discarded and ignored by society. You might work on homelessness policy at the state or federal government level, or manage cases where you directly connect people to vital services like medical attention or housing, help them with job applications/interviews, provide therapy as a clinical homeless social worker, and more. You might work at private agencies, non-profits, or in government. As usual, earning an MSW and becoming a fully licensed social worker will unlike more opportunities in this area.
Mental Health and Substance Abuse
In these roles you'll assess, diagnose, build rehabilitation plans, bring in external resources, and provide therapy and counseling directly to patients, groups, couples, and families. You might deal with trauma from incarceration, military service (some social workers specifically deal with active duty and veteran military members), family life, suicidal thoughts, and much more. Social workers in these roles work at non-profits, private practices, and in many other organizations. One of the best states in the Union in this regard is California: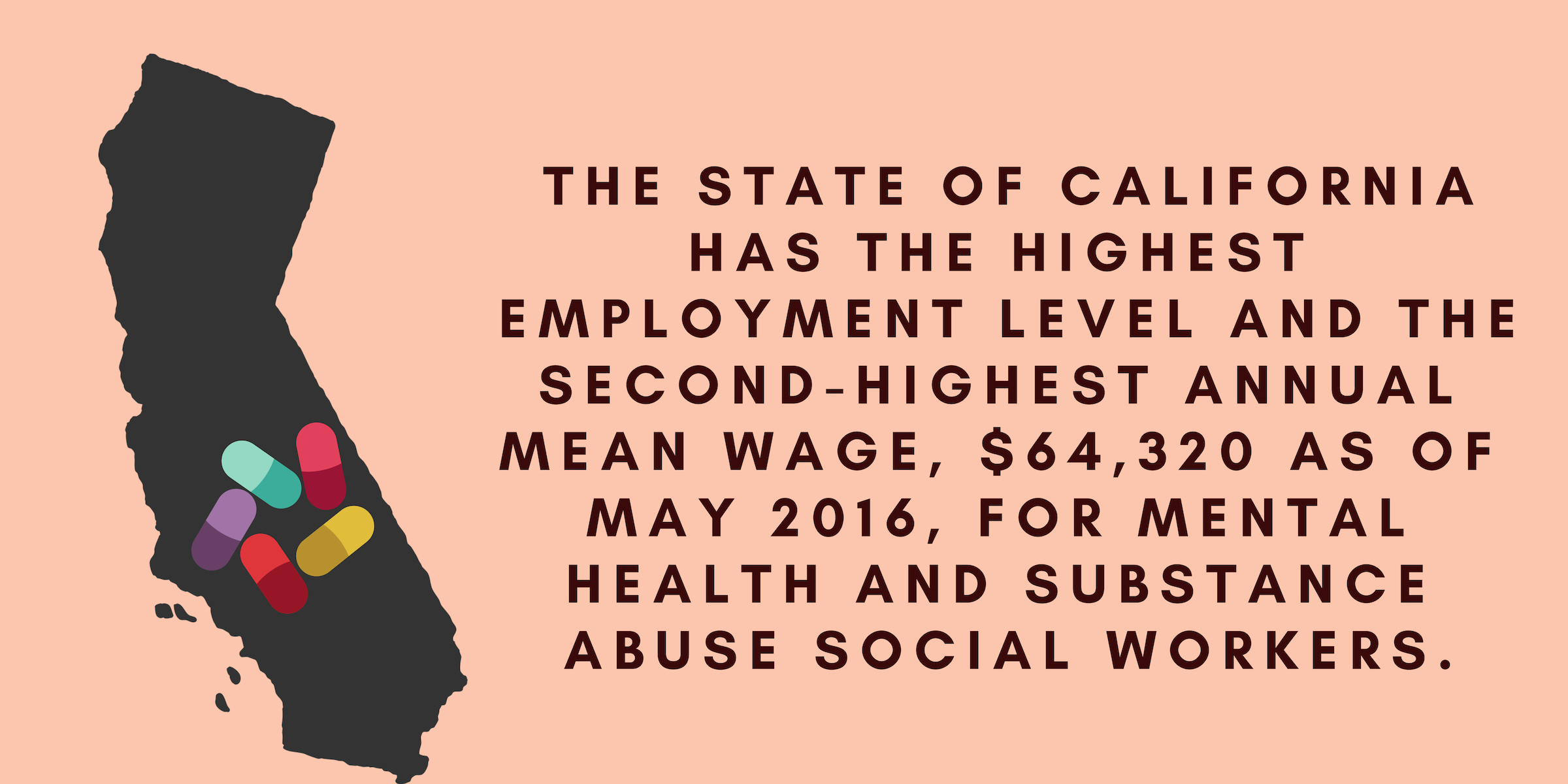 Child and Family Social Work
In some Bachelor's and Master's programs you can specialize in working with children and families. Sometimes these are called child welfare specializations. You'll study how to improve the conditions children and families live under, help them liaise with mental health services, other forms of therapy, and much more. You might work in Child Protective Services, and have cases where you'll need to investigate abuse and neglect. These are incredibly challenging positions that involve making difficult decisions that can radically change children's lives, and the lives of their families. There aren't easy answers, but you'll be working to help children and families that are often overlooked in our society.
Social Work Degrees in Conclusion
We hope you've found this resource useful no matter what level of degree or area of social work you're looking for. Please remember to explore the rest of the work we've done to help you in your search for a social work you'degree, or a degree of any discipline. Whenever you find a program through your searching that you think is a good fit, reach out to it directly to request more information, ask questions about the application process, and get the ball rolling towards earning your social work degree. To see all of our guides, rankings, and other resources on social work degrees and jobs, go here. Happy hunting!