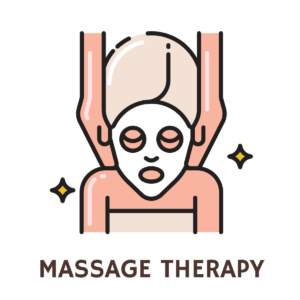 Do you enjoy helping others to relax and heal? Are you good with your hands? Do you value professional flexibility and independence? If so, you may be cut out for a career as a massage therapist.
Massage therapists improve patient's physical and emotional state by providing relief from stress, pain, tension, injury, and a number of other health concerns. Their work is physically demanding and requires a high degree of patience and expertise. It is also work that offers enormous potential for independence and flexibility, including choice of treatment style, flexible or part time hours, self-employment, and work with a variety of clients in a range of settings. Because of its flexibility, massage therapy is very popular as a second, mid-life career. The average age of a massage therapist is 46, according to the AMTA, and most professionals have worked in other fields before coming to massage therapy.
Featured Programs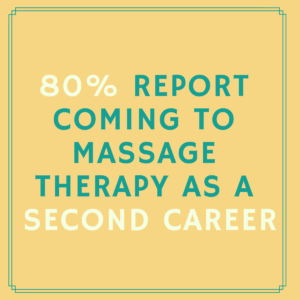 So what's massage therapy all about? We've compiled the most up-to-date industry stats and professional requirements to help you quickly become familiar with massage therapy as a career. Read on to learn about a career with flexibility, autonomy and the potential to help and heal.
What is the Job of a Massage Therapist?
Massage therapists manipulate the soft tissues of client's bodies to effect positive changes including relaxation, stress release, pain relief and improved functionality. Massage therapy has been shown in a number of studies to effectively alleviate some of the symptoms of conditions like anxiety, osteoarthritis, high blood pressure, sciatica, neuropathy, and inflammation. Pain relief is the number one reason clients seek out massages, and has even shown promise in studies as an alternative to high doses of opioids in treating chronic pain.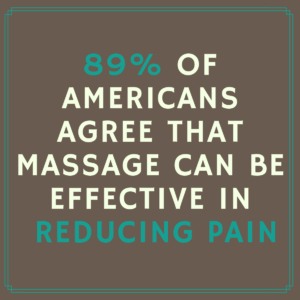 Massages can be as short as 5 minutes or as long as 90. A massage may be given in a relaxing spa environment or a hospital bed. Massages can also be performed in a vast number of styles (aka "modalities").
In addition to actually providing massages, massage therapists perform a number of related duties, such as:
marketing their services
booking and managing appointments
consulting with clients
evaluating client needs
educating clients on self-care (stretching, posture etc.)
What are Massage Modalities?
The Associated Bodywork and Massage Professionals lists over 350 different massage modalities! These range from mainstream standbys like Deep Tissue Massage to more exotic niche styles like Chakra Balancing Massage.
Among the many modalities, some of the most popular are:
Swedish Massage was established in the 1800s and uses five basic movements (such as tapping and kneading) to relax the muscles and relieve discomfort. It is the most widely recognized and used form of massage in the US today.
Deep Tissue Massage uses powerful strokes to target lower layers of muscle and connective tissue to relieve significant issues like injury, chronic tightness and strains.
Aromatherapy Massage uses essential oils combined with specific movements to effect changes in the body, such as relieving sinus headaches or stimulating circulation.
Shiatsu Massage is a traditional Japanese style whose name literally means "finger pressure." The technique aims to unblock the body's natural energy flow through pressing and tapping on the body's meridians.
Meyofacial Release aims to relieve over-tightness in the body's fascia, the web of connective tissue that surrounds all the muscles. This modality can lead to a greater range of motion and pain relief
Sports Massage involves strong manipulation of the muscles and is intended to promote faster recovery and improved flexibility. It is popular with athletes, as it has been shown to improve performance.
Prenatal Massage is a more gentle massage specifically for pregnant women, and aims to safely relieve the discomfort, strain and swelling that naturally occurs during pregnancy.
Massage therapists learn the most popular techniques during their massage therapy training, and can go on to learn others in their continuing education.
Most massage therapists practice more than one of these massage modalities in their daily work, while specializing in one or two techniques. Massage therapists who work in a spa will usually perform in more than one modality in a given day, depending on the type of massage each client selects from the spa's menu of services. A massage therapist who works for themselves, on the other hand, may opt to specialize in, practice only, a single technique. Often, this means becoming an expert in a unique style like Thai massage or Rolfing.
What Equipment is Needed for Massage Therapy?
Massage therapists use their hands to perform their job, so what equipment could be needed? Actually, there are a surprising number of instruments and materials necessary for the job. Massage therapists require:
massage chairs and tables
towels, robes, and sheets
oils and lotions
specially made cushions and ergonomic supports
massage-specific tools like hot stones and essential oils
A great number of massage therapists are self-employed, meaning that they need to invest in, maintain and replace these items at their own cost. Liability insurance, booking, and accounting software, and office supplies are also essential for self-self-employed massage therapists.
Who do Massage Therapists Work With?
Massages are popular, and people receive them in a number of locations. According to the 2017 Consumer Survey by the American Massage Therapy Association (AMTA), a full 33% of American adults received a massage at some point in the last 5 years. Massages are 30% more popular with women than with men, according to the same survey. Clients identify medical needs, such as relief from pain and tension, as their primary reason for receiving massage therapy, with stress relief as their second most cited reason.
Some massages are given to only one type of client. For instance, prenatal massage therapy is designed for pregnant women, and lymphatic drainage massage is designed for clients suffering from swelling.
Where do Massage Therapists Practice?
Massage therapy has become more and more widely recognized as a valid technique for effecting changes in the body. As such, it's being practiced in a greater range of settings than ever before.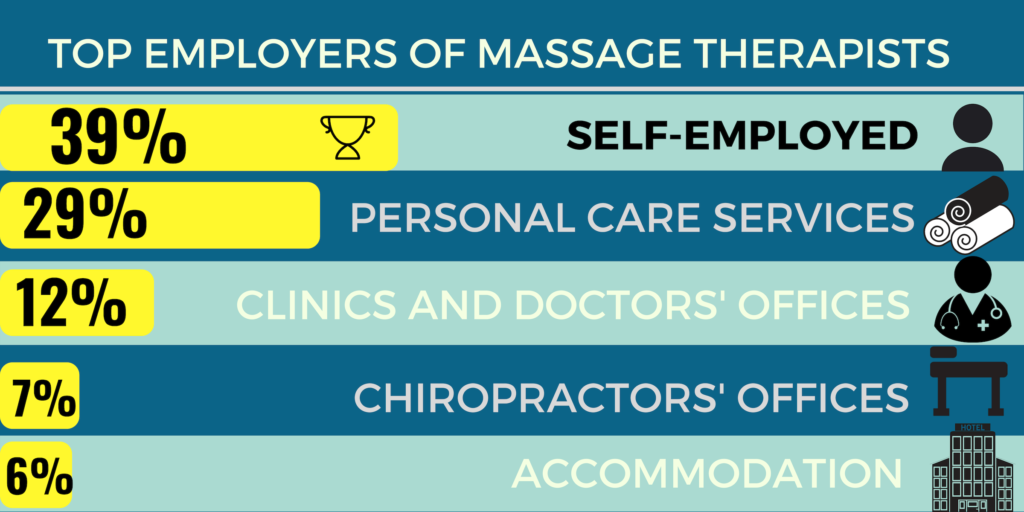 The majority of massage therapists are self-employed and see clients in their office or the client's home. Gyms are another popular setting, where massage therapists practice sports massage. In fact, some personal trainers are also massage therapists. Massage is offered in almost all resorts and spas, where Swedish, hot stone, and aromatherapy are popular. Massage therapists in chiropractor's offices work to loosen the tissues surrounding the spine and joints to facilitate chiropractic adjustments. And a growing number of hospitals also employ massage therapists to help clients manage stress and pain related to their illness or injury.
The majority of massage therapists wire in more than one location as well. For instance, a massage therapist might see patients in a chiropractor's office and also work with clients out of their homes outside of office hours.
What is the Career Outlook for Massage Therapy?
No doubt about it- massage therapy is a large and growing field. Research by the AMTA indicates that the massage therapy industry generated $16 billion in 2016 alone, a number which has almost doubled since 2005.
The Bureau of Labor Statistics anticipates that there will be a 25% increase in the field of massage therapy between 2016 and 2026, bringing the number of massage therapists up from 160,300 to 202,400. That's a tremendous rate of growth- more than 3 times the national average!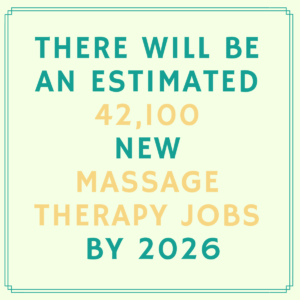 What's driving this growth? The growth rate of spas, where almost half of massages take place, remains relatively stable, but the number of massage specific franchises (such as the popular chain, Massage Envy) has grown exponentially. Massage is also gaining long-overdue mainstream recognition as a valid treatment for medical conditions, leading medical professionals to add massage therapy as a service in their clinics.
Finally, people are looking more and more for alternative treatments for pain relief and other ailments. The number of people seeking out chiropractors, wellness coaches, acupuncturists and other alternative and complementary allied health providers has skyrocketed in recent years. This is thanks in part to growing scientific evidence on the validity of these treatments, which has led to their mainstream acceptance. Although massage has been around for thousands of years, it has gained more recognition as an allied health profession, leading physical therapists, yoga studios, sports centers and health clubs to begin offering massage on-site in response to client demand. In response to concerns about over-over-prescribing medications, doctors have also begun referring clients to see a massage therapist. The AMTA reports that 18% of Americans have brought up massage treatments to their physicians, and that 59% of these were recommended by their doctors to try massage for their physical symptoms.
How much Money Can I Make as a Massage Therapist?
The AMTA's survey of massage therapists finds that massage therapists make a median of $72.13 per hour providing massage. That's an incredibly high hourly rate, and can lead to a great salary. But a number of factors make the average massage therapists' take-home pay decidedly lower. First, about half of massage therapists work part time; shorter hours are probably behind the BLS's reported annual salary of $39,990 per year for massage therapists. Setting makes a difference as well as hours- health providers pay higher salaries than hotels and spas, for instance, and tend to provide better benefits.
Another factor that effects take-home pay is related tasks that take place outside of massage sessions. The average massage therapists spends 19.5 hours per week actually providing massage. Second, time must be devoted to booking appointments, traveling to work sites, setting up and cleaning etc., tasks with are unpaid for the large number of workers who are self-employed. Averaged out, massage therapists make $58 per hour for massages AND massage-related work.
Massage Therapy Credentials
So how do you become a massage therapist? No massage therapy degree is required to join this popular field. That means you can enter this field with a GED or high school diploma, without earning a college-level degree. But that doesn't mean that the field is unregulated, or that you can start seeing clients without training. There are several steps to gaining your massage therapy credentials.
Today, 46 states and Washington DC regulate massage therapists or offer voluntary state-level licensure (or, in some cases, certification or registration). That number has steadily increased in recent years, and it's likely that all states will soon regulate this industry, for the benefit of both consumers and massage therapists. In these states, it is illegal to practice massage therapy professionally without a license, so consumers can know that they are receiving treatments from a trained pro who's met high standards of training and performance. The license requirements are different for each state, however, so you'll need to research the massage therapy credentials required for the state in which you want to practice.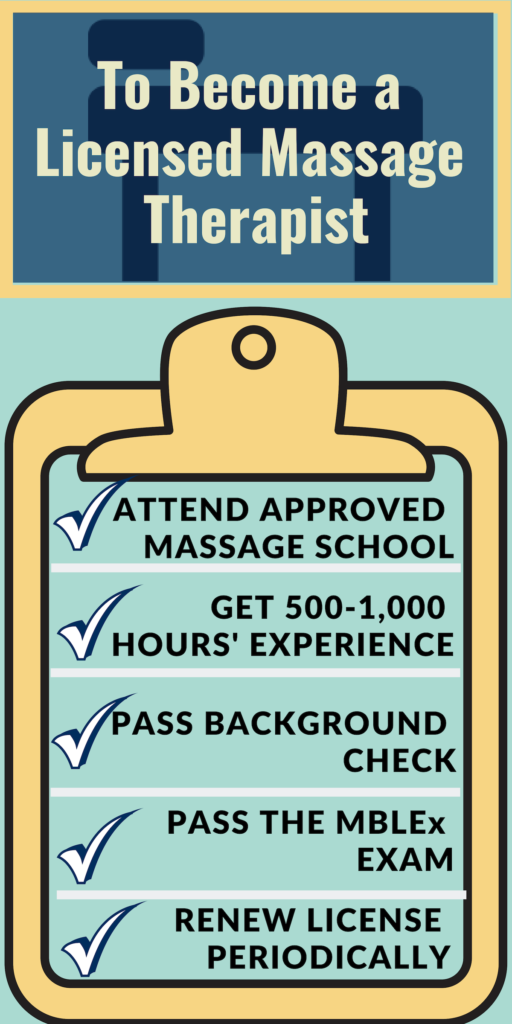 Most states' massage therapy credentials require attending an approved massage school, passing an exam, and accruing 500 to 1,000 hours of hands-on experience, usually in a student clinic.
Once you have your massage therapy license, you'll need to keep it active by renewing it periodically, usually every 2-4 years. This may be as simple as paying a license renewal fee, or may involve taking a safety and hygiene quiz or getting a certain numbers of continuing education credits.
What is a Massage School?
Massage school refers to a certificate program in massage therapy which is designed to prepare practicing professionals to safely and effectively perform massage therapy. Massage schools combine academic instruction with hands-on learning, and usually operate "student clinics" where members of the public can receive discounted treatments from massage therapists in training.
Many community colleges offer credentials in massage therapy, but the majority of massage therapy students attend schools which focus exclusively on massage. Massage schools may be accredited or non-accredited, and may offer specialization or additional certificates in specific modalities, such as Reflexology or LomiLomi massage.
Do I Need to Attend an Accredited Massage School?
The short answer is "no," in most states, you can attend a massage school that is non-accredited and still gain licensure. The type of school required varies by state so be certain to check your state's regulations before applying! Some states maintain a list of "approved schools," some require accreditation, and some have no requirements whatsoever.
What is accreditation? Accreditation is an approval process performed by an independent body, which verifies that a school's teaching, testing, grading, and other measures of student success meet high level of established standards. A school that awards diplomas indiscriminately won't receive accreditation.
A few national organizations recognized by the U.S. Department of Education accredit massage schools, including:
Commission on Massage Therapy Accreditation (COMTA)
Accrediting Commission of Career Schools and Colleges (ACCSC)
National Accrediting Commission of Cosmetology Arts and Sciences (NACCAS)
Accrediting Council for Continuing Education and Training (ACCET)
Accrediting Bureau of Health Education Schools (ABHES)
Accredited schools tend to charge more, based on their proven high quality and to offset the cost of the lengthy accreditation process, which schools must continually maintain.
Even if your state does not require you to attend an accredited massage school, it may be a good idea. Why? First, you may eventually move your practice to a state which requires it. Second, your massage therapy credentials will be more widely recognized for validity and quality if your school is accredited. Finally, you can only qualify for federal student loans and grants if your school is accredited at the national level.
How Long Does Massage School Last?
Massage school can last a few months or as long as two years, depending on the program. Most students attend massage school on a part-time basis, and schools tend to offer evening and weekend classes to accommodate learners who have daytime work obligations.
If you're seeking certification or training in a number of massage modalities, it will take you longer to complete your massage therapy credentials. Don't forget that after completing massage school, you'll also need to accrue experience hours (usually 500 of them) before you'll be eligible for your massage therapy license.
How much Does Massage School Cost?
Just as massage school duration varies widely, the cost of massage school has a huge range as well. You may pay $5,000 or as much as $15,000, depending on the school. In addition to tuition, you'll also need to factor in additional school related costs, which vary by program:
Textbooks
Cost of commute
Student fees
Massage table and/or chair (if not included)
Student liability insurance (if not included)If you attend a nationally accredited school, you may qualify for federal financial aid and grants. A study published in the International Journal of Massage and Bodywork reports that 84% of students pursuing massage therapy credentials received federal financial aid, and paid an average tuition of $13,605.


Can I Attend Massage School Online?

Although massage is a hands-on practice, there is plenty of book-learning required for a massage therapy education, and online massage therapy schools teach these subjects efficiently and conveniently. Online massage therapy schools generally use a combination of video lectures and demonstrations, video chat, recordings, and readings to instruct students in massage. What you won't get in an online school is hands-on experience hours which are required for licensure and board certification, and you'll need to get those through an additional internship or apprenticeship.

What Will I Study in Massage School?

Massage school combines hands-on instruction and practice with studies in the body, in business, and in caring for the client and ones' self. Typical courses include:

Anatomy
Kinesthetics
Pathology
Business practices
Benefits of massage
Ethics and legal considerations
Client Assessment

What is the MBLEx Exam?

The MBLEx, short for "Massage & Bodywork Licensing Examination," is a two-hour, 100-question test designed to prove your expertise in massage and demonstrate the knowledge you acquired in massage school. It is administered by the Federation of State Massage Therapy Boards (FSMTB), which also provides a study guide on its website.

The test covers client assessment, anatomy, ethics, pathology, professional practice, and other areas covered in massage school coursework. If you don't pass this test on your first attempt, you can re-take it (most states don't limit the number of attempts allowed) but you will need to re-apply and pay the application fee again.

How do I Become Board Certified?

After attending massage school, some massage therapists go on to become board certified. Licensure is a legally-required, state-level massage therapy credential, while board certification is a national credential.

Board Certification is administered by the National Certification Board for Therapeutic Massage and Bodywork (NCBTMB). To become board certified, you'll need to show that you attended an NCBTMB approved school, submit to a criminal background check, and pass the NCBTMB exam, a rigorous online test.

Some states use the NCBTMB exam as their criteria for licensure in place of the MBLEx, so, again, be sure to check your state's requirements. If you pass the NCBTMB approval process, you can claim the highest level of massage therapy credentials, and use the words 'Nationally Certified in Therapeutic Massage and Bodywork' (NCTMB) in your resume and professional materials. Board Certification must be renewed every two years.

Further Reading: