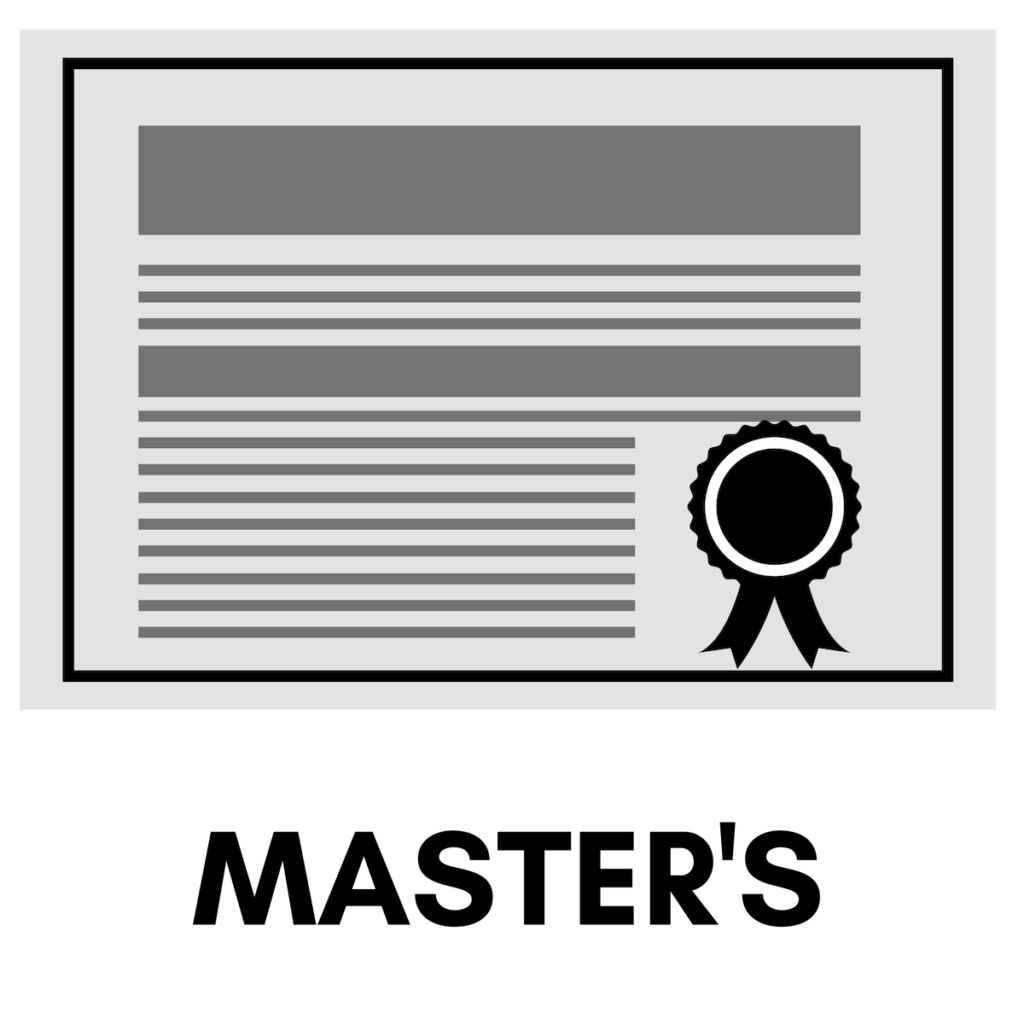 You want to become a leader in your field and gain access to up-to-date research and best practices. You aren't sure you want to teach or perform original research. And aren't yet ready to devote the 3-7 years required of a doctoral degree. Rather, knowledge that can be applied immediately, often at the job you already have is your "deal."
To this we say, "bravo!" And also congratulations. There are more master's-level degree programs than ever before. There's also more of a range of what is required of master's degree candidates. Some programs are intensive and in-person, others are available online or with only occasional campus visits. Many master's degrees are built for students with busy work or home lives. This means that the time has never been better for pursuing a master's degree, almost no matter the subject you would like to pursue.
Below we'll work through a variety of statistics related to what a master's degree can do for you, as well as work through some differences between master's degree programs. If you aren't sure if a Master's is right for you, or aren't sure what discipline you would like to pursue a master's in, be sure to look at some of our comparative master's content below:
DegreeQuery.com is an advertising-supported site. Featured or trusted partner programs and all school search, finder, or match results are for schools that compensate us. This compensation does not influence our school rankings, resource guides, or other editorially-independent information published on this site.
Why Pursue a Master's Degree?
The facts speak for their self when examining master's degrees. In short form, master's degrees…
Make you more employable
Often lead to leadership positions
Are some of the most cost effective degrees for return on investment
Allow you to continue your study at the doctoral level
Lead to dramatic average salary increases compared to lower degree levels.
Are some of the most "adult friendly" degree types, often offering flexible delivery and support services.
Let's examine some of these master's facts in a little more detail.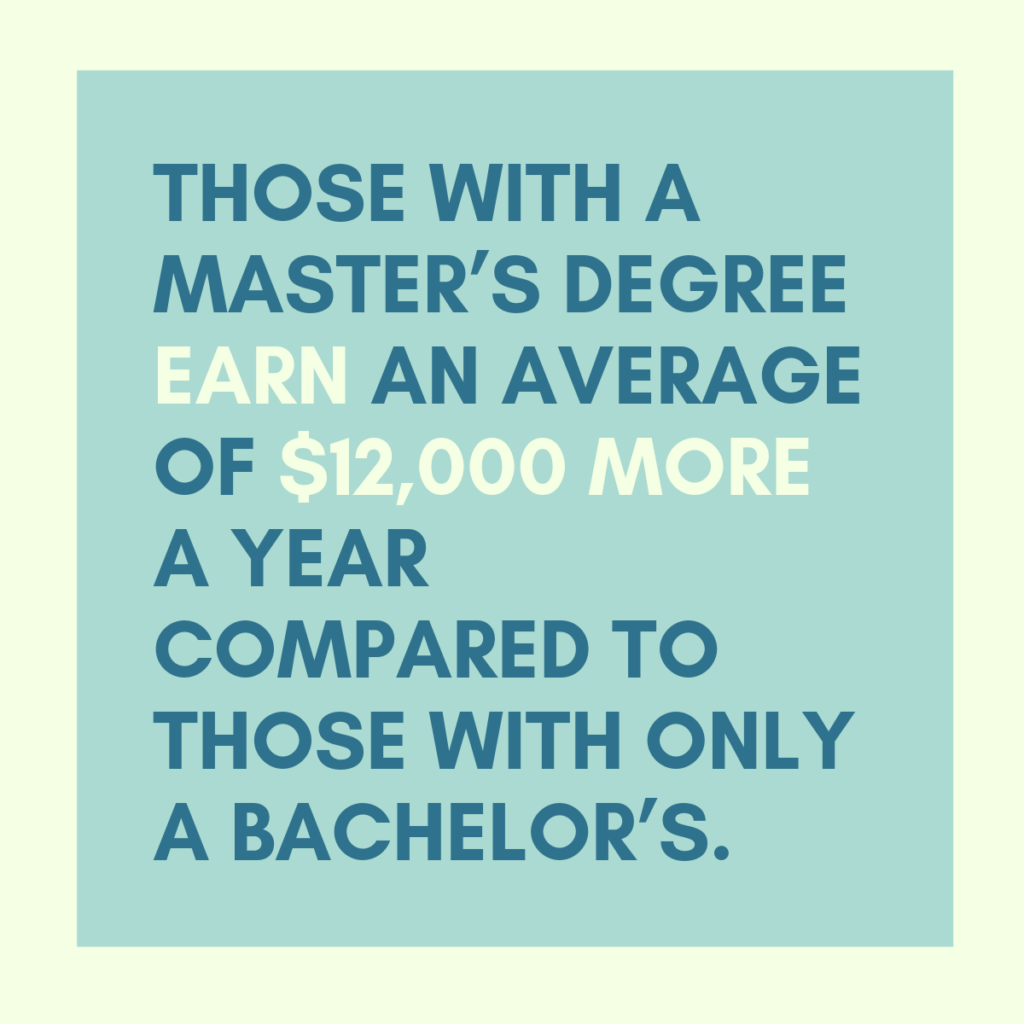 First, "master's degrees make you more employable." A minority of Americans hold any higher education degree. But for the minority that do, employment prospects are much better. This rule extends through the most senior levels of education.
Below are unemployment rates by degree level.
High School Diploma: 5.4%
Associates Degrees: 3.8%
Bachelor's Degrees: 2.8%
Master's Degrees: 2.4%
Doctoral Degrees: 1.7%
Professional Degrees: 1.5%
Secondly, "master's degrees often lead to leadership positions." In fact, many leadership positions in a wide range of organizations prefer or require master's degrees. Master's of business administration (MBAs) are common requirements for management positions. Master's degrees or above are often required for school administrators or teachers in leadership positions. Master's degrees are the minimum degree needed for counseling, social work, religious positions, and many more.

The third note in favor of master's degrees is that they're some of the most cost-effective degrees out there. While tuition for master's degrees is generally higher than that of associates or bachelor's degrees, master's degrees typically just require 1-2 years for completion. On top of that, many master's degrees are built for adult, working students. This means that you don't have to leave your source of income while you pursue a master's. Also, quick time-until-degree means you're spending less on living expenses or splitting your time between work and school than longer degrees.
For those that really want to approach expert status in their fields, master's are the next logical step after a bachelor's degree. Many doctoral programs that admit students directly after undergraduate study include a master's degree "on the way" to a doctorate. For other programs, master's are expected to gain entry to doctoral or terminal degrees. Plus, in some fields master's degrees are the terminal degree in the field.
If all of that wasn't enough, you should consider the earnings of master's-degree holders. While this will obviously vary depending on the field you're pursuing a master's in, master's degrees earn substantially more in their lifetime than associates or bachelor's degree holders. The average salary for someone with a master's degree is $69,732. Compare this to $41,496 for an associates degree or $59,124 for a bachelor's degree and you've got a difference between $10,000-$30,000, per year! That means that master's degrees often "pay for themselves" after just a few year. This of course depends on how much your program costs. But regardless, master's degrees pay.
What Can I Do With a Master's Degree?
As you may have expected, this question can't be answered in short form. The answer really depends on what you're studying. A quick montage may include working as a nursing educator, working as a manager at a corporation, working as a lead engineer, or as a therapist.
For many highly skilled jobs, master's degrees are the entry point to leadership roles, or the career generally. In the case of some states, teachers have to hold a master's degree. Licensing requirements for accountants, nurses, and specialty nursing positions also often require master's degrees.
As the answer to this question really depends on the field in question, we're going to work through some of the most common fields in which people seek master's degrees below.
What Can I Do With a Master's in Business?
By far the most common master's-level degree in business is the master's of business administration (MBA) degree. If you'd like to look at our in-depth guide to MBA degrees, make sure to check out our guide to what you can do with an MBA degree here.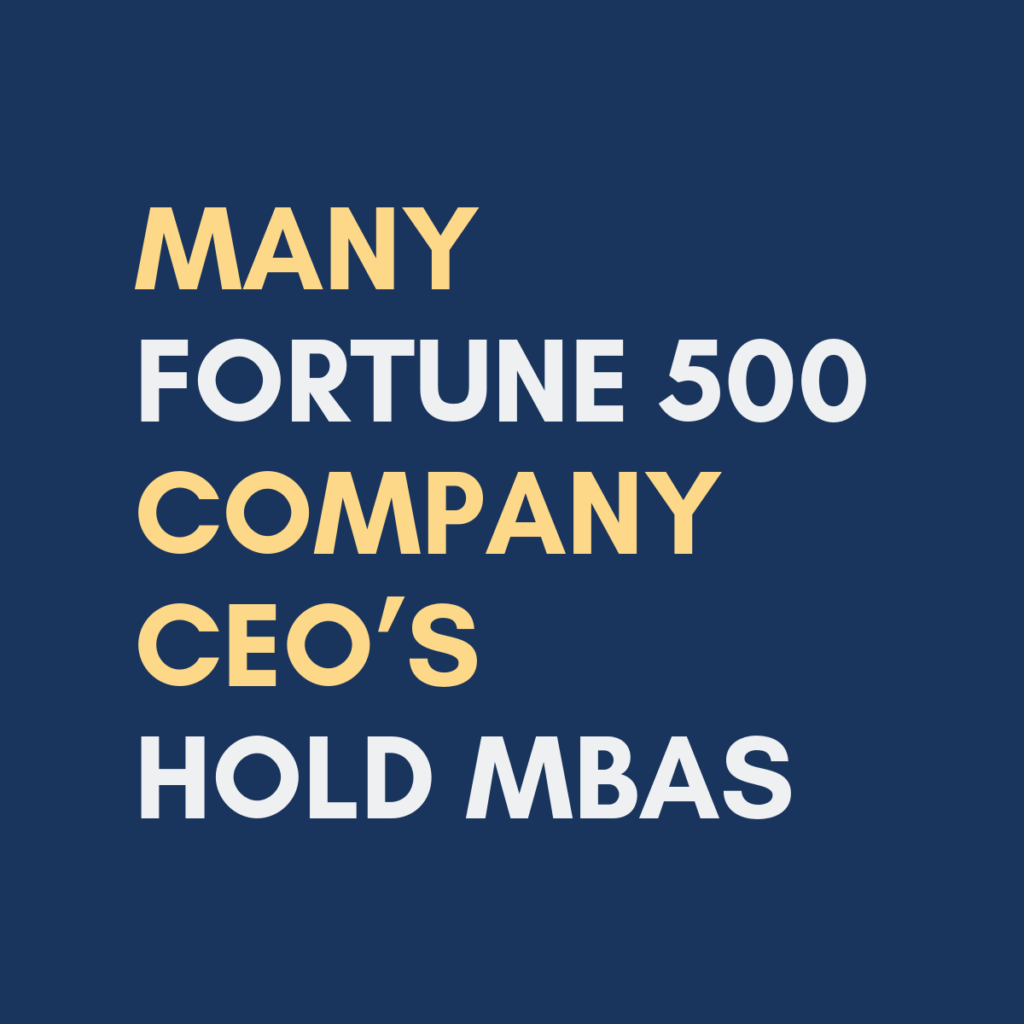 While you don't need an MBA to start working in a business role, a large number of managerial positions do prefer candidates with MBAs. MBA programs allow for a great deal of specialization, with some students pursuing MBAs in finance, while others specialize in marketing. This means that MBAs can be a great fit for someone that wants to manage in a number of disciplines.
Additionally, MBAs are great degrees to have if you would like to start you own business. Those looking to invest in new enterprises will want to see that you know what you're doing. MBAs prepare students to read and prepare financial statements, come up with business plans, locate opportunities through analysis and research, market products, and manage employees. If you're looking for one degree that can help to prepare you for starting your own business, an MBA is that.
Secondarily, there are master's degrees available in nearly every subspecialty within business. Some other common master's-level degrees related to business include the following:
Master's in Marketing
Master's in Accounting
Master's in Finance
Master's in Human Resources Management
Generally, masters-level business degrees focus on one or two tracks: a technical skillset, or management of colleagues with a technical skillset. Where a master's in business administration with a focus on marketing will acquaint a student with marketing principles enough to manage marketers, a master's in marketing provides more technical skills to perform marketing tasks. Similarly with an MBA focused on accounting versus an accounting master's. A master's in accounting will help to prepare one for a certified public accountant exam, an MBA in accounting will help one to have a good enough understanding of management and accounting to manage accountants.
One final note about master's degree in business is that many corporate employers will help to pay for their employees to increase their skills. More so than in other disciplines, master's degrees in business are often paid for by employers with the understanding that the employee will remain in their current place of work after finishing their degree to apply their newfound skills. In short, master's in business degrees can be used to get ahead in your current workplace, and sometimes on your employer's dime.
Think you would like to pursue a degree in business? Make sure to check out our guide to business degrees here. Additionally, check out our business degree rankings below:
What Can I Do With a Master's in Education?


Master's degrees in education are one of the most common master's degree types. They may be obtained for a variety of reasons including (but not limited to):
Obtaining licensure to teach in a given area
Obtaining a pay raise in an education setting
Providing a stepping stone for pursuing a more advanced degree
Helping educators to reach leadership positions
Master's in education are most commonly pursued for one of two reasons: (1) a teaching candidate does not hold a teaching license, and elects to gain one through a master's program, or (2) the program candidate is already a licensed teacher and wishes to gain experience and likely a pay raise in their current position.
Some of the most common master's degree in education include the following:
Curriculum and Instruction
Early Childhood Education
Higher Education
Educational Leadership
Adult Education
Curriculum and Instruction master's are potentially the most common education master's. These programs allow future or current teachers to focus on a cluster of curriculum, often primary or secondary education, or a specific subject. These degrees can lead to teachers becoming instructional coordinators, or if nothing else boosting their pay and expertise.
Early childhood education master's degrees can lead to a variety of positions in which expertise of early childhood is preferred. In traditional education settings, those with a master's may become lead teachers or hold other leadership positions. Many organizations are centered on the well-being of children, and thus those with early childhood education master's may find roles in non-profits as well as in grant writing.
Master's higher education degrees are often pursued by those that already hold a doctorate and are working in a professorial position, or others that work in university or college settings and are trying to expand their opportunities. Positions including student affairs administrator, financial aid coordinator, administrator of a department, and so forth.
Educational leadership is a particularly versatile master's degree. Apart from reaching leadership teacher roles, educators with a master's in educational leadership may also head up a department, become an assistant principal, work in a school district, or –with further certification– become a principal.
Adult education master's recipients work in a variety of settings. Adult education occurs at trade schools, in community colleges, some universities, in tutoring settings, and in corporations. This makes adult education master's one of the most versatile master's in education degree types. This is particularly the case if you may not want to work in a traditional K-12 setting.
Think you would like to pursue a degree in education? Make sure to check out our guide to education degrees here. Additionally, make sure to check out our rankings of the best education degree programs below:
What Can I Do With a Master's in Nursing?


Nursing degrees have some of the best return on investment and job security of any degrees. This is true of nursing degrees at almost any level, from the associates through doctoral degrees. And is particularly true of nurses with master's degrees.
Master of Science in Nursing degrees can lead to a number of careers that can make over $100,000 a year. The most common specializations that students pursue at the master's of science in nursing level include the following:
Family Nurse Practitioner
Clinical Nurse Specialist
Certified Nurse Midwife
Certified Registered Nurse Anesthetist
While those wishing to practice clinical psychology one-on-one with patients must hold doctoral degrees in the field, many counseling psychologists begin practicing with a masters. There are a variety of job titles and settings in which counseling psychologists practice. A few are listed below:

Marriage Counselor
Career Counselor
Substance Abuse Counselor
School Counselor
Grief Counselor
Life Coach
Among Others

Additionally, master's degrees in psychology are a common stepping stone towards pursuing the two major types of doctoral degrees in psychology: a doctor of psychology (Psy.D.) degree, or a doctor of philosophy in psychology (Ph.D.).

Think you would like to pursue a degree in psychology? Make sure to check out our guide to psychology degrees here.

What Can I Do With a Master's in Computer Science?

While the most common entry-level degree for those working in computer science fields is a bachelor's degree, master's in computer science help students to specialize and attain leadership roles.

Earnings are strong in computer science fields, particularly in more specialized areas. At the master's level, common specializations in computer science include the following:

Information Assurance
Mobile and Web-Based Computing
Human-Computer Interaction
Software
Hardware
Information Management
Data Analytics
And Artificial Intelligence

While opportunity and earnings can be strong in any of the above fields, some of the most in-demand include information assurance as well as data analytics and artificial intelligence. While earnings vary by location and experience, the highest paid computer scientists in these fields can at times bring home more than $300,000 a year in salaries.

Think you would like to pursue a degree in computer science? Make sure to check out our guide to computer science degrees here.

Also, make sure to check out our masters-related rankings on computer science below:

What Does a Master's Degree Involve?


Above we looked at some of the most common employment opportunities that come from master's degrees in a range of fields. But before you jump into looking for a degree program, you probably want to know exactly what you're getting yourself into. The answer to what a master's degree entails obviously depends on the program of choice, but generally accrediting bodies and professional organizations make sure that degrees of a certain type follow some guidelines. Below we'll look at what is required of different master's degrees.

What Does a Master's in Business Involve?

As we've mentioned above, the Master of Business Administration (MBA) degree is the most common business degree at the master's level. MBAs typically require 2 years for completion for full-time students.

There are three major types of MBA programs: traditional, professional, and executive. These "types" of MBAs reflect how much experience those in the program have accrued. Traditional MBA programs are generally open to those in their early career or directly out of undergraduate studies. Traditional MBAs typically require the most courses and are the most intensive of the MBA types.

Professional MBAs are generally open to students that have 3-5 years of business work experience that isn't at the managerial level. As students have some experience, these degree types often require slightly fewer courses than traditional MBAs. A good number of these programs are also available with courses at night, on the weekends, or online, as it is assumed that most students are working.

Finally, executive MBAs assume that students are coming into the program with at least 5 years of managerial experience. Many executive MBA candidates have their course of study paid by their provider. And due to the rigorous work schedules of candidates in the program, many programs meet online or on the weekends.

Regardless of your choice of MBA type, most MBA programs offer a range of specializations. While all MBAs generally cover a wide range of business topics in a general curriculum, specializations are commonly available in the following areas.

Marketing
Finance
Information Technology
Corporate Social Responsibility
Entrepreneurship
Sustainability
Leadership
And Others

Interested in learning more about what a business degree entails? Check out our other business master's degree FAQs below:

Think you would like to pursue a degree in business? Make sure to check out our guide to business degrees here.
What Does a Master's in Education Involve?
Master's in education were one of the first graduate degree program types to be built around the busy working schedules of potential students (current teachers). To this end, many master's in education programs meet in-person in the summers, or are entirely online.

While there are many popular master's-level degrees in education, one should be aware that most teachers are required to pursue some graduate courseswork. A fact little known to those outside of education (or hoping to get involved) is that a bachelor's in education degree is technically a graduate level professional degree. While not a full master's, bachelor's in education degrees routinely require some graduate-level coursework.

Additionally, educational specialist degrees are a unique form of professional degree that straddles master's and doctoral candidate coursework. For those looking to specialize slightly past a master's degree (yet not to the extent of a doctorate, educational specialist degrees are available in most subject areas that are also available at the master's level. Educational specialist degrees are terminal. Meaning they are the highest degree in a subject area one can pursue.

Master's in education typically require 1-3 years of study for completion. Some programs are built for students that still need to obtain a teacher's license and require additional courses, while others are for teachers that are already licensed.

Common master's degrees in education include the following:

Masters in Mathematics Education
Masters in Music Education
Masters in Early Childhood Education
Masters in Early Childhood Special Education
Masters in Curriculum and Instruction
Masters in Educational Technology
Masters in English Education
Masters in Environmental Science Education
Masters in Elementary Education
Masters in Reading and Literacy
Masters in Special Education
Masters in ESL, TESOL and ESOL
Masters in Science Education
Masters in Secondary Education
Masters in Social Studies Education
Masters in Educational Administration
Masters in Higher Education
Masters in Adult Education

Think you would like to pursue a degree in education? Make sure to check out our guide to education degrees here.

Additionally, we've compiled a wide range of education degree FAQs around the site and with some of the most popular gathered below:

What Does a Master's in Nursing Involve?
Master of Science in Nursing degrees typically require 2 years of full-time study. Though some programs may offer generous transfer options or accelerated courses that can lower the time required to gain a degree.

For entry into Master of Science in Nursing degree programs, students are typically required to hold a bachelor of science in nursing as well as a registered nursing license. Due to the large shortage of skilled nursing staff, however, there are a variety of academic paths that blend together lower degree levels with a master of science in nursing. These include the following:

RN to MSN Programs
BSN to MSN Programs
ADN to MSN Programs
ASN to MSN Programs

Coursework in a master of science in nursing degree begins with a set of core courses that remain the same regardless of your specialty in the MSN program. Courses may include the following:

Foundations of Nursing Care
Pathophysiology
Health Assessment
Integrated Clinical Management
Pharmacology
Biostatistics
Health Promotion
Geriatric Care
Public Health
Child Health
Health Care Ethics
And a practicum

Think you would like to pursue a degree in nursing? Make sure to check out our guide to nursing degrees here.

Also, check out some of our nursing degree FAQs listed below!

What Does a Master's in Psychology Involve?

Master's in psychology allow students to start to specialize. Several master's in psychology tracks can lead to employment right away as a psychologist, while clinical psychology generally also requires a doctorate.

Some of the most common types of master's in psychology program include:

Clinical Psychology
Counseling Psychology
Child Psychology
Industrial/Organizational Psychology
Forensic Psychology

Psychology master's that can lead straight to counseling and psychology employment generally require a practicum or supervised experience element. These master's degrees include forensic psychology, industrial and organizational psychology, counseling psychology, and child psychology.

Depending on your focus area, psychology master's can be interedisciplinary. Industrial/organizational psychology may include courses in business or management. Forensic psychology may include courses in criminal justice or law. While child psychology may include education courses.

Whatever your choice, master's in psychology generally take 2-3 years for completion and have some in-person element for most applied programs.

Think you would like to pursue a degree in psychology? Make sure to check out our guide to psychology degrees here.

A range of our degree and career FAQs on psychology may also be found below:

What Does a Master's in Computer Science Involve?

Master's in computer science curricula vary widely based on what your focus area is as well as the expertise of those teaching the program. Typically coursework requires 2-3 years for completion. Around 30 credit hours is typical of the number of courses required.

While there are a wide range of specializations you can endeavor upon in a master's in computer science degree, most degrees have courses in the following that make up some sort of general education curriculum:

Computer architecture
Algorithms
Operating system design
Programming language
Networking
Software engineering

Think you would like to pursue a degree in computer science? Make sure to check out our guide to computer science degrees here.

Want to find out more about computer science-related degree programs? Check out our FAQs below:
For Further Reading: