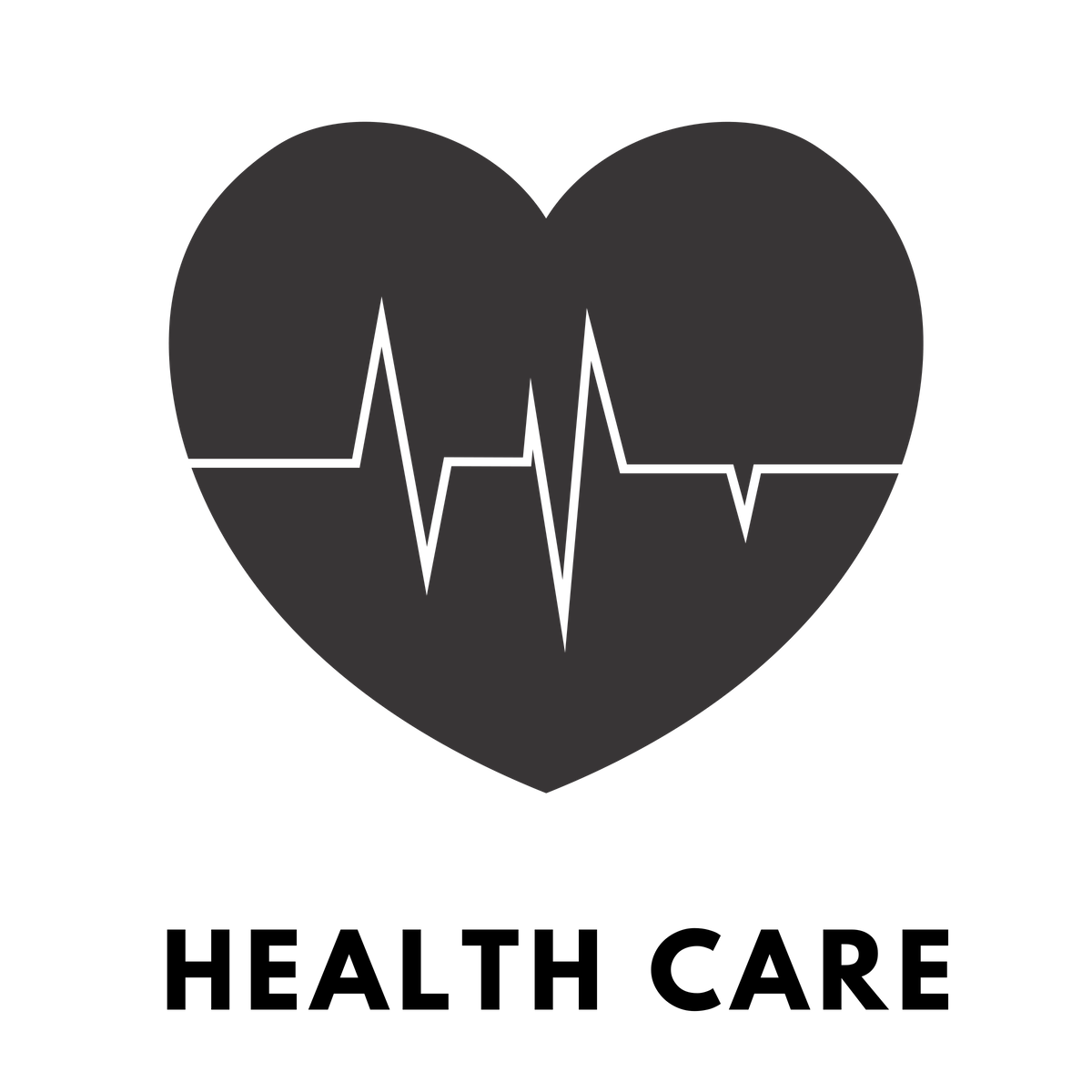 Health care is many things: from the creation of intricate devices that measure health-related metrics to age-appropriate rehabilitative activities in senior citizen centers.
"By the numbers" the largest health care roles are related to skilled nursing, counseling of some form, and those providing care as medical doctors. Many health care roles are lucrative, filled with interesting and rewarding cases, and — perhaps most importantly — vitally important to the well-being of patients.
Perhaps the largest marker of a functioning society is how well it can take care of its sick. And health care workers, no matter their role, are part of this crucial set of services.


Here at DegreeQuery, we've covered a wide range of higher education degrees, many of which are related to health care. We wanted to create one hub for all health care-related content on our site. And here it is!
Featured Programs
If you're wondering what type of health care degrees are available, what you can do with a health care degree, and how to get started, scroll below!
In the event that you already know you want to pursue a degree in health care or have a specific question answered elsewhere on our site, be sure to check out our rankings and FAQs listed directly below.
Health Care Degree Rankings
Health Care Degree FAQs
What Types of Health Care Degrees Are Available?
At the end of the day, there are many, many degrees that can lead to working in a health care role. With that said, many health care degrees start the same way.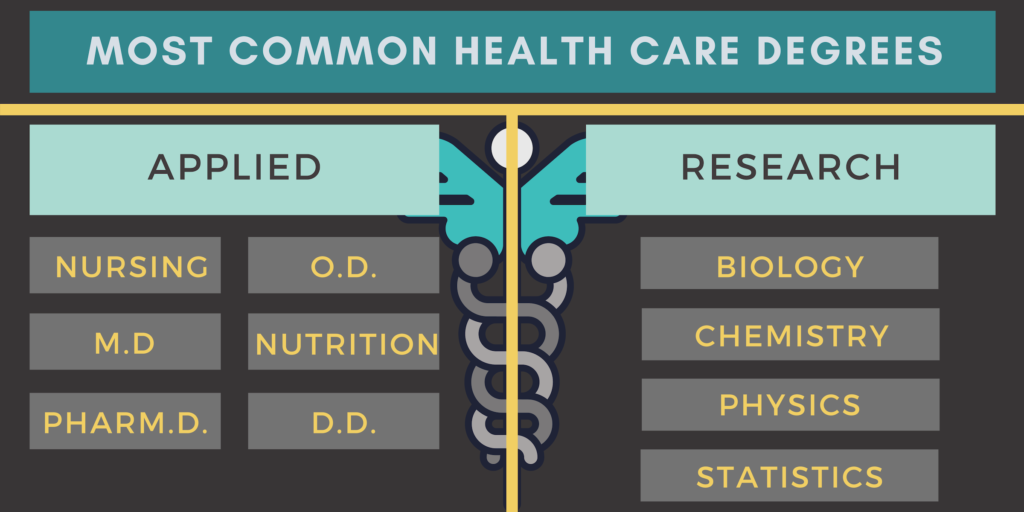 The human body is an exceedingly complex system. Trying to study or make recommendations about the human body without a base level of scientific understanding is nearly impossible. This is why nearly all health care related degrees require a strong foundation in the sciences.
At the associates and bachelors levels, health care degrees often require the following:
Anatomy and Physiology
Chemistry
Organic Chemistry
Biochemistry
Physics
Calculus
Statistics
Psychology
Beyond these shared foundational science courses, students seeking health care jobs generally pursue an applied degree in a health care field. This applied degree can occur initially at the associates or bachelor's level, or after an undergraduate degree in another disciplines. Students pursuing other degrees first often pursue a scientifically rigorous degree that fulfills admissions requirements for nursing, doctor of medicine, or other doctoral programs in health care.
Below we've listed some of the most common health care degree types by degree level:
Associates-Level Health Care Degrees:
Associates in Allied Health
Associates in Health Sciences
Associate of Science in Nursing
Associates in Emergency Medical Technology (EMT)
Associates in Biology
Associates in Radiology Technology
Associates of Dental Assistant
Associates in Respiratory Therapy
Associates in Cardiovascular Technologist
Associates in Ocupational Therapy
Among Others
Except for in the case of emergency medical technology (EMT) and licensed practical nurse (LPN) programs, most associates-level degrees in health care lead to assistant positions within health care fields.
Learn more about how long it takes to get an associate degree.
For more information on precisely what you can do with an associates in a health care field, be sure to check out our career section below.
At the bachelor's level, a wider range of scientific degrees that can prepare students for graduate school in health care fields are available. Common non-applied bachelor's degrees that can lead to careers in health care include the following:
Biology
Chemistry
Biochemistry
Physics
Psychology
A wide range of applied degrees related to health care are also available including:
Bachelor of Science in Nursing
Bachelor of Social Work
Bachelor of Health Education
Bachelor of Allied Health
Bachelor of Health Science
Bachelor of Nutrition
Bachelor of Health Informatics
Among Others
Generally speaking nursing, educational-related health careers, management, and social work settings may be entered with a bachelor's degree. In other disciplines including laboratory settings, research, and more advanced medical care, advanced degrees are required.
Interested in learning precisely what you can do with a bachelor's in a health care field? Be sure to check out our < a href='#career'>career section below.
At the master's level, students can begin to achieve more advanced standing roles in management, nursing leadership, and health care practitioner fields like speech-language pathology, physical therapy, and more.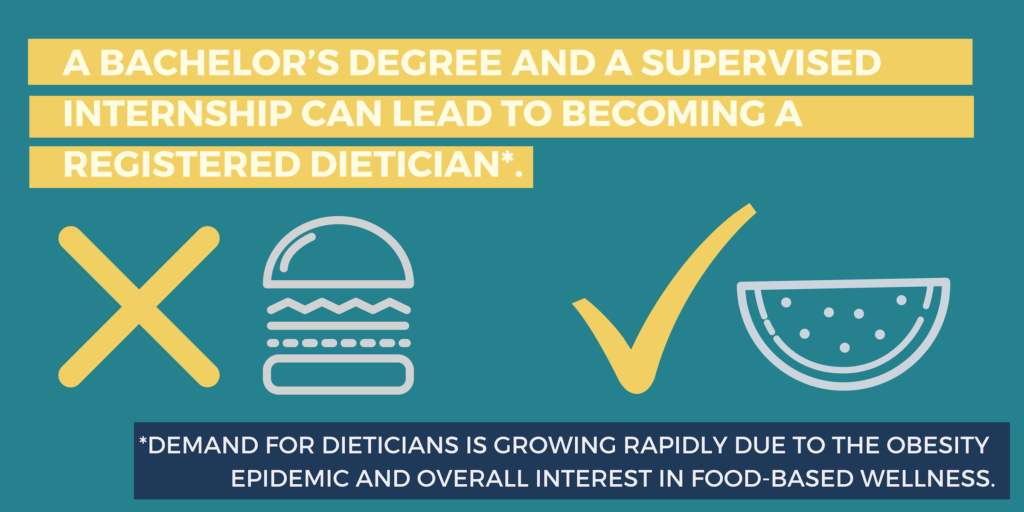 Specific healthcare-related degrees available at the master's level include:
Master of Science in Nursing
Master of Science in Speech Language Pathology
Master of Science in Psychology
Master of Science in Social Work
Master of Science in Nutrition
Master of Science in Allied Health
Master of Science in Occupational Therapy
Master of Science in Genetic Counseling
Master of Science in Biological Engineering
Among Others
Finally, the doctoral level of study prepares many of our front-line and research practitioners within health care. At the doctoral level, there are two general tracks leading to health care careers. Research doctorates help to prepare graduates for research positions as well as teaching at the university level. These doctorates require dissertations, which are research documents of several hundreds of pages.


In contrast, professional doctorates are geared towards a range of professional settings. The most common professional doctorates awarded in health care professions include:
Doctor of Business Administration
Doctor of Medicine
Doctor of Optometry
Doctor of Nursing Science
Doctor of Dentistry
Among Others
A wide range of health care provider positions are pursued by seeking a doctor of medicine or nursing degree. Nurses specialize in nearly every medical discipline, and (obviously) doctors do as well.
Are Health Care Degrees Available Online?
If you're narrowing down your search for a health care degree, you may be wondering if you'll be able to pursue your course of study online. The answer is that for most bachelors and masters degrees in health care related fields, online degrees are available.
For degrees preparing students for hands-on medical care of others, online study is often paired with in-person clinical practicums in the students home town.
Even if there is an online degree available in the field you would like to study in, students should think long and hard about the pros and cons of online education before endeavoring on this track.
Some pros and cons of online education for health care degrees include the following:
Pros of Online Education for Health Care Degrees
Online Degrees are often built for those working full time or juggling life and school.
No need to move for your degree program.
Online Degrees often cost less due to fewer fees on top of tuition.
Cons of Online Education in Health Care Degrees
Many health care careers are "hands-on" with students benefiting from more in-person learning.
Less access to on-campus networking and support
Online studying often requires more self motivation
With that said, many people seeking degrees in health care are alredy working in the field. Online degrees can offer the flexibility and support needed to be able to add a degree
What Can I Do With a Health Care Degree?
As you've probably noticed above, there are many different health care degrees. They can be used to gain positions as diverse as speech language pathologists and pharmaceutical researchers.
We're going to step through some of the most common jobs people pursue with a health care degree below, organized by degree level.
What Can I Do With an Associates Degree in Health Care?
Associates degrees in health care are largely applied degrees that prepare students for a particular support task in medicine.
Three of the most common jobs those with health care associates degree pursue include: emergency medical technicians (EMT) positions, licensed practical nurse (LPN) positions, and registered health care information technician (RHIT) positions.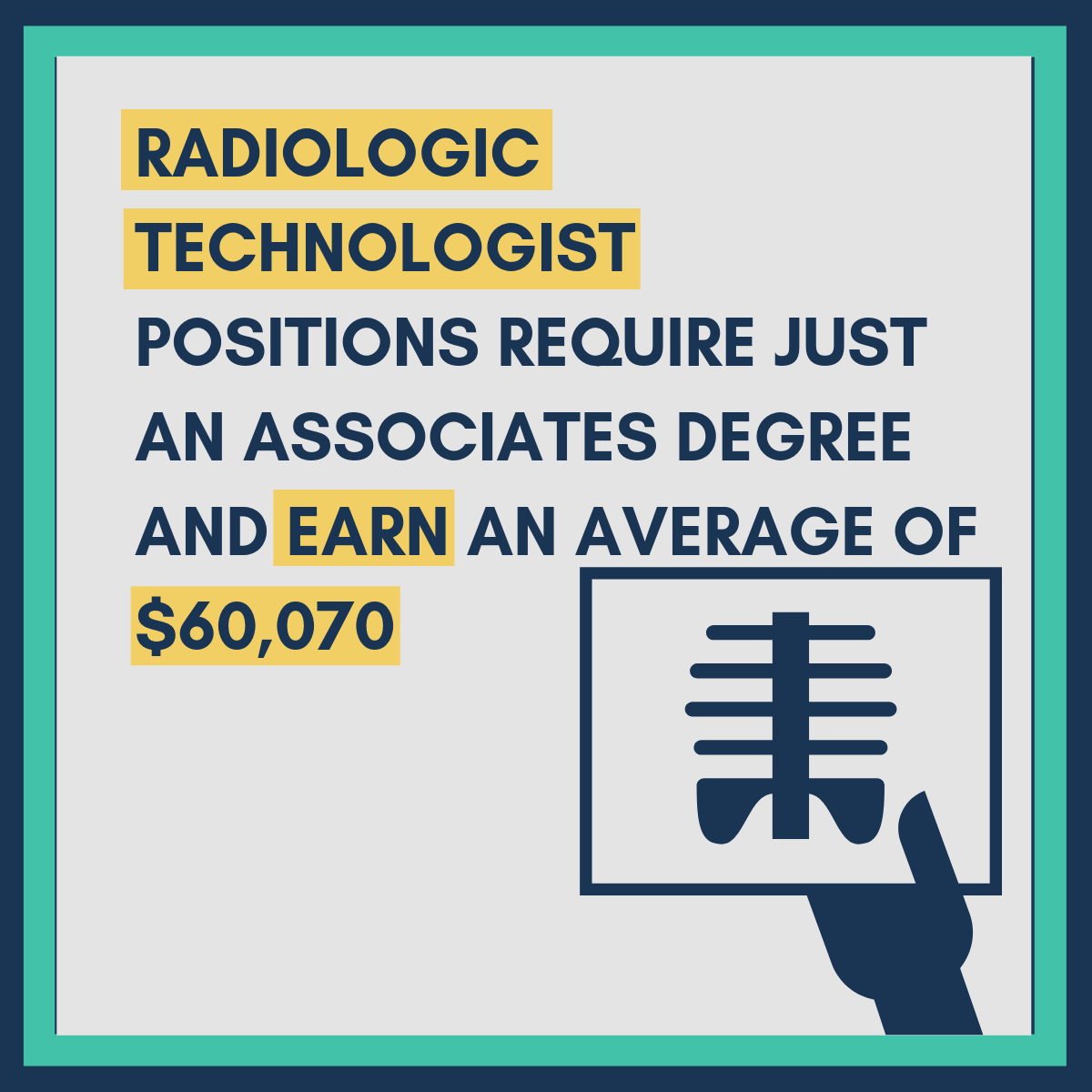 Emergency medical technicians are first responders often known as paramedics. If you've ever seen the site of a disaster, a car accident, or an ambulance racing up to someone's house, chances are an EMT was involved.
EMTs thrive in tense situations, have quick reactions, good judgment, and help to assess medical situations and transport patients to the proper care settings.
EMT jobs are growing rapidly, with an additional 15% growth in openings expected over the next 7 years according to the Bureau of Labor Statistics. EMT positions often just require a vocational certificate from a community college, meaning your time studying is short. But for not even requiring a whole associates degree, earnings are quality.
The nationwide average salary of EMTs is $33,380, quite a bit higher than for other jobs requiring the same level of education.
Another very common path for associates in health care degree seekers is to become a licensed practical nurse. Licensed practical nurses work in a variety of settings as primary caregivers. They take vitals, administer medicines, help with medical procedures, and enact the care plans of more senior nurses and doctors.
The most common path to becoming a licensed practical nurse is to pursue an associate degree in nursing or a licensed practical nursing preparation program. Depending on the course of study, licensure as an LPN can occur in 1-2 years.
Demand for LPNs (or more senior registered nursing positions that some associates-degree holders are eligible for) is high. LPNs make an average of $45,030 per year, much higher than the average for other positions requiring less than an associates degree.
Finally, registered health care information technician (RHIT) positions are licensed individuals that help to oversee health information systems. These jobs require associates or bachelors degrees in health care information management as well as the taking of a licensure exam.
Objectives of RHIT jobs are to organize and analyze health care data to support business objectives as well as better patient care. RHIT jobs are similar to data analyst jobs but tailored towards health care settings.
Earnings are good, particularly for those with only an associates degree. According to the Bureau of Labor Statistics, the average salary for registered health care information technicians with associates degrees is
$38,040.
There are many other positions in health care one can work as with an associates degree. Many health care careers provide great stability as well as quality paychecks relative to other jobs requiring the same degree level. Some of the other most common jobs one can perform with an associates degree in health care (as well as average earnings) include:
Radiology Technicians: $45,421
Speech Language Pathology Assistants: $55,324
Occupational Therapy Assistant: $54,520
Dental Assistants: $35,980
What Can I Do With a Bachelors Degree in Health Care?
Bachelor's degrees in health care fields can lead to a variety of lucrative, in-demand, and fulfilling positions. At the bachelor's level, some of the most common health care positions are in the fields of nursing, management and information technology.
Individuals can become registered nurses (RN's) with either an associates or a bachelor's degree. RN's with bachelor's of science in nursing degrees, however, tend to make more money, assume more leadership responsibilities and are in higher demand.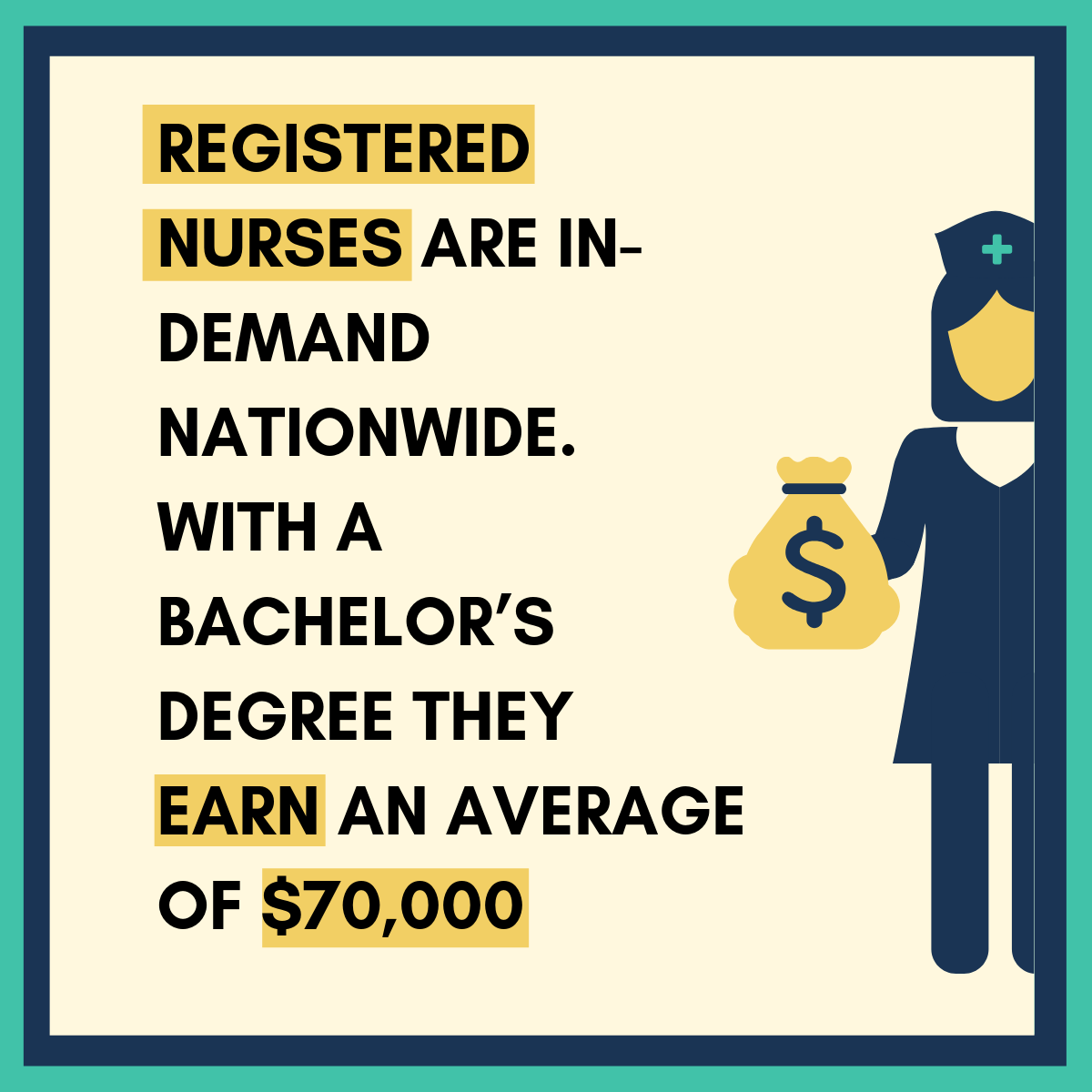 At the bachelor's level, RN job openings are expected to increase dramatically over the next several years. This has led to salary increases, particularly in specialty nursing areas. For general RN's, the average salary is $70,000 nationwide. In a handful of states, however, this number of over $100,000.
Registered nurses enact doctor and nurse practitioner care plans, perform more detailed workups on patients than LPNs, and often supervise LPNs. RN's can find work in a variety of settings, from schools, to assisted living facilities, to group homes, to hospitals. There are over 3 million nursing jobs in America today.
Nursing Degree FAQs
A second common path into health care with a bachelors degree is through information technology related degrees. Health care settings are often high-tech settings, and a veritable army of support technicians and administrators are needed to ensure the largest hospitals remain working.
Two paths are generally accepted to get into health care IT with a bachelor's degree. Some job candidates will pursue a bachelors in health information management. This track typically prepares students to use health care setting-specific technologies related to patient records. A second track is through a general information technology degree. This route prepares students to work as systems administrators, network administrators, and cybersecurity analysts within health care settings.
While most IT degrees aren't technically centered on health care, health care settings are one of the largest employers of information technology professionals. We felt this merited a mention as there are many tech-savvy students with an interest in helping others (and career opportunity) in health care.
The third major option for gaining employment in health care fields with a bachelors degree is through studying business or management with a focus on health care. Nearly every medical setting needs accountants, human resources workers, and managers of logistics. In smaller clinics, these tasks sometimes fall to the head doctor. But in larger settings, an entire administrative wing is often required.
At the bachelors level, not as much specialization is available in business or management degrees. Many degree programs, however, will let students tailor their undergraduate course of study some through electives. Students electing to take a handful of business or management courses centered around health care settings may be "shoe ins" for positions as health care managers or business workers.
The average salary for health care manager positions is currently $62,344 nationwide. This is somewhat higher than the average salary for all bachelor's degree holders.
What Can I Do With an Masters Degree in Health Care?
Master's degrees are the "entry level" degree for many leadership positions within health care. Short of pursuing a doctor of medicine or related degree, master's can lead to in-demand and fulfilling positions in a variety of health care settings.
Unlike bachelor's degrees, which primarily lead to nursing or support positions in health care, master's degrees can lead to a range of research and primary care positions. Some common job titles assumed with master's degrees include public health researcher, lab manager, therapy roles, nurse practitioner, specialized nursing positions, and management positions within health care administration.
Starting from the top, public health researchers work in a variety of settings including hospitals, for non-profits, in pharmaceutical companies, and at universities. One of the most common degrees held by these researchers is a Masters in Public Health.
Public health researchers may help to create original research related to health outcomes, track the health of communities, apply for grants for health-related programs, and make recommendations to decision makers. With some known as epidemiologists, these professionals study patterns as they relate to human disease and injury.
The average salary nationwide for epidemiologists and public health researchers is $70,820.
A second health care job that may be entered with a master's degree is that of lab manager. Many health care settings rely heavily on diagnostic procedures. Professionals working in this role may work in governmental, hospital-based, clinic-based, or private corporation labs.
Typical responsibilities of clinical lab managers include the management of overall lab operations to ensure safety, security, quality outcomes, the accuracy of tests, best practices, and more. These positions require individuals that can understand the testing being done, communicate to a variety of stakeholders, and provide good judgment in a managerial capacity.
Demand for skilled clinical lab managers is high nationwide and provides an average salary of around $92,000 a year.
Therapy roles provide health and well-being support in a variety of settings including private practice, K-12 educational settings, hospitals, and religious organizations. As opposed to clinical psychologists (who are required to hold a doctoral degree), counseling therapists often "just" require a masters. Counseling can occur related to eating disorders, general mental health, relationship counseling, grief counseling, and end of life counseling.
Common degrees for counseling psychologists include masters degrees in counseling or psychology. Though salaries vary depending on the setting of work as well as title, an average salary for counseling psychologists is $72,540.


Nurse practitioners pursue either master of science in nursing degrees or doctorates. These highly trained nurses often work with minimal supervision of doctors, with some states allowing nurse practitioners to run their own private practice under minimal doctoral supervision.
Similar to doctors, nurse practitioners work with all portions of patient care including diagnosis, treatment, and consultations. Nurse practitioners within in and out-patient settings and some may specialize in a particular portion of a medical clinic (for example, neonatal care, or cardiac care).
Nurse practitioners are in high demand nationwide, and can often choose their place of work. An average salary for nurse practitioners nationwide is $104,740.
Some nurses not seeking nurse practitioner status may choose to specialize further than a BSN with a master's degree. Common specialized nurse positions include Certified Registered Nurse Anesthetist, Certified Nurse Midwife, Nurse Researcher, and Certified Psychiatric Nurse. Many of these specialized nurses can command quite high salaries, with certified nursing registered nurse anesthetists making an average of $155,000 a year.
Finally, master's degrees can prepare business support workers in medical clinics to excel as health care administrators. A variety of degree types including masters in business administration, masters in accounting, masters in leadership, and masters in finance offer specializations in health care.
Salaries depend on the exact role filled, but senior managers in health care settings often make over $150,000 a year.
What Can I Do With a Doctorate Degree in Health Care?
Likely the first doctoral degree most people think of in relation to health care is a Doctor of Medicine (MD) degree. Number wise, this is the most common doctorate degree in health care.
A great number of other doctoral options are also available, however. These options are often applied doctorates leading directly to a job and include:
Doctor of Nursing
Doctor of Pharmacology
Doctor of Dentistry
Doctor of Optometry
Doctor of Clinical Psychology
And a number of others.
Perhaps the most dynamic and diverse degree of those mentioned thus far is the Doctor of Medicine degree. MD's study for 3 years to gain a general understanding of our bodily systems. They then specialize further in one or multiple residencies. Upon completion of their residencies — which often include years worth of supervised work and training as the doctor type the candidate is pursuing — students may sit for their board exams. Upon completion of this long process, students can call themselves practicing doctors of medicine.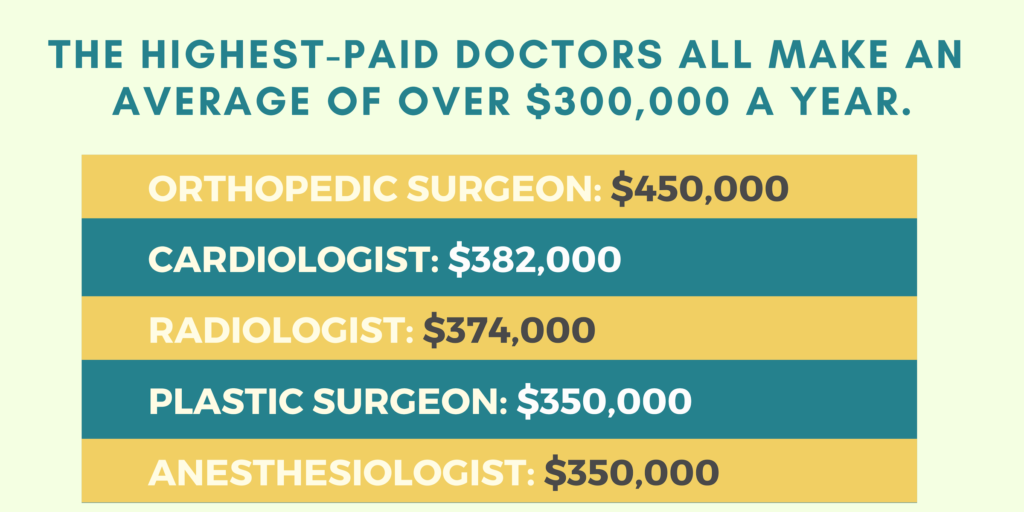 There are as many types of medical doctors are there are systems in the human body. Some that you've probably heard of and their average salaries are listed below:
Family Physician: $227,541
Internal Medicine Physician: $223,175
Pediatrician: $205,610
Obstetrician/Gynecologist (OB/GYN): $315,295
Surgeon: $382,812
Psychiatrist: $227,478
Cardiologist: $512,000
Dermatologist: $400,898
Endocrinologist: $225,090
Gastroenterologist: $$337,500
Similarly to M.D. degrees, those pursuing other doctoral degrees in medicine devote years of their life to getting into rigorous graduate programs and working their way through them. Demand is high for almost every form of doctor related to health care.
If you think you might be interested in a doctoral degree in medicine. Be sure to check out some of DegreeQuery's resources on the matter:
Didn't see what you were looking for on health care jobs? Be sure to check out some of our other health care career-centered FAQs below!