Can you keep a cool, level head in a crisis? If you've got the temperament to thrive in emergency situations and the drive to help when disasters occur, a career in emergency management could be perfect for you. Emergency management careers can be rewarding in more ways than one. Not only is the work of helping people who most need assistance inherently fulfilling, but careers in the field of emergency management can pay good wages, particularly in senior-level roles. Before you start your emergency management program school search, you should learn more about the best jobs available to emergency management degree holders.
DegreeQuery.com is an advertising-supported site. Featured or trusted partner programs and all school search, finder, or match results are for schools that compensate us. This compensation does not influence our school rankings, resource guides, or other editorially-independent information published on this site.
What Do Emergency Management Professionals Do?
In the aftermath of natural disasters, large-scale acts of violence and other emergencies, professionals working in a broad area of occupations are needed to plan disaster response strategies and implement these plans. For some careers, though, managing emergency situations isn't an out-of-the-ordinary event but rather the main focus of their occupation. Careers that revolve around planning and implementing responses to crises are considered emergency management job roles.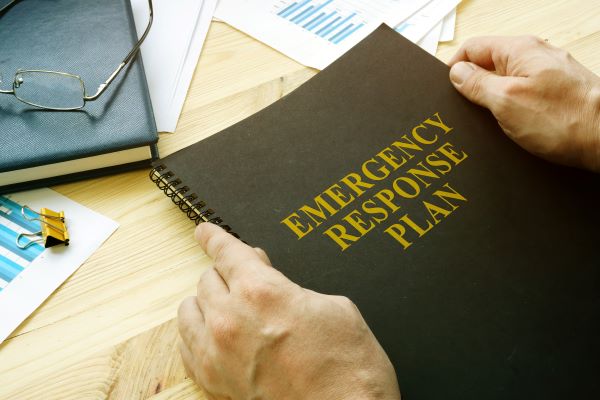 There are numerous job titles that fall under the domain of emergency management careers. Your exact responsibilities as an emergency management specialist depend on your job title and work environment. Emergency management professionals may be expected to assess the consequences of disasters, plan disaster response strategies, proactively evaluate the utility and feasibility of existing emergency plans, oversee the logistics of implementing disaster response plans, train emergency personnel and lead relief efforts in accordance with legal and ethical obligations.
Some emergency management professionals delegate responsibilities for hands-on disaster recovery work to lower-level emergency management specialists while they focus on the high-level work of planning and overseeing emergency management programs, while others spend their time on the front lines of disaster recovery interventions.
Where Do Emergency Management Professionals Work?
Emergencies can happen to anyone, and that means that the need for trained professionals in the field of emergency management is constant. Different disaster relief agencies hire professionals with emergency management degrees. Employment opportunities in the emergency management field exist in government entities at the federal, state and local levels, as well as nonprofit and community groups and organizations and private industry.
As an emergency management specialist, both your job title and your employment setting will affect your responsibilities and what your workdays look like. In general, though, an emergency management professional can expect to spend their time in some way putting together emergency response programs and plans and coordinating efforts to implement these plans.
RELATED: The Best Job Prospects with an Emergency Management Degree
Jobs in a Federal Emergency Management Agency
Many emergency management degree holders are government officials of some kind. Some emergency management specialists are local officials, while others work at the federal level.
Federal agencies commonly assist in emergencies and disasters. For example, the Federal Emergency Management Agency (FEMA) is the agency responsible for national preparedness and for responding to severe storms, wildfires and other natural disasters that occur across the United States.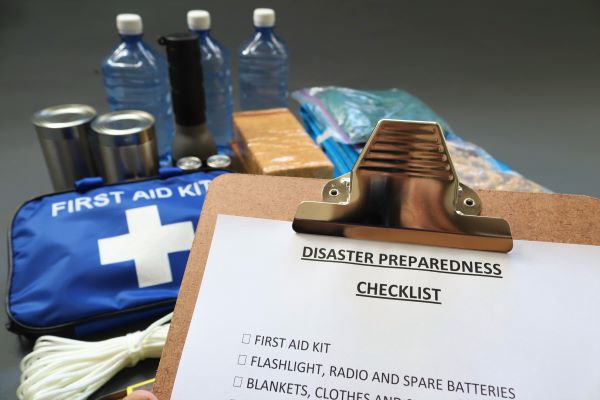 Other federal agencies respond to different types of emergencies. The Department of Homeland Security (DHS) handles national security threats as well as assisting with natural disasters. A Secret Service agent may also be considered part of the emergency management profession if their job includes planning for emergencies like attempted violence against leaders like the U.S. President. A Border Patrol agent working for Customs and Border Protection may also be considered an emergency management professional, especially when they are responsible for planning for or responding to emergencies that occur at the United States borders.
Not all government jobs that may involve emergency management responsibilities revolve around emergency preparedness and response, specifically. For example, housing agencies like the U.S. Department of Housing and Urban Development (HUD) may offer disaster assistance and resources for people affected by disasters, even though handling large-scale disasters isn't the primary focus of housing agencies, generally speaking.
Working in State and Local Government Agencies
Local and state governments respond to emergencies, too, so they also need trained professionals who can plan for and deal with all kinds of crises. Emergency management professionals can also find work with state, county and municipal agencies and entities that are responsible for preparing for and responding to a variety of types of emergencies. Examples of opportunities for emergency management degree holders with local and state governments include jobs in a state office of emergency management or in local emergency management centers. Aside from these local officials, emergency management jobs with local and state governments may also include roles with a municipal law enforcement agency, fire department or emergency medical service.
Emergency Management Careers in Nonprofit Organizations
Nonprofit organizations often step up to help when disaster strikes. Nonprofit disaster response and relief agencies include international humanitarian organizations like the Red Cross and the United Nations International Children's Emergency Fund (UNICEF), as well as community outreach charities and faith-based and religious-affiliated organizations.
Private Industry Emergency Manager Jobs
While large-scale natural disasters objectively count as emergencies, some crises are more subjective, especially in private industry. A scandal, a policy or legislative change, a volatile economic market, a labor or supply shortage and any number of other issues may constitute an emergency for individual private companies. If these companies are going to survive the crises they face, they need the guidance of skilled emergency managers and an actionable plan to mitigate risks and negative consequences.
The principles of emergency and disaster management may be very different when it comes to a company's public relations crisis as opposed to a natural disaster or an act of terrorism that literally puts people's lives at risk. The hands-on work of salvaging the reputations of companies in the private sectors is very different from that of digging through the wreckage to rescue survivors. However, managing any type of emergency requires some common skills in administration.
In any emergency management situation, personnel must be able to quickly and comprehensively assess the situation and identify and implement plans that best address the consequences of the crisis. Handling emergencies in private industry is a responsibility that sometimes falls on operations managers, but companies may also call in specialists like emergency management consultants to help them handle the situation. A business recovery planner or business continuity manager may be responsible for helping companies to keep operating during times of crisis and to minimize financial losses and other negative consequences.
Consulting Roles in Emergency Management
While some agencies and companies exist to address emergencies, that's not the case for most companies, nonprofit organizations and government agencies with other areas of focus. As such, many organizations don't need full-time, in-house experts in emergency management.
Instead, they may hire trained emergency management professionals temporarily and as needed – often with little prior notice – on a consulting basis. An emergency management consultant may work for themselves or be employed by a consulting firm that specializes in comprehensive emergency management services, including planning, training, assessment and implementation. Examples of consulting roles in emergency management include emergency management consultant, information technology (IT) incident response consultant and sustainability consultant.
The 10 Best Emergency Management Degree Jobs
Emergency management degree holders have plenty of options for employment. Whether you want to serve as boots on the ground or to develop the big-picture strategies for disaster relief – whether you prefer to focus on disaster preparedness to prevent or minimize emergencies in the first place or to step in during an ongoing crisis – there's a role for you.
1. Homeland Security Officer
Among emergency management roles in the federal government, Homeland Security officer is perhaps the most well-known and widely popular career aspiration. The role of Homeland Security officer may include anyone working in an officer or agent role in the Department of Homeland Security, which includes the Federal Emergency Management Agency and Customs and Border Protection. Whether your work has you identifying and working to neutralize national security threats in a law enforcement capacity or traveling directly to disaster sites to implement recovery and relief plans, you're sure to make a difference working as a Homeland Security officer.
In 2022, PayScale.com reported an average salary of $78,000 per year for employees of the U.S. Department of Homeland Security. Most Homeland Security officers are paid according to the General Schedule (GS) federal pay schedule. In 2022, a federal employee at the highest grade and step level of the General Schedule could make as much as $146,757 per year.
2. Health and Safety Specialist
The financial aspects of a crisis aside, most emergencies pose some sort of a risk to one or more person's health or safety. It makes sense, then, that matters of health and safety – including public health, occupational health and safety and environmental health – fit into the category of emergency management careers. Health and safety specialists and officers serve more of a preventive role than disaster response professionals do. By educating communities and organizations and examining natural and workplace environments, health and safety specialists reduce the likelihood of accidents, environmental health or public safety threats and other emergencies occurring in the first place.
The median salary the Bureau of Labor Statistics reported for health and safety specialists in 2021 was $77,560. Health and safety technicians, who are less highly educated and who have less extensive job responsibilities, made considerably less: $51,120.
3. Disaster Recovery Manager
When disaster strikes, a disaster recovery manager has to act fast and make the right decisions to minimize the harm that results. Like emergency management directors and specialists, disaster managers plan interventions, assess emergencies and implement strategies to help with a crisis. However, disaster management typically refers to a critical, time-sensitive event that is larger in scale than "just" an emergency.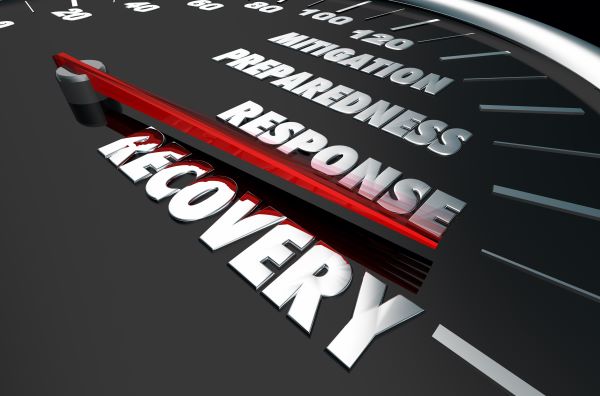 In proportion to the bigger scale of the event, disaster response strategies may be more complex, with more logistics to coordinate, more moving parts to organize and more disaster relief agencies to split up efforts between. Disaster recovery managers may also develop strategies for disaster prevention – to hopefully avoid a large and serious crisis in the first place – but even the most meticulous planners can't always predict every possibility for things to go disastrously wrong.
The average salary reported for disaster relief and recovery managers for 2022 was $77,099 per year, according to the job search website Zippia.com.
4. Emergency Management Director
Emergency management director is a job role that may encompass any high-level leadership position in the field of emergency management. Some examples of job titles that may fall under the category of the emergency management director occupation include emergency management coordinator, emergency services director, public safety director, emergency preparedness coordinator and emergency management system director.
What all of the various director of emergency services roles have in common is that they are leadership positions that involve some emergency planning or high-level supervisory aspect. Beyond this common focus, job duties for these roles may differ significantly. A public safety director will likely craft policies that support public safety and put in place contingency plans in the event of different types of public health threats, while an emergency management coordinator may be primarily responsible for training responders and emergency personnel.
How much can you earn for the job of developing and overseeing an emergency preparedness plan? Among emergency management directors, the median salary in 2021 was $76,730, according to the United States Bureau of Labor Statistics (BLS). Two industries pay emergency management directors particularly well. The professional, scientific and technical services industry, which employed 3% of the occupation in 2020, paid a median salary of $125,930. Hospitals, which employed 8% of the occupation, paid a median salary of $94,310, the Bureau of Labor Statistics reported.
5. Business Recovery Planner
For any business to survive and thrive over time, it must offer consistency. Unexpected closures or shutdowns, the inability to perform work due to a dearth of labor or supplies and other breaks in consistency and continuity can lead to both short-term and long-term losses.
Customers and clients may start giving their business to competitors or simply change their routines or purchasing habits if they can't get the products or services they need from the company that used to provide them, especially if the issue recurs over time or continues for a prolonged time period. That's why Ready.gov, a national public service campaign from the Department of Homeland Security, considers a business continuity plan to be "essential" in any industry.
A business recovery planner or business continuity manager is a person who specializes in preparing and implementing these plans. The strategies, policies and procedures they create help businesses in the private sector maintain operations to the best of their ability, minimize their losses during the disruption and restore regular operations as quickly as possible.
For business continuity planners, O*NET reported a median annual salary of $74,670.
6. Hospital Emergency Preparedness Administrator
In times of emergency – whether a natural disaster, an act of terrorism or a large-scale accident – people flock to hospitals for life-saving and life-sustaining care. Unfortunately, an emergency that causes mass harm can exhaust the resources of any given hospital, limiting the facility's ability to save lives and help the injured. That's why hospitals need an emergency preparedness plan so that they are ready to deal with whatever comes and a hospital emergency preparedness administrator to create that plan and put it into action when necessary.
Hospital emergency preparedness administrators are generally responsible for developing emergency response programs and training staff – including emergency room doctors, trauma surgeons, registered nurses, nurse assistants and other healthcare personnel – on what to do in an emergency situation. Unfortunately, even the best training exercises may not be enough to fully prepare a hospital and its staff for a real-life emergency situation. When a crisis happens, a hospital emergency preparedness administrator heads the response efforts, clarifying what work needs to be done when and by whom.
According to Zippia.com, the average salary for hospital emergency preparedness administrators in 2022 was $71,329.
7. Emergency Management Specialist
Emergency management specialist is a general job title that suggests a non-leadership role in the emergency management field. An emergency management specialist may work for any type of employer – a federal or local government entity, a medical facility, a nonprofit organization, an emergency management consulting agency or a business of any kind that is likely to require such assistance.
Emergency management specialists perform tasks like planning procedures for responding to different kinds of emergencies, coordinating emergency management training exercises and coordinating the activities needed to respond to a disaster or crisis. While this role may sound similar to that of an emergency and disaster management director, specialist positions are typically not as high-level as director positions.
For workers with the job title of emergency management specialist, PayScale.com reported an average salary of $64,183 in 2022.
8. Public Information Officer
After any type of emergency, getting accurate information out to the public in a prompt, accessible way is critical for fending off other complications that could exacerbate the situation. Poor communication surrounding any kind of emergency can contribute to panic responses from the public that only make things worse or to the spread of misinformation that, once believed, can be difficult to replace with more accurate information.
A public information officer is an emergency management professional who is responsible for the communications that pertain to the emergency. This person communicates with the public and the media, as well as with other collaborators involved in the emergency response plan.
For public information officers, PayScale.com reported an average annual salary of $59,020 as of 2022.
9. Emergency Medical Services (EMS), Emergency Medical Technician (EMT), or Paramedic
If your drive to make a difference in the face of disasters is even stronger, you might consider training for emergency medical personnel roles. As an emergency medical technician (EMT), a paramedic or flight paramedic or another Emergency Medical Services (EMS) worker, you can save lives and help the seriously injured on a daily basis.
An emergency management degree certainly won't hurt your prospects of becoming an EMT or paramedic, but you need particular training – often from a non-degree program – to get certified in this emergency services role. EMT programs are some of the fastest ways to prepare for a career that involves providing medical intervention to patients. Although you won't perform all the same complex work as, say, an emergency room physician, you can often complete an EMT program in under a year, compared to the four years of medical school and three to four years of residency training that an aspiring physician would require.
EMTs and paramedics aren't the only types of emergency responders and first responders who can benefit from completing coursework in an emergency management degree program. Having this background can also help aspiring firefighters and law enforcement officers. Like EMTs and paramedics, firefighters and police officers need additional training beyond an emergency management degree. Firefighters typically complete months of training at a fire academy, while law enforcement officers train at a police academy.
RELATED: The 10 Best Online Fire Science Degree Bachelor's Programs
For EMTs and paramedics, the Bureau of Labor Statistics reported a median salary of only $36,930, and just one in 10 EMTs and paramedics reported earnings above $60,000. Being an EMT isn't going to make you rich, at least not in a financial sense, but many workers in these rewarding careers feel a true calling to help people in need.
10. IT Incident Manager
Not all emergencies take place in the real, physical world. Digital emergencies like cybercrime and major system malfunctions can lead to real-world consequences.
Several jobs in the field of emergency preparedness and management pertain to the field of information technology (IT). Addressing IT emergencies may require a different set of technical skills than intervening in natural disasters or large-scale acts of violence, but in many ways, the focus of this career path is the same as in other areas of emergency management: plan for crisis situations, assess the emergency and implement strategies to minimize the consequences. At lower levels, individuals in this field may work as incident analysts or incident response analysts, while workers in more advanced roles may hold titles like incident manager or incident response manager.
RELATED: What Degree Do I Need to Be an Information Technology Specialist?
Although we have saved IT incident management jobs for last on our list, the reason isn't lackluster earning potential. In fact, PayScale.com reported the average annual salary for incident managers as $90,624, making it the most lucrative job title on our list.
However, just because this role boasts the highest salary doesn't mean it's what many aspiring emergency management professionals think of when they envision working in this field. The job is important and involves less risk to the worker's physical safety, but if you want to get involved in providing hands-on disaster relief, you're likely to find it less fulfilling. Additionally, IT-focused emergency management roles will typically require more extensive studies in IT or computer science than you can expect to complete in the average emergency management degree program.
How to Become an Emergency Management Professional
For any emergency management job, some amount of training will be required. Relevant training opportunities may involve college coursework and a formal emergency management degree program, a formal training program or informal on-the-job training – or some combination of these methods of career preparation. For any of these top careers in the field, pursuing a degree in emergency management will only improve your employment prospects.
Degrees in Emergency Management
What degree level is needed to work in an emergency management career? An associate's degree in emergency management may be sufficient for entry-level jobs and junior-level roles in the field, such as technician roles and emergency services associate positions. Additionally, you might opt to earn an emergency management degree at this level of study in preparation for applying to law enforcement jobs or while completing the non-degree training required to get certified as an EMT.
If you want to do more in the field of emergency management, you may need to pursue a higher degree level. A bachelor's degree in emergency management is a solid choice for most of the career path possibilities in this field. Having a bachelor's degree in emergency management will qualify you for a wide variety of emergency manager job titles, and O*NET reported a bachelor's degree as the most widely required level of education needed for the occupation. A bachelor's degree in emergency management not only covers the foundations of the field in greater depth but may also allow students to pursue advanced studies in areas of specialization, such as disaster relief, public safety, homeland security, fire science, law enforcement and child protection.
RELATED: What Are Some of the Degree Choices in Emergency Management?
Students interested in high-level roles – with job titles like "manager" and "director" instead of "officer" – may benefit from pursuing a higher degree level, like a master's degree in emergency management. Graduate-level emergency management degrees aren't uncommon, and O*NET reported that 20% of respondents questioned listed a master's degree in emergency management as the level of education required to work as an emergency management director. Even if it isn't strictly required for the career in emergency management you're seeking, pursuing a master's degree in emergency management or another relevant advanced degree may give you a competitive edge.
In addition to your coursework in the classroom, the curriculum of an emergency management degree at the bachelor's or master's degree level may include field experience, clinical or practicum training and internships. It's also possible to earn an emergency management degree online.
Getting Certification From Professional Organizations in Emergency Management
Academic programs like bachelor's degree and master's degree in emergency management programs aren't the only considerations for maximizing your employment opportunities in this field. Joining and seeking certification from a professional organization in the field of emergency management can also help you advance your career. Professional organizations often offer educational and networking events that can help you increase your knowledge and skills and get more involved in the emergency management community.
Having this additional knowledge and developing these skills and connections can be valuable in a real emergency situation when you may need to collaborate with different disaster relief agencies or call in experts in related areas, such as a hazard analysis coordinator experienced in hazardous material management, a hurricane program specialist or a geographer.
If you want your involvement in a professional organization to help you qualify for new emergency management positions in a more substantive way, you should pursue formal credentials and designations. For example, the International Association of Emergency Managers (IAEM) offers the Associate Emergency Manager (AEM) and Certified Emergency Manager (CEM) credentials, while the Disaster Recovery Institute International (DRI) offers certifications in cyber resilience, risk management and continuity in specific areas like healthcare and the public sector.
Education and Training Beyond an Emergency Management Degree
A degree in emergency management may make sense for any of the occupations listed above, but for some careers related to handling emergency situations, you need other training or specialized education. For example, majoring in emergency management isn't enough to prepare you to work as an emergency room physician, although you could choose this undergraduate major – complete with sufficient science coursework – in preparation for applying to medical school.
RELATED: What Should You Know Before You Interview for a Job With a Degree in Emergency Management?
Engineering is another example of emergency management-related careers that require a different education. As professional problem-solvers, engineers often play a role in handling emergencies, such as by designing and developing solutions to the problems posed by emergencies such as natural disasters. To work in any kind of engineering role, you need to study the foundations of engineering design and the principles of science and mathematics that inform engineering practice. An engineer may benefit from double-majoring or minoring in emergency management but should also pursue an ABET-accredited engineering degree.
Choosing an Emergency Management Program
Emergency management, disaster preparedness and public safety degree programs train emergency personnel to work in these and related fields of study. Many schools now offer emergency management programs at the undergraduate and graduate levels.
Choosing a school for an emergency management degree program isn't easy. Prospective students should undertake a comprehensive school search that includes researching school rankings, curriculum requirements, concentration and elective course options, learning formats (in-person or online), completion time and cost and financial aid, just to name a few factors.
Related Resources:
What Are the 5 Best Careers in Environmental Science?