There is a variety of jobs for those with a degree in Emergency Management. To enter this field, you can start with an Associate's degree, though a Bachelor's degree will provide more opportunities. Alternatively, a Master's degree in Emergency Management or related discipline will allow you to move up to a higher-paying position. At the undergraduate level, there are many top online Bachelors' programs in Emergency Management. Due to the diversity of the profession, employment opportunities can be found within state and federal agencies, municipal levels, and private sectors. At the federal level, emergency management may affect the FBI, Office of Homeland Security, National Domestic Preparedness Office, and the Department of Justice, for examples. In addition, the American Red Cross plays a major role to provide immediate disaster relief, such as shelter, food, and health services, to victims of disasters of all kinds — natural and man-made.
A review of compensation data reveals that PayScale reports the national median earnings at $53,000 with a total pay range of $34,630 to $80,551. Their salary figures are collected from 55 million profiles in 15,000 job titles. Further research states that an entry-level Emergency Management Specialist with less than 5 years of experience can anticipate earning an average total compensation of $48,000 based on 170 salaries provided by anonymous users. The U.S. Bureau of Labor Statistics states the median pay at $70,500 as of 2016 for those with a Bachelor's degree and 5+ year's experience. Noteworthy is that the website LinkedIn as of August 2017 has posted 2004 new jobs in the category of emergency management.
These jobs are ranked from low to high median salary according to PayScale as they report the most job titles. We have noted where their title varies from the captioned profession.
1. Hazardous Material Management
Citizens and officials are concerned about accidents (e.g., highway incidents, warehouse fires, train derailments, shipping accidents, industrial incidents) happening in their communities. Recent evidence shows that many people consider
hazardous materials incidents to be the most significant threat facing local jurisdictions.  Hazardous materials refers generally to hazardous substances, petroleum, natural gas, synthetic gas, acutely toxic chemicals, and other toxic chemicals. To deal with this potential threat, experience has shown a team concept is the best vehicle for incorporating the expertise of a variety of sources. Persons interested in this specialty usually have a degree in Occupational Safety & Health or Environmental Science. An example is the online program at Columbia Southern University, whose coursework range from hazardous material management, construction safety, OSHA safety, to accident investigation. Once established in your career, you may pursue certifications through The Institute of Hazardous Material Management (IHMM).
Median Salary: $46,576 (Hazard Analysis Coordinator)
2. Homeland Security Officer
Many college programs provide a concentration in Homeland Security for careers focusing on intercepting threats and securing vulnerable geographical areas. As expected, the U.S. Department of Homeland Security works in conjunction with the Federal Emergency Management Agency (FEMA) when disaster strikes. The Post Katrina Emergency Management Reform Act directs the DHS Secretary to designate employees from throughout the Department to staff a Surge Capacity Force (SCF). During a declared disaster, the DHS Secretary will determine if SCF support is necessary.  The Secretary will then authorize FEMA to task and deploy designated personnel from DHS components and other Federal Executive Agencies to respond to extraordinary disasters. In October 2007, President G. W. Bush presented the National Strategy for Homeland Security to address terrorist threats as well as "the full range of potential catastrophic events," including man-made and natural disasters.
Additional details on college programs in this profession may be found at our The 25 Best Online Master's Degrees in Homeland Security.
Median Salary: $46,596
3. Public Health Preparedness
The Public Health Emergency Preparedness (PHEP) cooperative agreement is a critical source of funding for state, local, tribal, and territorial public health departments. Since 2002, the PHEP cooperative agreement has provided more than $11 billion to public health departments across the nation. This funding helps health departments build and strengthen their abilities to respond to a range of public health threats, including infectious diseases, natural disasters, and biological, chemical, nuclear, and radiological events. Individuals in this line of work have been previously employed as healthcare professionals, public workforce members, emergency management specialists, and first responders. Institutions, for example the University of Minnesota, offer a Public Health Certificate in Preparedness, Response, and Recovery, for professionals holding a Bachelor's degree (minimum). This particular program is designed to develop a credential in emergency and bio-terrorism preparedness competencies. The specific goals of this program are to protect the health of the community in times of bio-terrorist incidents, infectious disease outbreaks, and emergent public health threats.
Median Salary: $49,311 (Public Health Specialist)
4. Public Information Officer
Within the emergency management framework, public information officers serve as key staff members who are responsible for supporting the agency's incident command structure. People in this field are very knowledgeable of federal, state and local emergency related regulations, and must stay abreast of changing laws. In addition, it is their job to gather the information needed to write the emergency preparedness plans for their facility and to be able to carry out those plans. Due to the importance of disseminating information quickly and accurately in times of crisis, emergency management agencies rely on specifically trained personnel to carry out this task. They provide information on warnings, shelter, evacuation orders, and the general progress of events through a number of outlets, including social media. A bachelor's degree or higher in public administration, business administration, or emergency management is the typical academic path to a career in emergency communications.
Median Salary: $51,573
5. Hospital Emergency Preparedness Administrator
Hospitals are required to have an Emergency Operations Plan (EOP) which describes how a facility will respond to and recover from all hazards. As a hospital emergency preparedness administrator, you will address response procedures, capabilities and procedures when the hospital can not be supported by the community. Other duties are to implement recovery strategies, initiate response phases, activate and authorize alternate sites for care, treatment and emergency services. Some emergency medical technicians or firefighters decide to restart their education in this discipline of Emergency Management.  The job may also require the necessity to manage the Emergency Operations Plan, conduct training sessions, and educate personnel. Other duties include maintaining detailed documentation, making recommendations, communicating and assessing areas of improvement to the Director of Safety and Emergency Preparedness. Academically, your coursework should focus on the medical impact that a disaster can have on hospitals.
Median Salary: $52,038 (Hospital Safety Coordinator)
6. Emergency Management Specialist
These specialists work behind the scenes to train emergency personnel, coordinate communication between different disaster relief agencies and plan disaster response strategies. Due to an increase in national security threats and devastating natural disasters, well-educated emergency specialists are in high demand. These professionals consult with officials of local and area governments, schools, hospitals, and other institutions in order to determine their needs and capabilities in the event of a natural disaster or other emergency. They also may be required to inspect facilities and equipment such as emergency management centers and communications equipment in order to determine their operational and functional capabilities prior to and during emergency situations. Jobs in this field could be where you least expect them, for example, NASA posted an opening in August 2017 for an Emergency Management Specialist. This individual will work in conjunction with their Emergency Preparedness Officer. The position entails managing/directing the mobilization of the necessary equipment, vehicles, communication capabilities, and operational facilities for on-site emergencies.
Median Salary: $54,439
7. Emergency Management Coordinator
Many cities and towns across the U.S. employ EM Coordinators to plan, develop, implement, and administer policies and programs related to emergency management.  As a public employee, by law you become a disaster service worker during an emergency. This law has a moral basis in that every employee of a city, county, state or federal agency must do everything possible to protect and preserve the safety of the citizens in the jurisdiction. You will likely be looked upon as the city's lead person in emergency management and as the adviser to the city manager regarding disaster related concerns and issues. For example, the city of Downey, California, posted a job opening in August 2017 seeking an EM Coordinator to participate in developing and maintaining the City's strategic emergency management plan. This person will be responsible for implementing disaster plans and procedures, monitor and analyze trends in emergency management planning. This position also entails recommending improvements in emergency preparedness, response, and recovery.
Median Salary: $54,928 (Emergency Response Coordinator)
8. Emergency Preparedness Specialist
Most states have a position for an experienced person in Emergency Preparedness with a Bachelor's degree. One example is the state of Wyoming whose current job posting states that applicants must be able to ensure state compliance with National Presidential Directives. The purpose being to thwart potential terrorism and protect valuable infrastructure within Wyoming. Other duties include, but are not limited to, the coordination of efforts that are necessary to strengthen and maintain secure, functional, and resilient critical infrastructure-including assets, networks, and systems. This job also involves promoting public awareness of emergency preparedness through the organization and presentation of public awareness campaigns. Furthermore, the Emergency Preparedness Specialist will be speaking with community groups, neighborhood associations, business and industry, schools, etc.; and assisting in creating public information plans.
Median Salary: Same as above
9. Engineer
The profession is a compendium of specialties in the engineering domain as it covers structural, civil, architectural, mechanical, geotechnical, and metallurgical. It is all about preventing, mitigating, or eliminating the imminent damage to crucial structures in the event of a disaster. In the midst of general devastation, advances in engineering and more resilient construction will enable buildings and infrastructures to withstand the forces of nature, such as earthquakes and hurricanes. Engineers analyze and evaluate the aftermath to determine what can be improved upon to alleviate the recurrence of catastrophic destruction. Civil engineers need to keep themselves updated about the latest research and developments in construction technology, advances in construction materials and analysis or design procedures. The geotechnical engineer's analysis of the sub-soil , for instance, will be beneficial in the construction of more earthquake resistant structures.
If you need more information on what degree do you need to be a Civil Engineering, please click the link.
Salary:$63,830 (Civil Engineering)
10. Geographer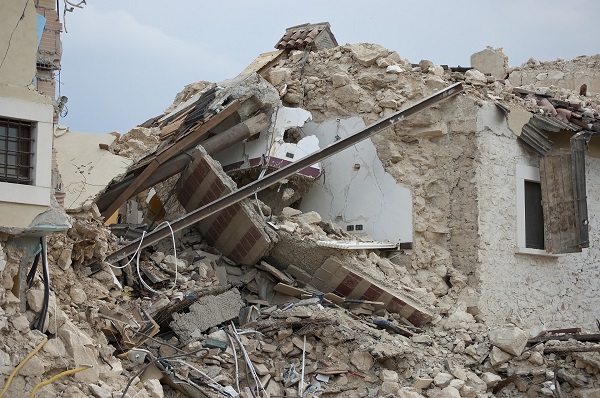 IMAGE SOURCE: Pixabay, public domain
Geographers in emergency management are engaged in the study of natural hazards plus a wide scope of geological and atmospheric factors, including earthquakes, coastal flooding, drought, and hurricanes. Whereas engineers concentrate on what happened, the geographer is fixated on where something happened, and why it happened there. In this endeavor, they use geographic technologies to better understand the causes of both natural and man-made disasters. Undergraduate geography majors pursuing a career in emergency management should take specific coursework in hazards, climatology, geographic information system (GIS), cartography, urban geography, and geomorphology (the study of the physical features of the surface of the earth and their relation to its geological structures). Again, professional opportunities are available in a number of sectors, including state and local government agencies, international organizations, nonprofit organizations, and federal authorities.
Median Salary: $74,274 (Geographer)
As you have just read, the last two professions reference different degrees than emergency management. We have included engineering and geographer as we believe that they are integral to managing disasters. For further information on a Civil Engineering degree, we refer you to our article: https://www.degreequery.com/degree-need-civil-engineer/.
We consider these as some of the top jobs available to degree-holding applicants with or without experience who want to make emergency management their career. Recommended sources to research employment prospects further are these websites: usajobs.gov, governmentjobs.com, indeed.com, and glassdoor.com.
Related Resources: