When you're trying to choose a major for college or considering getting your graduate or doctoral degree, music might not seem the most pragmatic choice. However, studying music can be a fulfilling, enriching experience that comes with more career options than you might think.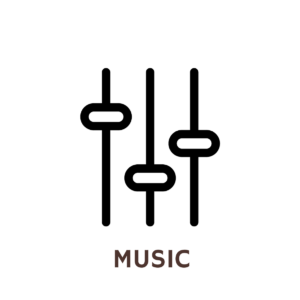 We're taught that you should work doing what you love to. For many people, this doesn't seem like a isn't an option. However, there are still ways to find a career in your passion, and for those who love music, earning advanced degrees in it can lead to sustainable satisfaction in a large variety of roles. Music graduates work in education, broadcasting, studio production, performing, community organizing, therapy, film and television, video games, theater, events, and so much more.
People who tell you studying music is a dead end don't have to live with the choices you make. When you consider that the average person switches jobs approximately 10 to 15 times in their career, there's no reason to believe anything you study will lead to permanent employment. If so, why not explore what you love, and figure out a way to work with it in a fragile, continually evolving economy.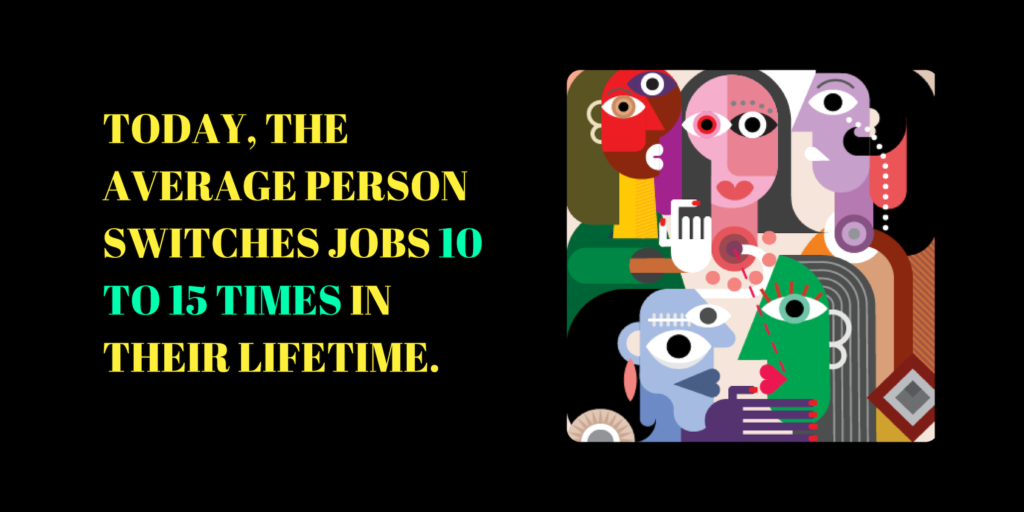 In this guide, we'll look at the options in music degrees, share what we've written about studying to work in music, explore the different levels of music degrees, help you figure out if a music degree is right for you (and if so, which one), and point you in the direction of some top programs in music.
As you read through the guide, consider the following:
What is your career/educational experience? How has it prepared you to study music, and what level of study are you up to in your education?
What are some of your career goals, especially those you want to achieve in the next few years, and how can a music degree help you reach them?
It's OK not to know exactly what you want to do with your music degree, but a general idea will help you filter through your options.
How much can you afford in tuition for a music degree, and how much can you/will you have to borrow so you can attend one?
There's a large range of prices associated with earning your music degree, and financial situation might not stay the same as it is today throughout earning your degree.
It's best to avoid private, high-interest loans and opt for public ones. It's even better to choose a program you can afford or one that gives you grants/scholarships to attend it. You can also choose programs that eliminate some of the costs associated with higher education through their delivery format.
How much time can you commit to earning your music degree daily, weekly, and overall before you graduate?
What's the best delivery format for you in a music degree program? Do you want to attend full-time, part-time, in-person, online, or in a hybrid of online and on-campus education?
What part of music would you like to study to specialize in?
Some programs have specializations to help you get on a certain career track, while some are more about building general skills.
Where would you like to live and work during and after earning your music degree?
Depending on where you study you can often find work through the professional network of your college or university. There are also different areas of the country that employ more or fewer people working in music.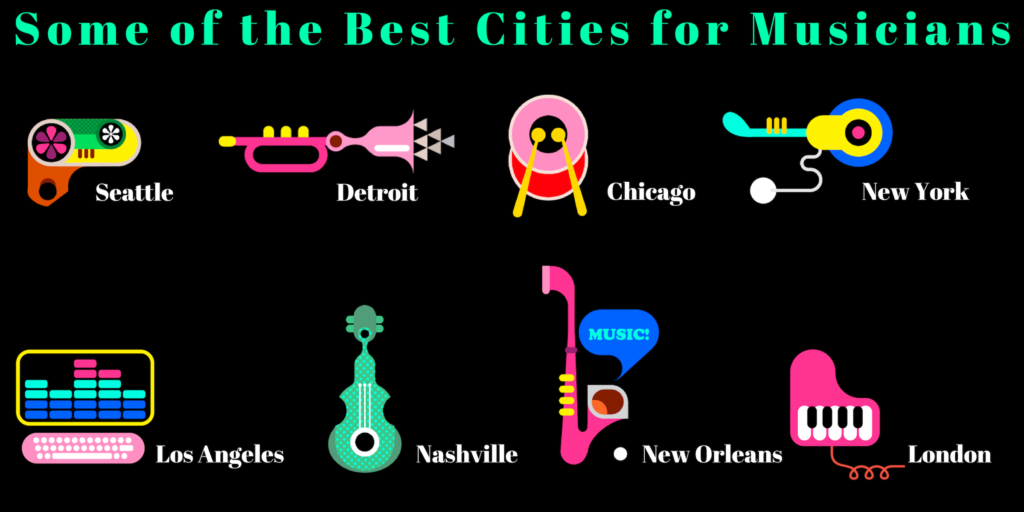 So what will you get out of a music degree?
DegreeQuery.com is an advertising-supported site. Featured or trusted partner programs and all school search, finder, or match results are for schools that compensate us. This compensation does not influence our school rankings, resource guides, or other editorially-independent information published on this site.
Music Degrees Build Your Skills In
Dexterity: both mental and physical. Studying music often involves playing at least one instrument, and having a conceptual understanding of more than one, and music theory in general. Wrapping your mind around these complex ideas, and precise technical, physical skills will teach you a lot about problem-solving and reasoning.
Memory and Concentration: studying music enhances muscle memory, and also general recall. You'll learn to work through distractions, and the desire to do something else, which wily dividends throughout your life.
Reflection: you'll need to give and receive criticism and take it seriously to develop as a musician and scholar in music degree programs, which is invaluable.
Using Technology: you'll need to use an array of tech to make, record, and produce music, and you'll study acoustics, giving you an entry-point to the physics through sound.
Organization: you'll have to plan your studies, your practices, and much more.
Self-Discipline: No one becomes successful in music or even music studies without managing and controlling their desires. Concentration is important, but the ability to deny yourself things that are immediately gratifying to create longer lasting satisfaction, experience and eventually, expertise.
Performing: You'll often need to perform despite pressure in concert settings, for exams, and auditions throughout your entry into and inevitable completion of a music degree program.
Teamwork: Musicians can work alone, but they often need to collaborate, which you'll learn in-depth while in these programs.
Communication: Not just with your peers, but your audiences. No matter what you do with your music degree, you'll likely be working with others, and you'll need to gauge their reactions and work cooperatively with them to be successful.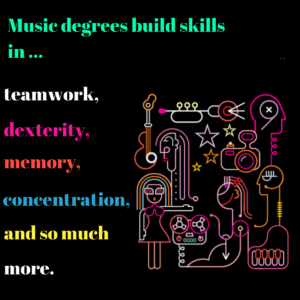 Online Music Degrees vs. On-Campus Music Degrees
If you're looking to go back to school today you're inundated with options. A significant way programs separate themselves from each other is through whether they're on-campus programs vs. online ones. An online program can save you time, money and inconvenience. However, especially with a discipline as hands-on as music, you might want an in-person, traditional program. There are also hybrid programs that involve some online study and some in-person work as well. Consider the pros and cons:
If you're an extremely confident, talented musician and music student, you might not need the traditional, on-campus experience to thrive in your music degree.
If you're someone who struggles in social situations, you can work to overcome that, or recognize that about yourself and opt for a less interactive program.
If you know you work better in groups, and feed off the energy and hard work of others, a traditional, on-campus music degree program might be best for you.
As mentioned before, you can opt for a mix between the two in a hybrid online and on-campus delivery format for your music degree.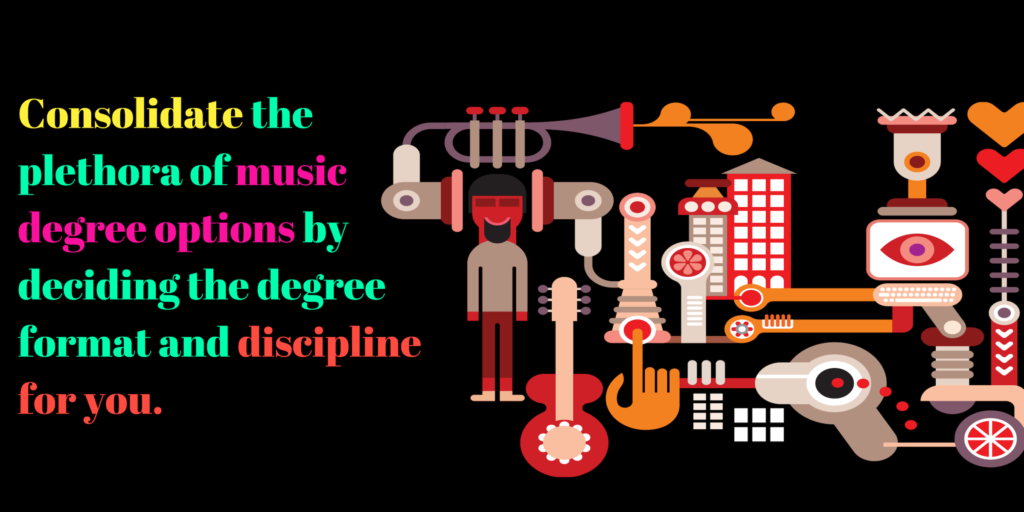 How Can We Help You Find the Right Music Degree for You?
At Degree Query, we've done tremendous work to help you find the best degree program for you, give you resources to help enhance your search for a college and you're time attending a program, and answer common questions on a host of topics asked by aspiring students. Here are some of the results that pertain to music degrees:
Questions about music degrees:
Rankings that include music jobs, degrees, and schools offering music degree programs:
And here's a great way to explore job options and compare stress, money and education: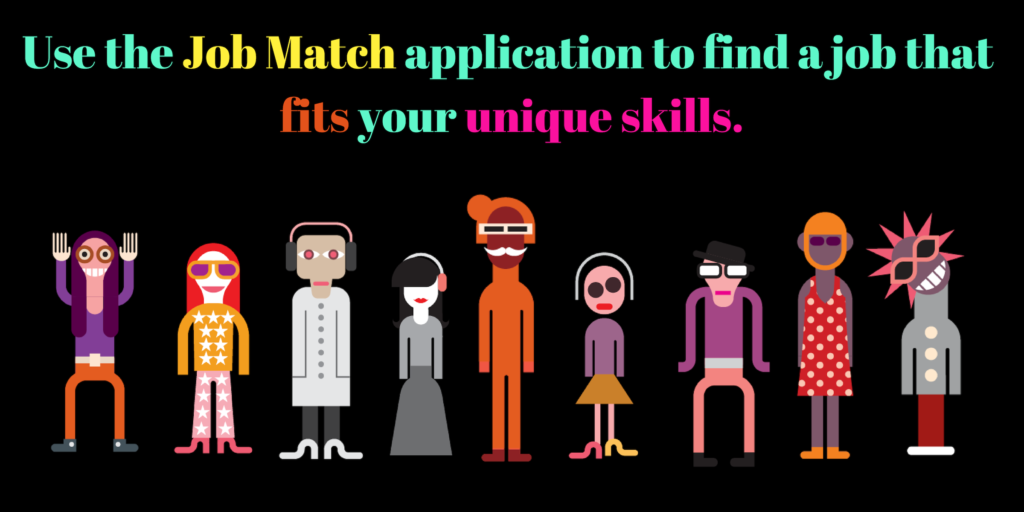 Let's dive into the plethora of music degrees you can take.
What are the Different Types of Music Degrees and Specializations in Music Programs?
Music education is a gargantuan field. There's incredible customization to what your degree specializes in, and you'll find a host of options online, on-campus, and combining the two formats.
Also keep in mind that music programs often give students a great deal of customization and work to let students study niche aspects of the subjects they're passionate about. Whenever you find a degree program or school that you're interested in attending, you can always contact them directly to request more information. You'll often find school administrators and support staff extraordinarily helpful in assisting your fact-finding and application process.
Here are just some of your many options among music majors:
Instruments like Guitar, Piano, Drums, Etc.
One of the main reasons people study music is to perfect their skills with a specific instrument. In these programs you'll often enjoy private lessons with renowned faculty, learn to play your instrument in myriad musical styles, work on technique, creating an original sound, make professional recordings, and much more. Many state schools are known for their incredible, affordable music conservatories in which students can major in the instrument of their choice, so choosing a school in the state where you live can help you save money on tuition.
Songwriting
You'll learn the artistry of songwriting, and learn how to write music that has the potential for commercial success. You'll study music composition from an array of genres and eras while learning different approaches to melody, harmony, arrangements, lyric writing, and creating a unique writing style.
Conducting
These programs are rare, but they exist. Most conductors supplement an undergraduate program with a graduate one. Specializations often include Orchestral, Band or Choral Conducting. You'll study scores, analyze them, pedagogy, music theory, analyze tone, and cover music history while gaining significant conducting experience.
Film, TV, and Video Game Scoring
If you've always wanted to score media, you're in luck. These degrees are rare at the undergraduate level, but students interested in pursuing a graduate degree in scoring can major in composition or songwriting to prepare for graduate scoring study. In these programs, you'll study arrangements, orchestration, music editing, production, recording, conducting and more. You'll also build a professional portfolio, and cover intellectual property laws, music history, and music psychology, among other areas that influence scoring.
Music Production
If you want to work in a recording studio, or another area of musical production there are many programs focused on helping you. You'll learn to record multiple tracks, dub, edit, and mix music in them. Students will be prepared to work as recording engineers, mix engineers, mastering engineers, live sound engineers, sound technicians, and much more.
Music Therapy
The American Music Therapy Association describes it as:
Music therapy is the clinical and evidence-based use of music interventions" used to "promote wellness, manage stress, alleviate pain, express feelings, enhance memory, improve communication, and promote physical rehabilitation."
In these programs you'll learn to work as a health professional and a musician. You'll study music, biology, social and behavioral sciences, therapy, and more. There are plenty of these programs at the undergraduate level, and they can be supplemented with a Master's in music therapy. Students can also opt for different music studies programs at the undergraduate level and then take an AMTA-approved equivalency program instead of taking an entire Bachelor's dedicated to music therapy.
Music Education
Here you'll marry your love of music with helping students at a number of age levels and needs. You'll learn to be verbal, patient, and build out your musical skills and abilities. Most music educators work with children from kindergarten through twelfth grade, but there are programs for educating different populations, like the elderly, or those with other special needs. Students with a Bachelor's degree can teach in elementary and secondary schools, lead high school bands, or teach in a private studio. Graduate students in music education often teach university classes, become music supervisors or consultants and in music school administration. Students in these programs can often specialize in vocal/choral, instrumental or general music tracks. Some students select another undergraduate major and then return for a graduate one year program (including student teaching) to get their master's in music education and applicable certifications and licenses.
Music Business
Here you'll study the mechanics of music management and business. While many music degree programs focus on classical music, you'll gain significant knowledge about modern genres and the impact of pop, R&B, hip-hop, rock, jazz, and more. You'll take private lessons in instruments and music theory classes but also study entrepreneurship, economics, law, licensing, touring, marketing, music publishing, and so much more. These are the degrees you can pursue to work as a booking agent, music publisher, business manager, concert promoter, and work at a music label, among other music industry positions.
Popular Music
Students who want to work and create pop music will find a growing number of options. These programs draw vocalists, instrumentalists, songwriters, and those interested in recording and production. Sometimes when you choose another discipline specialization, you can minor in a genre like pop, folk, Latin, or other contemporary music styles.
Jazz Studies
Jazz studies programs can be focused on performance or academics depending on who's offering them. Jazz is heady, complicated music, and studying it can apply to lots of jobs in music. There's a reason why the genre pops up in other major disciplines, but there are programs that are centered on jazz. They often include private lessons, improvisation, orchestras, theory, composition, and an array of electives.
Musical Theater
Sometimes these programs are their own major. Other times you'll take a concentration in a drama or theater department, or as a focus within a performance program in a music department. Because of the various formats and umbrellas, these programs operate under it's smart to compare them carefully and speak to support staff and administrators. You'll work to become a superb musical theater performance, songwriter, showrunner, or work in another of the exciting areas in musical theater.
Music History
Here you'll learn music theory, the history of a host of sub-genres in music, cultural impacts of music, the evolution of the art, the lives and bodies of work of prominent musicians, and much more. You can take these online, or on-campus, and there are options at the undergraduate, graduate, and doctoral levels. These programs are also labeled as musicology at some colleges and universities. Students will be prepared to work as music journalists, professors, historians, composers, and more.
Music Technology
How music is created and recorded is changing rapidly alongside technology. Here you'll learn cutting-edge techniques and skills in music production, engineering technology, production, recording, and audio and sound equipment. You'll spend time using studio facilities, building a professional portfolio and much more.
Arts Management
These programs are incredibly versatile to talent management. You'll be prepared to work at non-profits, in concert promotions, and commercial music. Courses often include business classes, music economics, accounting, law, marketing, finance, statistics and more. There are often opportunities to minor in arts management while taking a different music studies program.
Interdisciplinary Music Studies
Finally, the crown jewel for the indecisive music student. In these programs, you'll build your own major by borrowing from other music studies programs, and other disciplines offered by the school you select. You'll work closely with an academic advisor to create a personalized education plan that incorporates all of your interests and training to carry your career aspirations.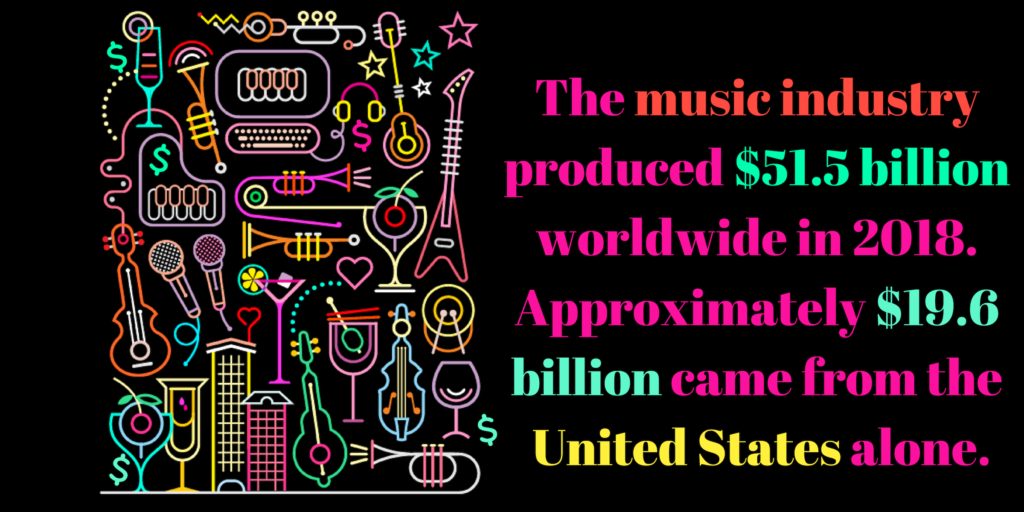 What are the Different Levels of Music Degrees?
Depending on where you are in your higher education, you should consider one of the following levels of music degrees:
Associate's in Music
In these programs you'll study for two years, often at a community or junior college. Doing so is a way to save money at the undergraduate level, and most students will transfer into a Bachelor's program, and perhaps go on further to a Master of Fine Arts in music. In music associate programs you might study performance, or business, or another discipline.
Bachelor's in Music
A Bachelor's of Music, Bachelor's of Arts in Music, Bachelor of Music Education or Bachelor's of Fine Arts in Music will prepare you for a host of music occupations. These degrees generally take four years and can come in many specializations (as we've discussed).
Master's in Music
A Master of Music (M.M., M.Mus, or M.M.Ed.) takes one to two years to complete and prepares students to work in many positions in the field. It features courses in music history, music theory, or music pedagogy. This degree level is essential for those who want to teach at a university or college level, or to ensure they've gained a professional-level educational experience in the aspect of music they want to work in.
Doctorate's in Music Degree Programs
The Doctorate of Music degree (D.Mus., D.M., Mus.D. or Mus.Doc.) is the terminal level degree in music. The degree can take approximately six years of full-time study. Students generally make a professional portfolio of compositions or scholarly publications on music as part of these programs.
How Much Money Can You Make After Earning a Music Degree?
In comparison to other fields, there's a lot more disparity in music as far as salary goes. Musicians and graduates of music degree programs often work a number of part-time positions, freelance, and take gigs, although there are full-time roles in the field. Here's a quick glance at some of the many jobs you could end up in after earning your music degree:
The Bureau of Labor Statistics found that Musicians and Singers made $26.96 per hour as their median 2017 pay. There were over 172,000 people working in these occupations in 2016, and BLS predicted a 6% growth between 2016-26, translating to 10,400 new positions in the field.
BLS also found that Recreational Therapists, including Music Therapists made $47,680 a year as median pay in 2017, or $22.92 per hour. There were 19,200 of these jobs in 2016, and they predicted a 7% growth between 2016-26, translating to 1,300 new jobs.
Forbes looked into some of the more disparate and lucrative fields in music. They noted a report by Berklee College of Music that found the average musician earns $55,561 each year. Over half the people in the study reported they earned money from three or more separate jobs However, here are some full-time gigs in music and their salary ranges, according to Forbes.
Orchestral Musician: $28,000 to $143,000 each year.
Film/TV Music Supervisor: $2,000 to $500,000 per project.
Video Game Audio: $18,000 to $150,000 annually.
Conductor: $15,000 to $275,000 in annual salary.
Booking Agent: $20,000 to $1,000,000+ annually.
Obviously these are just some of the jobs in music, and they showcase the wide range of salaries that they command. More so than other fields, what you do with your music degree, your talent and the connections you make will be instrumental in ensuring you make a steady, comfortable living in music.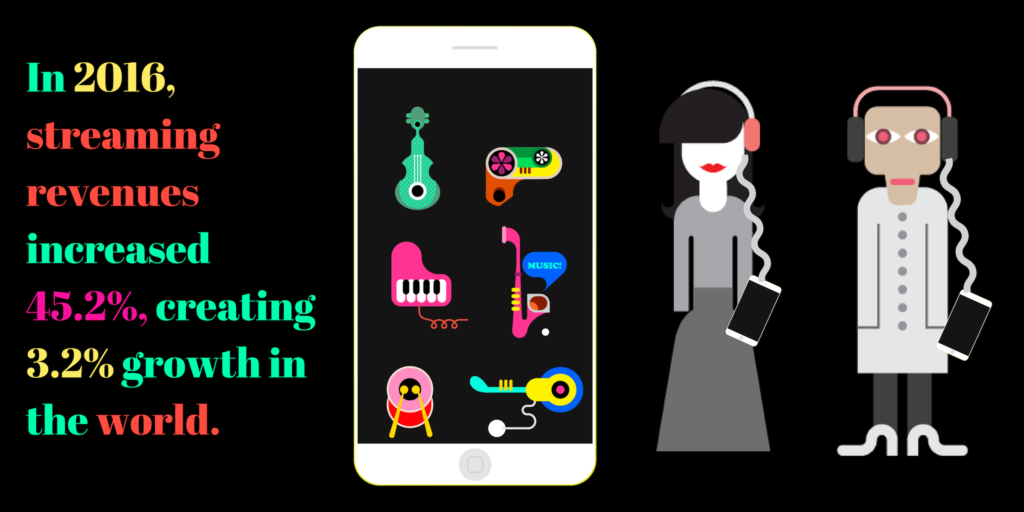 Music Degrees in Conclusion
Studying music isn't easy, it's difficult and courageous. It can also open a thriving environment of potential jobs to you, and it can teach you an ocean of skills that apply throughout your career and your life. You came here because you believed in your ability to support yourself through your love of music. A degree in music can help you do just that, and there's no reason not to go for it. We hope you've found this resource useful, and please remember to request more information from any school or program you encounter through Review Query, and throughout your search for a college degree in music or otherwise.