There are many factors to living a long and healthy life, but nutrition is often one of the most important and changeable aspects of a healthy lifestyle. The right food for the right person heals naturally, prevents disease, and promotes fully functioning bodily systems.
The "blue zones" are great examples of this. This term, coined by Dan Buettner — a National Geographic writer and New York Times Best Selling Author — is used to describe a handful of areas across the world where people tend to live much longer, healthier lives than average.


Though there are many factors speculated to help in the creation of blue zones, one of the most important are the nutritional choices of these places.
Unlike "blue zones" in which a rich cultural heritage has helped to create conditions in which citizens can live long, healthy lives, America is currently experiencing unprecedented rates of obesity and poor diet-related health outcomes.
Featured Programs
But nutrition isn't only about longevity. Nutrition can be a central component to athletic performance, holistically healing illnesses, designing food products, or helping those with eating disorders.
If you yourself have been touched by the power of healthy, mindful, and informed eating, you already know how important nutritional thinking is.
Luckily for you, many top-tier institutions are now offering degrees related to nutrition. And there are more nutrition jobs than ever before.
Nutrition Degree FAQs
What is a Nutrition Degree?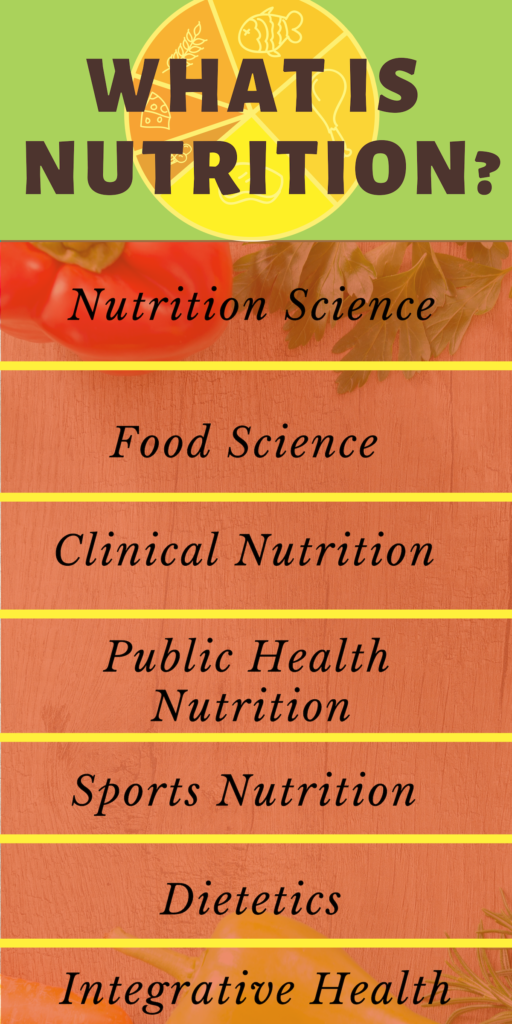 Before we just into what you can do with a nutrition degree, we need to tease out a few details about nutrition degrees.
First off, there are many paths to becoming a nutritionist. Nutritionists work in a variety of settings and apply their skills in different ways. Therefore, there are a number of degrees that can lead you to a nutrition role that works for you. Some of the most common degree types used to get into nutritionist positions include the following:
Nutrition Science
Food Science
Clinical Nutrition
Public Health Nutrition
Sports Nutrition
Nutrition Communication
Dietetics
Integrative Health
All of the above degree types can help to prepare you for roles as a nutritionist. While some of the above roles can help you to become a registered dietician. We'll jump more into the difference between nutritionists and dieticians later in the text, but for now, just know that all dietitians are nutritionists as well.
To become a registered dietician or licensed nutritionist, most states require that you have a bachelors-level degree in one of the above disciplines and that you have completed a supervised internship. So nutrition degrees are only part of the full educational process for becoming a nutritionist or dietician.
Nutrition degrees are multidisciplinary, and require courses in the following:
Food Science and Nutrition
Human Development
Anatomy and Physiology
Microbiology
Health Care Systems
Statistics
Nutrition and the Life Cycle
Communication and Nutrition
Industrial and Organizational Psychology
Organic Chemistry
Nutritional Aspects of Disease
Nutritional Assessment
And a number of electives
As you can see, general nutrition degrees cover a wide variety of topics including psychology, education, communication, human anatomy, basic health care, chemistry, quantitative understanding, and — of course — nutrition.
Depending on the degree, nutrition degrees come as bachelor of arts or bachelor of science degrees. This choice of degree types extends through master's degrees. For doctoral-level study of nutrition doctor of philosophy (Ph.D.) or doctor of science (Sc.D.) degrees are offered. Both are research degrees aimed at preparing students to teach at the university level and further research in their field.
Where do Nutritionists Work?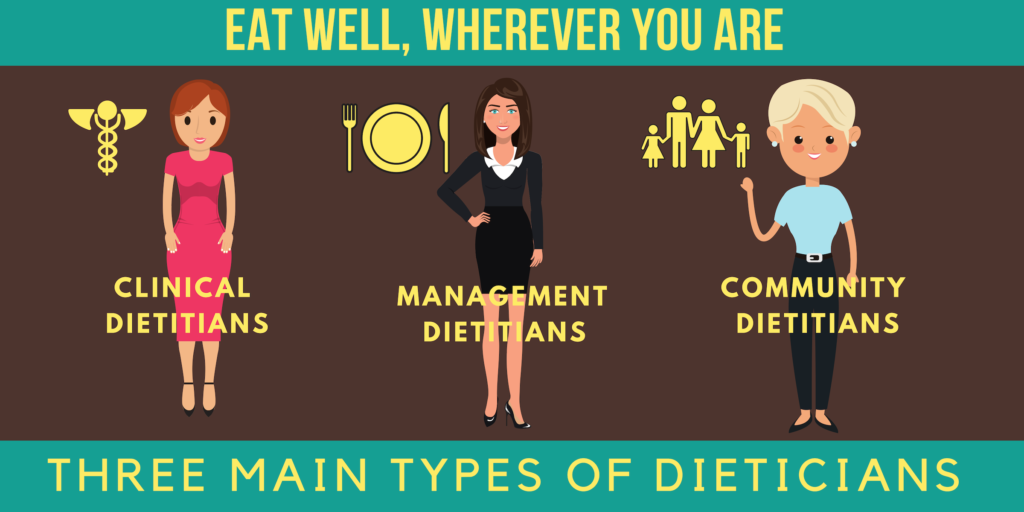 There are three main types of nutritionists: clinical dietitians, management dieticians, and community dieticians. The type of nutrition you focus on in school and pursue in licensure will greatly dictate where you work. Below are overviews and work settings for the above three types of dietician and nutritionists.
Clinical dieticians work to provide medical nutrition therapy. Locations in which clinical dieticians work include hospitals, long-term care facilities, mental health facilities, and other institutions. Most clinical dieticians hold advanced degrees, and may often work in tandem with other health professionals. The primary tasks of clinical dietitians are to provide nutritional plans for individuals or groups within the care of a certain institution. Many clinical dieticians will specialize even further to help patients with a certain type of illness or condition.
Management dieticians are primarily focused on the planning and production of meal programs. Management dieticians may work in cafeterias, schools, hospitals, large corporations, or for food corporations. These dietitians oversee the buying of ingredients, the overall construction of a menu or food product, and the logistical issues surrounding providing a nutritive diet.
Community dieticians focus on the education of the general public or a specific group within the public on nutritional topics. Community dieticians may work in schools, in hospitals, in governmental agencies, in consulting roles, or in non-profits. Some community dieticians may specialize. For example, some community dieticians may work exclusively with pregnant women, or with elementary school children, or with parents of special needs children.
Other dietician roles can work in a variety of settings. At this moment in time, the United States faces both one of the largest nutritional crises it has ever faced and an unprecedented amount of knowledge regarding how specific diets can affect our health, brain, and lifestyle. Other dietician roles can include consulting roles, self-employed roles, roles in the media and online, and research roles. Finally, a noteworthy cohort of nutritionists and dieticians work in higher education and research. These dieticians commonly have their Ph.D. or Sc.D.'s and work in university settings.
What is the Career Outlook for Nutritionists?

America is aging. More Americans than ever are obese or dealing with diabetes. And more Americans than ever are dealing with some sort of eating disorder.
As one might expect, this means demand for nutritionists are dieticians is set to rapidly grow over the coming years. Similar trends are plotted out for most Western nations.
Currently, around 70,000 nutritionists and dieticians are employed in the United States. This number is set to grow 15% (much faster than the average for all careers) over the coming decade according to the Bureau of Labor Statistics.
Nutritionists and Dieticians make an average of $59,410 per year ($28.56/hour). Though this number varies by quite a bit depending on the role of the nutritionist as well as what city they are working in.
The five highest-paying states for nutritionists include:
California: $72,130
Alaska: $68,310
Oregon: $67,820
New Jersey: $67,800
Connecticut: $67,270
(State: Average Salary)
While the five highest-paying metropolitan areas for nutritionists include:
Amarillo, TX: $92,930
Modesto, CA: $88,990
Vallejo-Fairfield, CA: $84,640
Salinas, CA: $80,780
Waco, TX: $80,560
Salaries and wages for nutritionists also vary a great deal based on the setting of work. The top-paying work settings for nutritionists include:
Animal Food Manufacturing: $80,210
Federal Executive Branch: $72,610
Wholesalers: $69,860
Grantwriting: $68,900
Scientific Research: $67,540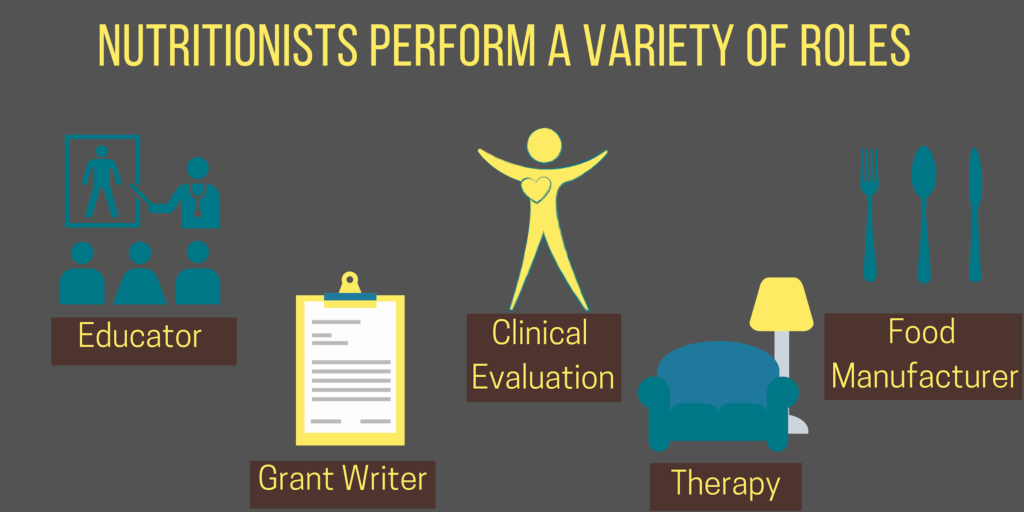 While the average salary for the most common settings of work for nutritionists includes:
General Medical and Surgical Hospitals: $61,280
Outpatient Care Centers: $66,250
Skilled Nursing Facilities: $58,200
Local Government, excluding schools and hospitals: $52,290
Special Food Services: $58,600
The expansion of similar careers is often viewed as an indicator as to the general health of an industry. In the case of nutritionists and dieticians, similar job titles including health educators and community health workers, registered nurses, and rehabilitation counselors are all also expanding rapidly.
What is the Difference Between Nutritionists and Dieticians?
So far in this article, we've addressed nutritionists and dieticians similarly. And while the educational route and expectations from both these job titles are similar, they aren't entirely the same. So what is the difference between nutritionists and dieticians?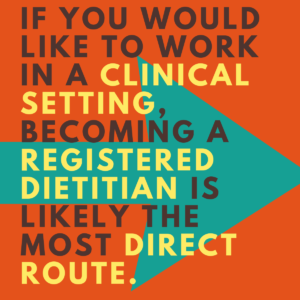 While both nutritionists and dieticians hold similar responsibilities and work in the same general industry, legal restrictions that apply to one do not apply to the other.
Specifically, only dieticians can become registered with the Commission on Dietetic Registration (CDR). Upon completion of requirements to become a registered dietician, registered dietitians are required to abide by a set of ethical and procedural codes for working with food issues for clients.
While plenty of nutritionists also work with clients (and abide by their own ethical codes and professional codes of conduct), a nutritionist is a broader term without any one official route to join the occupation. Anyone can call themselves a nutritionist, while only those that have become registered with the Commission on Dietetic Registration can claim to be registered dieticians.
If you would like to work in nutrition in a medical setting, diagnose eating disorders, or plan meal plans for those with more extreme illnesses, you'll likely need to pursue the registered dietician status.
The requirements for becoming a registered dietician include the following:
Complete an undergraduate degree at an ACEND-approved program
Achieve 1,000+ supervised hours with an ACEND-approved program
Pass the CDR registration examination
Maintain registered status with continuing education hours
A certification process for nutritionists is also available through the Board for Certification of Nutrition Specialists (CBNS). This certification requires a master's or doctoral degree in nutrition as well as 1,000 hours of supervised experience.
So what is food science?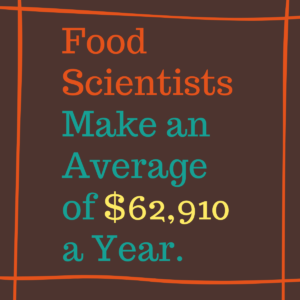 Food science is a related degree that can lead to roles as a nutritionist or the related title: food scientist. Food scientists are generally more focused on researching issues with food production than nutritionists or dieticians.
This focus leads more food scientists to gain employment with food manufacturers, in researching of school lunches, and in public health promotion than nutritionists or dieticians.
Skills Needed to Excel in Nutrition And Nutrition Schooling
Besides a knowledge of and passion for nutrition, nutritionists must be able to hone a unique skillset to excel in the schooling of and practice of their occupation. Below we've highlighted some of the unique skills that help nutritionists excel the most, both in school and practice.
The ability to work one-on-one with others and enact behavioral change. Nutritionists often work within a space in-between medical practitioner, caseworker, and educator. This requires a unique ability to inform, understand, and help support a change in client behavior.
The ability to simplify scientific findings is crucial to nutritional work. Practitioners should always keep up-to-date with the latest nutritional findings. They must then be able to translate often complicated scientific concepts into actionable pieces of data for clients or co-workers.
The ability to wear many hats is crucial for nutritionists. Nutritionists and dieticians are expected to research nutritional findings, interface with clients, present research, prep and execute logistical elements of meal planning, and provide an ear for client issues.
Have a solid background in science, or be willing to work on gaining one. Nutrition degrees feature a wide range of science requirements including anatomy and physiology, chemistry, biology, nutrition, psychology, and several mathematics courses. Students should be prepared to pursue these subjects at the collegiate level if they're seeking to become a nutritionist or dietician.
Can I Get a Nutrition Degree Online?
As with many other degrees that require in-person, supervised practice to gain licensure, many potential students wonder if they can still get their degree online. Nutrition (and related) degrees are definitely available online. In fact, a wide range of online bachelor's in nutrition degrees have already been ranked by DegreeQuery.
You may wonder why you should consider an online degree. In many cases, online degrees offer greater flexibility and support for adult, working, or non-traditional students. Cutting down on time needed to commute to class, or the need to move to a new location are definite "plusses" to online education. As online educational options have matured, a wide range of support services including counseling, tutoring, office hours, libraries, and even labs are available online.
Best of all, no online diplomas mention that coursework was not taken "in-person." All degrees from universities offering online and in-person degrees are identical. And then, upon graduation, future dieticians and nutritionists can pursue supervised hours at a location local and convenient to them.
What Nutrition Degree Do I Need?
For those seeking to work in a nutrition or dietetics field, there are many degrees (and degree levels) that can be pursued to achieve your goals.


The "entry-level" degree in both nutrition and dietetics along with supervised practice and taking a licensure exam, is a bachelor's degree. While a bachelors may get you "in the door" in a nutrition workplace, more advanced degrees may be needed for research, teaching, leadership, clinical, or private practice roles.
Below we're going to look at all degree levels that nutrition degrees are commonly offered at, as well as related degrees that may help you to achieve your nutrition-related job goals.
Bachelor's in Nutrition Degrees
Bachelor's degrees in nutrition science, clinical nutrition, or "just" nutrition are the first step for preparing students to work in a nutrition field. As with most bachelor's degrees, 120 semester credit hours are generally required for graduation.
Students in a bachelor's in nutrition will begin their course of study primarily taking general education courses. These courses are not focused on nutrition, but rather help to ensure that degree recipients hold a well-rounded education at the collegiate level. These courses promote general writing, reasoning, speaking, and knowledge.
Common general education courses include introductory math and science, writing and composition, literature, several humanities courses, and courses in social sciences. Many times, general education courses that center around your academic interests may be chosen. An example of this for a nutrition degree could include taking a course on the sociology of meals for a social sciences requirement, or food supply ethics for a humanities course.
Once students have completed their general education requirements, the following are common requirements for a bachelor's degree in nutrition:
Physiology and Anatomy
Intro to Sociology
Intro to Psychology
Intro to Anthropology
General Chemistry
Biochemistry
Organic Chemistry
Food Science
Food Production
Nutrition and Health Assessment
Nutrition Counseling and Education
Nutrition in the Life Span
Food Services and Production Management
Advanced Human Nutrition
Nutrition Care Process
Medical Nutrition
Community Nutrition
Nutrition in Disease Prevention
Current Issues in Nutrition
As one can see, the major fields of nutrition — clinical, community, and food management — are all covered with at least one course in undergraduate study. Coupled with 1,000 hours of supervised experience in one of these fields, a bachelor's in nutrition degree can lead you to a career in any of the major types of nutrition.
Think you might be interested in a bachelors-level nutrition degree? Make sure to check out DegreeQuery's ranking of the top bachelor's degree programs in nutrition today!
Master's in Nutrition Degrees
At the master's level, nutrition students have the ability to specialize. Master's degrees in nutrition can help students to gain employment in less common or more specialized nutrition roles including functional medicine, sports nutrition, or nutrition for one type of illness.
Master's degrees in nutrition often require around 40 semester hours for graduation, which takes an average of 2 years. A sampling of core courses in a masters-level nutrition degree includes the following:
Nutrition Advocacy and Leadership
Nutrition Counseling
Biochemistry for Nutrition
Evidence-Based Outcomes Research in Nutrition
Nutrition Assessment
Medical Nutrition Therapy
A thesis or interdisciplinary capstone project
Following core courses students tend to engage in one of the following specializations:
Generalist
Community Nutrition
Clinical Nutrition
Nutrition Education
Food Management
Sports Nutrition
Medical Nutrition
Nutrition Counseling
Among others
Doctoral Degrees in Nutrition
Doctoral degrees in nutrition primarily come in one variety: a doctor of philosophy (Ph.D.) in Nutrition (or related degrees).
Ph.D.'s are research doctorates, meaning that one of their central goals is to prepare students to perform original research and teach at the university level. This doesn't mean that graduates have to work in a university or research setting. But rather, that graduates of Ph.D. programs in nutrition are at the forefront of research in one specific area of nutrition science.
Ph.D. programs in nutrition often require over 100 credit hours culminating in a dissertation, a several hundred-page document of original research in the field of nutrition.
Core coursework is required of all specializations within Ph.D. programs. Some common core coursework at the doctoral level may include the following:
Epidemiology
Public Health
Responsible Research
Research Methods
Graduate Statistics
Macronutrients
Micronutrients
Nutritional Status
Additionally, students will often focus on one subject area. Some common specializations for Ph.D. in Nutrition programs include:
Molecular Nutrition
Human Nutrition
Nutrition Education
Clinical Nutrition
Nutrition for a specific disease
Nutrition for a specific age
Sports Nutrition
Among others
Alternatively, related degrees including allied health, public health, and integrative health may offer Ph.D.'s that offer specializations in nutrition. These degrees offer a specific angle on why nutrition is important to overall health while still providing a deep-dive into nutrition itself.
Nutrition-Related Degrees
As we've mentioned several times in our article, many degrees related to nutrition can be used to obtain the certified nutritionist or registered dietician status. For a more comprehensive look at a variety of health care-related degrees that can be used to enter nutrition, check out our guide on the top 50 degree types for medicine. Below we'll compare and contrast degrees closely related to nutrition.
Food Science Degrees
Food science is centered on the logistical elements of employing nutritional plans or the creation of food products. Closely tied to the job title of managing nutritionist, food science degrees often involve some of the following courses:
Chemistry
Calculus
Biology
Nutrition and Health
Intro to Food Science
Physics
Microbiology
Microeconomics
Food Chemistry
Food Microbiology
Food Analysis and Quality Control
Food Plant Sanitation
Food Product Development
Food Safety
Food Engineering Technology
Statistics for Engineering
Allied Health Degrees
Some allied health degrees offer room to specialize in nutrition. Allied health degrees are multidisciplinary health degrees that can lead to research and support positions in a wide range of health care settings. Allied health degree recipients often don't go directly into patient care, but rather the numerous support and research roles surrounding patient care. Employment opportunities include research centers, hospitals, social work settings, non-profits, schools, and more. The core curriculum of an allied health degree may include courses like the following:
Health Care Management
Health Care Financial Management
Legal Aspects of Health Care
Health Care Ethics
Health Care Delivery Systems
A number of electives or a specialization area
For students specializing in nutrition within their allied health degree, this can lead to management of nutritional roles, support of nutritional roles, research roles involved with nutrition, or management nutritionist roles.
Integrative Health Degrees
Holistic health degrees seek to integrate modern science with the application of holistic health knowledge. Holistic health looks at lifestyle and nutritional adjustments, herbal and non-traditional medicine, and other therapies such as aromatherapy. Nutrition is a part of integrative health, though not it's entirity. As such, graduates of integrative health programs are well suited for the broader category of nutritionist that provides support for many areas of life, instead of registered dietician (who focus primarily on food).
A common curriculum for a bachelors-level integrative health program may include courses such as the following:
Biology
Chemistry
Botany
Environemntal Science
Personal and Community Health
Anatomy and Physiology
Health Psychology
Research Methods
Aromatherapy
Aromatherapy Chemistry
Herbal Studies
Nutrition
Food Production
Business and Management Courses