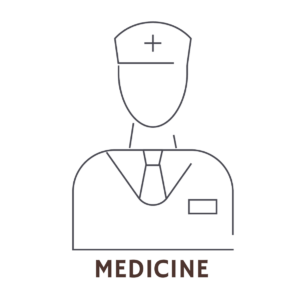 The curing and management of diseases have been one of the central aspirations of humans since the dawn of time. Today is no different. Only, for those with a calling to help care and cure for others, there are more ways than ever to get involved.
Medicine is one of the most important applied sciences, and one of the most in-demand. Furthermore, medicine encompasses a very wide range of job types. This means that those with a wide variety of passions, skillsets, and education levels can find a role in the medical field.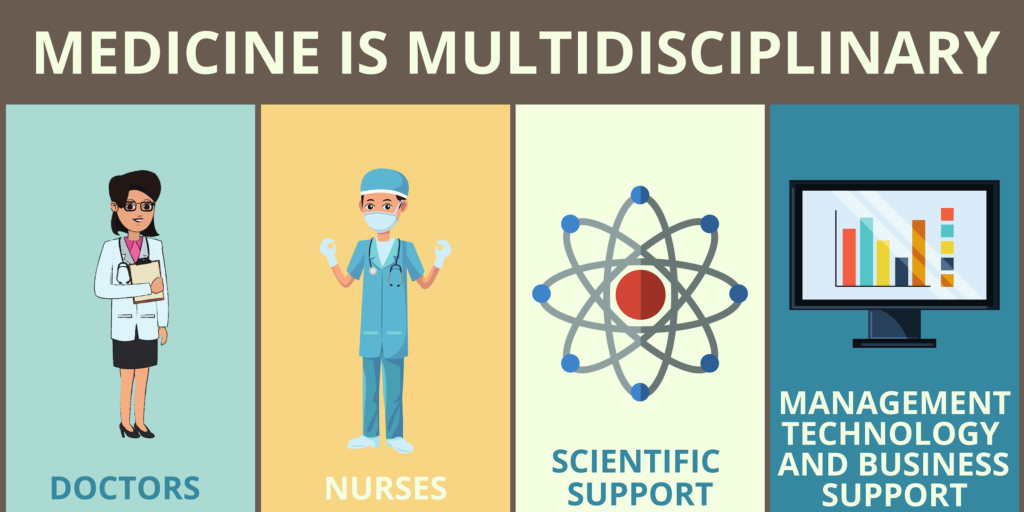 From statistical analysis of disease outbreaks to laboratory jobs seeking answers in the human genome to nursing assistants working through the night to provide care, medicine is an incredibly diverse and important field. After all, who doesn't want to be physically fit?
If you think you might be interested in a medicine-related degree, scroll below to see what you can do with a degree in medicine.
Here at DegreeQuery, we've covered questions related to a wide range of medicine degrees. Check out some of our most popular FAQs if you have specific questions about medical degrees.
DegreeQuery.com is an advertising-supported site. Featured or trusted partner programs and all school search, finder, or match results are for schools that compensate us. This compensation does not influence our school rankings, resource guides, or other editorially-independent information published on this site.
What Degrees Lead to Medical Careers?
First off, when we're talking about degrees for medical careers, we're really talking about two types of education.
The first is general degrees in the sciences that can lead to graduate school in a medical field or positions as non-front-line medical care workers. These degrees include business, management, statistics, biology, chemistry, biomedical engineering, and so forth. For reference, front-line medical care workers are medical providers that work directly with patients, such as doctors and nurses.
Secondly, a large number of applied degrees lead directly to specific medical careers. These degree types include nursing degrees, doctor of medicine degrees, degrees in sonography or dentistry or radiology, and so forth.
Broadly speaking there are four main subject areas that can lead to medical careers:
Doctor of Medicine Degrees
Nursing Degrees (All Levels)
Business, Technology, and Administrative Support of Medicine Degrees
Research and Scientific Support for Medicine Degrees
Below we'll provide brief a brief synopsis and resources for each of these degree types. Scroll below this section for more in-depth information on what careers and career outlooks are possible for each of these degree types.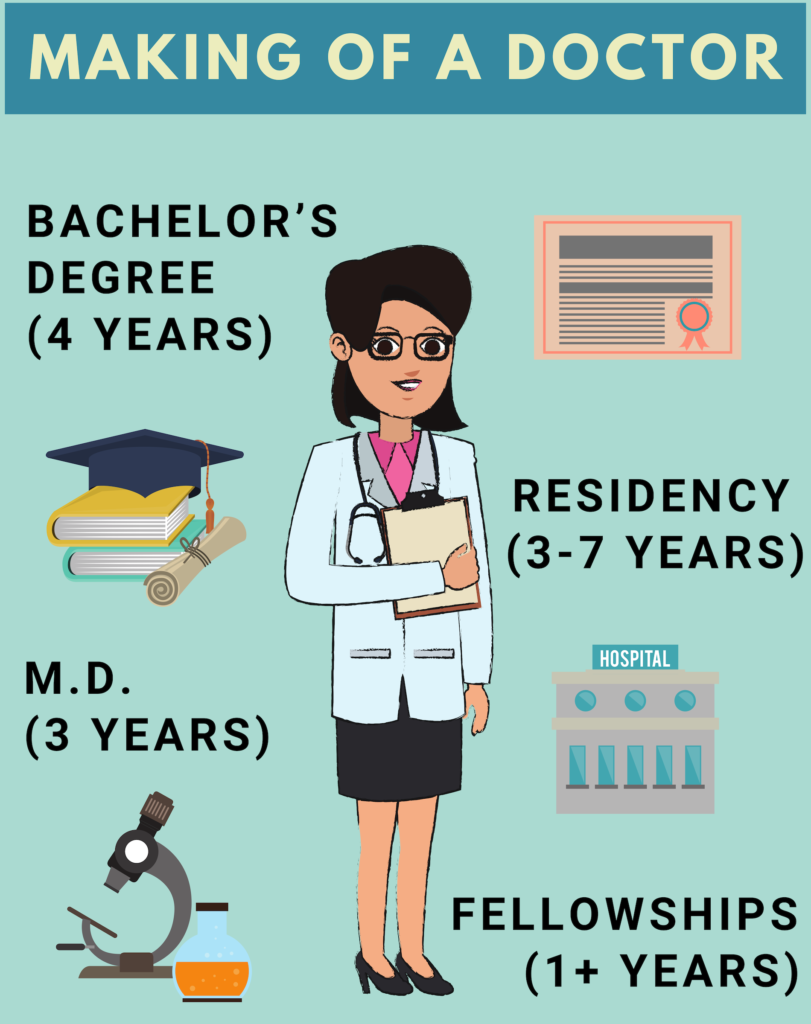 Doctor of Medicine Degrees are likely one of the first medical degrees people think of when they think of education for the medical field.
Doctor of Medicine (M.D.) degrees help to prepare students for practicing medicine as doctors. These degrees are typically pursued after students have obtained a bachelor's degree, and require 4 years of study before acquiring the degree.
Once students have gained their M.D., they still aren't ready for licensure or to practice. Students wishing to practice medicine with their M.D. must pursue several years of residency training to specialize in their area of practice. Typically residency training requires an additional 3-7 years, depending on what type of medicine the doctor is seeking to practice.
Common residency types along with the number of years the residency requires are listed below:
Pediatrics: 3-year Residency
Family Medicine: 3-year Residency
General Surgery: 5-year Residency
Neurology: 5-year Residency
Focusing on one subset of the above fields often adds additional years to a residency. Furthermore, students looking to become extremely specialized or to perform research often then pursue postdoctoral fellowships, which further extends their schooling.
If you think you may be interested in a Doctor of Medicine degree, be sure to check out some of DegreeQuery's resources on this degree type:
Additionally, other applied doctoral degrees in medicine are closely related to a doctor of medicine degree. These degrees require fewer years of schooling but lead to other front-line health care worker careers. These degrees include:
Doctor of Pharmacy
Doctor of Dentistry
Doctor of Optometry
Nursing degrees range from associates through doctoral-level degrees that lead to various levels of nursing careers. Heralded as some of the best "bang-for-your-buck" degrees, nursing can lead to a lucrative and in-demand career in as little as two years.

The most common types of nursing degrees include the following from entry-level through advanced:
Diploma in Nursing (being phased out)
Associate Degree in Nursing
RN to BSN Programs
Bachelor of Science in Nursing
Master of Science in Nursing

Nurse Practitioner
Certified Nurse Midwife
Clinical Nurse Specialist
Certified Nurse Anesthetist
Nurse Educator
School Nursing
Clinical Nurse Leader

Doctor of Nursing Practice
Doctor of Nursing
Doctor of Nursing Science
Doctor of Philosophy (Ph.D.) in Nursing
For each respective level of nursing education, nursing degrees take the typical amount of time required of that degree level. For example, associates of science in nursing degrees require 1.5-2 years for completion; bachelor's of science in nursing degrees require 4 years for completion without an associates degree, and so forth.
Business, Technology, and Administrative Support of Medicine Degrees are comprised of one of the many disciplines that work in health care settings but don't deal with patients.
If you've ever wandered around a hospital, you've likely seen entire floors dedicated to technical support staff, offices of administrators, and technology workers. Many health care settings are large employers, and as such also require human resources, management, legal, accounting, and technology support teams.
As medical fields are such prevalent employers, many degree types in technology, business, and law offer specializations in which the subject being study is applied to health care settings. For example, many master of business administration (MBA) degrees offer specializations for managing health care organizations.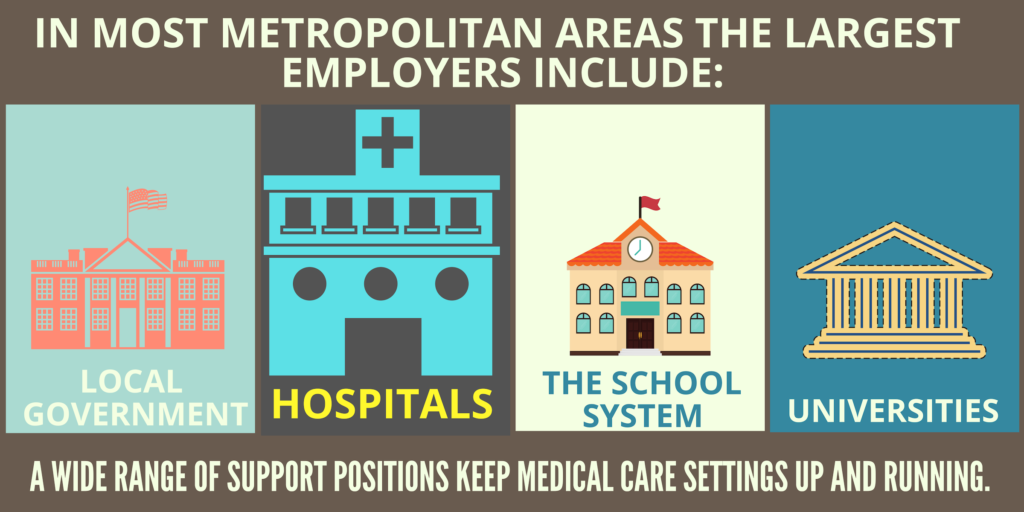 Some of the non-medical support degrees that are most sought after in medical settings include the following:
Human Resources
Hospital Administration
Information Technology
Information Assurance and Cyber Security
Finance and Accounting
Finally, Research and Scientific Support for Medicine Degrees are comprised of social and natural science degrees that help to support health care providers or pharmaceuticals. A diverse set of degrees help to support and further research medical issues outside of seeing patients. These degrees can lead to jobs in laboratory, research, or administrative settings at the bachelor's through doctoral levels. Common degrees that lead to research and support positions in medicine include the following:
Biomedical Engineering
Chemistry
Biochemistry
Biology
Nuclear Engineering
Public Health
Statistics
Data Science
What Can I Do With a Degree in Medicine?
As we've outlined in the previous section, there are many degree types that can help to support (or help you enter) medical professions. Following the same organizational structure, we're going to look at representative jobs within the four groups above.
First and potentially foremost, a medical degree in the form of a Doctor of Medicine (M.D.) degree can lead to the practicing of medicine as a doctor. Obtaining an M.D. in and of itself doesn't immediately allow you to practice. After the academic portion of an M.D. program is over, future practicing doctors still have to complete several years of residency and pass their board exams. At that point, they may become licensed and begin to practice. Alternatively, some M.D. students will graduate and not pursue their license if they are seeking to go into some form of medical research.
There is a wide range of practicing doctor roles that those with an M.D. can perform. These jobs vary in skill level, the number of years of education required, pay, the number of job openings, and stress levels.
An M.D. can help to prepare you to perform brain surgery or cure children of strep throat. A list of the most common types of doctor careers are below:
Family Physician
Internal Medicine Physician
Pediatrician
Obstetrician/Gynecologist (OB/GYN)
Surgeon
Psychiatrist
Cardiologist
Dermatologist
Endocrinologist
Gastroenterologist
Infectious Disease Physician
Nephrologist
Ophthalmologist
Otolaryngologist
Pulmonologist
Neurologist
Physician Executive
Radiologist
Anesthesiologist
Oncologist
Additionally, applied doctoral degrees in related fields such as pharmacy, dentistry, and optometry can help you to enter one of those fields.
The largest number of medical workers is comprised of the second group of front-line medical practitioners: nurses. Unlike doctors, who are required to have (surprise, surprise) doctorates, nursing degrees are available at every level of higher education.
At the associates level, those that finish a one-year program and take the appropriate exams can become licensed as a licensed practical nurse (LPN). LPNs are in-demand nationwide and are on the front line of patient care in greater numbers than any other form of nurse. LPNs work under instruction from registered nurses, nurse practitioners, and doctors. They work in assisted living facilities, rehab facilities, hospitals, and group homes and administer basic care and diagnostic procedures. If you've ever had you temperature or heart rate checked at a medical clinic, this was likely done by an LPN.
At the bachelor's level, students have the ability to take the proper coursework to become a registered nurse. Registered nurses earn more than LPNs with an average salary of close to $70,000. This makes Bachelor of Science in Nursing degrees one of the best "bang for your buck" degrees out there.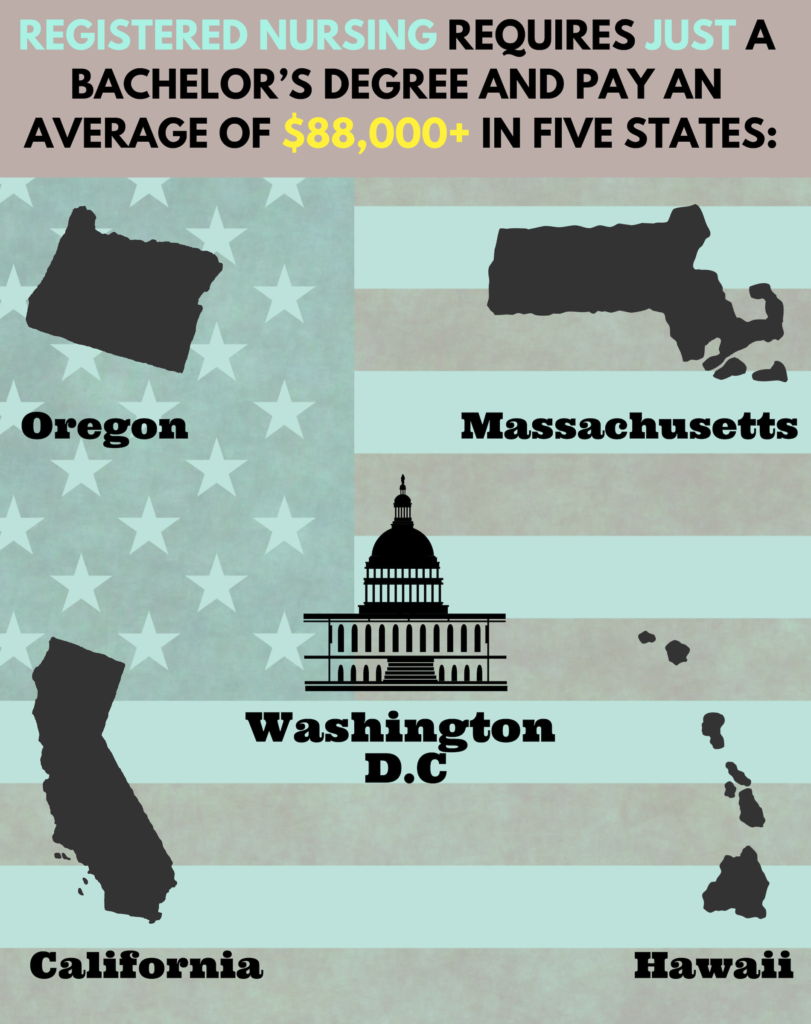 Registered nurses supervise LPNs and take direction from nurse practitioners as well as doctors. A great deal of the care provided to those in hospitals, group homes, elderly care facilities, and rehabilitation facilities comes from registered nurses. RNs make sure that patients are taking the right medicine, administer shots and gather blood samples for diagnostics. In more intensive settings, RNs are generally those taking care of patients around the clock. RNs ensure that doctors orders are executed and are first responders if a patient takes a turn for the worst.
Nurse practitioners (NP) have undertaken either a master's in nursing or a doctorate in nursing practice. NPs oversee teams of nurses, make more advanced decisions about the daily care of patients, can perform a wide range of diagnostics, yet aren't quite as specialized as doctors. In some states, NPs can open their own practices, though they are often "under the supervision" of a medical doctor. This doesn't mean that NPs don't see their own patients and provide one-on-one care, but rather that they escalate decisions that they may not be equipped to make without further specialization.
Nurse practitioner jobs are often lauded as one of the best jobs for job satisfaction, require much less time in school than doctors, and are handsomely paid.
While most nurses actively work in care settings, a notable number of nurses also work in education. These nurses vary in their education level, but most have obtained at least a master's degree in nursing. Common settings for nurses in education include school nurses (who educate as well as care for students at the school), nurses that specialize in educating patients in care settings, and nurses that help to prepare future nurses in college and university settings. For nurse educators in higher education, doctorate degrees are required more often than not.
Think you might be interested in pursuing a nursing degree? Make sure to check out DegreeQuery's rankings of nursing programs below:
Non-medical support staff include the many roles that do not interface with patients or perform medical science, and yet are indispensable for large medical organizations. These roles include business, management, logistics, and technical roles that enable hospitals and other care centers to run.
These degree programs may seem unrelated to medicine. Medical settings are some of the nation's largest employers, however. And this has led to many academic programs offering specializations in medical applications of their specific subjects.
Non-medical support staff jobs may be in support offices around a medical center. Human resources jobs help to bring any complaints to resolution, onboard new employees and help with benefits. Management staff may ensure that the proper policies are enacted care center-wide and that objectives are created and met.
Statisticians, computer scientists, and data scientists often enable medical research and record keeping. While some of these professionals are likely in large care settings or university hospitals, health care is big business, and a host of health care knowledge management and technology providers employ many nationwide.
Finally, information technology support professionals work within many care settings. Health care records are some of the largest information systems worldwide, and outages of information technology can be catastrophic for patient outcomes. Many of the top health care record companies boast downtime of less than an hour even in the event of a natural disaster at a given care setting. These jobs are varied, but most commonly include help desk member, network administrators, systems administrators, cybersecurity specialists, and health record experts.
Our fourth group of medical careers includes non-front line medical research and support staff. This group of workers may work in lab settings, or with particularly specialized technology within health care settings. Those working in these careers often have a natural science bachelor's degree and learn on the job, or applied associates or bachelor's degree that is tailored to their specific role. A list of common jobs of this type are below:
Lab Technicians
Radiology Technician
Pharmacy Technician
Biomedical Engineer
Genetic Engineer
Nuclear Engineer
Public Health Researcher
Forensic Lab Techs
Many Others
Think you might be interested in a medical research or support position? Check out our FAQs on how to become one of the most in-demand support positions today:
Career Outlook for Medical Careers
As most of the world live to older ages and a wider range of medical therapies become available, the growth in the number of jobs in medical fields has continuously outpaced growth in other fields.
As we've mentioned above, a "medical career" can mean many different things. And of course there will be differences in job opportunities, earnings, and work settings for each of these varied careers. Below we'll look at career outlooks for our four groups of medical careers.
Medical Doctors are generally in high demand, though several specialties within medicine outpace the average by a wide margin.
As a whole, physician and surgeon job openings are expected to grow by 13% by 2026. This is a much faster than average growth rate and will provide an estimated 91,000 additional jobs according to the Bureau of Labor Statistics.
The average pay for almost all physician types is over $200,000 a year. Though this varies greatly depending on the type of specialist a doctor may be.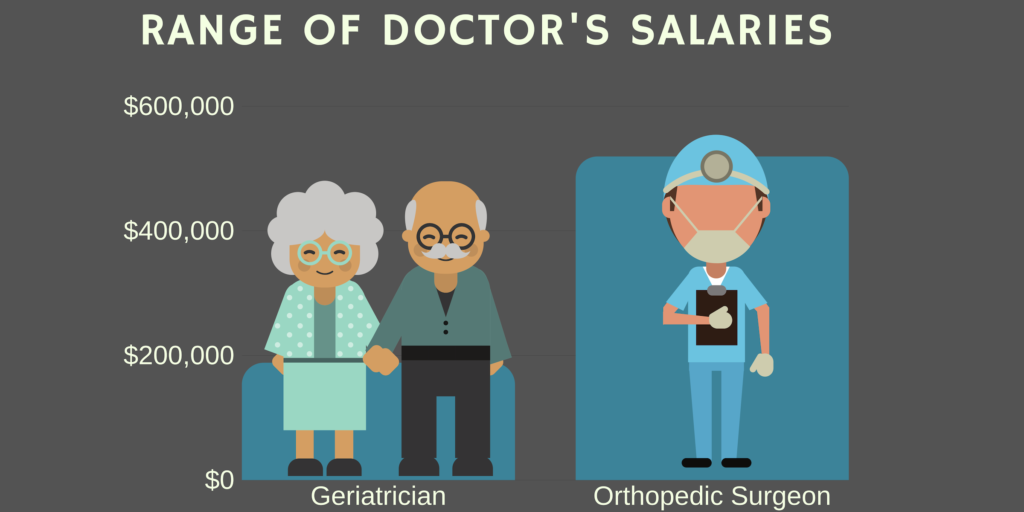 Below are the 15 most in-demand doctor specialties as well as their average salaries:
Family medicine — $231,000
Psychiatry — $263,000
Internal medicine — $257,000
Obstetrician/gynecologist — $335,000
Hospitalist — $264,000
Emergency medicine — $349,000
Dermatology — $421,000
Radiology — $436,000
Pediatrics — $240,000
Urgent care — $219,000
Gastroenterology — $492,000
Pulmonology — $390,000
Cardiology — $563,000 for invasive medicine
Orthopedic surgery — $579,000
Neurology — $305,000
Our second category of medical jobs encompasses all levels of nursing jobs. There is a perpetual nursing shortage which has led to great demand for new nurses of almost all levels.
The three main levels of nursing jobs are all expanding at much faster rates than average. Below we've listed the expected increase in job openings by 2026:
Licensed Practical Nurses: +12%
Registered Nurses: +15%
Nurse Practitioners: +31%
All nursing positions make more than the average earnings of people with commensurate education in other fields. Though the following numbers vary greatly depending on city or region of the country, the following list the average salary by type of nursing career nationwide:
Licensed Practical Nurses: $45,030
Registered Nurses: $70,000
Nurse Practitioners: $110,930
Nurses comprise the single largest number of health care and medical workers. And though they are needed nationwide, the following cities have the highest levels of demand for skilled nursing staff:
Salem, Oregon
San Bernardino, California
Vallejo-Fairfield, California
Fresno, California
Durham, North Carolina
Additionally, some nurses specialize in dealing with one type of patient or for work in a particular setting. Typically, specialized nurses make more. The following nursing specializations are some of the most in-demand. Average salaries for nursing specializations are also below:
Pediatric nurse: $89,000
Certified nurse midwife: $96,970
Psychiatric mental health nurse practitioner: $102,000
Gerontological nurse practitioner: $64,906
Critical care nurse: $80,000
Nurse anesthetist: $157,690
Learn more about the highest-paying jobs with a biology degree.
Like our first two categories of jobs, our category of Non-medical support staff jobs within the medical field also boasts strong career outlooks. Medicine is a massive industry and many of the following positions are in-demand in nearly every city in America.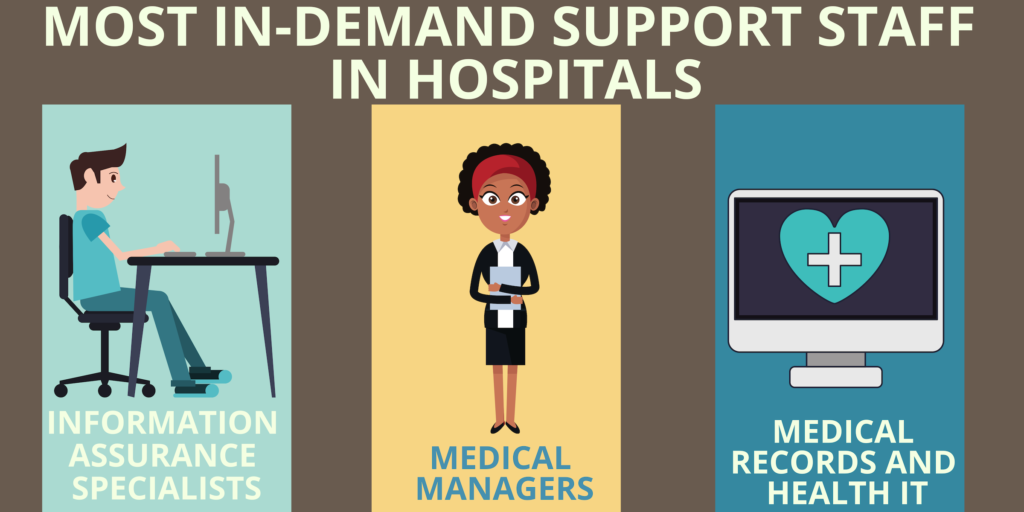 Below we've detailed the growth in the number of jobs between now and 2026 for non-medical support staff jobs that are common in medical fields. The below markers aren't specifically for medical employers but are a good marker of the demand for the following jobs across industries.
Network and Computer Systems Administrator (+6%)
Medical Managers (+20%)
Human Resource Manager (+8%)
Accountants (+10%)
Information Assurance Specialists (+28%)
Medical Records and Health Information Technicians (+13%)
We realize that this is a wide range of jobs, with very different degree paths. Many respective degree paths for the above jobs do allow specialization in health care settings, however. Typically just a bachelor's degree is required to enter the fields listed above, though many managers as well as accountants hold advanced degrees.
The average salary for non-medical support positions listed above include the following:
Network and Computer Systems Administrator:$81,100
Medical Managers $98,350
Human Resource Manager $110,120
Accountants $69,350
Information Assurance Specialists $95,510
Medical Records and Health Information Technicians $39,180
Career outlook for our final group of medical-related workers — non-front line medical research and support staff — is similarly strong. Like the previous section, these workers are not front-line medical workers like doctors and nurses. Unlike the previous section, however, these jobs are specifically tied to medicine in some way.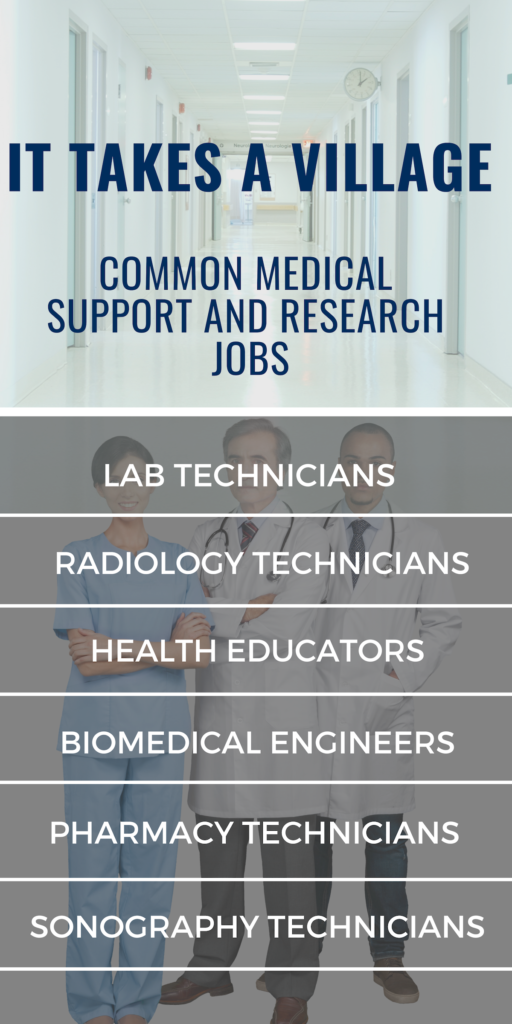 Many degrees for jobs like the below are applied degrees in a medical field, just not related to direct patient care. The number of new jobs in the following fields expected by 2026 are listed below:
Lab Technicians +13%
Radiology Technician +13%
Pharmacy Technician +12%
Biomedical Engineer +7%
Nuclear Engineer: +4%
Health Educators: +16%
Forensic Lab Techs: + 17%
Many Others
As one may expect from the growth in demand for medical support and research positions, many of these positions are well compensated. With most of the below medical support positions requiring no advanced degree, compensation is quite strong.
Lab Technicians: $51,770
Radiology Technician: $60,070
Pharmacy Technician: $31,750
Biomedical Engineer: $88,040
Nuclear Engineer: $105,810
Health Educator: $45,360
Forensic Lab Techs: $57,850
Many Others