There are a lot of things to love about an online education degree program. You can prepare for a new career as a teacher or advance your existing career in education on your own schedule and without ever having to commute to campus – or at least, most students think so. Just how much of a distance learning degree program really is completely online varies from program to program. Certain online education programs have some residential requirements, often in the form of an on-campus orientation, a conference or in-person capstone course. You may also have to travel to a school setting to meet experience requirements for practicum, internship or student-teaching courses. Before you bask in the convenience of an online program, make sure you know exactly what is expected of you.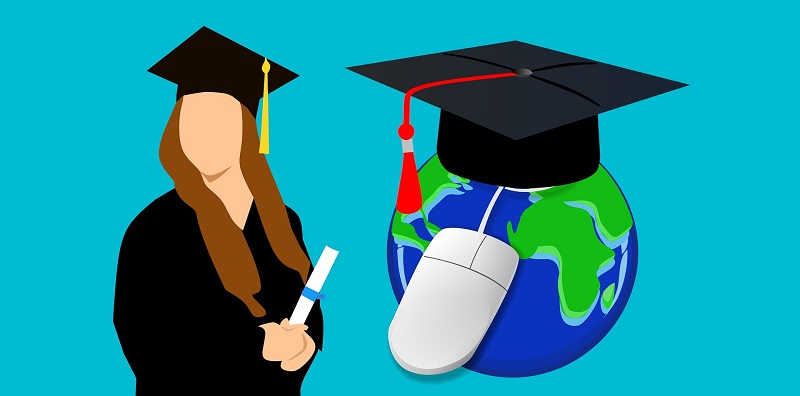 IMAGE SOURCE: Pixabay, public domain
Reasons an Online Student May Have to Go to Campus
Whether you have to go to the physical university when completing an online degree in education depends on your school. Generally, if a program or course is classified as online, it doesn't require regular meetings throughout the semester. It may, however, require you to be present on campus for certain occasions.
Some online programs kick off with a face-to-face orientation, Insider Higher Ed reported. However, many online programs are switching to online orientations or call-in orientations, which are less disruptive to the lives of students who typically value convenience in their education and may be more relevant to the needs of distance learning students.
When it comes time for big exams, it isn't unusual for online students to be required to meet face-to-face for a proctored test, according to Inside Higher Ed. Concerns over the potential for academic dishonesty are only more pronounced in online learning environments, where instructors often have no idea who is really answering questions on computer-based tests or whether they are consulting outside materials against the rules. While some online programs are experimenting with virtual ways to preserve standards of academic honesty, many schools find proctoring to be a simpler, though potentially inconvenient, solution.
Some colleges allow online students to sit for proctored exams at other locations, like testing centers or community colleges closer to home, rather than requiring them to make a long trek to campus if they live far away.
Face-to-Face Student Teaching Experience
For undergraduate students seeking initial teacher certification, experience gained through a semester of student teaching requires in-person participation. Although you don't have to go to your university's physical campus, you do have to commit to full-time work in a school setting for a semester. While students of on-campus education programs typically seek student-teaching options near their school, online programs usually expect students to find placements at schools closer to their home location.
Student teaching experience is valuable because it provides an immersive experience in the classroom and in the role of the educator. Although your classes will cover strategies for effective teaching and classroom management, there are real challenges of teaching that you can't learn solely from lectures in the physical or virtual classroom. Likewise, although aspiring teachers can write lesson plans and even practice presenting the lesson, only once they are in the classroom, working with real students, can they truly get a feel for the lesson's effectiveness and how to improve it. Having to travel to a brick-and-mortar location for your education, especially after years of fully online coursework, can be inconvenient, but the experience you gain is well worth it.
Many education programs include one or more practicum courses besides the student teaching semester. As with student teaching, practicum experiences must usually be acquired face to face in a classroom or similar setting, even for online students.
Blending Online and On-Campus Learning in Hybrid Courses
Just because a degree program includes some online coursework doesn't mean that it is a fully online program. Some degree programs and individual courses are more accurately referred to as hybrid or blended learning. Hybrid courses include both online and face-to-face components for a learning experience that brings students the best of both styles of education. However, one of the drawbacks is that these programs may require frequent trips to a brick and mortar campus at a scheduled class time, taking away from the convenience associated with online learning. Although there are hybrid classes that split time evenly between online and on-campus work, some blended programs are skewed in favor of one method of learning.
Depending on the structure of the hybrid program, you may have to visit campus one or more times each week, or you may only have to come to face-to-face meetings a handful of times over the course of the semester.
Additional Resources
What Is Involved With Being a Student Teacher?
Is It Easier to Get Into an Online Master's Program?
Are Online Master's Programs Easier Than In-Person Programs?
What Are the Skills Needed to Be Successful in an Online Master's Program?