The wheels of commerce grind on all around us. From the supply chain that stocks up the gas station you passed earlier, to the ads on the site you just visited, those working in a variety of business roles shape many, many moments of your day.
The range of business enterprises that shape our lives highlights one of the most exciting aspects of business: there's a role in business for nearly every skill set.
Skilled talkers may excel in sales.
Those with strong analysis skills may work in marketing or as business analysts.
Sound judgment and a vision for the future are highly sought skills in management.
Quantitative skills can lead to careers in finance or actuarial science.
Creative thinkers may find their niche in product design.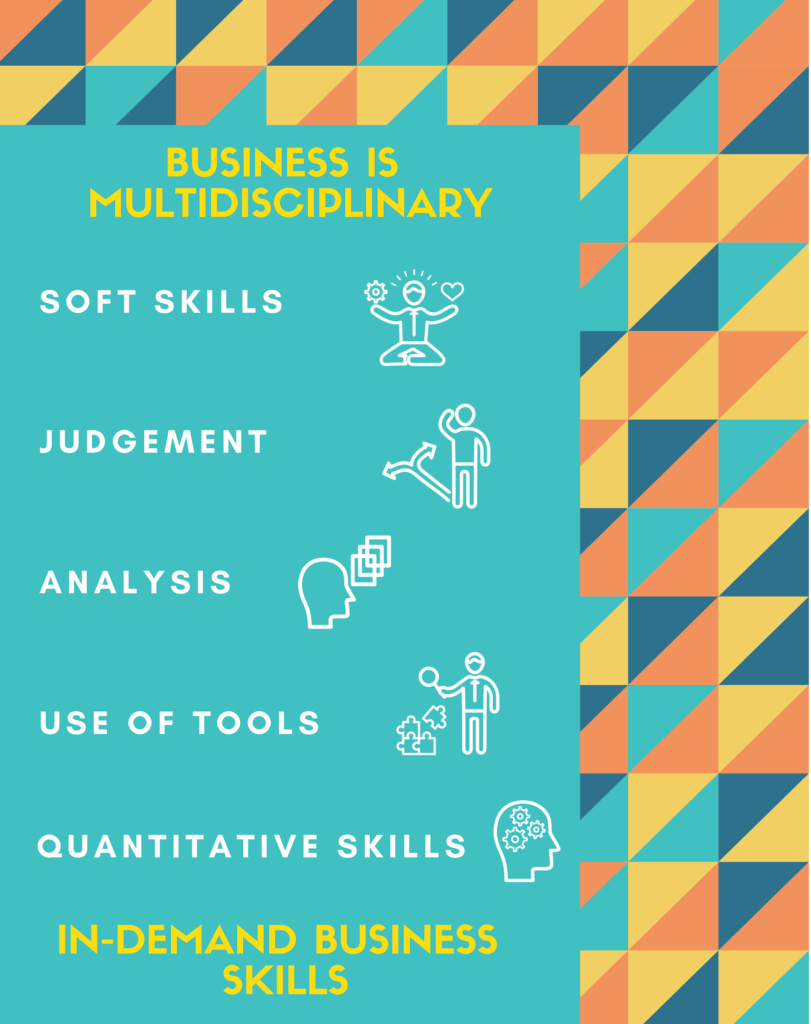 Unlike some fields that tend to seek workers with a singular skill set, business is a broad category in which many types of workers are needed.
Additionally, once you have an idea of where you would like to be in the business world, there are more degree types than ever to help to get you there.
Not sure what business role is right for you? Many students looking to get into business start with a general degree in business administration. After getting a sampling of business basics down, they then specialize farther on the job or in an academic setting.
Think you're ready to take the plunge? Read on to find out exactly what you can do with a business degree today.
General Business Degree FAQs
DegreeQuery.com is an advertising-supported site. Featured or trusted partner programs and all school search, finder, or match results are for schools that compensate us. This compensation does not influence our school rankings, resource guides, or other editorially-independent information published on this site.
How Much Money Can I Make With a Business Career?
The short answer is that the average salary for most business positions is well above the average earnings for all careers. Additionally, for those that advance in a corporate structure or start their own business, the sky is really the limit in terms of earnings.
Virtually all of the richest people in the world are in "business" careers. Most got to where they are now by starting their own business and growing it to epic proportions. Or by inheriting a business from a family member and helping to run the business.
There's not a degree in the world that can turn you into the next Bill Gates, or Elon Musk, or Warren Buffet. But if money is an important aspect of your career choice, you can't do much better than business.
The longer answer is that earnings in business fields greatly depends on your role and level of experience. Below we'll look at earnings by career level in business roles.
Entry-Level Business Career Earnings
Depending on the degree level you're entering the workforce with, you'll likely start in an entry-level position. A sampling of entry-level business positions includes the following.
Entry-level business development associates are professionals tasked with supporting business goals related to business growth. These interdisciplinary roles may involve different tasks in different organizations. However, some commonly reported tasks of business development jobs include the development, execution, and evaluation of plans to increase business sales. Additionally, business development professionals may interface with customers and advocate for them as well as communicate with and procure potential business partnerships.


Business development jobs are great ways to get into a business career due to their importance, visibility, and multidisciplinary nature. These jobs can often expose young workers to a wide variety of business tasks and let them specialize further as the opportunity presents itself. Part sales, part business analyst, part customer service representative, business development can be a great career for the right type of candidate.
Business development jobs are also well compensated for an early-career role. The average salary for entry-level business development jobs is $49,000, with the top 10% of earners in this role making more than $74,000.
Entry-level sales representative roles are great for outgoing "people person" types that are also oriented towards business. These jobs often require direct outreach to potential customers, as well as the crafting of strategies, scheduling of meetings, and tracking of objectives related to sales.
There are a number of pros and cons to sales representative jobs. Though for the right type of worker, they can be a great fit. Salaries in entry-level sales representative jobs are often bolstered by commissions and bonuses. This means that pay can be better in sales roles than in other entry-level roles. This assumes you meet your sales targets, however. With monthly and quarterly objectives, meeting sales goals can sometimes lead to late nights or early mornings in the office.
Our best advice for those seeking to get into a sales role is to choose an industry they're passionate or knowledge about and be willing to work hard. More than other positions, positions in sales are highly dependent on the individual work ethic of the individual involved.
The average salary for entry-level sales representatives is just $42,000 a year. But this comes with an average annual commission or bonus amount of over $10,000, as well as other common incentives. If you want to take your business skills into a very "people-centered" role, sales can be a great route.
Finally, entry-level business analyst positions are great for recent business graduates who excel in quantitative disciplines and communications. Business analyst positions center around the creation of business intelligence meant to guide important business decisions. This can involve the creation of– or analysis– of spreadsheets, large data sets, or interviews. Basically, if a business has created a report on a topic, a business analyst was likely involved.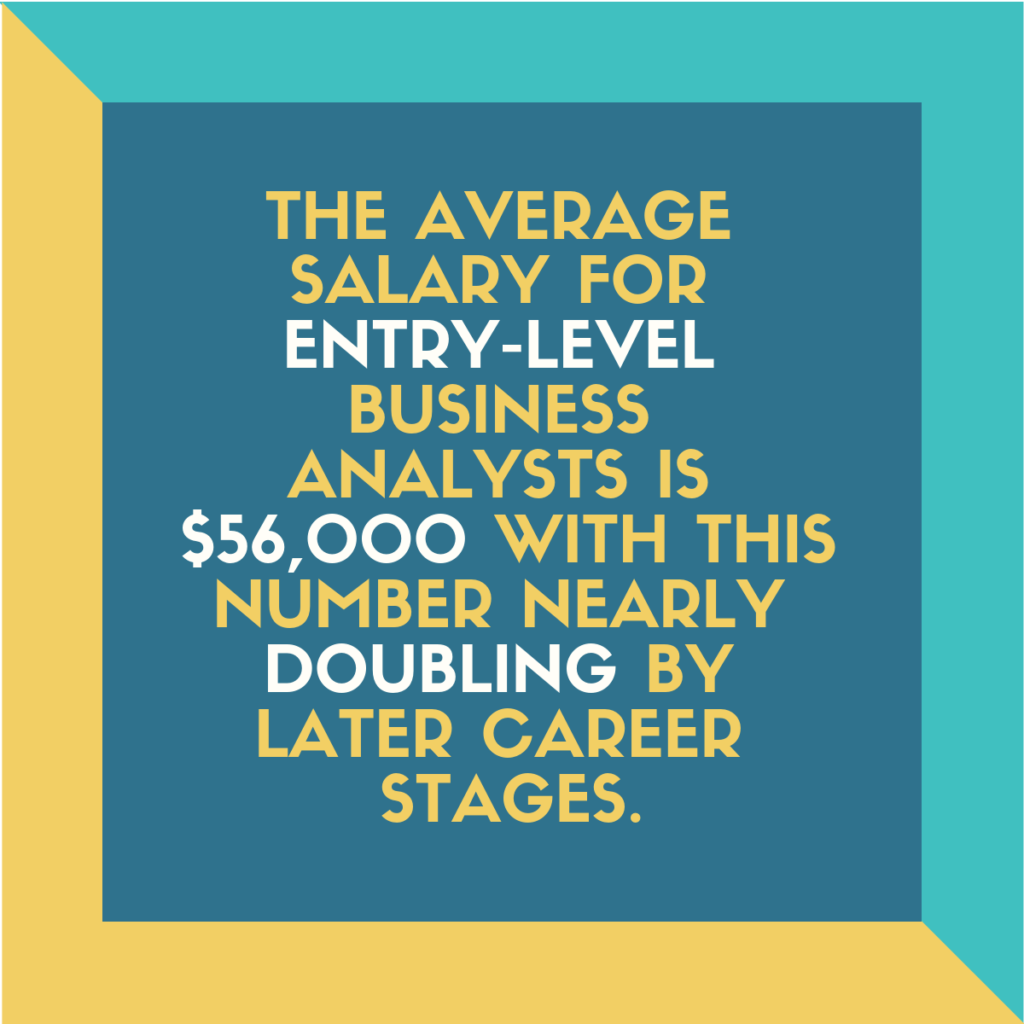 For students of business or other quantitative disciplines, business analyst positions can be a great "in" to decision-making careers in business.
The average salary for entry-level business analysts is $56,000 with this number nearly doubling by later career stages.
To learn more about different business careers and how they relate to business degrees, be sure to check out our FAQs below:
Mid-Level Business Career Earnings
As business workers gain their first few years of experience they typically follow one of two paths: (1) becoming increasingly specialized in their skill set, or (2) moving into management within their given job title.

While there are too many mid-level business careers to list in this article. Below we'll list the average salaries of low-level managers as well as more experienced technical roles in business.
Average Project Manager Salary: $90,337
Average Experienced Business Analyst Salary: $76,000
Average Product Owner Salary: $72,000
Average Marketing Analyst Salary: $60,296
Average Experienced Sales Rep Salary: $68,446
Additionally, a number of business roles work directly with the money or investments of clients. These roles typically require a specialized business degree as well as — at times — the passing of a licensing exam. Some common "money-centered" jobs in business, as well as salaries, are below:
Average Accountant Salary: $77,920
Average Financial Advisor Salary: $124,140
Average Financial Manager Salary: $141,000
Average Investor Salary: $149,042
As you can see, with a few years of experience under your belt, there are a variety of lucrative business careers.
Our mid-career FAQs include:
Managerial Salaries
Those that work hard through the early stages of their business career and show potential for leadership positions will likely find themselves offered management opportunities a few years into their career.
Management is a crucial part of every segment of business organizations. Managers may work in marketing, engineering, human resources, logistics, sales, design, accounting, and a host of other capacities.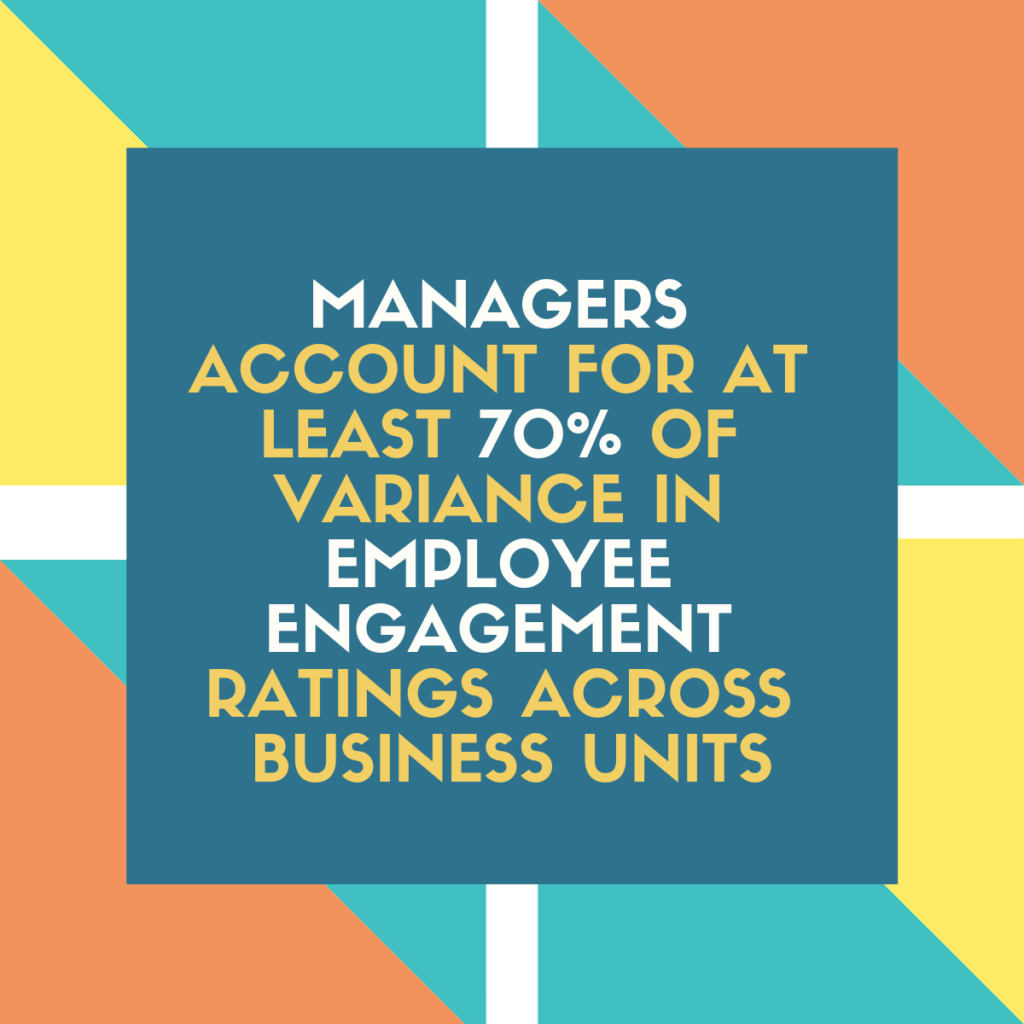 With that said, many managers first build up skills and knowledge particular to the area in which they are managing. For example, most sales have worked at lower levels in sales. Many engineering managers are engineers.
With that said, graduate business degrees can lead straight to management positions. And whatever your route into management, a business degree is a great fit for learning many of the multidisciplinary skills required of managers.
Some average salaries of common management roles include the following:
Average Project Manager Salary: $72,481
Average Scrum Master Salary: $92,651
Average Program Manager Salary: $137,051
Average Operations Manager Salary: $95,254

What are the best types of Business Degree?

The short answer is that there is no one "best" type of business degree. Just as there isn't one single educational route into most business positions, business degrees provide you with the basic skills and knowledge to excel in on-the-job learning.

With that said, business degrees offer one of the greatest range of subject matters of any degree types. This means that students can specialize to a great extent in their degree program.


One way to specialize in business is to ascertain what degree level you need. Business degrees are offered at the associates through doctoral levels. And each level has its own pros and cons.

A second way to determine the right business degree is to specialize with the subject matter you're studying. Business careers may be entered with a wide range of degree types. The most business-centered degrees, however, include the following:

Finance
Business
Business Administration
Management
Accounting
Human Resources
Marketing

Most of the above degree types are available at the undergraduate and graduate level. Additional degrees that may lead to great opportunity in business settings include the following:

Data Science
Information Technology
Information Assurance
Statistics or Actuarial Science
Engineering
Industrial Psychology

Below we'll take a more in-depth look at the above-mentioned degree levels and topics. If you already know what type of business degree you would like to pursue, be sure to check out some of our business degree program rankings below:

What Business Degree Do I Need?

Before determining just what business degree you would like to pursue, you'll need to determine what degree level you should pursue. Higher degree levels lead to greater specialization, generally higher salaries, and opportunities for advancement. The trade-off is that higher degree levels typically cost more and require a greater length of time to complete.

Due to the high time and money costs of higher-level degrees, they aren't always the right choice. Rather, each individual should weigh the pros and cons of higher degrees. Below we'll outline some basic components of different business degree levels.

Associates degrees in business typically require 60 credit hours of academic course work. This typically requires 1.5-2 years for completion at a "full-time" or higher rate of study. Students of business at the associate's degree level typically take courses in the following:

Intro to Accounting
Intro to Management
Intro to Microeconomics
Intro to Macroeconomics
Statistics for Business
Professionalism
Some concentration Course

Additionally, associates degree students must complete general education courses. "Gen ed" courses — as they're called — include a well-rounded mixture of subjects at the collegiate level that help to ensure graduates gain exposure to a number of important disciplines and skill sets. These courses often include social sciences, natural sciences, introductory math, writing, and courses in the humanities.
Learn more about how long it takes to get an associate degree.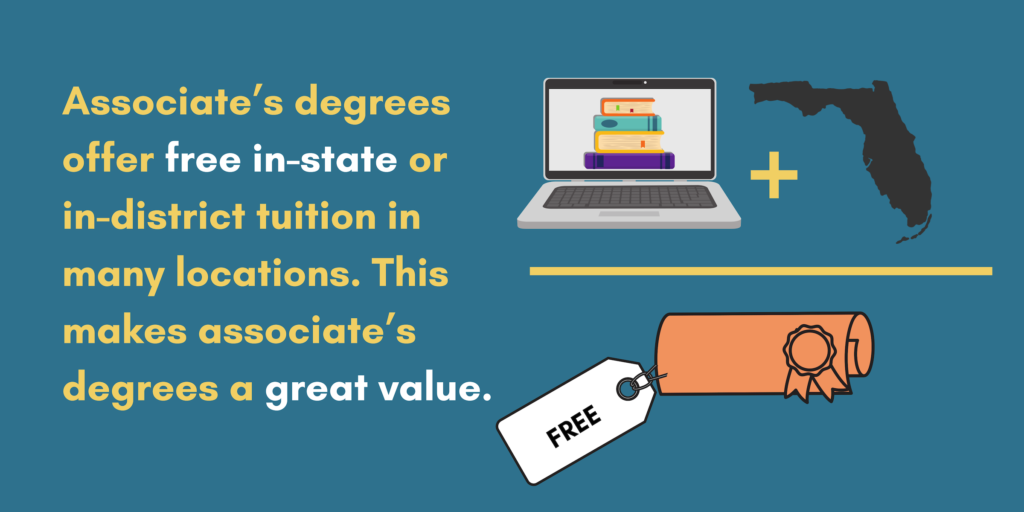 Associates degrees are often regarded as some of the best values among degree types. This is due to many state and urban school districts of community colleges offering free tuition. Even for programs that aren't free at the associates level, tuition is often lower than at four-year institutions.
Many associates degree-granting institutions also offer transfer agreements with four-year universities and colleges. This means that students that complete an associates degree and meet certain requirements are automatically granted admission to a four-year program. This often allows students to save money on the first half of a four-year program (the associates part), and earn a four-year degree in the end.
Upon completion of an associates in business jobs in the following are commonly obtainable:
Sales representative
Bookeeper
Business Development Executives
Business Analyst
If you perform well in your entry-level business role for several years, you may very well find yourself promoted to management. Many companies do require managers to hold bachelor's degrees. Though some do not.
A bachelor's-level degree is the most common entry requirement for business careers. While students may specialize in one area of business at the bachelor's level. The largest number of undergraduate business students pursue a bachelor or arts or bachelor of science degree in business.
Bachelor's in business degrees typically require 120 credit hours for completion. With no prior coursework completed (as in an associates degree), bachelor's degrees require around 4 years of study "full-time." Many programs for non-traditional learners allow students to slow down their time until degree further.
As with an associates degree, bachelor's degrees require general education courses. These courses help to ensure you can think logically, speak persuasively, write well, and have basic quantitative skills worthy of collegiate study. Beyond general education courses, business degrees at the bachelor's level will often include courses in the following:
Financial Accounting
Managerial Accounting
Business Law
Finance Principles
International Business
Management Information Systems
Intro to Marketing
Human Relations
Operations Management
Logistics
Specialization Courses
Students at the bachelors level will also often have the opportunity to specialize in one portion of business. Some of the most common specializations at the bachelor's level include marketing, human resources, management, accounting, and finance.
Jobs that can be obtained with the right specialization and experience (often in the form of internships) with a bachelor's-level business degree include the following:
Bookeeper
Accountant
Financial Adviser
Business Analayst
Data Scientist
Marketing Specialist
Human Resources Specialist
Financial Analyst
And many more
While many business career workers return for more advanced schooling later in their career, many start with a bachelor's degree related to business. Bachelor's degrees related to business are great for pursuing admission to graduate programs in business as well as rising into the ranks of management in a corporation.
If you're looking to gain access to some of the most lucrative and important career opportunities in business, you'll likely want to pursue a graduate degree in business. While there are many, many subjects you may specialize in within business at the graduate level, the most popular is the master of business administration (MBA) degree.
Master of business administration degrees typically requires 60 credit hours. As many students in these programs are non-traditional and currently employed, many programs offer night, weekend, or online programs to enhance the flexibility of academic programming. For students that do elect to pursue a full-time in-person MBA degree, degree programs typically require 2 years of study.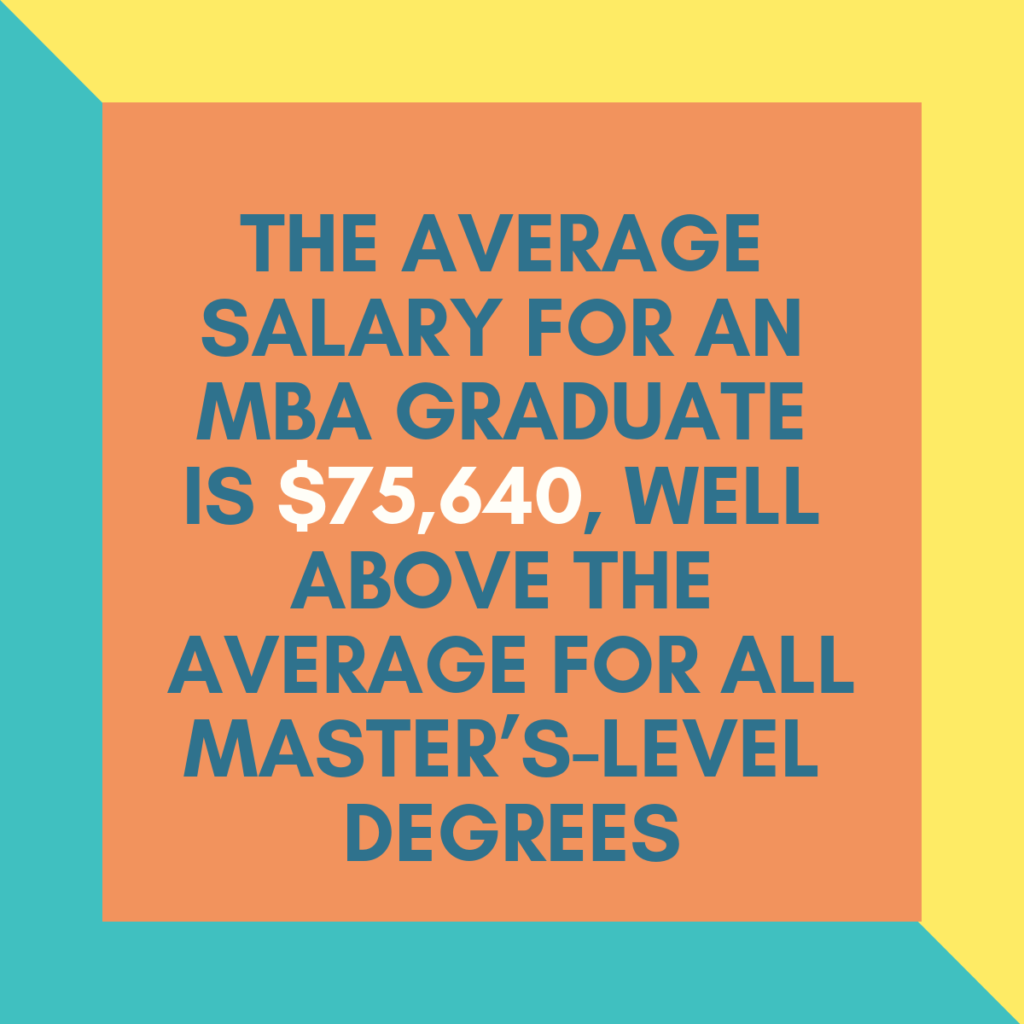 One reason for the proliferation of MBA degrees is their focus on applied professional skills as well as the wide range of specializations that students may pursue in MBA programs. Common specializations in MBA programs include the following:
Accounting
Finance
Management
Human Resources Management
Information Technology Management
Software Development Management
Engineering Management
Sustainable Business
Marketing
Management Information Systems
Entrepreneurship
Health Care Management
Supply Chain Management
Risk Management
Logistics
For additional questions on business-related master's programs, check out our FAQs below:
Finally, some students that wish to perform research, work in high levels of management, or teach others may elect to pursue a doctoral degree in business. The most common doctoral-level degree in business is a Doctor of Business Administration (DBA) degree.
DBA degrees are research doctorates. This means that two primary aims of the doctoral program are to (a) prepare recipients to teach, if they so choose, at the university level, and (b) to promote new original research in the field. This also means that those pursuing a DBA degree are required to write a dissertation. Dissertations are several hundred-page documents of original research. They must — in theory — be publishable in peer-reviewed journals. Furthermore, doctoral candidates are required to "defend" their dissertation by answering questions from a panel of experts.
Any doctoral degree is a large time and money commitment. Many students find ways to lower the cost of pursuing a doctoral degree by taking on work as a teaching assistant. Oftentimes those who elect to teach courses to undergraduates through their time of study can get partial or full tuition waivers. Additionally, many programs are built to allow students to pursue their degrees while working full time.
As with most doctoral degrees, candidates in doctor of business administration degrees have a great deal of choice in what they focus on. In doctoral programs you're essentially choosing a topic you would like to perform original research on and becoming an expert in that field.
This means that those with doctoral degrees in business can exit their degree programs (upon graduation) and often gain employment as subject matter experts in a wide variety of fields. While some DBA candidates may focus on employment law, others may focus on productivity, or management of an upstart business, or methods for valuing companies. There's a place for each in the wide and varied business employment landscape.
Subject Types of Business Degrees
While we focused on the most popular degree at each degree level above, some potential students are looking to gain expertise in one subject matter area of business.
Below we'll jump into some of the most common specializations within business education.
Accounting Degrees
Accountants help to ensure that corporations and individuals are operating efficiently. They help to audit existing corporate expenditures as well as prepare tax documents and other forms of business documentation.
Accounting degrees are available at the bachelor's through doctoral levels. The job title most people think of when they think of accountants (certified public accountant), however, requires just slightly more than a bachelor's degree in accounting. For this reason, some students pursue master's degrees to become CPAs, while others pursue special 5-6 year programs that combine bachelor's degrees with a handful of graduate courses. Both routes can prepare students for taking the CPA exam.
Not all accountants are CPAs, however. Bookeepers often function like lower-level accountants and do not require any graduate coursework. Other certified accountant job types require tests other than the CPA exam and may focus on auditing of corporations, mergers and acquisitions, and other areas of expertise within accounting.
Think you might be interested in a degree in accounting? Be sure to check out the following FAQs:
Human Resources Degrees
Human resources (HR) is the branch of business that enact policies that help to preserve a businesses #1 resource, it's skilled work force. HR professionals help with hiring, onboarding, training, dispute resolution, firing, benefits, and encouraging a workplace culture that promotes well being and productivity.
Human resources may be entered with a variety of degrees, but many high-earning human resources managers will have obtained master's-level degrees in the subject. Particularly at large employers including school systems, universities, hospitals, airports, and large corporations, human resources managers are in high demand and a degree in the subject can help to get you ahead.
Finance Degrees
Finance degrees are generally available at the bachelor's and masters levels. These degrees can lead to careers in commercial banking, investment banking, financial management, real estate, and insurance. Many finance jobs are available after a bachelor's degree in finance. Academic courses at the bachelor's level may include the following:
Accounting
Micro and Macroeconomics
Human Resources
Business Principles
Business law
Management
Personal Finance
Managerial Accounting
Corporate Finance
Behavioral Principles
Statistics
Business Strategy
International Business
Among others
At DegreeQuery, we've crafted a great deal of research and advice on Finance degrees. Be sure to check out our FAQs and Rankings on the topic below:
A unique subset of finance that relies heavily on statistical analysis is risk management or actuarial science. This highly lucrative group of fields is a great option for business students that are strong in quantitative disciplines. Check out our FAQs on this subject matter below:
Marketing Degrees
Along with the making of a product or service, marketing is the one crucial part of almost every organization. From billboard campaigns to online advertising, to content, SEO, and branding, marketing molds how consumers think of a brand.
Marketing degrees are commonly available at the associates through doctoral levels. With that said, the most common degree types for marketing include bachelor's degrees in marketing and master's degrees in marketing.
Bachelor's degrees in marketing can help you get your "foot in the door" in many agency or corporate settings. Common early-career jobs may include copywriting, being an SEO specialist, being a social media manager, working in media production, or working as an accuont manager for an agency that manages the marketing of other businesses.
At the master's level, students may often specialize some more. Many programs now offer specializations in data analytics or digital marketing to fit today's workplace. Additionally, many MBA programs offer marketing concentrations that include several graduate level marketing courses along with a solid business foundation.
With a graduate degree in marketing, students may be able to move into marketing management. Marketing management positions generally focus on one vertical such as search engine optimization, digital advertising, content management, traditional advertising, or public relations.
Think you might be interested in a degree in marketing? Check out our rankings and FAQs on the subject below:
Marketing Degree FAQs
For Further Reading: 
Top 10 Paying Jobs That Involve Math
Exciting Jobs: The Top 15 Jobs for Adrenaline Seekers