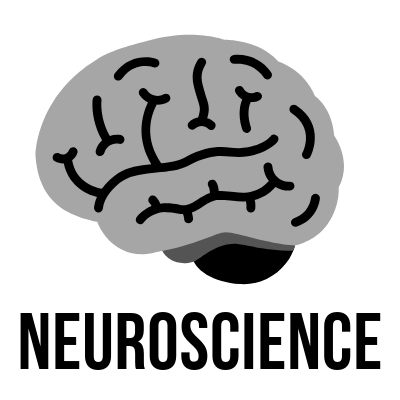 Imagine performing deep-tissue, in vivo functional brain imaging at the level of subcellular resolution
Imagine developing tiny implantable electronic devices that could communicate nerve signals to human organs when natural connections have been damaged.
Imagine building tools that are powerful enough to begin to map the brain's 1,000,000,000,000,000 neural connections.
These mind-bending brain innovations aren't science-fiction, they're science fact; they represent just a small slice of the current cutting edge of neuroscience. The human brain is truly the most complex individual structure in the known universe. At this moment in history, we are just beginning to be able to use our brains to understand our brains. This is what the challenging, exciting, and fast-growing field of neuroscience is all about.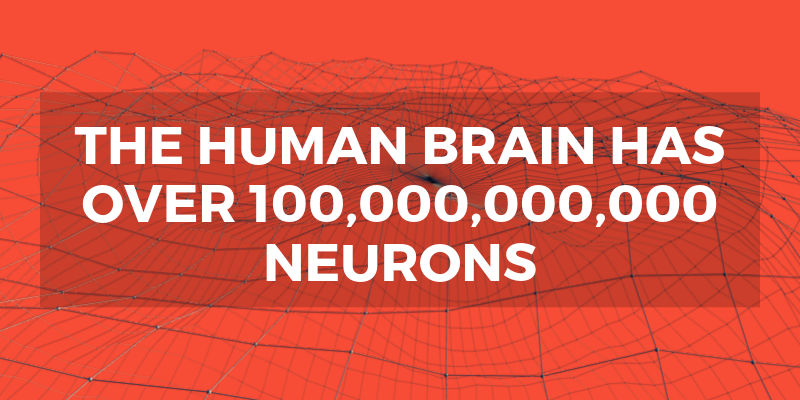 If you're innovative, analytical, and ambitions, you may want to push the limits of human understanding by pursuing a career in brain research. It all starts with a degree in neuroscience. But there are plenty of steps along the way, and lots of considerations to take into account, from specialization to career path. Read on to learn all about degrees and jobs in the cutting-edge field of neuroscience.
Jump To:
What is Neuroscience?
Neuroscience (AKA neurobiology) is the scientific study of the brain and peripheral nervous system. Neuroscience is a branch of biology that is distinctly multidisciplinary in its approach to understanding the complexities of neurons and neural circuits. Neuroscience incorporates studies in such disciplines as:
anatomy
physiology
psychology
molecular biology
cytology
developmental biology
mathematical modeling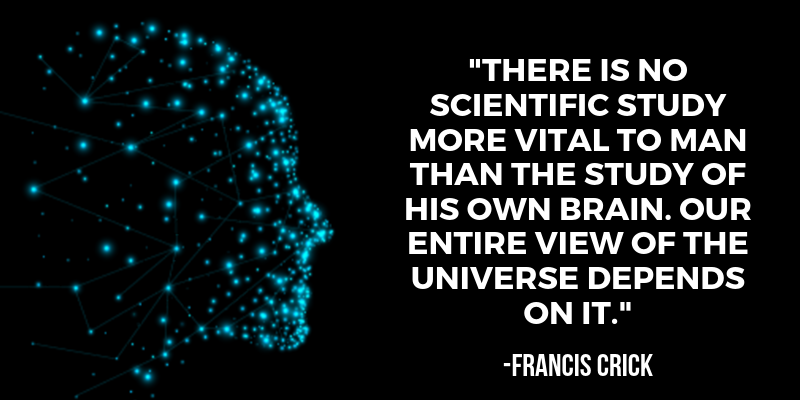 Neurologists seek to understand how the nervous system works, the function of the different structures and systems that make up the brain. They study how the brain performs cognitive tasks and the biological basis for them, including functions like:
learning
memory
behavior
regulation
affect
movement
perception
consciousness
Measurement, observation, analysis, and even philosophy all come into play in the field of neuroscience. Neuroscientists may study minute structures like the tiny dendrites of neurons, or probe big questions such as how the brain creates consciousness. They also frequently examine the many problems with health and development that can exists in brains and the rest of the nervous system, including:
Alzheimer's
traumatic brain injury
Parkinson's
Down syndrome
ADHD
addiction
brain tumors
schizophrenia
Neuroscientists can provide a tremendously important human service with their work. As clinical researchers of human diseases and syndromes, neuroscientists have the capacity to make vital improvements in people's lives. Research into how the brain develops, functions, and changes can form the basis for new drugs, interventions, and therapies that can extend and improve the lives of people affected by debilitating and even life-threatening conditions.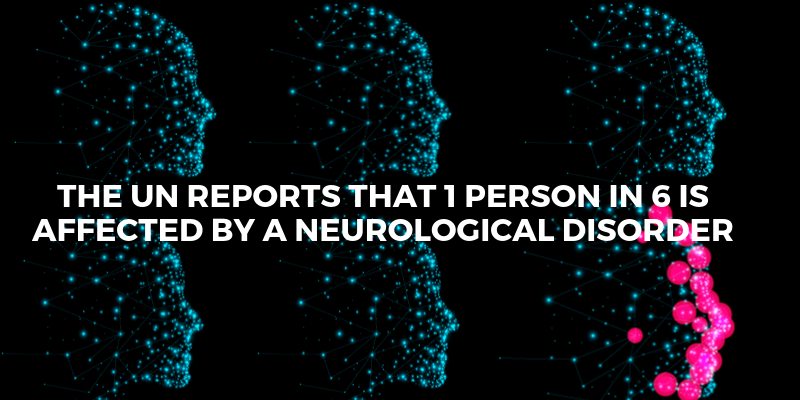 How is Neuroscience Different from Neurology
If you're interested in the mysteries and conundrums of the human brain, you're in luck. Both the field of neuroscience and the field of neurology will allow you to spend your days investigating brain health and brain disorders, and allow you to improve people's lives. So what's the difference between neuroscience and neurology?
There are few ways these two fields diverge, but the main difference between neuroscience and neurology is focus: research vs clinical practice. Neurologists diagnose and treat patients affected by neurological conditions such as ALS, Parkinson's, hydrocephaly, and brain tumors. Neurologists, essentially, are doctors of the brain; they work in clinical settings such as hospitals and are tasked with direct patient care. They may work closely with, or make referrals to, neurosurgeons, another closely related occupation.
To become a neurologist, a student must earn an undergraduate degree in pre-med or a related field like physiology. They will then need to pass the MCAT, go through four years of medical school, and spend another year in an internship and four years in residency. This is often filled by a fellowship, and finally board certification as a neurologist.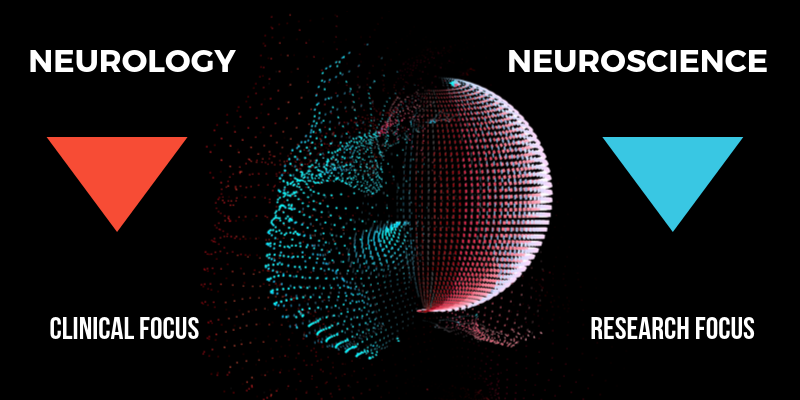 Neuroscientists also deal with people and the brain, but usually do so fun a purely research role. They frequently interact with people who have ALS, Parkinson's, hydrocephaly, brain tumors, and other neurological conditions, but usually do so as part of clinical trials, empirical research, or field-based observations. They typically work in labs and offices instead of hospitals and clinics. Neuroscientists generate new findings that increase our understanding of the human brain. They also investigate and develop treatments for conditions of the brain and nervous system- the very same tools and treatments that neurologists may apply in their clinical practice.
Unlike neurologists, neuroscientists do not need a medical degree in order to practice. The path to becoming a neuroscientist involves an undergraduate degree in neuroscience (or a related field), an optional master's degree in neuroscience, and a PhD in neuroscience. As with neurology, this is typically followed by a fellowship.
What Types of Neuroscience Are There?
Neuroscience has been around for a very short time compared to other medical sciences, but it's evolving fast, and there are a vast number of niche fields. As a neuroscientist, you can specialize in highly specialized areas like:
Neuroendocrinology
Electrophysiology
Neuropharmacology
Neurolinguistics
Neuroinformatics
New specialization and sub-specializations are always developing as the field continues to grow. But, broadly speaking, the field of neuroscience can be divided into four main branches: Behavioral neuroscience, Cognitive neuroscience, Computational neuroscience, and Developmental neuroscience. All of these are highly interdisciplinary, and may have a high degree of overlap in their applications.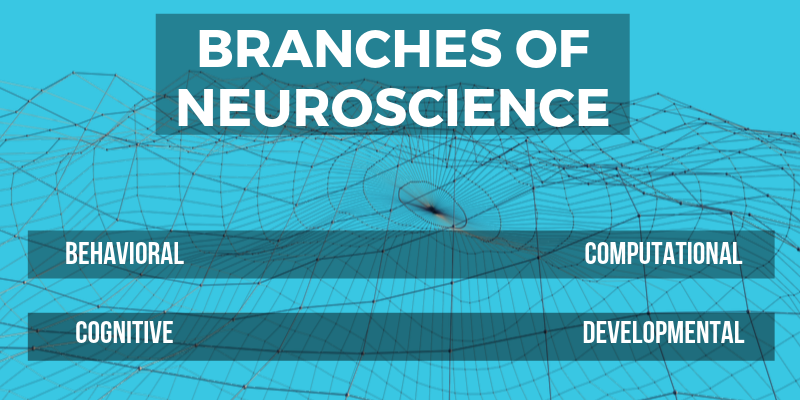 Behavioral neuroscience is the study of how the brain directs behavior. This includes areas like decision-making, language production, movement, and socialization. It is sometimes referred to as biological psychology, biopsychology, or psychobiology.
Cognitive neuroscience investigates how the brain forms and experiences thoughts from a structural and functional perspective. This includes topics like how memory recall takes place in the brain. Researchers in this field may measure subjects' brain activity while performing various tasks. Cognitive neuroscience integrates principles of cognitive psychology and psychiatry.
Computational neuroscience investigates how the brain computes. Researchers in this field of neuroscience use computer simulations and models to understand brain functions. This field integrates aspects of mathematics, physics, programming, AI, and other and other computational disciplines.
Developmental neuroscience is the study of how the brain and nervous system develop, grow, and regenerate or degenerate across the lifespan, with a focus on early life. This field is important in the understanding of developmental disorders such as down syndrome and microcephaly. It also yields information about neuroplasticity and neural regeneration. This field blends topics in developmental biology, genetics, and physiology.
How do I Become a Neuroscientist?
The path to becoming a neuroscientist is challenging, and rightly so; the work of studying the human body's most complex organ demands professionals who are rigorous, driven, and immensely skilled. You'll need years of serious study behind you before you can dive into the minute workings of the human brain. But as the field of neuroscience has become bigger and more established, the route to becoming a neuroscientist has become more clear and accessible, and there are more high-quality neuroscience degree programs open today than ever before.
If you're interested in a degree in neuroscience, you'll want to start out by earning a bachelor's degree. A neuroscience bachelor's will provide training in topics like affective neuroscience, molecular neuroscience, cognitive neuroscience, neuroimaging, neuroanatomy, neuro-linguistics, and social neuroscience. There are many bachelors of science degrees in neuroscience offered throughout the country, but you do not necessarily need a BS in neuroscience to enter the field. You'll just want to be sure that your coursework covers essential areas like biology, psychology, physiology, chemistry, and human anatomy. Undergraduate degrees that meet these requirements can include:
cognitive science
biopsychology
neuropsychology
physiology
pre-medicine
Many students with undergraduate degrees in fields like engineering, psychology, physics, computer science, and chemistry also go on to earn advanced degrees in neuroscience, though they may have to complete additional prerequisites. At this level, getting involved in lab-based research is important for building a competitive track record that will help you get into grad school.
Once you've earned an undergraduate degree and satisfied any prerequisites, you can apply to graduate school for neuroscience. You'll need to earn a full PhD in neuroscience in order to qualify for most jobs in the field. This will require completing a core neuroscience curriculum, elective courses, lab rotations, and clinical rotations. Master's degrees in neuroscience are available but are not necessarily required to apply for a neuroscience PhD. A PhD in neuroscience teaches students through classwork, lab experience, and thesis research.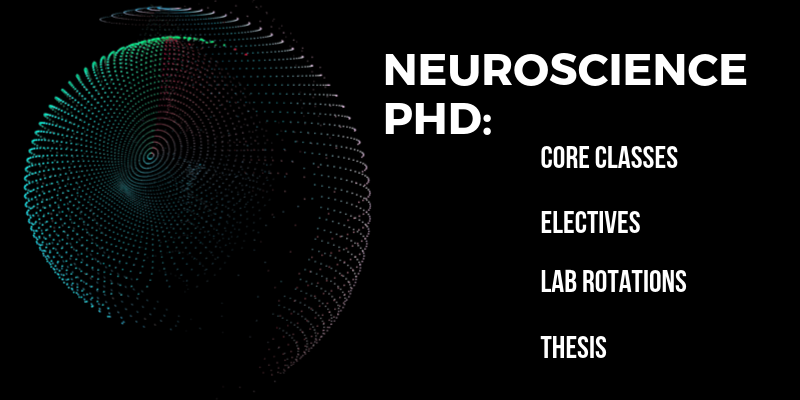 Lecture-based classes teach students about the fundamentals of neuroscience and the related fields that inform it, including mathematical modeling, pharmacology, cellular biology, data analysis, AI, and genetics. The core curriculum of a neuroscience PhD will usually focus on three areas: Cellular, Molecular, and Developmental Neuroscience; Computational and Systems Neuroscience; and Behavioral and Cognitive Neuroscience. Electives allow students to specialize in a field of particular interest.
Neuroscience Laboratories teach neuroscience students how to apply neuroscience skills, and techniques of performing lab-based research. Rotations allow students to exercise choice in their setting and experience different types of neuroscience research, which can help them chose an area for their thesis research.
An Original Research-Based Thesis takes place in the final years of a neuroscience PhD program under the guidance of a designated departmental thesis advisor and Thesis Committee. The research should represent new findings in the field of neuroscience, and so will almost certainly be in a very niche area of specialty. The results should lead to publication in a peer-reviewed scientific journal.
Students learn throughout their program how to read, evaluate, and present the most current scientific literature, and also develop and conduct their own original research. They may attend and present at conferences such as the American Academy of Neurology, the American Neurological Association, or the Society for Neuroscience. A typical Ph.D. program in neuroscience takes about 4-6 years to complete. Typically, neuroscience PhD graduates also complete a lab-based postdoctoral fellowship for about two years before looking for work as a neuroscientist.
What Classes will I Take for a Degree in Neuroscience?
As we've discussed above, a bachelor's in neuroscience will provide a foundation in the principles of science and math that inform the field of neuroscience, as well as classes specific to the major. These core requirements will cover classes like:
Calculus
Organic Chemistry
Physics for Life Sciences
Statistics
Psychology
Computer Programming
At the undergraduate level, you can expect to take neuroscience classes that cover the broad foundations of the field, so that you can have a basic understanding about all the main areas of neuroscience and aware of current research. You'll also be able to take a few electives in an area of particular interest. Typical undergraduate neuroscience classes include:
Systems Neuroscience
Neurobiology
Cognitive neuroscience
Neural Development
Neurological Disorders
Neurogenetics
Artificial Intelligence
Psychobiology
For a master's or PhD in neuroscience, you'll be taking graduate level neuroscience classes as well as electives in fields like computer programming and electrical engineering. These will have advanced and very specific subjects, so you can develop a greater understanding of the different areas of neuroscience, and deep expertise in the area of your focus. This will be essential for informing your thesis research and forming the basis of your neuroscience career, which is likely to focus on a particular area. Typical graduate neurotic since classes include:
Advanced Topics in Systems Neuroscience
Neural Computation
Functional MRI Methods
Visual Cognitive Neuroscience
Cellular, Molecular & Developmental Neuroscience
Neural Basis of Human Movement
Brain Architecture
Neuroplasticity and Neural Repair
Computational Neuroengineering
Where Can I Work with a Neuroscience Degree?
While neurologists work in clinical settings, seeing patients, and overseeing medical interventions, neuroscientists are usually responsible for scientific research. They may spend their time gathering data in the field, running empirical experiments in the lab, and analyzing data in an office. They are also responsible for administrative tasks related to research, such as managing facilities, overseeing teams, presenting to peers, reviewing and writing for neuroscience journals, drafting research grants, and addressing the general public.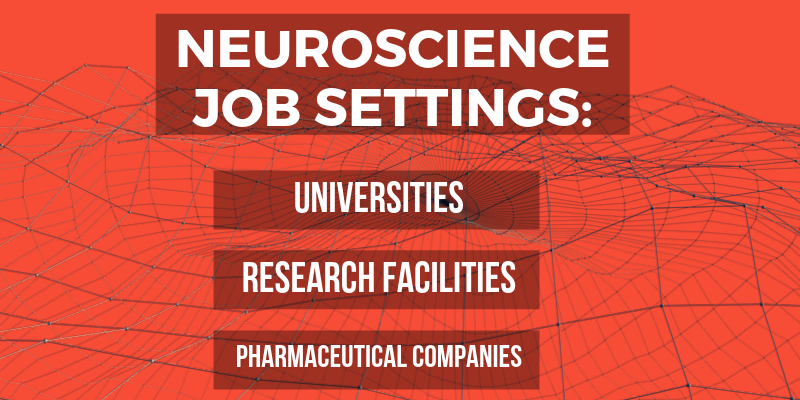 Your job duties may vary somewhat based on your job setting. For instance, university-based researchers are expected to regularly publish their findings in peer-reviewed journals, mentor students, and serve on committees. Researchers in government institutes may need to spend more time discussing research applications and communicating their findings to the public. Some of the most common job settings for neuroscientists are:
Pharmaceutical Companies such as those that make drugs to treat the symptoms of depression, schizophrenia, and ADHD. These companies want to understand how effectively their drugs work, how safe they are, and find new, better, and cheaper pharmaceuticals to treat brain and nervous system conditions.
Biotech Companies such as those that make drugs to treat multiple sclerosis (MS), ALS, and Alzheimer's through stem cell therapy, electroceuticals, and other biological processes. Biotech companies are also pioneering techniques for imaging, modeling, and developing brain implants. This is a rapidly-evolving field, with potentially lucrative salaries.
Government Institutes such as the National Institutes of Health (NIH), Environmental Protection Agency (EPA), and the Food and Drug Administration (FDA). Neuroscientists working for government institutes have the potential to improve many lives by shaping policy with their findings. Issues like the public impact of addiction and the best treatment for combat-related PTSD are especially important to neuroscientists at government institutes.
Universities including both public and private schools employ many neuroscientists as professors and researchers. Tenured neuroscience professors have a lot of attitude in their research, and are able to choose the topics and methods that interest them most to explore. They are also expected to instruct, supervise, and mentor students, to source funding, to perform academic departmental duties, and to regularly publish in peer-reviewed journals.
What is the Job Market with a Neuroscience Degree?
This is an excellent time to become a neuroscientist. An aging population, increased incidence of chronic diseases, rising rates of addiction and other disorders, a growing reliance on pharmaceuticals all mean that demand for neuroscientists is on the rise. And if you care deeply about breaking new ground, you can find a place in cutting-edge fields like optogenetics, electroceuticals, and deep neural imaging, where the pace of innovation is fast and always accelerating.
Little data is available on the specific job market for neuroscientists, in part because the role involves so many different job functions and job titles (such as lead researcher, neuroanatomist, computational neuroscientist, professor of neurobiology etc.). But the Bureau of Labor Statistics (BLS) has reported on the job market for medical scientists (a job category that includes neuroscientists, neurologists, and clinical medical researchers), and the outlook is good. The BLS has projected that jobs for medical scientists will grow by 8% from 2018 -2028, a faster rate than the national average for all occupations. And given the factors mentioned above that relate specifically to brain health, it's likely that the rate for neuroscientists, in particular, will even be a bit higher.
Most people who choose a neuroscience degree do so because they want to break new ground, push the limits of human understanding, and have a positive impact on the world. But a neuroscience degree means a good salary as well as rewarding work. The BLS reports that the overall average salary for medical scientists was $84,810 in 2018. Medical scientists working for pharmaceutical and medical manufacturing companies fared even better, earning $115,450 on average. Those who performed research and development earned $90,910. Since most neuroscientists work in one of these two areas, it's likely that the overall average salary for neuroscientists (as opposed to medical scientists in general) is closer to $100,000. ZipRecruiter's data aligns with this estimate; they report that the average salary for a neuroscientist is $115,833 annually.
Further Reading: