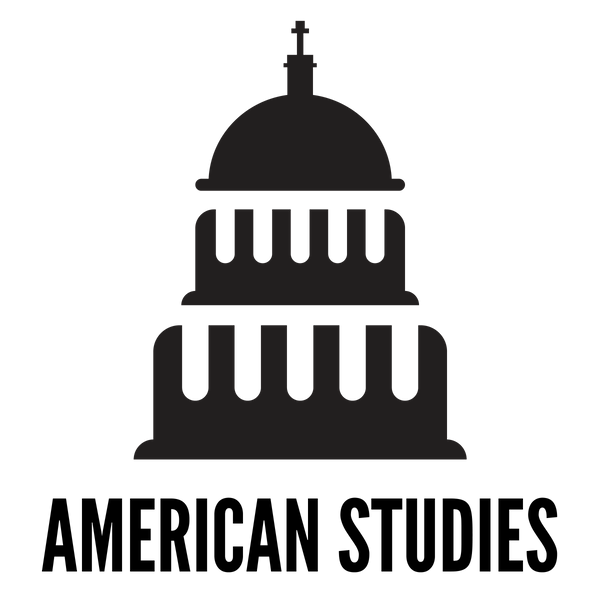 What is America? It's a nation like so many others, sure, but it's one with such a complicated and unique history, culture, and personality that you could truly spend a lifetime trying to define and understand it. As a matter of fact, some people do!
American Studies is an entire academic discipline devoted to deeply understanding the remarkable, troubled, and unique thing that is the United States of America, from its folklore and to its urban idioms and ideals, to its place in the modern world. Most of all, this field asks what American culture is all about and what it means to be an American. This interdisciplinary and big-picture thinking makes American Studies a truly broad and fascinating field. And it's one in which no question is too wild to ask. Scholars in American studies pose questions like "what would society be like if we had lost World War I?" or "How has fast food changed the way American families operate?" or even "What do zombie moves and shows tell us about American political fears?"
If you're a critical thinker who loves exploring narratives, perspectives, experiences, and histories from America's past and present, you may be considering a degree in American Studies. And like any American Studies scholar, you're probably considering the big picture- in this case, by asking, "what can I do with a degree in American Studies?" After all, this is not a degree with a clear-cut career path, or even a straightforward curriculum. Before you jump in, you'll want to answer questions like, "what jobs can I get with a degree in American Studies?" "What classes will I take for an American Studies Degree?" and "Can I earn a degree in American Studies Online?"
Our comprehensive guide to What Can I Do with an American Studies Degree? has answers to these and other relevant questions, all backed by the latest reports and statistics on the field. Read on to get oriented to one of the most unique and fascinating humanities fields out there.
Jump To:
DegreeQuery.com is an advertising-supported site. Featured or trusted partner programs and all school search, finder, or match results are for schools that compensate us. This compensation does not influence our school rankings, resource guides, or other editorially-independent information published on this site.
What is American Studies?
American Studies is often defined as an interdisciplinary field of scholarship which covers topics in American history, culture, and society. Scholarship in this area draws on the study of American history, literature, society, and critical theory, along with other research methods. American Studies concerns itself with questions of American identity, mythology, and values, both past and present. It views all of these through different lenses, including gender, ethnicity, politics, and class. As an interdisciplinary field, it incorporates studies in English, history, film history, music/art history, sociology, anthropology, and political science.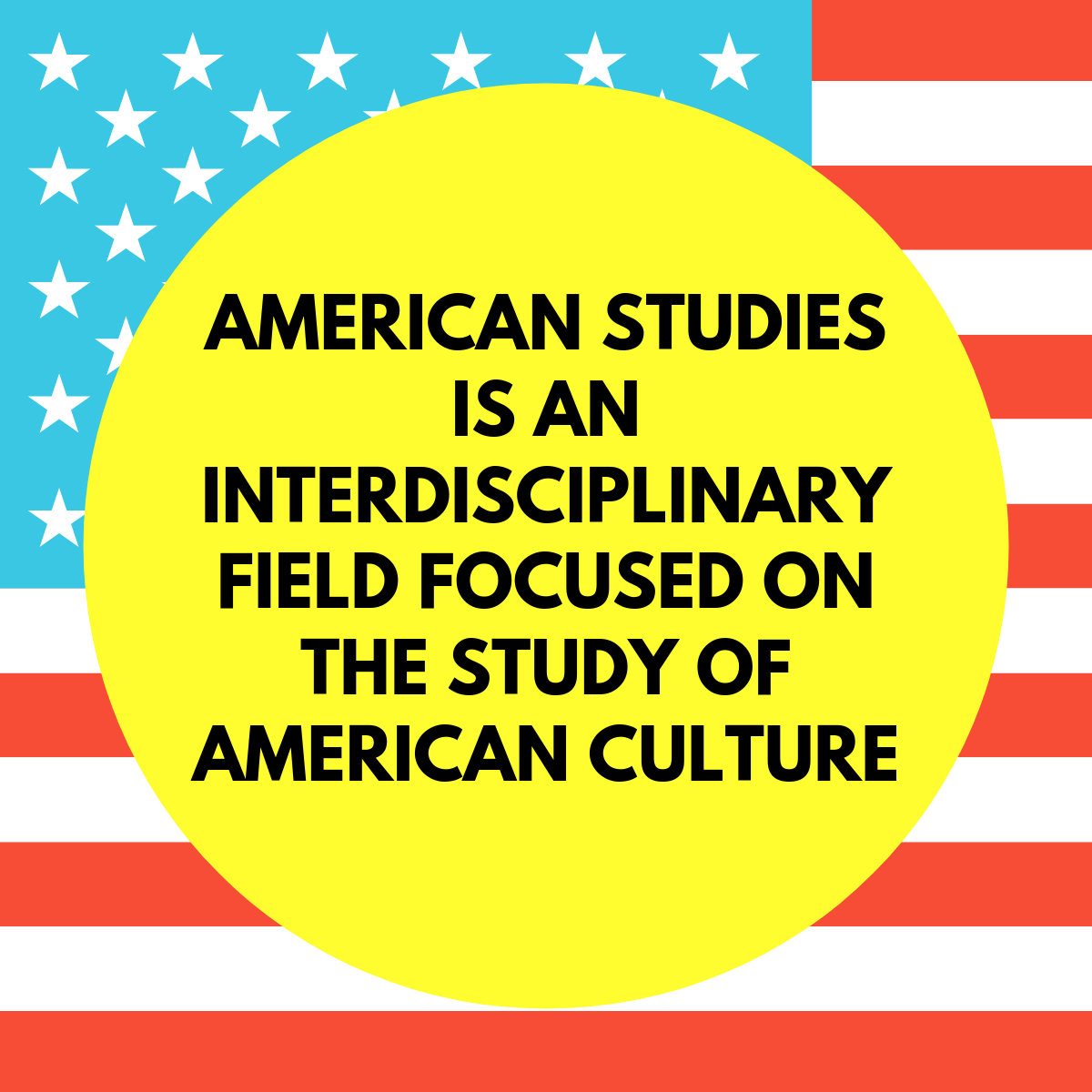 This discipline is one of the newest major fields in the humanities; the field of American Studies dates back less than 100 years. Vernon Louis Parrington is generally considered to have been the founder of American studies, with the publication of "Main Currents in American Thought." This large, three-volume treatise combined the methodologies of literary criticism and historical research and won him the 1928 Pulitzer Prize. His work inspired Henry Nash Smith to earn a Ph.D. through the interdisciplinary program at Harvard in "History and American Civilization," the first of its kind, in 1940. This set a precedent for the modern American Studies program, and thus, Nash and Parrington are considered to be the co-founders of Americans Studies as a discipline.
The field has evolved quite a bit since its (fairly recent) beginnings. Early scholars were focused on the recurring symbols in American literature, culture, and art that seemed to suggest a unique form of myth and imagination in the American experience. Later scholars moved away from this idea of "American Exceptionalism," or the idea that American occupies a special place in the world that is fundamentally different from other nations. Today's American Studies scholars are more interested in topics like the impact of race, gender and sexuality, and international and transnational concerns on the American experience and popular culture.
How is American Studies Different from American History or Sociology?
If you're interested in America and American culture, you may be wondering how American Studies differs from related academic disciplines. This is a common question with interdisciplinary fields, which draw on several areas at once to create a blended program.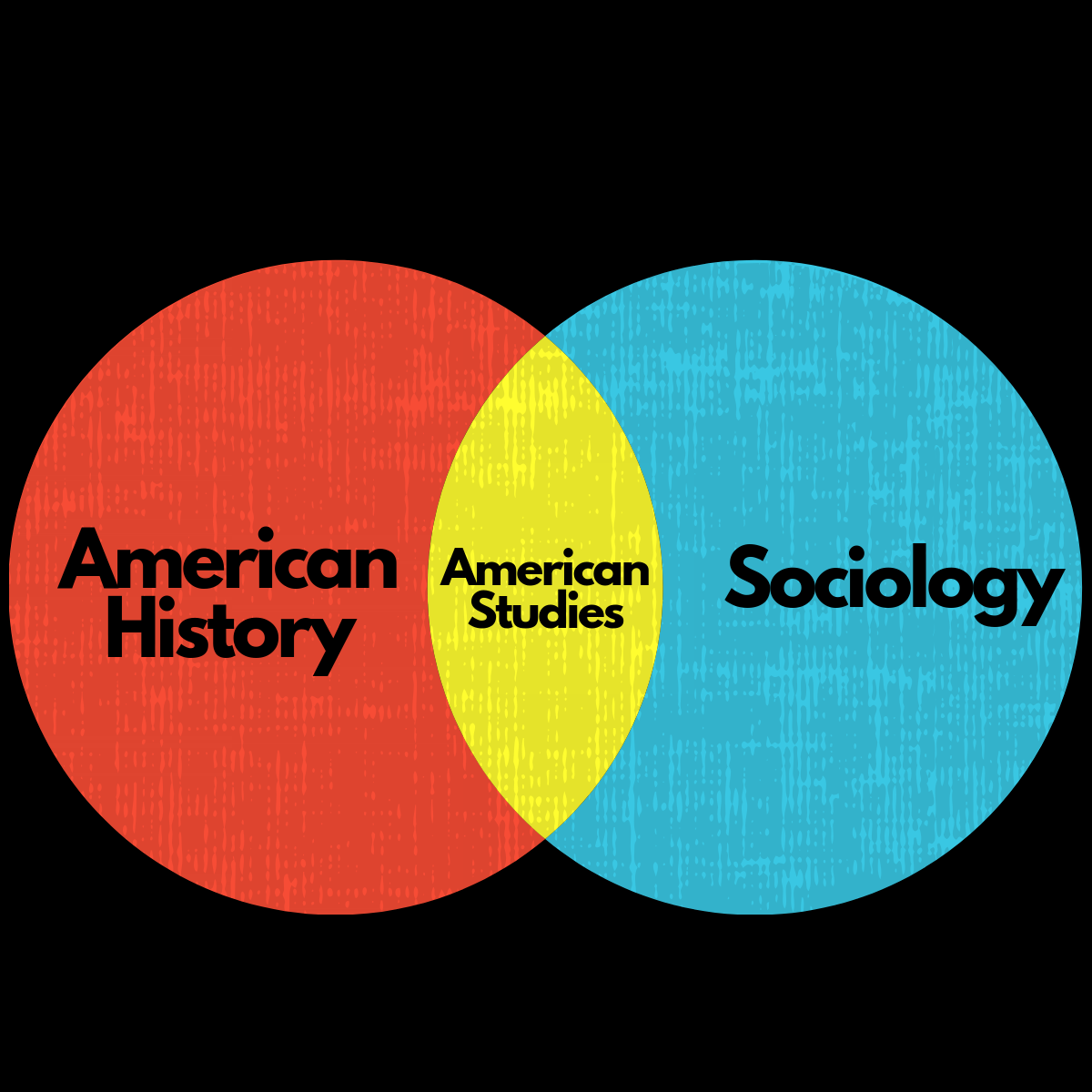 The fields most closely related to American Studies are American History and Sociology. American History, of course, looks back at the events that led to the nation's founding, and what has occurred between then and now. American history also asks about how past events have shaped the present day America and what the future may hold. Sociology is the study of society, including the behavior of communities, the impact of society on the individual, and the forces that shape the values and behaviors of groups. American Studies is focused on American culture, which, naturally, is shaped by the course of history and forces of American society.
American Studies can be seen as occupying the overlap between American History and sociology in America. But this field is more than a blend of these two disciplines- American Studies also draws on English, film/music/art history, anthropology, and political science. Within and related to the larger field of American Studies, there are also more specific areas like African-American Studies, Asian American Studies, Native American Studies, etc., that look more closely at the experiences of specific groups.
What Degrees in American Studies are There?
Over 300 US colleges and universities offer American Studies programs. As with most disciplines, you can earn a degree in American Studies at the associate's, bachelor's master's or PhD level. And, like a degree in Liberal Arts, an American Studies degree is blended and flexible, leading to careers like lawyer, librarian, business exec, journalist, researcher, curator, archivist, professor, and politician.
Needless to say, the degree level you choose to pursue will depend on your own priorities, resources, and goals. A higher degree will take more time and work to earn, and is a great fit if you're interested in work in academia. An undergraduate degree can be a step on your path to a graduate degree, or you can earn an undergraduate degree in American Studies as a way to enter the workforce with a well-rounded set of critical thinking and communication skills.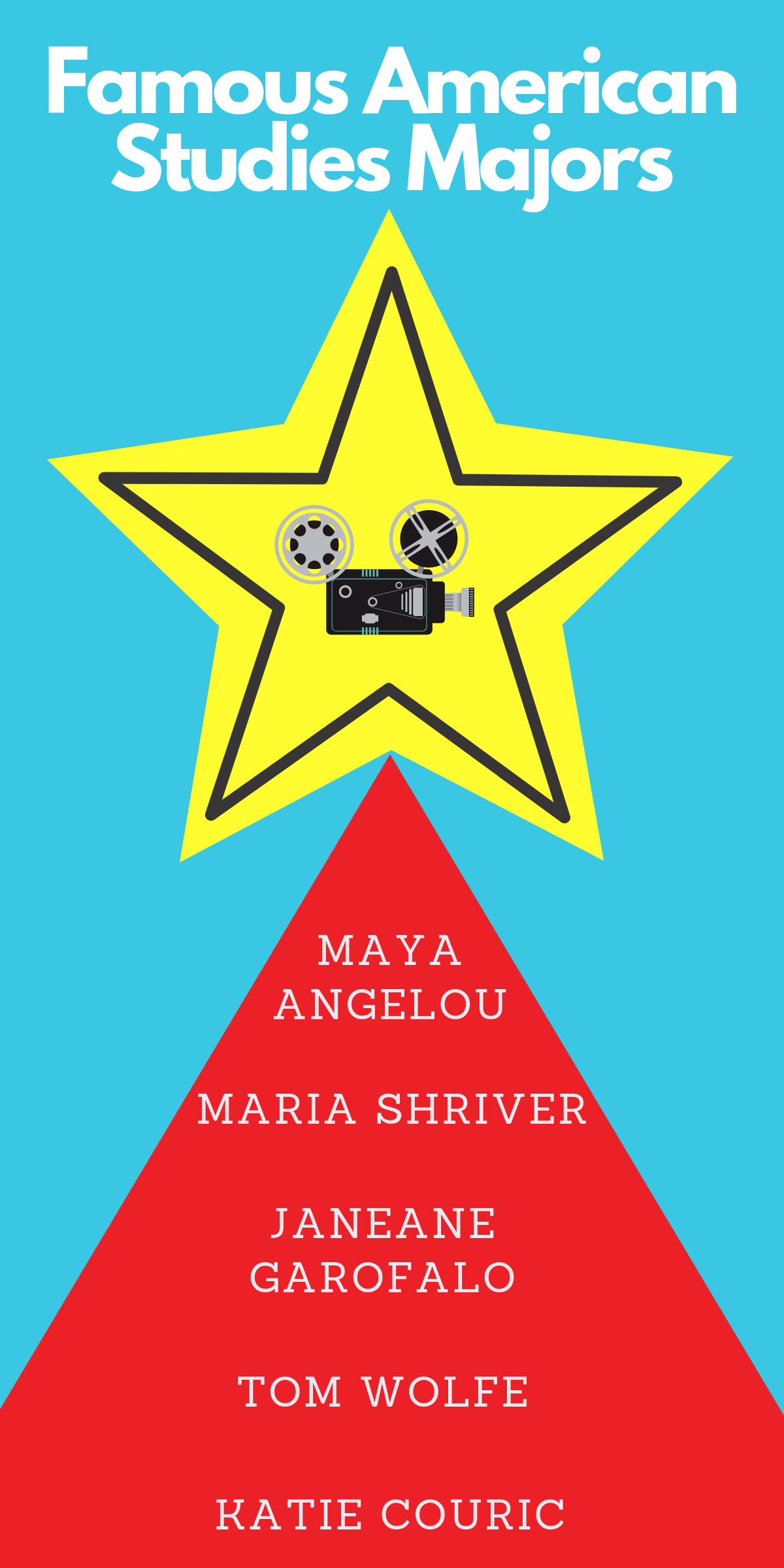 Quite a few notable public figures and celebrities have earned a degree in American Studies, from a bachelor's (Janeane Garofalo) to a PhD (Tom Wolf). The diversity of their high-profile careers goes to show just how flexible this degree can be. A few highlights include:
Janeane Garofalo (comedian and actress)
Maria Owings Shriver (activist and journalist)
Bill Ayers (theorist and activist)
Tom Pettit (news correspondent)
Maya Angelou (author and poet)
Tom Wolfe (author and critic)
Jennifer Beals (actress)
Katie Couric (news anchor)
Kay Hagen (US Senator)
Mary Chapin Carpenter (singer, songwriter)
John Sandford (mystery novelist)
What Classes Will I take for a Degree in American Studies?
Plenty of academic disciplines out there have their share of interesting classes. But it's truly hard to beat the selection of unusual, stimulating and just plain cool course titles you'll encounter in an American Studies Degree Program. That's because American Studies is all about looking at American Culture- from past to present, from refined to crass- through an academic lens. In an American Studies course catalog, you'll find many topics covering critical examination of ethnicity, pop culture, and everyday life in America. Of course, with such diverse and unique offerings, that means a lot of variety in classes exists between colleges, and new ones crop up frequently to address emerging issues.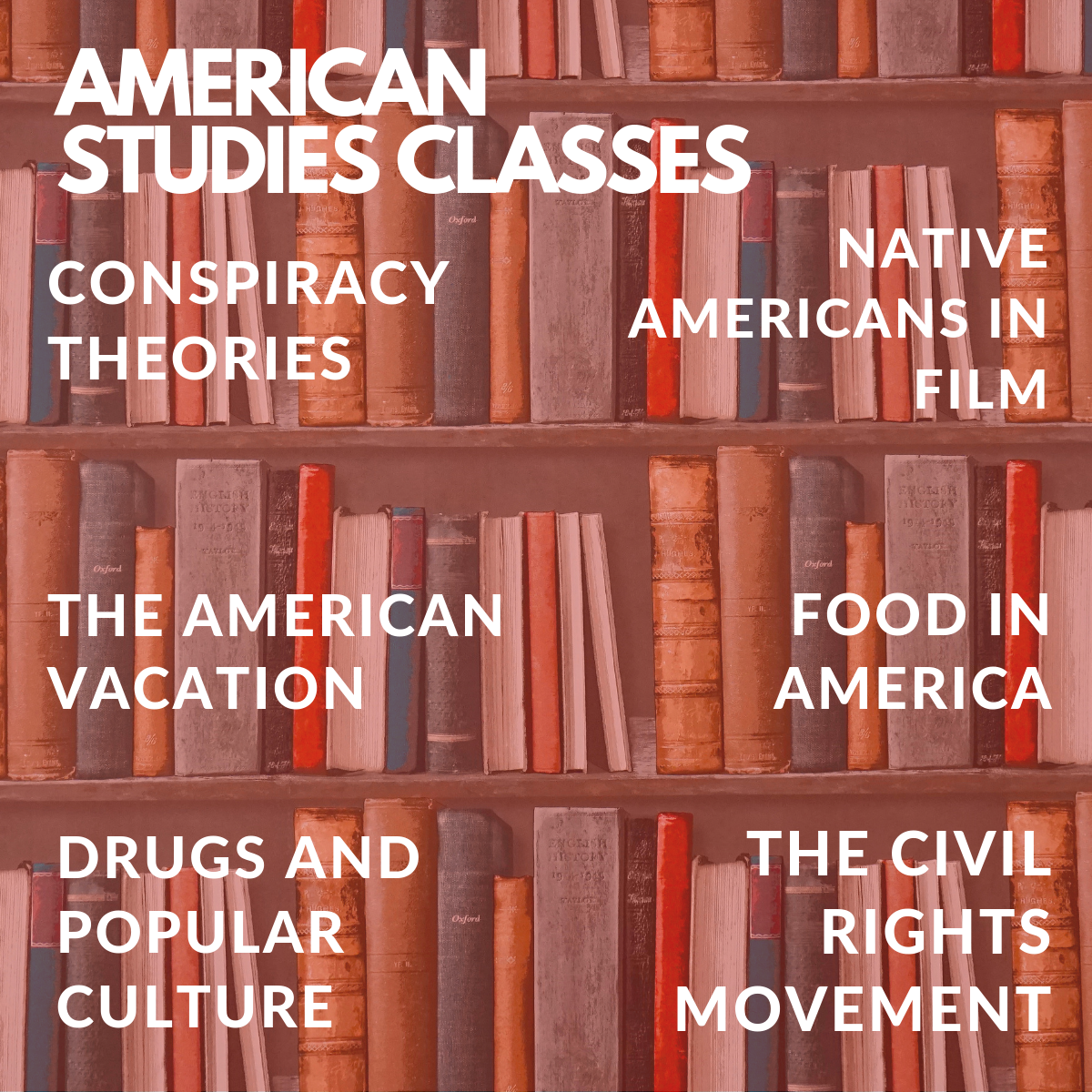 A few noteworthy Americans Studies classes offered at US colleges include:
Race, Class & American Film
Spoken Word & Slam Poetry
Queer Activism
The Zombie Films of George Romero
Black Public Intellectuals
Conspiracy Theories
Native Americans in Film
Disney in America
Black Popular Music
The American Vacation
American Political Humor
Sport and Inequality
Gothic America
The Civil Rights Movement
Drugs and Popular Culture
Baseball in America
What Will I Learn with an American Studies Degree?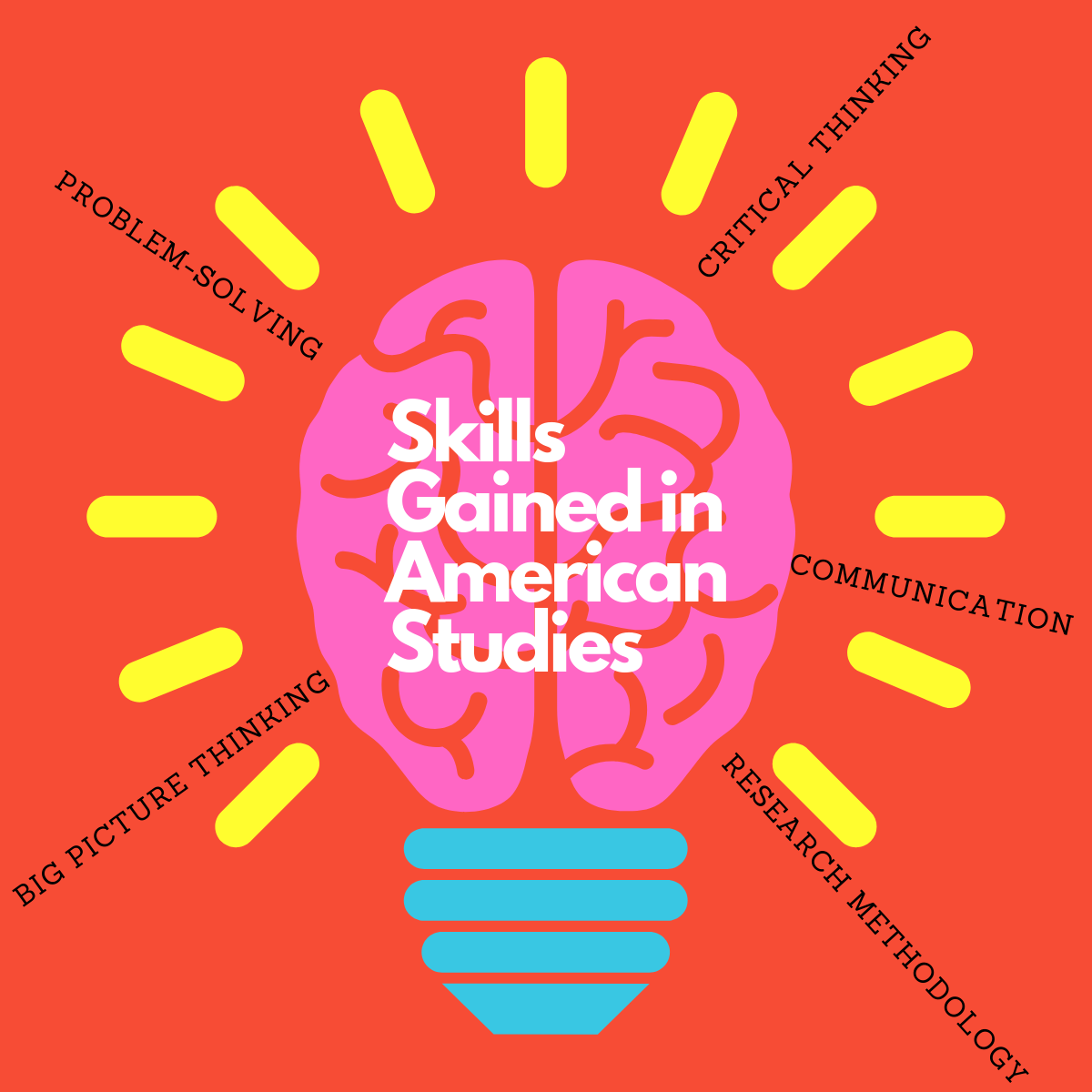 With all these diverse, fascinating, and sometimes fun classes, you may be wondering what you'll actually learn with a degree in American Studies. Don't worry- you won't just walk away from an American Studies degree program with a ton of trivia and facts about America. As a recent article in The Guardian noted, an American Studies degree program actually trains students in skills that have real-world and workplace relevance.
In an American Studies degree, you'll gain:
Critical thinking skills
Mastery of research methodology
Experience in solving complex problems
The ability to perceive the "big picture"
Clear communication
What Can I do with an Associate's in American Studies?
An associate's degree is best thought of as the starting point for an American Studies bachelor's degree. This two-year program provides a foundation in the basics of American Studies, with introductions to the fundamental theories and historical background of American Culture. An associate's degree is a stand-alone degree, but the credits earned in an associate's program can also be applied towards a bachelor's degree.
In fact, this is how most associate's degree students in the liberal arts and humanities (which includes American studies) choose to approach their educational path. Unlike an associate's in a professional field, such as dental hygiene, an associates in the humanities doesn't provide training in specific hard job skills. And while soft skills like communication and problem-solving have real workplace value, most employers are looking to hire job candidates with these skills for higher-level roles (such as management), and tend to prefer those with a bachelor's degree.
One reason to start your degree path with an associate's is to save money. You can earn an associate's degree at an affordable local community college, then transfer credits to a state or private university to complete a bachelors. Many community colleges even hold articulation agreements with local universities, which makes transferring credits relatively seamless.
What Can I do with a Bachelor's in American Studies?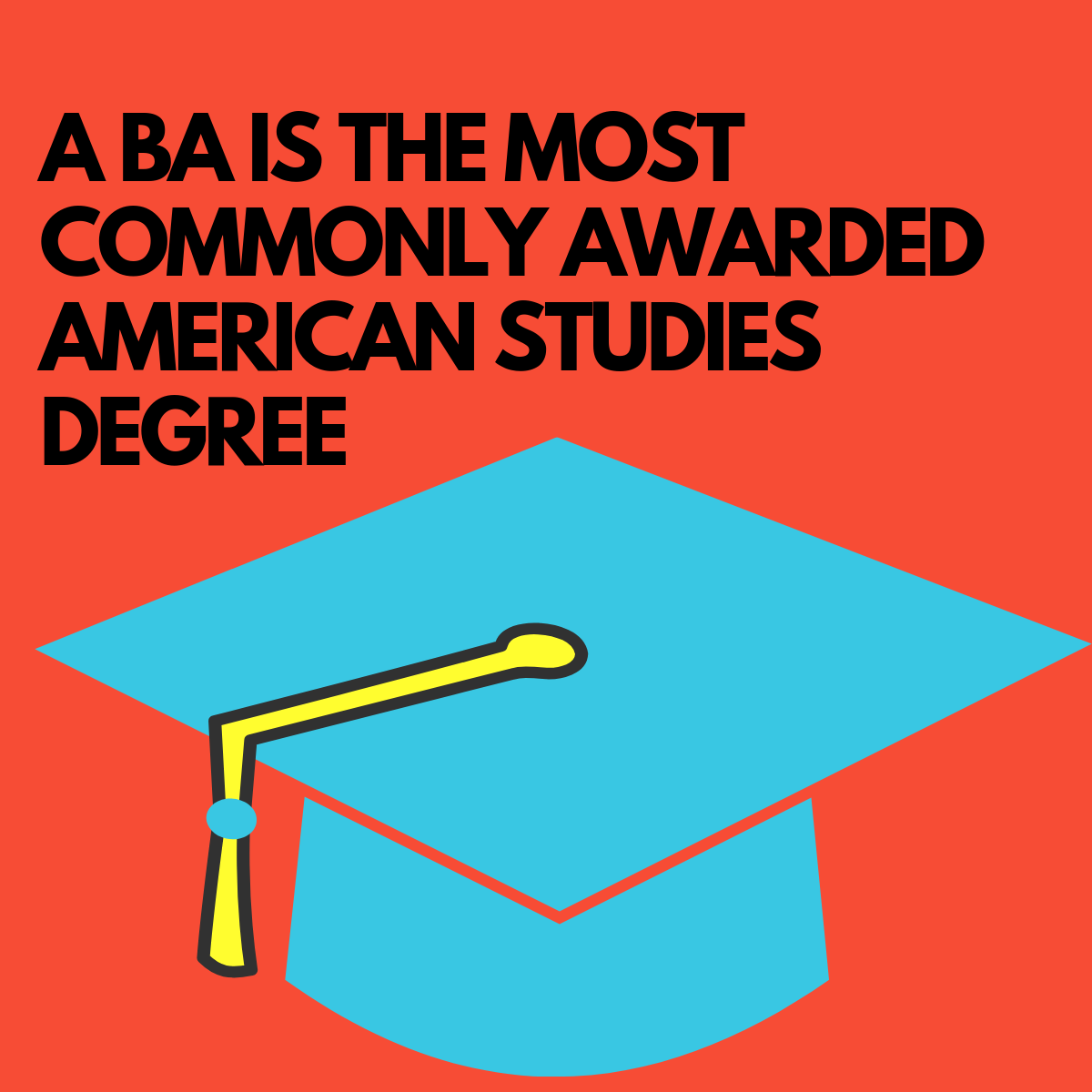 A bachelor of arts (BA) in American Studies provides a well-rounded general education, with an emphasis on American Studies. A bachelor of arts is a degree designed to produce well-rounded graduates who are knowledgeable about the world, and who are capable of strong communication, critical analysis, ethical decision-making, and collaboration. This degree includes a robust general education component- required classes in math, science, history, and language, along with classes selected from within the American Studies major.
To earn a bachelor's in American Studies, you'll generally need to complete 120 semester hour credits, which works out to around 40 college courses. This typically takes a total of four years (or two if you have already completed an associate's in American Studies). This pace will be slower if you're enrolled on a part-time basis, and may be faster if you're enrolled in an accelerated bachelor's program.
With a bachelor's in American Studies, you'll have the well-rounded knowledge base and soft skills required to excel in positions in media, marketing, political administration, and publishing. You'll also have the basis in communication, problem-solving, and collaboration required for positions in management.
What Can I do with a Master's in American Studies?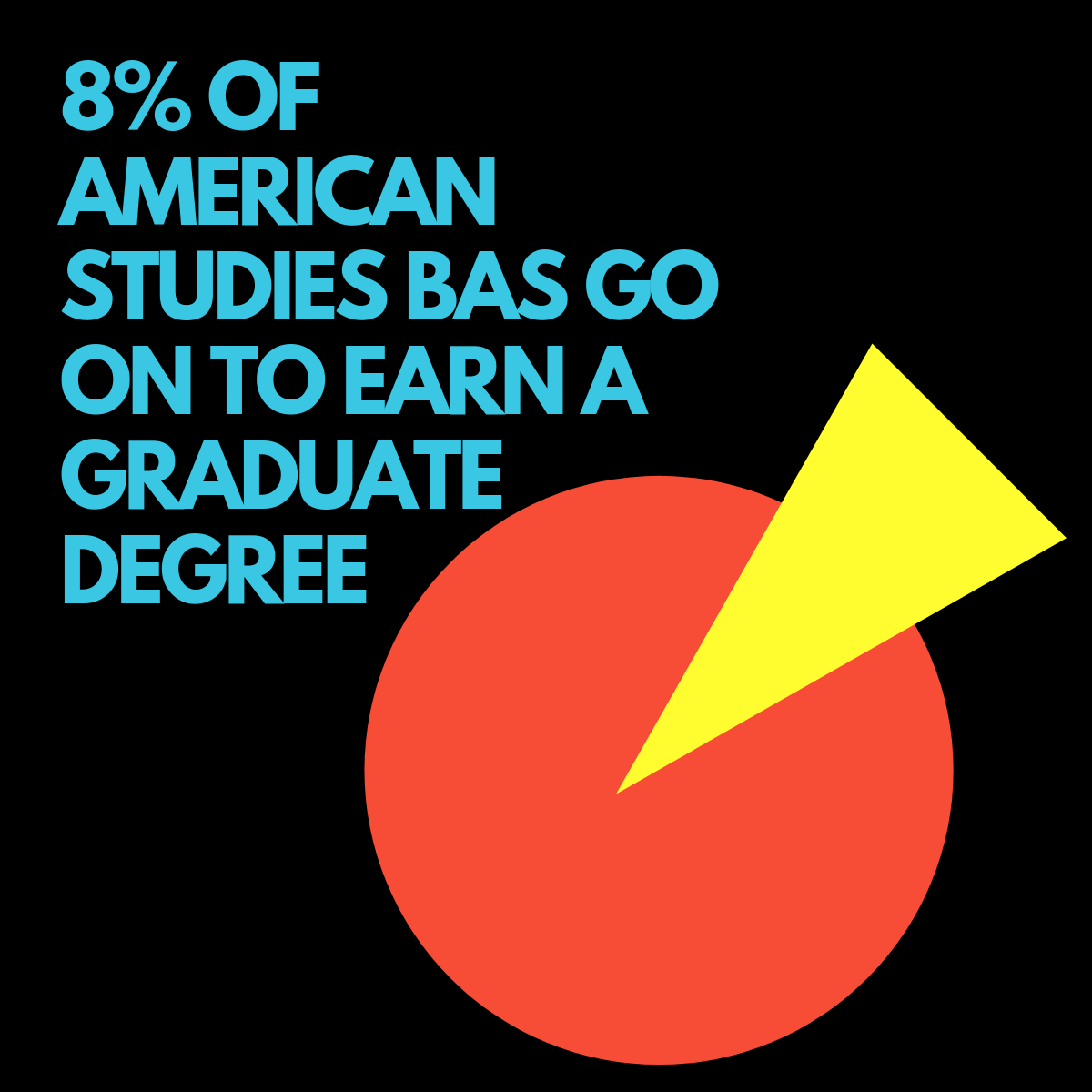 As The Guardian has noted, some 8% of American Studies graduates went on to pursue higher education degrees in 2009. Of these, the majority chose to study full time, while 2% opted for a teaching qualification and 6.5% combined paid working with studying. A master's degree in American Studies is an excellent choice for those who want to refine their knowledge, specialize in a particular topic, or eventually move into academia.
To earn a master's degree in American Studies, you'll need to hold a bachelors degree, though it need not be in the field of American Studies, and a related bachelor's like humanities, communication, or history would be perfectly fine. It typically takes two years to earn a master's degree on a full-time basis. For a master's in American Studies, you'll have no general education requirements, and will focus solely on topics in the discipline. You'll be required to complete a research-based thesis and may have the option to specialize in a particular area of emphasis, such as African American Music or Appalachian folklore.
With a master's degree in American Studies, you'll be well-qualified for higher-level positions within fields like publishing, broadcasting, advertising, banking, and librarianship. A master's degree will also allow you to teach at the elementary, secondary, or post-secondary level as an associate professor.
What Can I do with a PhD in American Studies?
If you ask most people "what can I do with a degree in American Studies?" their answer will be "Teach American Studies!" As we've shown, there's a lot more to the field than that, but there's a nugget of truth in this punch line as well. Plenty of people do earn an American Studies degree because they want to teach in this field. To teach American Studies at the college level, you'll really want to earn an American Studies PhD.
A PhD is a terminal degree- you can't earn anything higher. This degree is required for positions in research and academic, and is the standard for tenure-track positions as an Ameri can Studies professor. This is a rarefied field, of course- there simply aren't a lot of job openings for university-level American Studies instructors, and you may have to wait around a while for one to open up. In the meantime, you can teach as an associate professor, or in an "alternative academic" career, such as administration, museums, non-profits, and government positions, and sites such as The Versatile PhD offer graduates in this position resources for alternative academic careers.
Can I Earn a Degree in American Studies Online?
It's possible, and practical, to earn an American Studies degree through online classes. Most students who choose to follow this degree path opt for a bachelor's in American Studies, and earn theirs while working part-time or full-time. An online American Studies degree is an excellent choice for those with work or family obligations who are looking to avoid spending their limited time on commuting and who would like to complete their courses on a flexible schedule. Most online degrees offer course content through asynchronous (on-demand_ course models like recorded lectures, along with some scheduled components like video conferences, live chats, and group collaborations.
Another common reason to opt for an online American Studies degree is simply availability. Unlike say, English or Nursing, not every school offers American Studies, or has a strong American Studies Department. If you are interested majoring in the subject but live an area where the local school doesn't offer American Studies, you'll need to choose between selecting a different major, relocating, or selecting an online American Studies Degree.
What Jobs Can I Get with a Degree in American Studies?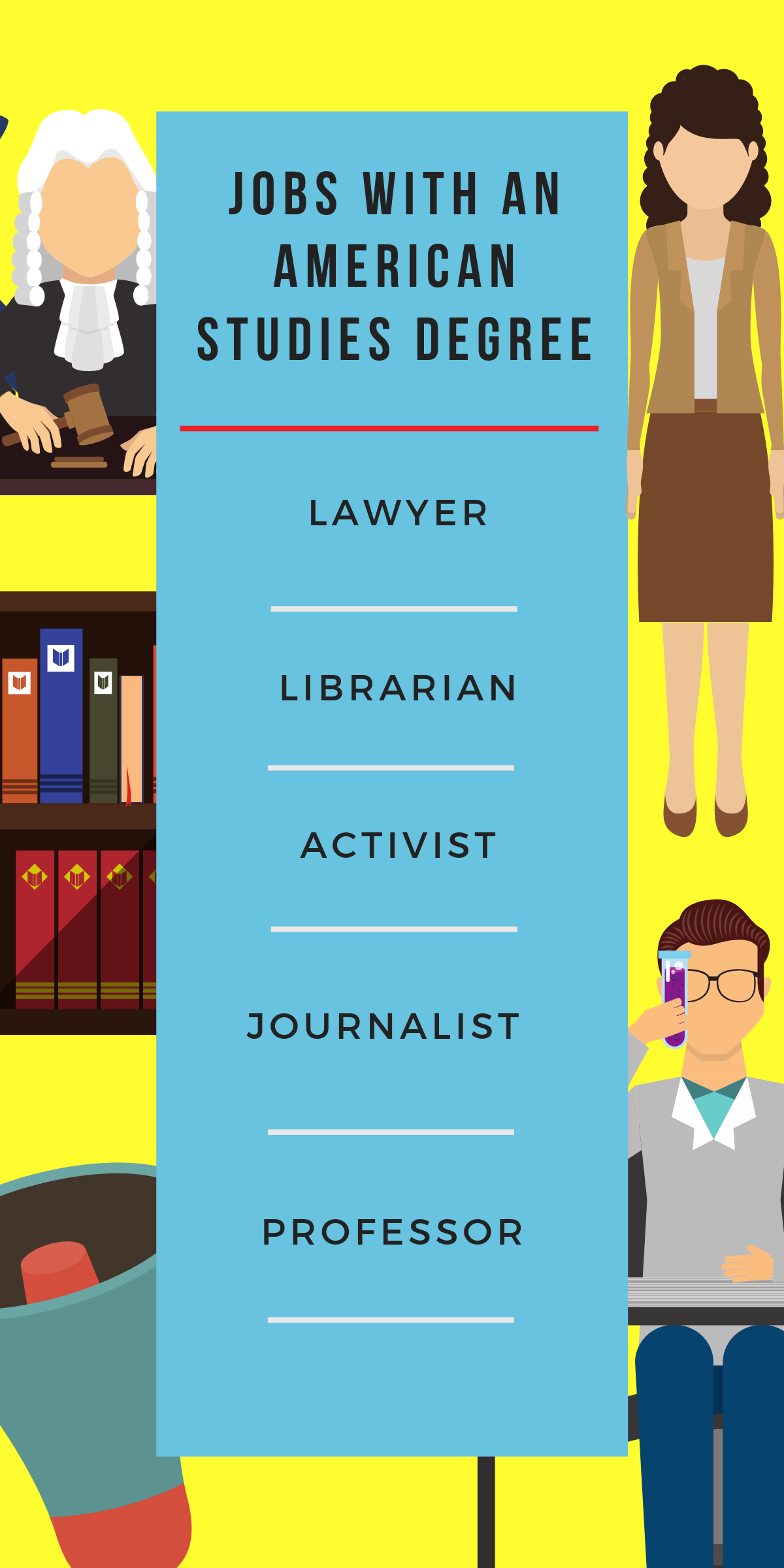 In a professional degree program, it's easy to tell what you'll be doing once you graduate. You may gain a certification or licensure that makes your skills easy to market, or even get a job through a school internship. But a degree in American Studies is less about providing students with job-ready skills and more about preparing them to be well-rounded thinkers and problem solvers. Fortunately, there are plenty of jobs that require those abilities, and these span a broad spectrum.
Jobs associated with an American Studies degree include:
lawyer
librarian
business executive
journalist
researcher
curator
archivist
fundraiser
teacher
college professor
nonprofit
entrepreneur
activist
diplomat
politician
In fact, the majority of those with an American Studies degree work in a related area like journalism, law or publishing, rather than in the American Studies field itself. This is the case for most liberal arts degrees, which are flexible by design. If you're curious about current openings in the field that are specific to American Studies, The American Studies Association maintains a resource page for opportunities and jobs with a degree in American studies.
With this degree, changing between fields may also be easier than if you've earned a more technical degree, since your highly-developed soft skills like communication and critical thinking have broader applications. With this degree, you can find work in settings as diverse as:
university
library
museum
news journal or network
publishing entity
private business
non-profit organization
government agency
In short, an American Studies Degree offers a broad range of options, but no clear-cut career path. And you may find that you'll need to help connect the dots for potential employers, helping them to understand how your American Studies degree program has taught you workplace-relevant skills. Depending on your perspective and how much structure you want from your degree, this open-ended quality can be a serious drawback, or a liberating and attractive feature of an American Studies degree.
Further Reading: