Can online classes prepare you for high-paying jobs? In many cases, yes, an online education can prove highly profitable. The trick to making your online degree financially worthwhile is choosing a degree program that puts you on the path to a high-paying career. Majoring in subjects that have traditionally been less likely to lead to lucrative occupations will limit your earning potential, but there are plenty of online majors – particularly in technical and business fields – that commonly lead to well-paying careers.
DegreeQuery.com is an advertising-supported site. Featured or trusted partner programs and all school search, finder, or match results are for schools that compensate us. This compensation does not influence our school rankings, resource guides, or other editorially-independent information published on this site.
What to Know About Online Degree Programs
The first thing you should know about pursuing a college degree online is that, while convenient, online courses aren't "easy." Students of legitimate, accredited online colleges need to meet the same sorts of admission and graduation requirements as students attending classes on campus.
For example, you need a high school diploma or a GED to be accepted into most online programs. In the best online degree programs, you will take the same rigorous coursework as on-campus students take. The only difference is that you complete your coursework in an online format, often on your own schedule and from anywhere in the world.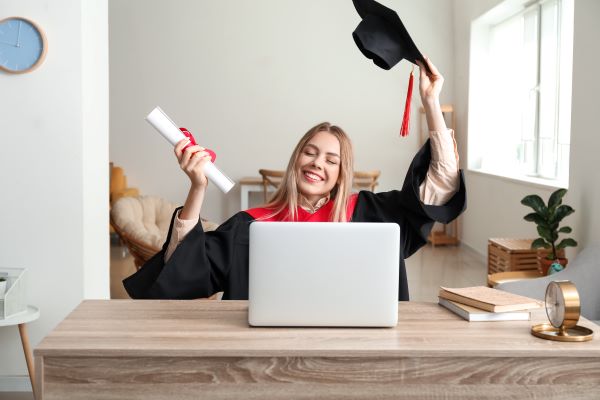 Another fact students should be aware of is that online learning isn't always cheaper than studying on campus. Tuition for online degree programs certainly can be cheaper, especially if you are looking at institutions where you will be charged a higher out-of-state tuition rate. However, that's not always the case. For many online students, the biggest source of savings isn't the direct cost of tuition and fees but rather not having to live on campus or commute to school.
Finally, prospective online students need to be particularly vigilant about choosing accredited schools and programs to avoid investing their time and money in a degree that turns out to be worthless. Students should look for colleges and universities that are accredited by one of the seven regional accrediting organizations recognized by the Council for Higher Education Accreditation (CHEA):
The Accrediting Commission for Community and Junior Colleges (ACCJC) Western Association of Schools and Colleges

The Higher Learning Commission (HLC)

The New England Commission of Higher Education (NECHE)

The Middle States Commission on Higher Education (MSCHE)

The Northwest Commission on Colleges and Universities (NWCCU)

The Southern Association of Colleges and Schools Commission on Colleges (SACSCOC)

The WASC Senior College and University Commission (WSCUC)
Aside from the regional accreditation status of the school as a whole, students should consider programmatic accreditation, or accreditation of individual degree programs. Programmatic accreditation is particularly important for degrees in certain subjects.
For example, students pursuing a degree in any branch of engineering should ideally choose a program accredited by ABET, the Accreditation Board for Engineering and Technology. Earning an engineering degree from a program that isn't ABET-accredited may prevent you from getting licensed later in your career. On the other hand, programmatic accreditation in degree programs that typically don't lead to licensure is nice to have – because it demonstrates that the program meets high standards set by external organizations – but is less critical.
How Much Money Can Graduates of Online Programs Earn?
It's true that virtually all of the highest-paying occupations in America, according to the United States Bureau of Labor Statistics (BLS), require more than a typical, fully online education. That's because the vast majority of the most lucrative jobs in America are medical doctors in different areas of specialty or jobs – like nurse anesthetist or airline pilot – that otherwise require extensive clinical or hands-on training.
There are currently no fully online medical (MD or DO) degree programs that lead to licensure in the United States. While there are online degree programs in nurse anesthesia and aviation, these programs include a great deal of hands-on experience – clinical hours and flight hours – that you must complete in person.
RELATED: What Is the Difference Between an Anesthesiologist vs Nurse Anesthetist?
Still, online degree programs can put students on the path to a diverse array of lucrative jobs, many of which are in high demand. Some graduates of online degree programs even go on to eventually make upwards of six figures, and many earn salaries equal to or above the median annual salary for all occupations across the United States.
If you want to maximize your earning potential with an online education, you need to think carefully about your choice of college major. Certain programs of study are both closely connected to high-paying jobs and easily transferrable to online learning practices. These programs are the best online degrees to consider when it comes to salary potential.
What Are the 20 Highest-Paying Online Degrees?
Generally speaking, the highest-paying online degree programs tend to fit into either the field of business or STEM (science, technology, engineering and mathematics) subjects that don't require a great deal of clinical experience. Management positions offer particularly high earning potential.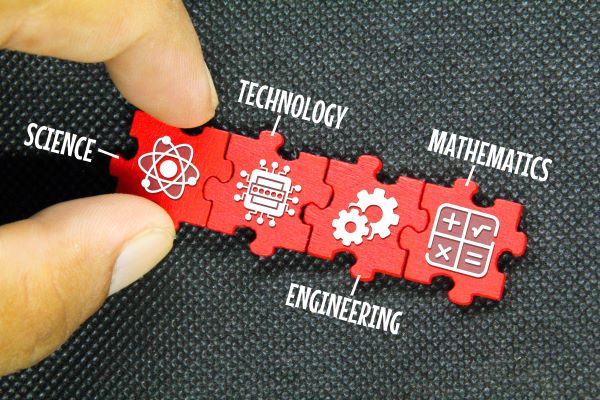 While most of the highest-paid positions you can get with online degrees require at least a bachelor's degree, if not a master's degree, some online programs at the associate's degree level can also offer exceptional earning potential.
Below are 20 of the online programs with the highest earning potential.
1. Management Science
The more responsibility you hold in an organization, the higher your earning potential. As such, management skills are particularly valuable if you want to boost your salary. A degree in management science will prepare you for a breadth of different management positions.
These leadership-focused degrees can help you move up in the world of business administration or build upon your skills in another technical or specialized area so that you can take on a management role within your field. Coursework in master's degree programs in management science commonly includes:
organizational leadership in business operations and operations management
methods of business analytics and data analysis
Some master's degree programs in management science are more STEM-oriented, while others focus on business leadership skills more generally.
A master's degree in management science can help you move into management positions of all kinds. Management roles in different occupations each have their own sets of distinct job duties and corresponding earning potential. In general, though, management occupations as a whole had the highest median annual salary of all occupational groups in 2021, according to the Bureau of Labor Statistics (BLS). The median salary for all management roles amounted to $102,450.
The more senior or more specialized your role in management, the greater your earning potential. One less specialized – yet lucrative – group of management roles to look at is top executive, which according to the BLS encompasses both chief executives and operations managers.
In an operations or general manager position, you will typically focus more on the routine leadership and administration tasks that keep your organization running productively. Chief executive roles tend to involve more focus on strategic planning and determining the larger direction of the organization.
High-Paying Jobs With This Online Degree: Operations managers, general managers, chief executives, STEM managers and top executives
Median Earning Potential: $97,970 (for general and operations managers) to $179,520 (for chief executives)
2. Computer Science
If you've got strong computer skills or an interest in computer technology, you're in luck. Several of the most lucrative jobs available to online college graduates are roles in the computer science or information technology field.
Computer science is a broad field related to computer technology that encompasses the theory, design and development of computers and computer programs. Online students of computer science focus more on computational theory than their peers in related areas like computer engineering and more on the design of networks, operating systems and software programs than their peers in the computer information technology or computer information systems fields.
Online degrees in computer science and related fields of study exist at both the bachelor's degree and master's degree levels. Among the areas you might study when pursuing online degrees in computer science are:
algorithms
computer programming languages
artificial intelligence
software development
computer systems and networks
cybersecurity
databases
numerical data analysis
RELATED: What Is the Benefit of a Degree in Cybersecurity vs. Network Security?
The median annual salary the Bureau of Labor Statistics (BLS) reported for jobs in the computer and information technology field as of 2022 was $85,000.
Computer science management positions are some of the highest-paying roles you can get with this online degree. For computer and information systems managers, the BLS reported a median annual salary of $159,010 as of 2021.
It isn't only management roles in computer science that pay well. Jobs that require strong analytical skills, too, tend to be lucrative. For example, the median salary the BLS reported for the computer systems analyst occupation as of 2021 was just barely shy of the six-figure range.
A computer systems analyst typically performs more analytical and technical work than professionals in computer and information systems management roles, whose work more commonly emphasizes managing computer-related projects and overseeing an organization's computer technology workforce.
High-Paying Jobs With This Online Degree: Computer systems analysts, chief technology officers and other computer and information systems managers
Median Earning Potential: $99,270 (for computer systems analysts) to $159,010 (for computer and information systems managers)
3. Computer Information Technology
If you're more interested in the practical applications of computer technology than the theoretical underpinnings of computer science, information technology (IT) may be a better fit for you.
Work in the field of information technology tends to emphasize the selection, installation and troubleshooting of existing computer technologies for practical purposes. As a computer information technology professional, you're likely to be involved in setting up and configuring computer networks and systems to meet an organization's technological needs rather than designing new hardware components or software programs yourself.
RELATED: What Degree Do I Need to Be a Computer Technician?
If you want to focus your online education more narrowly, you might consider majoring in computer information systems rather than information technology. Computer information systems emphasizes the use of computer technology for business purposes. Online degree programs in computer information systems management typically include more business coursework along with coursework in computers and information systems.
This background, like a degree in computer science, can prepare students to eventually advance to high-level management roles with lucrative median salaries. Earning potential for non-management roles in this field is still high, although perhaps not as high as roles that fit under the domain of computer science. For the job of computer systems administrator, for example, the BLS reported a median salary in the $80,000 range.
High-Paying Jobs With This Online Degree: Computer systems administrators, IT directors, chief information officers, and other types of computer and information systems managers
Median Earning Potential: $80,600 (for network and computer systems administrators) to $159,010 for IT directors, chief information officers and other types of computer and information systems managers
4. Computer Engineering
Another field with a great deal of overlap with computer science is computer engineering, which is essentially the application of engineering design principles to computer systems. Computer engineers design and develop computer hardware (physical components) and software (programs). Although their designs are informed by the principles and practices of math and science, computer engineers focus less on theory and more on practical design applications.
In a computer engineering online bachelor's degree program, students will typically complete core coursework in general engineering as well as classes more specific to their major. Computer engineering is a subfield within electrical and electronics engineering.
Many online degree programs in computer engineering introduce students to the principles and practices of both computer hardware engineering and software engineering. Students interested in computer hardware engineering would pursue more coursework in areas like:
computer hardware
computer architecture
microprocessor systems
circuit boards and other components
For students interested in software engineering, courses in common computer programming languages and writing computer algorithms, including the programming of artificial intelligence software, are more relevant.
Both hardware engineering and software development are lucrative fields, although skilled hardware engineers report a slightly higher median annual salary than software engineering professionals, according to data from the BLS.
High-Paying Jobs With This Online Degree: Computer software developer, software engineer and computer hardware engineer
Median Earning Potential: $120,730 (for computer software engineers and developers) to $128,170 (for computer hardware engineers)
5. Electrical and Electronics Engineering
Computers are far from the only aspects of electrical and electronics engineering that you can pursue through an online program. The field of electrical engineering encompasses computers and much more, from electric motors and power generation equipment to communications equipment and navigation equipment.
In electrical and electronics engineering degree programs, students complete courses in information and signals, the foundations and applications of electric and electronic circuits and digital logic design. Often, students pursuing an online bachelor's degree in electrical and electronics engineering have the opportunity to focus on a specific area of application, such as:
energy, optics and photonics
electronic devices
security
privacy
circuits and systems
Electrical and electronics engineering is a lucrative branch of engineering, with a median salary at or above the $100,000 mark for engineers who hold at least a bachelor's degree. Even at the associate's degree level, an online degree program in electrical engineering can offer considerable earning potential.
RELATED: Top 10 Paying Jobs With an Associate's Degree
An associate's degree in electrical engineering technology can qualify you to work as an electrical and electronic engineering technologist or technician. The median annual salary for electrical and electronic engineering technologists and technicians in 2021 was $63,640, the BLS reported. That's a considerable increase over the $963 per week, or $50,076 per year, that the BLS reported as the median earnings for American workers with only an associate's degree.
High-Paying Jobs With This Online Degree: Electrical engineering technicians or technologists, electrical engineers and electronics engineers
Median Earning Potential: $63,640 (for electrical engineering technician or technologist) to $100,420 (for electrical engineers) and $104,820 (for electronics engineers)
6. Petroleum Engineering
A non-management median salary of over $130 with only a bachelor's degree? It may sound too good to be true, but that's what you can expect when you leverage your online college education to become a petroleum engineer.
As the name suggests, petroleum engineers apply science-based principles of engineering design to the petroleum industry, and particularly to safely and efficiently extracting oil and gas deposits from the Earth. Some of the common jobs in petroleum engineering, according to the BLS, include:
drilling engineers
completions engineers
production engineers
reservoir engineers
In an online program in petroleum engineering, students learn about the properties of reservoir rock and petroleum fluid and the practices of logging, testing and completing the construction of wells. Lecture and laboratory work, which may be done online using simulators, allow students to grasp the principles and practices of drilling engineering, production engineering and reservoir engineering.
High-Paying Jobs With This Online Degree: Petroleum engineers
Median Earning Potential: $130,850 (for petroleum engineers) to $165,480 (for petroleum engineers working in management)
7. Aerospace Engineering
Online programs in aerospace engineering, the application of engineering design principles to aircraft and spacecraft, are more popular at the master's degree level than the bachelor's degree level. Depending on which aspect of the field a student chooses to pursue after they complete their undergraduate degree, they may become aeronautical engineers, who design aircraft and related components, or astronautical engineers, who design spacecraft.
Students pursuing a master's degree in aerospace engineering take courses in flight dynamics, rocket propulsion, orbital mechanics, space systems and airfoil and wing theory. They also build on their existing knowledge of mechanics and dynamics acquired during their undergraduate studies with intermediate to advanced coursework in fluid mechanics, dynamics and quantum mechanics.
With a median annual salary above $120,000, according to the BLS, aerospace engineering is among the highest-paying engineering fields. If your goal is to take online courses that allow you to make six figures even without advancing to a management role, aerospace engineering could be the degree for you.
High-Paying Jobs With This Online Degree: Aerospace engineer
Median Earning Potential: $122,270 (for aerospace engineers overall) to $128,020 (for aerospace engineers working in scientific research and development)
8. Chemical Engineering
Another engineering discipline with a median annual salary in the six-figure range, according to the BLS, is chemical engineering. Chemical engineers apply engineering principles to solutions and innovations that pertain to chemicals – materials, processes, manufacturing equipment, safe operations procedures for facilities and more.
Many online programs for chemical engineers are offered at the graduate level as an opportunity for working professionals in the field to develop advanced skills. Online students pursuing a master's degree in chemical engineering will commonly take classes in areas like:
chemical engineering analysis
biochemical engineering
advanced transport phenomena
advanced thermodynamics
chemical reaction engineering
chemical engineering process modeling
bioseparations
polymer science
materials processing
A few colleges and universities offer online undergraduate degrees in chemical engineering. In an online bachelor's degree program in chemical engineering, students can expect to complete core engineering studies, general education coursework and major-specific classes in this discipline of engineering. Major coursework for aspiring chemical engineers may include:
fundamentals of chemical engineering
chemical product design
chemical engineering thermodynamics
chemical engineering reactor design
transport phenomena
process dynamics and control
experimental design
Students should be aware that some online bachelor's degree programs in chemical engineering require on-campus laboratory work – typically condensed into a short residency period of one to two weeks during the summer – even if the rest of the coursework is conducted online. For example, three major-specific laboratory courses in the University of North Dakota's online Bachelor of Science in chemical engineering program must be completed in person, while other laboratory coursework may be completed online.
High-Paying Jobs With This Online Degree: Chemical engineers
Median Earning Potential: $105,550 (for chemical engineers overall) to $152,430 (for chemical engineers working in the engineering services industry)
9. Biomedical Engineering
Taking online classes in biomedical engineering can prepare you to make a difference and a near-six-figure median salary. Biomedical engineers apply engineering principles – including the principles of all major engineering disciplines, from chemical and electrical to mechanical – to the development of healthcare solutions and innovations.
RELATED: Highest Paying Jobs With a Biology Degree – Degrees in Biology – Majors & Careers
As you might expect, skilled biomedical engineers – and their life-changing and often life-saving breakthroughs – are in high demand. The BLS predicts that job opportunities for bioengineers and biomedical engineers will grow by a faster than average rate of 10% between 2021 and 2031.
Online bachelor's degree programs in biomedical engineering are interdisciplinary programs that bring together foundational coursework in areas like:
electrical engineering
mechanical engineering
chemical engineering
Also, specialized coursework in:
biomedical engineering problems
biomedical instrumentation
biochemical engineering
biomaterials processing
biomedical imaging
High-Paying Jobs With This Online Degree: Biomedical engineer
Median Earning Potential: $97,410 (for chemical engineers overall) to $108,690 (for chemical engineers working in the electromedical instruments manufacturing industry)
10. Engineering Management
Engineering roles as a whole are lucrative, but the highest-paying engineering careers are in the field of engineering management. Engineering managers earned a median annual salary above $150,000 as of 2021, according to the BLS. Engineering managers work in all disciplines of engineering, performing job duties such as project management and planning, hiring and supervising engineers and taking projects from concept to completion.
Online degrees in engineering management are most commonly found at the graduate level. Although you can become an engineering manager with only a bachelor's degree, you also need considerable work experience as an established engineer. Becoming an engineer in the first place requires a bachelor's degree in some discipline of engineering, so online students in an engineering management program typically already have a bachelor's degree.
In online master's degree programs in engineering management, students take classes in:
engineering decision-making
engineering economics
strategic risk management
project management
facilities management
systems in engineering management
skills for managing engineering teams
engineering law and ethics
Notably, unlike a Master of Science (MS) degree in any branch of engineering, the focus of a Master of Engineering Management (MEM) degree is less on developing technical skills and more on cultivating the skills and knowledge needed to successfully manage people and projects in the technical area of engineering design.
High-Paying Jobs With This Online Degree: Engineering manager, engineering program manager, project engineering manager, engineering director
Median Earning Potential: $152,350 (for architectural and engineering managers overall) to $187,240 (for engineering managers working in the scientific research and development services industry)
11. Construction Management
Related to the role of engineering manager is construction manager. A construction manager's job is to plan and supervise a construction project – such as building a residential home, a development of residential homes, an industrial complex or a bridge – from start to finish. Although you may not think of construction as being a high-paying field, the median annual salary for construction management roles amounted to nearly six figures in 2021, according to the BLS.
In online bachelor's degree programs in construction management, students typically begin their major coursework by studying the fundamentals of the construction industry. More specialized coursework includes construction project management and administration, planning and scheduling for construction projects, construction cost accounting and finance, building construction systems and codes, project building systems, building energy systems for construction managers and construction safety.
RELATED: Architect vs Engineer: What Is the Benefit of an Engineering Degree Over an Architecture Degree?
In addition to their major coursework in construction management, students pursuing this online bachelor's degree should expect to complete general education courses in a variety of subjects.
An online education in construction management is a particularly good choice for experienced carpenters, masonry contractors and other construction workers who don't yet have a bachelor's degree. A bachelor's degree is considered the minimum entry-level education for most construction manager roles, according to the BLS. By choosing an online education program to pursue their bachelor's degree, experienced contractors can better balance work and their studies so that they can eventually advance to a management role.
High-Paying Jobs With This Online Degree: construction managers, general contractors, construction project managers
Median Earning Potential: $98,890 (for construction managers overall) to $100,260 (for construction managers working in nonresidential building construction) and $100,310 (for construction managers working in heavy and civil engineering construction)
12. Business Administration
Online degree programs in business administration are popular at both the undergraduate and graduate levels. Business administration is one of the best online degrees for its versatility. Generally, a degree program in business administration – whether offered at the bachelor's degree or master's degree level – encompasses core business studies across disciplines within the field of business as well as focused coursework in an area of concentration.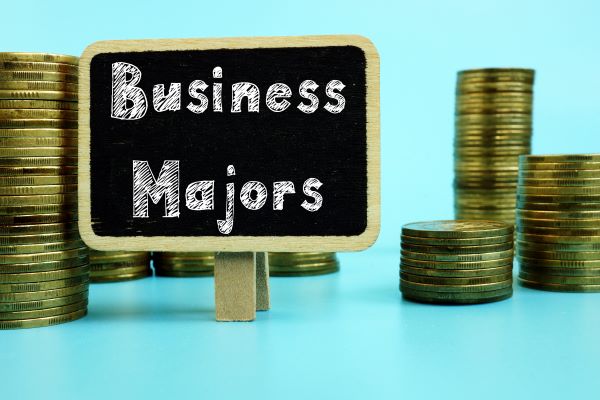 Two common online education programs in the field of business administration are the Bachelor of Business Administration (BBA) and the Master of Business Administration (MBA).
A bachelor's degree in business administration can prepare you for entry-level positions in the field of business. Through your bachelor's degree curriculum in business administration, you will learn the basics of business practices and build knowledge of business operations and the foundations of accounting, finance and financial management, marketing and business communications.
Elective courses in a business administration bachelor's degree program might include international business and project management. Like other bachelor's degree programs, BBA online programs typically take four years to complete.
In a Master of Business Administration program, students complete more advanced coursework in these areas. Core coursework in an online MBA program might include graduate-level studies in:
quantitative business analysis
managerial accounting
information management
international business economics
management of teams and human capital
marketing management
supply chain management
Most full-time online MBA programs can be completed in two years. However, some master's degree programs in business are accelerated, allowing for completion in as little as one year, while others are structured on a part-time basis that takes longer to complete.
One aspect that makes business administration ones of the best online degrees is the program's ability to prepare students for a variety of high-paying roles. In the business field, some of the potential jobs you could find with this online education include:
accountant
management analyst
financial manager
marketing manager
human resources manager
chief executive
High-Paying Jobs With This Online Degree: Accountants, Management analysts, financial managers and chief executives
Median Earning Potential: $77,250 (for accountants) and $93,000 (for management analysts) to $131,710 (for financial managers) and $179,520 (for chief executives)
13. Finance
Business administration is the broad field of business study, but majoring in one of the subfields within business can be just as lucrative, if not more so. One of the most lucrative subfields of business you can study is finance, the area of business concerned with the management and growth of wealth.
Even non-management roles in finance, including in areas like financial analysis and personal financial management, have median salaries that approach the six-figure range, according to the BLS. The best-paying positions fit into the financial manager occupation.
Financial manager roles encompass jobs like controller, finance officer and treasurer, the BLS reported, and the median salary for these roles was more than $130,000 in 2021. A financial manager doesn't necessarily need an advanced degree but typically does need at least five years of relevant work experience, the BLS reported.
In an online bachelor's degree program in finance, students typically take courses in:
financial analysis
corporate finance
international finance
the foundations of financial management
intermediate financial management
financial markets and investment
portfolio analysis
High-Paying Jobs With This Online Degree: Personal financial advisors, financial analysts, Financial managers, controllers, treasurers, finance officers, credit managers and cash managers
Median Earning Potential:
$94,170 (for personal financial advisers) and $95,570 (for financial analysts) to $131,710 (for financial managers overall) and $158,820 (for financial managers employed in the management of companies and enterprise industry)
14. Human Resource Management
Human resources isn't one of the more lucrative areas of business, particularly at the non-management level, but skilled workers in this area are in high demand. Human resources manager roles are the most lucrative, with a median salary – $126,230 – that more than doubles the $62,290 median annual salary the BLS reported for HR specialists in 2021.
RELATED: What Salary Can I Expect With a Human Resources Management Degree?
The field of HR is concerned with building and maintaining an organization's workforce. Human resources specialists are involved in recruiting, hiring, and training workers, as well as resolving interpersonal conflicts among workers or between workers and management and overseeing efforts to retain employees. In some organizations, particularly smaller companies, human resources personnel are also involved in payroll and benefits administration.
Human resource management roles still prioritize the building and maintenance of the company's workforce, but human resources managers focus more on overseeing an organization's HR department and its efforts. HR managers supervise the work of human resources specialists and generalists while also working closely with senior management.
"Several" years of human resources work experience, along with a bachelor's degree (and, for some roles, a master's degree), are required for most HR manager jobs, the BLS reported.
In an online HR management program of study, students take classes in:
the introductory concepts of human resources management
employment law
staffing and recruitment
training and development
compensation and benefits
organizational development
global HR management
High-Paying Jobs With This Online Degree: Human resources specialist, human resources generalist, human resources manager, human resources director
Median Earning Potential: $62,290 (for human resources specialists overall) and $76,920 (for human resources specialists in the professional, scientific and technical services) to $126,230 (for human resources managers)
15. Supply Chain Management
An online bachelor's degree program in supply chain management prepares students for work in planning and coordinating the logistics of procuring, manufacturing and transporting materials for an organization.
Not all jobs in supply chain management are actually management roles. Rather, recent graduates of supply chain management programs often start out as logisticians, who focus on the flow of movement of the materials an organization needs and on the storage of those materials. Supply chain managers, on the other hand, oversee the supply chain more broadly, including but not limited to the logistics that a logistician coordinates.
Students in an online bachelor's degree program in supply chain management typically study:
logistics management
supply chain strategy
global supply operations and management
business decision models
planning and control systems for supply chain management
lean and quality management
research and negotiation
High-Paying Jobs With This Online Degree: Logisticians, supply chain managers and supply chain directors
Median Earning Potential: $77,030 (for logisticians overall) and $88,710 (for logisticians employed by the federal government) to $98,230 (for supply chain managers)
16. Marketing
Marketing is the area of business that refers to promoting a company or product. There are many aspects of work in business marketing, from the quantitative market research side to the creative side of crafting marketing messages and advertising campaigns.
The most lucrative roles in marketing are marketing management positions. A marketing manager oversees marketing efforts and personnel in the marketing department. Marketing managers may be involved in everything from identifying products and services to develop or expand and estimating the market and demand for these offerings to the development and implementation of marketing campaigns for these offerings. For marketing managers as a whole, the BLS reported a median salary above $135,000.
Among non-management roles in marketing, market research analyst is among the best-paying career paths. Market research analysts are concerned with the statistical analysis of data pertaining to business markets. By researching consumer needs, purchasing habits and attitudes, as well as competitors' offerings and methods, market research analysts can provide insight on how (and whether) to develop, price and promote a company's goods and services.
The median salary for a market research analyst is less than half of that of a marketing manager, the BLS reported.
Online students pursuing a bachelor's degree in marketing will likely take courses in:
marketing principles
marketing strategy
marketing research and consumer behavior
business strategy
business writing
management concepts
High-Paying Jobs With This Online Degree: Market research analysts and marketing managers
Median Earning Potential: $63,920 (for market research analysts overall) and $79,640 (for market research analysts employed in management) to $135,030 (for marketing managers overall) and $155,470 (for marketing managers in the Professional, scientific and technical services industry)
17. Healthcare Administration
Many of the most lucrative careers in America are in the medical and healthcare industry, but roles like physician, physician assistant and nurse practitioner require a great deal of in-person clinical work. One of the best online degrees for working in healthcare facilities is healthcare administration.
This bachelor's degree or master's degree program emphasizes the development of both general and specialized knowledge to apply business administration principles and practices to the unique environment of healthcare facilities, the BLS reported.
Students in a healthcare administration program take classes like:
health care policy and economics
finance for health care
information systems for health care
strategic planning for health care
organization and management for health care
operational analysis
quality improvement in health care
health care leadership and ethics
High-Paying Jobs With This Online Degree: Healthcare administrators and healthcare executives
Median Earning Potential: $101,340 (for medical and health services managers overall) to $119,450 (for health administrators employed by hospitals)
18. Actuarial Science
Our list of the best online degrees has included numerous programs in science, technology and engineering, but there's still the "M" in STEM: mathematics. Actuarial science is a field at the intersection of mathematics and business that focuses on the statistical and mathematical calculation of risk.
Actuary is a high-paid career with a six-figure median salary, and for a good reason. Becoming an actuary isn't easy. Not only do actuaries perform complex mathematical calculations, but they also must pass a sequence of difficult professional certification exams over the course of their career, the BLS reported. A less challenging (although also less lucrative) career path you could pursue with a background in actuarial science is insurance underwriter, for which the BLS reported a median salary in the mid-$70,000 range.
In an online actuarial science program, students should be prepared to take a great deal of math coursework, including a sequence of calculus courses and studies in linear algebra and differential equations. Major coursework for actuarial science students blends math and business studies, with classes in:
financial mathematics
probability
financial statistics
business finance
financial and managerial accounting
High-Paying Jobs With This Online Degree: Insurance underwriters and actuaries
Median Earning Potential: $76,390 (for insurance underwriters) to $105,900 (for actuaries overall) and $110,590 (for actuaries employed by the government)
19. Mathematics or Statistics
Actuarial science isn't the only practical application of a mathematics education. If you're interested in math, you can earn a surprisingly lucrative salary with an online mathematics or statistics degree. Mathematicians earn a median salary in the six-figure range, and statisticians earn almost six figures, the BLS reported.
If you major in mathematics or statistics as an online student, your major coursework will, obviously, be very math heavy.
Mathematics majors take a series of calculus courses along with classes in linear and modern algebra, abstract mathematics, mathematical models and real analysis. They are encouraged to take elective courses in areas such as:
differential equations
statistical techniques
geometry
number theory and topology
computational methods
finance
Statistics majors focus less on areas like calculus and algebra in their major coursework and more on methods of statistical analysis and their underlying concepts. An online statistics degree program might cover introductory coursework in mathematical statistics, probability theory, regression methods, experimental design and variance analysis and methods of statistical consulting. Popular electives among statistics majors include:
statistical analysis system programming using languages like R and Python
applications of statistical methods to data management, epidemiological research, clinical trials and genomics
High-Paying Jobs With This Online Degree: Statisticians and mathematicians
Median Earning Potential: $95,570 (for statisticians overall) and $108,100 (for mathematicians overall) to $114,770 (for statisticians employed in the scientific research and development industry) and $129,800 (for mathematicians employed in the professional, scientific and technical services industry)
20. Environmental Science
Rounding out our list of 20 high-paying online programs is an interdisciplinary STEM subject that allows graduates to make a difference in the world around them. Environmental science encompasses all aspects of the scientific study of the environment and the development of scientific solutions to environmental problems, including pollution and climate change.
RELATED: What Are the 5 Best Careers in Environmental Science?
Most online environmental science programs require students to build a background in the foundations of biology, chemistry, physics, math and statistics. Major coursework builds upon this basic science background in areas like:
natural environmental systems
ecology
soil science and geology
hydrology
environmental policy
environmental management
environmental ethics
RELATED: Top 10 Online Bachelor's Degree Programs in Environmental Science
High-Paying Jobs With This Online Degree: Environmental scientists, climate change analysts, industrial ecologists and environmental chemists
Median Earning Potential: $76,530 (for environmental scientists overall) to $103,530 (for environmental scientists working for the federal government)
Where Can You Work With an Online Education?
As you can see from our list of the best online degrees, online education prepares students for a variety of different fields and levels of seniority. New graduates without extensive work experience can use their online degrees to land their first entry-level positions in a field that requires a college education. As they gain experience, these professionals can advance to roles where they have more responsibility and, in turn, a higher earning potential.
For established professionals, online degrees can allow for career advancement without having to leave the workforce. This may be the case for workers who have experience in a technical area but no formal college degree or only a minimal level of study, such as an associate's degree. Taking online classes offers working professionals in fields like engineering, construction, computer technology and business an opportunity to develop skills in leadership and project management while continuing to thrive where they are. That's why many of the best online degrees are master's degree programs.
Because graduates of online degree programs work in different fields and at different levels of seniority, the industries and environments where they may find work are almost limitless. Many graduates of online programs work for for-profit businesses in a variety of industries, including engineering services, the finance and insurance industry, construction and manufacturing. Some graduates of online education programs work for government agencies or nonprofit organizations. Your job opportunities with an online education are plentiful, and where you take your career depends on what you want to do.
For Further Reading:
What Degree Do I Need to Be a Policy Analyst?