Yes, it is. There are benefits for being a mentor, as well as being on the receiving end as a mentee. Statistics validate the importance of your college having a mentoring program. A survey in 2012, by the Institute of Higher Education, reported that 90% of first-year respondents found it beneficial to have a peer mentor. Other statistics from this survey revealed that 81% found mentoring meetings meaningful; 69% were encouraged to attend campus events/programs, and 66% were encouraged to join student organizations.
What's Involved?
Mentoring programs assist with integrating the social and academic needs of undergraduate students. One common type is peer-to-peer mentoring. A more experienced student and a less experienced individual create a bond through friendship, acceptance, and support. The longer and more consistent the mentoring relationship is, the greater the likelihood of it having a positive impact on the mentee. Studies show that relationships that last less than six months are unlikely to achieve the goals of the mentoring program or have a positive impact on student achievement.
If mentoring sounds appealing, you will need to verify which colleges have a peer program. A typical peer program pairs a first-year student with a more experienced student. These mentors receive the training to help new students make the transition to university life. They provide support and guidance to students on a variety of challenges such as selecting an appropriate major, balancing a social life with academics, getting involved on campus, and learning effective studying skills. Students interested in serving as peer mentors require a commitment to the program for the entire academic year.
Qualifications
Mentor qualifications differ by school. Since this is a leadership role, some schools have stricter requirements of the applicants. Generally, any sophomore or junior student may apply to serve as a peer mentor. An example of the qualifications for participating as a mentor include:
A minimum cumulative grade point average of 2.5
Good interpersonal and communication skills
Previous leadership experience
Involvement in campus and/or community activities
Commitment to diversity and multiculturalism
Knowledge of campus and community resources
Responsibilities
Peer mentors pair with mentees based on several criteria or factors, e.g., race, gender, sexual identity, academic major, religion, interests/hobbies, etc. The mentors play a vital role in assisting with the adjustment and success of new students to the campus community. Therefore, there are specified responsibilities and expectations they must embrace. These may include one group activity a month, maintain contact with mentee during the summer, complete a monthly activity log, and write an end-of-semester assessment.
Mentor Benefits
There are personal and professional benefits of being a mentor. The personal satisfaction in knowing you have a positive effect on another student. Professionally, your role as a leader and advisor could pay dividends when you write your first resume. These are additional benefits:
Develops leadership and management skills
Provides a means to impart knowledge and guidance
Provides a sense of fulfillment and personal growth
Builds motivational skills
Creates volunteering experience- valued by employers
Influences your mentee to become a mentee (studies report 90% of mentees become mentors)
Mentee Overview
For first-year resident students, college can be an intimidating experience. It may be your first time away from home for any length of time. If you do not know anyone where you attend school, this can create a feeling of isolation. The remedy to relieve this anxiety is to sign up for the peer-mentoring program as a mentee. Once approved, the program assigns you a mentor. This person becomes your link to campus activities, programs, academic workshops, and other college-related sources of information. The mentor is your confidant and academic advisor. He/she may assist in selecting or changing your major.
Mentee Benefits
Here are some of the benefits:
Provides an opportunity to develop new skills and expertise
Provides access to independent and objective perspectives
Develops confidence in dealing with challenges and issues
Creates networking opportunities
Provides career direction and advancement
Increases attendance and grades
Offers a confidential sounding board for ideas and challenges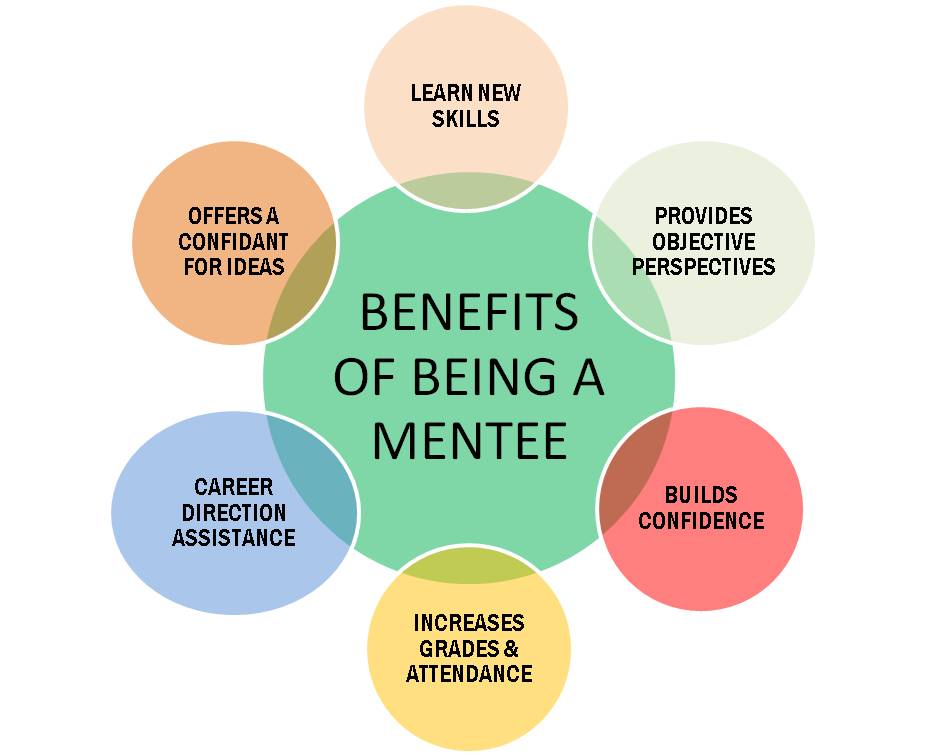 Conclusion
Mentoring teaches leadership skills. According to a 2016 study by the National Association of Colleges and Employers, more than 80 percent of responding employers said they look for evidence of leadership skills on the candidate's resume. As a graduate, you probably have no full-time work experience. However, you want to show on your resume that you have leadership skills. Mentoring provided this opportunity. Employers also cited written communication skills, problem-solving skills, verbal communication skills, and a strong work ethic as important candidate attributes. You gained all these qualities as a college mentor.
As a mentee, your first year at college can be a more pleasurable experience. You receive the guidance you need to excel academically and socially. Then, by your second or third year, you may volunteer as a mentor. Now, you can have a positive effect on the life of a first-year student.