A fashion designer is someone who loves to study fashion trends, sketch designs, select materials, and have a part in all the production aspects of their designs. The design process from design concept to final production takes many months. Researching current fashion trends and making predictions of future trends is the first step in creating the design. Some fashion designers do their own research while others depend on trend reports published by fashion trade groups. Trend reports let designers know what styles, colors, and fabrics will be popular for a certain season in the near future.
Associate's Degree
Associate's degree programs in fashion design are 2-year programs that equip students with fundamental, technical design skills, such as tailoring, sewing, and basic fashion theories. Courses may include fashion drawing, 3-D design, color theory, textiles, computer-aided design, fashion business, and portfolio presentation. Courses include computer-aided drafting (CAD), logistics, marketing, fashion, and merchandising. Many of the programs at this level are an Associate of Applied Science degree in Fashion Design.
Community colleges are the most common institution to enroll in an associate's program. Some have the choice of two associate degrees: Apparel Design and Technology or Fashion Merchandising and Marketing. The former develops your portfolio through illustration, computer-aided design, and pattern making. The latter option combines creative product selection with data analysis to drive sales and revenue.
A two-year program is a viable means to begin your fashion career in a relatively short time-frame and much less cost than an undergraduate degree. However, fashion designers often have a bachelor's degree in fashion design and gain hands-on experience through internships. There are exceptions. Michael Kors attended the prestigious Fashion Institute of Technology (F.I.T.) in New York City for only one year. Others have graduated from top-notch art colleges and universities. Therefore, unless you know someone who will take you under his/her wing, then a degree may be advisable.
Bachelor's Degree
The next step is a bachelor's degree. A Bachelor of Arts in Fashion Design degree teaches creative design, technical design, and product development. The curriculum may focus on apparel construction, trend forecasting, conceptual design, fashion illustration and technical drawing, pattern making, and business principles of the fashion industry. As part of the program, you might design and create a collection of ready-to-wear apparel.
Similar to the associate's degree, there are bachelor's programs that concentrate on the creative aspect (design) or the business side (fashion merchandising). As an Apparel Design student, you will study the conceptualization, design, and pre-production of products for apparel-related industries that meet the functional, expressive, and aesthetic needs and desires of consumers. ​ Fashion merchandising students study fashion management relative to planning, development, sourcing, distribution, and communication of fashion products in the global environment.
A more advanced education can substitute for lack of experience. The bachelor's degree should provide state-of-the-art facilities to enhance your learning experience. For example, access to technologies including a digital textile printer, 3-D body scanner, laser cutter, design software, and computerized embroidery equipment. Does the school have a testing Lab that includes an environmental room for testing products on human subjects? A sweating guarded hotplate measures wet and dry thermal resistance. A Kato's Kawabata System measures mechanical properties of textiles and other textile testing equipment. It is unlikely you will find this equipment at a community college.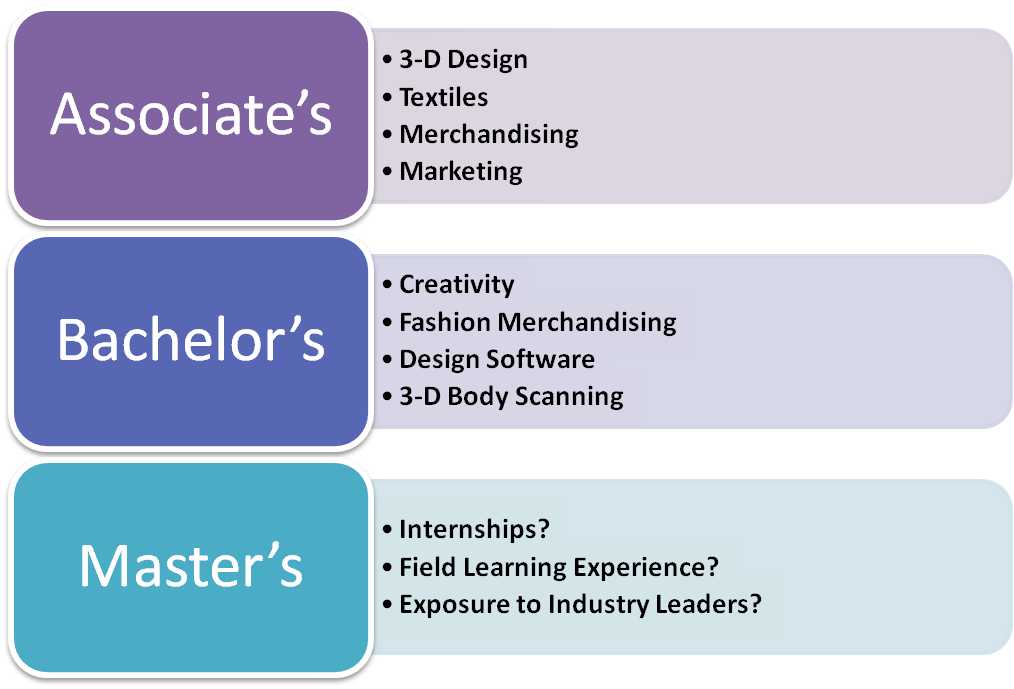 Master's Degree
The need for this degree is debatable. Some students consider the additional time and expense to earn a Master's degree in fashion design and decide it is not necessary. For others, it may afford the opportunity to further specialize, obtain an internship, and/or attend an international school of art. If you do decide to take a master's course, there is no need to jump into it immediately. Waiting a while after you graduate is a good idea, in order to save money and get some experience. Working in the field with an undergraduate degree makes it easier to find your passion, which you can hone later with a master's program.
Students leaning towards a master's degree should examine the program details. As important as the book learning is the real-world exposure. Does the school offer an internship at a company where you will work on actual projects? Is there a Field Learning Experience? This is a work project carried out on campus in collaboration with a company and supervised by a project leader.
Being exposed to many features of design can be highly beneficial in launching your career. An example is a Master of Fine Arts program that offers opportunities to exhibit their work on an international scale, build relationships with industry leaders, and participate in high-profile collaborations. Student work is regularly featured in a number of media outlets, including the New York Times, Vogue (US, UK), Vogue.com, Elle, Marie Claire (US), and SO-EN (Japan).
Additional Resources
What Classes will I take in a Bachelor's Degree in Fashion Design?
Where can I use my Degree in Fashion Design?
What is the Difference between a Degree in Fashion Design and Furniture Design?
What should I know about earning a Fashion Degree in Europe?