Many people want to change some aspects of their behavior. In our society, we often associate behavioral change with psychology. However, there's a practical field that contends we can alter behavior to create better outcomes, and positive, lasting change through repetition and environmental changes. It avoids dealing with "mentalisms."
This school of thought is called Behavioral Analysis, or previously, Behavioral Engineering. Traditional psychology is mentalistic, which means it believes inner mental processes are responsible for and explain behavior. Behavioral Analysis takes a constructive approach, reasoning that we'll never be able to understand the inner workings of the mind completely, nor how they relate to and control behavior. Behavior is measurable, physical, and influenced by environmental factors. Mentalism can lead to behavior, or it can be non-behavioral, and unquantifiable.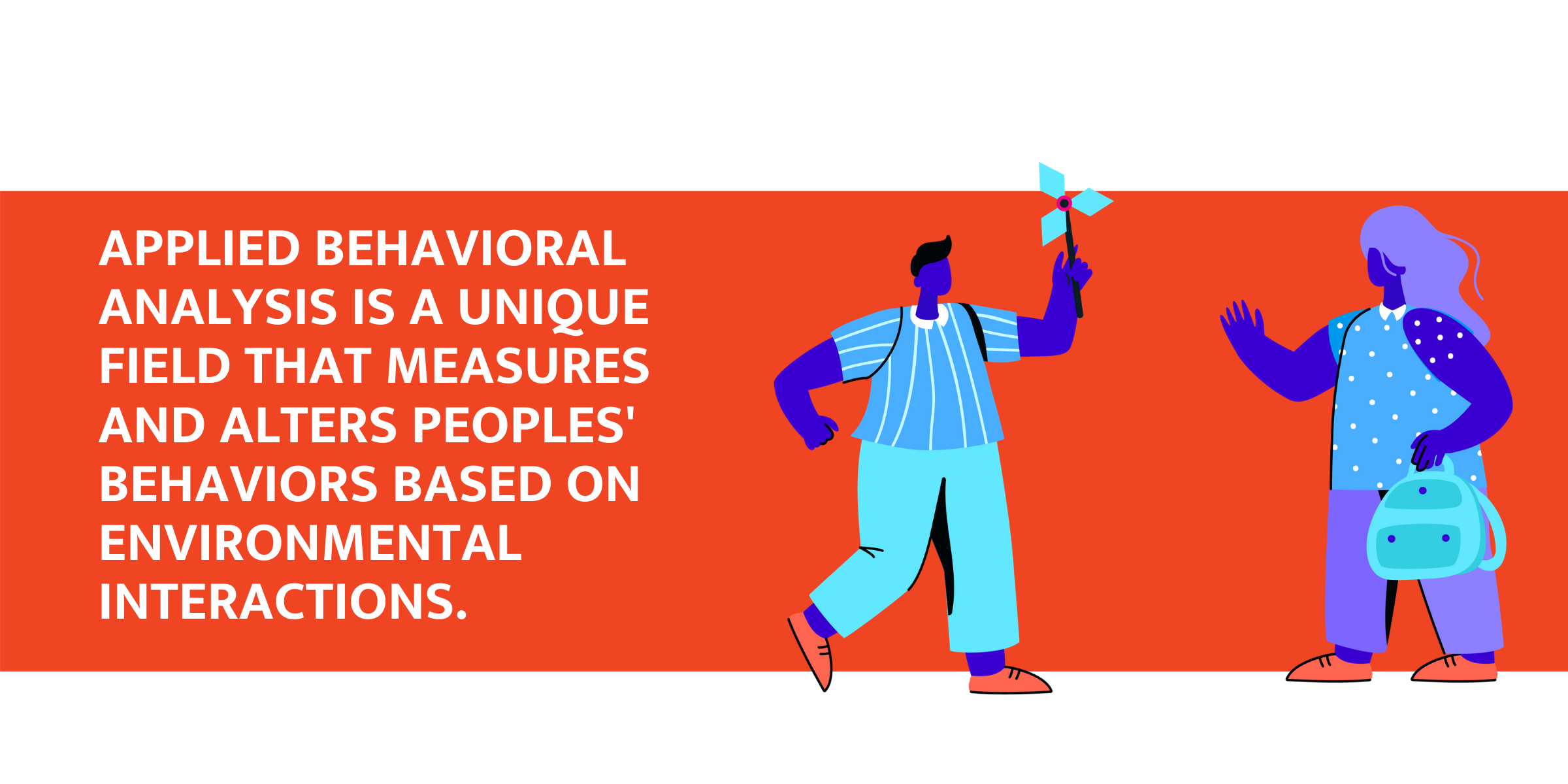 Applied Behavioral Analysis (ABA) observes, measures, and analyzes the functional relationship between the emittance of specific behaviors and environments that elicit or evoke them. It works to change behavior and promote particular actions through reinforcement.
In this guide, we'll explore the history of ABA, degrees in the field, and how to decide whether a specific ABA program is right for you. We'll also look at the content we've created at Degree Query that can help you get an ABA (or related) degree, and look at some employment numbers for people working as Behavioral Analysts.
What is Applied Behavioral Analysis? What Do Behavioral Analysts Do?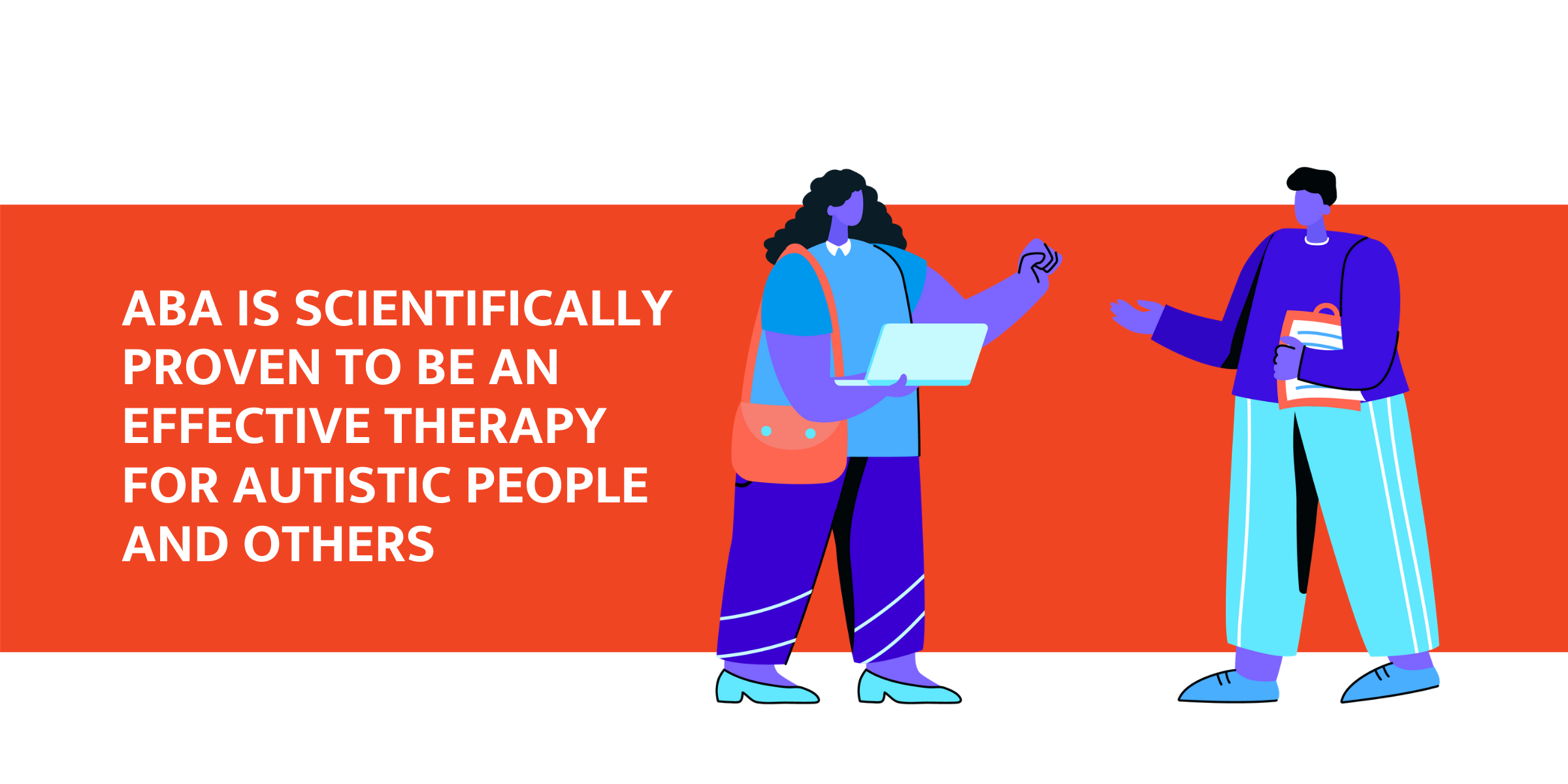 Russian physiologist Ivan Pavlov was an early predecessor of modern-day Behavioral Analysis. Pavlov noticed that dogs would salivate before being fed, just by recognizing there was going to be food presented to them. In this case, food is an unconditioned stimulus, meaning it produces an unconditioned response. Unconditioned responses are naturally occurring, and are responses that aren't learned. Other common unconditioned responses include touching a hot stove and jerking your hand back, or blinking when air is blown in your eye. Pavlov then introduced a buzzer, metronome, or bell when presenting food to his dogs. Over time, dogs would salivate at the sound of a noise that had been paired with the presentation of food. This turned the sound into a conditioned stimulus that produced a conditioned response. This process is known as classical conditioning.
B.F. Skinner, a psychologist, and behaviorist was another incredibly influential figure on behavioral Analysis. He called his approach "radical behaviorism." Radical Behaviorism holds that behavior is produced, or a consequence, of environmental histories of reinforcement. Skinner believed that:
…What is felt or introspectively observed is not some nonphysical world of consciousness, mind, or mental life but the observer's own body.
This does not mean…that what (is) felt or introspectively observed are the causes of the behavior. An organism behaves as it does because of its current structure, but most of this is out of reach of introspection. At the moment, we must content ourselves…with a person's genetic and environment histories. What are introspectively observed are certain collateral products of those histories.
In this way, we repair the major damage wrought by mentalism. When what a person does [is] attributed to what is going on inside him, investigation is brought to an end.
Unlike Pavlov, Skinner created something called operant conditioning, based on Edward Thorndike's law of effect. The law of effect holds that behavior followed by a pleasant consequence will more likely be repeated, and behavior followed by a negative result is less likely to be repeated. Skinner used reinforcement to strengthen or weaken behavior. He identified three types of operants: natural, which don't increase or decrease behavior, reinforcers, which increase behavior, and punishers, which reduce behavior.
There are many other prominent figures and processes connected to behavioral Analysis, but these are two of the most famous. By doing some basic research on the history of behavioral Analysis, you can learn foundational concepts and prepare yourself for incredible success in an ABA degree or certification program.
Many ABA concepts are intuitive. However, understanding those concepts and applying them to particular situations can be tricky, due to the specific, complicated jargon of the field. While this jargon can be confusing at times, you can gain a considerable advantage through self-study.
So what do behavior analysts do day-to-day?
While behavior analysts work with many different populations and even different species, most work with autistic people or children and others with special needs.
Behavior Analysts work in schools, hospitals, community agencies, treatment centers, and many other settings. They observe clients and patients determine what social and behavioral issues they have, and what environmental factors precede them. They then make environmental changes and do repetitive exercises to incentivize certain behaviors and disincentivize others.
Some of your day-to-day responsibilities as a Behavioral Analyst might include:
Assessing Patient Behavior: to change behavior, you'll need to record and understand it first. By observing patients in homes, communities, schools, and other settings they spend time in, you can begin to understand their difficulties.
Create Behavior Plans: Behavioral Analysts set goals for their clients. These may be formed in conjunction with parents, guardians, schools, or other organizations. Your plan will be specifically tailored to clients' needs and goals. These will be defined in part through:
Working with Families and Staff: you'll need to collaborate closely with teachers, staff, families, and others about the needs and goals of clients. You'll keep these parties informed about your behavior plan, goals, and progress.
Take Extensive Notes: Behavioral Analysts need to take regular notes on their clients to track progress, record difficulties, and measure responses to specific practices or exercises.
Make Behavioral Assessments: you'll conduct behavioral assessments to analyze your clients' behavior, make recommendations, and recalibrate your approaches.
Now let's look at how you become a Behavioral Analyst:
What is an ABA Degree or Certification? What are the Available ABA Degrees and Certifications?
To become an ABA professional, you'll need to earn specific credentials. In degrees these include:
Bachelor's Degrees in ABA
These degrees can be completed in four years, and are often classified as Bachelor's in Applied Behavior Analysis or Bachelor's in Psychology with a behavior analysis track. This is usually the minimum education required to enter the field of ABA, although there are other ways to enter the field. In these degrees, you'll study human behavior through theory and science. You'll learn specific techniques and principles related to ABA. Courses can include:
Strategies for Changing Behavior
Human Growth and Development
Data Collection and Analysis
Applied Behavior Analysis and Autism
Identifying and Understanding Developmental Disabilities
Not every degree that might qualify you to work in ABA settings might officially be called an ABA degree. You might have a degree in psychology with a focus on Behavioral Analysis or a social work degree. Eventually, you're likely to need other certifications or a graduate degree in ABA.
With other certification you can begin work in ABA after earning one of these degrees, or go on to earn a:
Master's Degrees in ABA
These two-year programs will give you practical skills and teach upper-level theories related to behavior analysis. A Master's in ABA is also the gold standard for working as a Certified Behavior Analyst. In these programs, you can choose to specialize in areas like behavior therapy, autism spectrum disorders, and developmental disabilities, among other areas. They might also include coursework in clinical psychology. Courses might include:
Language and Social Skills
Cognitive Psychology
Behavior Therapy
Ethics and Professionalism
Behavioral Pharmacology
In addition to more ABA-specific courses
Ph.D.'s in ABA
These programs will prepare doctoral graduates to become supervisors and executives in many different research, academic, and clinical environments. You'll study developing behavioral interventions for adults, children, and teens that deal with behavioral disorders. You'll focus on areas like research, supervision, staff training, creating and integrating systemic methods, clinical services, principles and procedures of ABA practice, among others.
Courses may include:
Qualitative and Quantitative Research
Advanced Methods in Single Case Research
Stimulus Control
Scientific Writing for Behavior Analysis
Behavioral Medicine
You'll likely have to write and defend a dissertation or complete another culminating capstone project. Now let's look at some of the certifications necessary to work in ABA:
RBT (Registered Behavior Technician): RBTs must have a high school diploma, 40 hours of training, and pass an exam. They work under BCBs and BCaBAs.
AC (Autism Certificate): You don't need a graduate degree to earn this certification. You should be employed in an autism-related setting, earn 14 continuing education hours, and pass an exam. You'll have advanced opportunities in educational, healthcare, therapeutic, in-home care, and community service environments.
BCaBA (Board Certified Assistant Behavior Analyst): This is an undergraduate-level certification. You won't be able to practice independently but will work closely with BCBAs. You'll need an undergraduate degree, at least 15 hours' of behavior coursework, and a set amount of experience working under a BCBA.
BCBA (Board Certified Behavior Analyst): This certification is for behavior analysts who have a graduate degree. They're often in supervisory positions over RBTS and BCaBAs. You'll need to pass a threshold of behavior-related coursework, hours of experience, and pass an exam.
CAS (Certified Autism Specialist: To earn this certification you'll need a graduate degree, a minimum of two years of experience in autism, and pass an exam.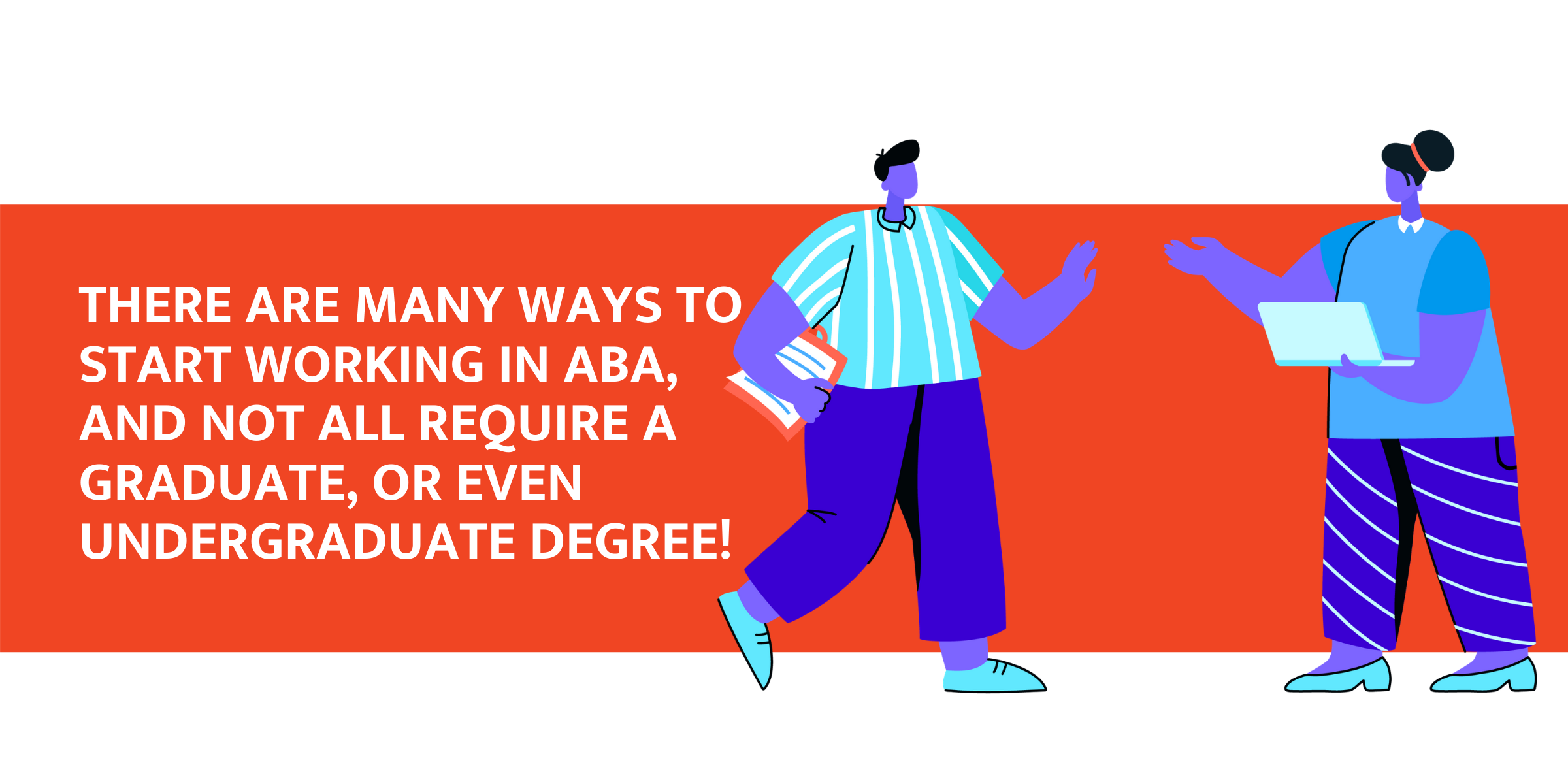 Ask Yourself and Consider the Following About Your ABA Education and Career
What have you done so far in your education and career? How does it apply to working in ABA?
What role in ABA do you want to pursue? What are the requirements to reach it, and what do you need to qualify for a program that will put you on track to it?
If you want to be a full-fledged BCBA, you'll need a Master's degree. It'll help to have undergraduate behavioral classwork and behavioral analysis-related work experience.
There are different tracks, degrees, and certifications in the ABA world. Not every ABA professional works with autistic people, or those with developmental or behavioral issues. However, most do.
Who do you want to work with? How does a specific program prepare you to help specific individuals or groups?
If you don't know precisely what you'd like to do in ABA, that's OK. You can find general behavioral analysis programs. You'll learn and decide as you go.
How much can you afford to pay in tuition and other costs for a degree in behavioral Analysis? How much would you need to borrow to afford a degree?
Whenever possible, take out public loans and avoid private, high-interest student loans.
Will you need to work part or full-time while you earn a degree in behavioral Analysis?
There are many different options for earning one of these degrees.
There are ABA programs that can be completed part-time, full-time, online, on-campus, and in hybrid forms of traditional and online instruction.
Keep in mind that working in ABA requires in-person work and training to qualify, so you'll need to make arrangements to meet hourly training requirements where you live.
Where would you like to work and live while you earn a degree in ABA, and afterward?
Depending on where you study and train, you may have a harder or easier time finding jobs locally. Fortunately, ABA professionals are demanded across the country (more on this later).
Are you a patient person that's fascinated by behavior and behavioral change? Can you help people by designing and leading repetitive exercises? Are you organized and good at recording data? Are you willing to change your approach and thought processes when presented with new information?
These are just a few of the things you should consider when looking for a degree program in ABA or considering entering the field. Help yourself by writing down the answers to these questions for any program you're considering.
Now let's look at some of the work we've done that can help you in your behavioral education and career:
How Can We Help You In Your ABA Education and Career?
Here at Degree Query, we've created many different forms of content aimed at preparing you to find an educational and career pathway that suits your needs and goals. We've ranked degrees and jobs. We've written guides about a wide range of degrees. We've answered common questions, and even helped you decide what job you're best suited for.
Here are answers to many of the common questions you might have about behavior analysis, and guides about related areas:
Here are some degree rankings that can help you find a school to complete an ABA program:
If you find any degree program through our content, please talk to the support staff at the school that offers it. They'll usually be happy to answer any questions you might have, and give you information that can lead to your acceptance and continued success.
Let's look into what ABA employment and pay are like:
What Can You Expect to Earn as an ABA Worker? What's ABA Employment Like?
Working in ABA is enriching, rewarding, and challenging work. For many people, it involves a fundamental shift in how they conceive of action, behavior, and conceptions about what drives them. It requires a ton of patience, flexibility, and commitment to putting measurement over more subjective approaches to understanding and changing behavior. It is its own distinct school of thought and needs to be understood as such.
As we've covered, there are many different roles in ABA. Unfortunately, there isn't information gathered by the Bureau of Labor Statistics that applies explicitly to ABA work. However, they have information about psychologists overall, which some people group ABA workers in, at least for economic data. Remember, not all people working in ABA do the same things, and receive equal pay. But if you work in the field for long enough, it makes sense that your earnings could be reflected in the following information:
BLS defines people working in these roles as studying "cognitive, emotional, and social processes and behavior by observing, interpreting, and recording how individuals relate to one another and to their environments."
In 2018 there were 181,700 people in these roles. That was expected to increase by 14% between 2018 and 2028, creating 26,100 new jobs.
In 2018 the median pay for people in these roles was $79,010 per year, or $37.99 per hour.
In May 2018 the top 10% of people in these roles earned over $129,250, and the lowest 10% earned less than $43,800.
Payscale.com reports that the average salary for a BCBA is $63,000.
It also lists the average pay for some other roles in the field, including:
Clinical Supervisor: $67,000
Behavior Specialist: $48,000
Applied Behavior Analysis (ABA) Therapist: $51,000
Clinical Manager: $72,000
Behavior Analyst: $62,000
Clinical Director: $77,000
A report on the US Behavior Analyst Workforce by BACB.com found that growth between 2012-14 was primarily concentrated in New Jersey, Massachusetts, and California. They noticed a sharp uptick in job postings between 2012-14.
The numbers at BLS and other places suggest Behavioral Analyst employment is still on the rise.
Top cities for employment in ABA (according to psydprograms.com are:
Los Angeles: $48,900 – $76,800
Chicago: $50,100 – $68,400
New York City: $48,800 – $72,200
San Diego: $48,800 – $71,000
Boston: $44,000-$69,900
We hope you've enjoyed this guide, and found it illuminating and useful. Our goal at Degree Query is to help you decide whether a particular field or degree is right for you, then help you find the best place to earn it.
Please check back on our content frequently, and remember to reach out directly to any school you want to attend. You'll gain a lot from establishing a connection with support staff, asking important questions, and recalibrating your approach to your application.
We wish you the best of luck in your education and career!