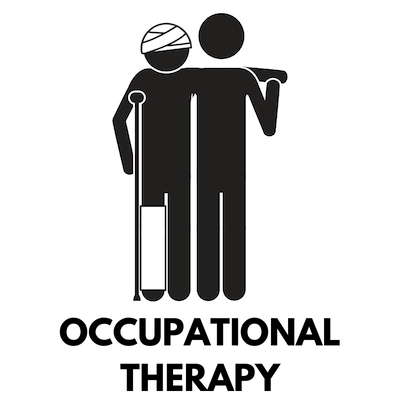 Tell me and I forget. Teach me, and I remember. Involve me, and I learn — Chinese Proverb
Occupational therapy uses evaluation then intervention to build, recover, and maintain activities (or occupations) and functions for people, groups, and broader communities.
Featured Programs
It's profoundly rewarding to work in a field in which you'll get to build real skills that drastically alter people's lives for the better. You'll help your patients hit real goals on a schedule you create together while cooperating with others in their and your lives to achieve mutually beneficial outcomes.
Occupational therapists work in many settings including people's homes, therapy offices, schools, hospitals, nursing homes, and other health service environments.
If you love making progress, seeing long-term projects through to their completion, are physically adept, have an understanding of body functions, and want to help people, this is an excellent option for you to consider in your search for a degree.
It's not easy to become a licensed occupational therapist. You'll have to earn a Master's degree to become licensed, do significant work in the field, pass a certification exam, and prove that you can actually do the work day in and day out.
In these programs you'll take courses like:
Psychology and Sociology: Here you'll gain a context and understanding of what's going on in your patients' lives to better prepare therapeutic methods and get the best results from them.
Functional Neuroanatomy: When you understand the connections and disconnections between the body and mind you'll do a much better job of diagnosing and treating patients.
Clinical Kinesiology: You'll intensely study the mechanics of body movements to gain an understanding of how bodies function, how they break down, and what can be done to fix them.
Advanced Therapeutic Techniques: In these courses you'll learn many different therapeutic techniques that you'll use throughout your education and practice.
In this resource we'll look at your choices in occupational therapy degree programs, including the levels of study, available specializations, and try to help you figure out how you'll fit into the field. We'll also explore the work we've done here at Degree Query to boost you up as you find the best occupational therapy degree for you. While you explore it, try to consider the following:
What are you looking for in your education and career, and how does an occupational therapy degree fit into that?
Instead of starting with a career or educational outcome, think about the things you're good at and what you want from a career.
What degree level have you reached so far? Have you worked in occupational therapy in some capacity before?
If you think occupational therapy is right for you, what part of it would you like to work in, and what degree would you need for it?
As previously mentioned, a Master's is standard in the field. You don't have to be certain of what you'd like to do as an occupational therapist, but having some idea while you search for programs is beneficial.
How much can you pay in tuition for a particular occupational therapy degree you're considering, and how much money would you need in loans to pay for one?
Many costs come with earning an undergraduate or graduate degree. They depend on where you're going to school, the actual school itself, the delivery formats and different prices it offers, and also what scholarships you qualify for, along with any other considerations you can think of.
Figuring out what you can afford and how to save money on a degree is tough, but you can do it.
Also remember when searching for schools to try and pick only from properly accredited, affordable and non-profit schools in comparison with expensive, for-profit institutions. Also whenever possible choose public loans over private ones if you need them.
How much time can you commit to earning an occupational therapy degree daily, weekly, and in total before you graduate? Depending on the school you choose you'll have multiple options for delivery options, which can help you build your degree schedule around your current schedule.
What's the ideal delivery format for you in an occupational therapy program? Is it best for you to go to school full-time, part-time, on campus, online, or in a hybrid of online and in-person education?
Where do you want to work and live after earning an occupational therapy degree? It's not essential, but attending a school in a particular city or state can help build connections that will boost your career in that area after graduation. Occupational therapists are certified and demanded across the country, but setting up some roots through school can be a good thing.
What is your educational and career experience? How would an occupational therapy degree program improve your personal and academic strengths and weaknesses?
What are the focuses or specializations in occupational therapist programs you're looking at? How would a particular concentration in an occupational therapist degree suit your needs and goals?
This is just some of the things you should be asking yourself as you search for an occupational therapy degree or any other. Writing out your questions, goals, and constraints is a great way to have a more productive search.
Let's take a look at what occupational therapy programs cultivate within students:
Occupational Therapy Degrees Build Your:
Patience: In these roles, you'll be dealing with people who are deeply struggling, and their progress can be plodding and frustrating. You'll learn to be gentle, patient, and reassuring to help them on their journey towards recovery or adaptation.
Kindness: It's not easy to be kind, but it's indispensable when you're inspiring patients towards their goals, and better health overall. In these programs and through working as an occupational therapist you'll build your ability to stay calm, sweet, and helpful in the face of numerous adversities.
Tangible Skills: Occupational therapy programs contain theory, but they are practical, hard skills-based programs that will set you up to do real work that improves lives. In this economy, where so many jobs are dispensable, you'll know what you're doing in a field that's expected to grow drastically over the next ten years.
Communication Skills: You'll need to interface with patients, their families and friends, coworkers, and supervisors, among others. Especially with your patients though you'll need to clearly yet gently communicate what they need to do, what you're going to do, and listen carefully to what they're telling you about their experiences and pain.
Physical Strength: You'll need to travel constantly, physically assist patients, often for long hours. You might work with heavy equipment or have other physical demands on you, so you need to be strong. In these programs, you'll often find peers that are keen on exercise and fitness, which is helpful in your own pursuits.
Organizational Skills: You'll likely be working with multiple clients with different schedules, and you'll need to manage your reporting on them, their appointments, meetings with coworkers and supervisors, among other time and organizational demands.
Observation Skills: Occupational therapists are proactive, but they're also extremely attentive. You'll need to learn to recognize patients' moods, changes in their conditions, among many other factors, then alter your behavior and treatments based on them.
Of course, there's a lot more that occupational therapy programs will build up and inspire within you through the nature of hard work and study within the field. You'll need help from friends, families, and other students to work on these things as well. We're also here to help you:
How Can We Help You Find the Best Occupational Therapy Degree for You?
At Degree Query we've answered questions, ranked schools, and written in-depth about trends and situations within higher education. Here's some of what we've written about occupational therapy and related programs:
Rankings
Frequently Asked Questions
Now let's look at the available levels in occupational therapy degrees:
What are the Different Levels of Occupational Therapy Degrees?
Associates in Occupational Therapy
In these two-year programs, students will learn the basics of assisting people to recover from and cope with injuries, chronic illnesses, mental difficulties, and genetic disorders. They'll take courses in anatomy, psychology, human occupations, developmental rehabilitation, patient assessment, physical rehabilitation, and more. These programs may include internships at hospitals, clinics, or other health centers. These internships enhance learning and prepare students to enter positions as occupational therapy assistants upon graduation or continue their education at the next levels of occupational therapy. Junior or community colleges offer many of these programs and allow students to save money in comparison with traditional four-year programs, which they can transfer into with applicable credits after graduating.
Bachelors in Occupational Therapy
These four-year programs are often offered by physical therapy or health science departments at universities and colleges. You'll learn to assess patients, explore medical procedures, and a host of therapy methods and treatments. You'll combine lectures on various conditions and human anatomy with practical, clinical experiences. Courses will likely include social functioning, occupational therapy process, professional practical work and analysis, human development, and much more. Graduates can't earn an occupational therapy license without attending graduate school, but they'll be far more prepared to do so than undergraduates coming from other disciplines.
Masters in Occupational Therapy
These programs can take two to three years to complete. They're incredibly involved practitioner programs that prepare graduates to earn certifications as occupational therapists ready to work within a wide variety of environments and with clients with vastly different difficulties and needs. Students can also opt to take intensive programs for over five years, where they earn their Bachelor's and Master's in the field with one institution. In these programs, you'll likely specialize in an area of occupational therapy like mental health, pediatrics, gerontology, and more. You'll often be required to do at least 40 hours of practitioner work as part of these programs. Coursework will include psychology, anatomy, sociology, human development, statistics, and much more. Graduates will often earn either a Master of Science in Occupational Therapy (MSOT) or a Master of Occupational Therapy (MOT) and can get up to six months of professional experience in occupational therapy while they earn their degrees depending on the program they select.
Doctorates in Occupational Therapy
Here you'll earn either a Doctor of Philosophy (Ph.D.) in Occupational Therapy or a Doctor of Occupational Therapy (OTD) degree. In the former, you'll emphasize theory and research to examine the ways practices, finances, and leadership impact occupational therapy. You'll do extensive research, a residency, and write and defend a dissertation. Graduates will be prepared to teach at the highest levels, manage organizations, and do vital research. In the OTD programs, you'll have an emphasis on practice, looking at administration, specialized areas of occupational therapy, treatment design, instructional methods, new technology, and much more. Your program will likely culminate in a Capstone project or other practicum experience.
Now that you've gotten a taste of the available occupational therapy degree levels let's take a look at the focuses and specializations you can opt for in occupational therapy:
What are Some Common Degree Specializations in Occupational Therapy?
As an occupational therapist you can be called on to help people with many different issues. For many it's appealing to focus on a specific area of the field, and here are a few of the most common options:
Pediatrics
Here you'll focus on children. You'll be prepared to work one-on-one with children in their homes, childcare programs, schools, hospitals, and other environments on a wide range of issues. You'll deal with emotional, mental, and physical injuries, chronic problems, and much more. You'll learn to liaise and cooperate with other caregivers, health care providers, family members, and anyone else involved in your patients' lives that impacts their health. You'll not only strengthen and heal children, but you'll also teach them lasting skills that continue that critical work once you're gone. You'll take courses like Pediatric Intervention and Child Development on your way to this work.
Geriatrics
Here's the opposite specialization of pediatrics, in which you'll work with aging individuals and populations. The elderly are often overlooked, but you can help change that by building your knowledge and skills in this specialization. You'll learn how to transform homes and other environments to make the lives of older people more manageable and help them learn how to do daily tasks independently, or with the help of infrastructure and technology. You might work in nursing facilities, in homes, at hospitals, and many other areas. You'll learn about the specific illnesses and conditions that impact the elderly and figure out what you can do about them directly and with the help of others.
Mental Health
When people think of occupational therapy, they often picture people who work with physical impediments, but mental health is an increasingly important part of OT and the needs of patients worldwide. In these specializations, you'll learn to help patients through building social skills, money management training, stress and anger management, and much more. You might work with patients who have drug and alcohol dependency issues, struggle with depression, anxiety, or other mood disorders, eating disorders, self-harm issues, and much more. You'll take courses in psychology and psychosocial occupational therapy to prepare to work in these roles.
Physical Rehabilitation
Here you'll learn to build patients back up who have faced setbacks, pain, and loss of their mobility because of diseases, injuries, or disabilities. You'll physically rebuild these patients, teach them how to complete daily tasks despite what they're dealing with, and help them learn to travel, get to work, and anywhere else they need to go. You'll work with specialized equipment, assistive devices, and utilize various exercises to accomplish yours and their goals. You'll take classes in physical disabilities, rehabilitation, and kinesiology, among others in these degrees.
Occupational Therapists also can earn certifications in specialized areas that refine their work. Here are some of those options:
What are Some Common Certifications in Occupational Therapy?
>Assistive Technology Professional
These certifications prepare you to work with computers, accessibility, vehicle and structural modifications, environmental controls, sensory aids, alternative communication, and other technological aspects of occupational therapy. You'll need 1,000 hours of work experience and to pass an exam that costs $500 to earn this certification.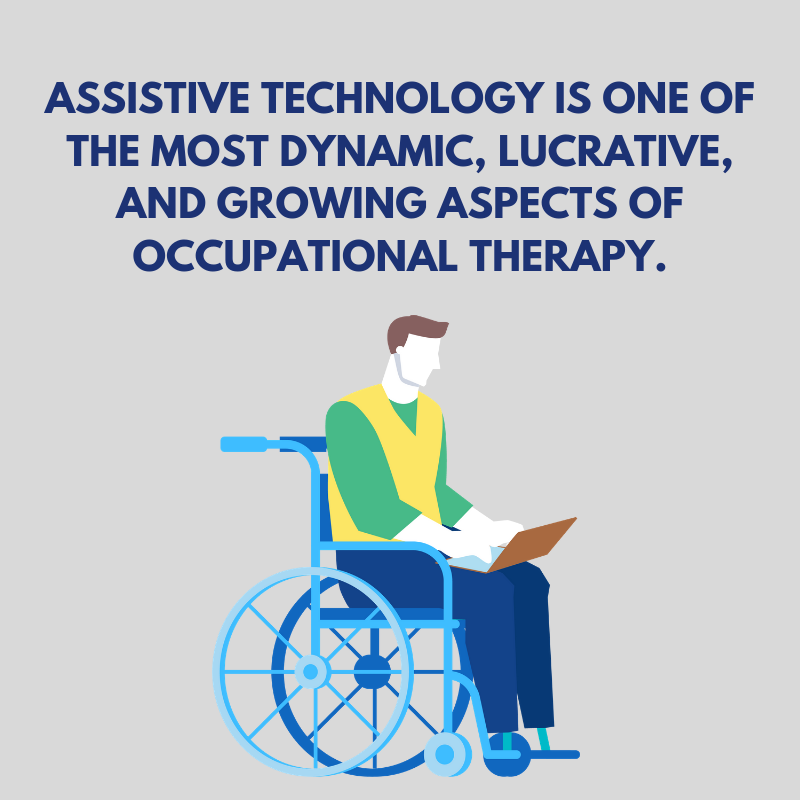 Certified Autism Specialist
If you work with autistic clients this is a great way to add to your resume and experience with a certification showcasing your work. You'll need two years working as a licensed occupational therapist, 14 hours of work related to autism, and to pass a test that costs $495.
Certified Aging in Place Specialist
Here you'll become certified to help seniors age where they are, using business, marketing, and design skills to do so. You'll need to take three, day-long courses that cost $330 and pay a $218 graduation fee to earn this one.
Certified Brain Injury Specialist (CBS)
This is an excellent option for people who want to certify their experience working with patients with brain injuries. You'll need 500 hours of working with brain injuries in addition to completing a self-study training before paying $300 to apply for a certification exam.
This is just a sampling of the many certifications that exist in the world of occupational therapy that can further supplement the degrees you earn and specializations you explore in the discipline. Before we leave let's look at what you can expect to receive while working in occupational therapy.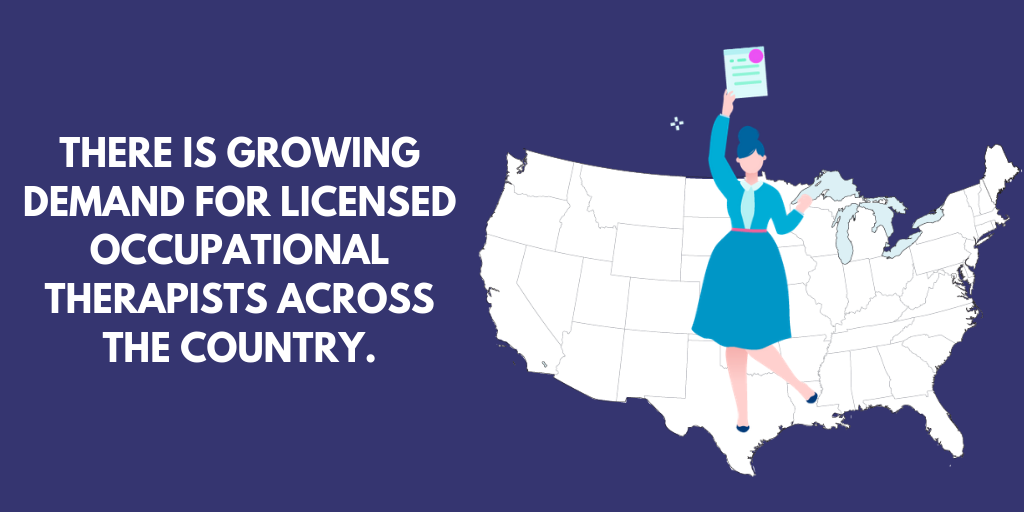 Occupational Therapy Degrees in Conclusion
Everyone here at Degree Query hopes you've found this guide informative, inspiring, and helpful in your search for an occupational therapy degree. If you take what you've learned here and applied it to your search for a degree, you should have a much easier time than doing it all by yourself. We also hope this has been useful in determining whether or not occupational therapy is right for you, and if it's not, that you can use our other resources to find a degree that's a better fit for you.
On occupational therapy pay:
The U.S. Bureau of Labor Statistics notes that occupational therapists received a median pay of $84,270 in 2018. In 2016 130,400 people were working in these positions. BLS also predicted a 24% growth in these roles between 2016-26, which is much faster than average. That translates to 31,000 new roles in the field. This is due in part to the Boomer population growing older, the healthcare landscape shifting politically and economically, and healthcare and fitness become more important cultural topics, all leading to a higher demand for occupational therapists.
In May 2018 the bottom 10% of occupational therapists made less than $55,490, and the top 10% earned over $120,750. Some of the areas associated with higher pay in the field include working at nursing care facilities, home healthcare services, offices of physical, occupational and speech therapists, and audiologists, hospitals, and elementary and secondary schools.
Please keep in mind that whenever you find a school or program through this guide or the rest of our content that you think is a good fit for you, you can help yourself out by contacting them directly for more information. The support staff at any school will be happy to answer questions about their programs, application requirements, along with anything else you need to know.
Here's to a new degree and career!