So you have finally earned that bachelor's degree and it's time to make money and enter the workplace. All well and good. But does it pay to continue your education and move on to a master's degree or even (for some folks) a Ph.d.?
Many employers now say higher education absolutely would help you move up in your career. Indeed, look at your typical entry level jobs. Many today now require a master's and if you intend to move on to a senior management and senior professional position, you will probably require a master's. Oh. And one other thing. Having a master's degree can increase your annual earning potential beyond your annual compensation without a master's.
The list below documents master's degrees that can get you a high paying job. The numbers below, however, represent average salaries listed (and gotten from the Bureau of Labor Statistics and Salary.com). As is always the case, salaries and compensation packages depend on the individual company and location. In all cases, this list is just a starting point. Do your own research into the school of your choice.
50. Rehabilitation Counseling
IMAGE SOURCE: Wikimedia Commons, public domain
This master's degree focus leads to work a subset of social work/psychology that is focused on helping people with disabilities or mental health and addiction issues. A student who has earned a Rehabilitation Counseling Degree is called a Rehabilitation Counselor, and can work both in private practice, and in hospitals, rehabilitation facilities, schools, government and insurance agencies and other organizations. It's challenging, meaningful work. And while the median salary for a rehab counselor may not match that of an MBA, the work is highly fulfilling and…the good news is, job prospects are good. See below.
Job Outlook: A projected 20% increase through 2022
Median Salary: $33,880
49. Early Childhood Education
A master's of education, specializing in early childhood education is a field in which the graduate deals with kids age 1-8. The number of children enrolled in early childhood education programs (preschool, kindergarten and early elementary) is forecast to increase through this decade. Contrast that with the likely retirement of "baby boomer" teachers over the next several years, and it apparent that the need for individuals with Early Childhood Education degrees could be on the upswing.
Job outlook for kindergarten and elementary school teachers: 12% growth through 2022
Median salary: $48,100
48. Master of Studio Arts
IMAGE SOURCE: Wikimedia Commons, public domain
This is a fast-paced, full-time, studio-intensive interdisciplinary degree program. In a typical MFA program, students can choose to work in depth in a particular area or across any of a number of artistic disciplines: Painting/Drawing, Photography, Print, Sculpture + Extended Media, and Transmedia. When completed, some of the work could lead to art director, museum curator, art teacher, etc.
Job Outlook: 3% growth through 2022
Average Salary Range: $51,300 [Note: Art directors earn considerably more…with an average salary of more than $90,000, according to the BLS]
47. Divinity
This is essentially a leadership program. The Master of Divinity (MDiv) degree at most universities is the traditional seminary degree that prepares students for a professional ministry leadership role and ordination, whether in a church or parachurch organization or in a specialized ministry setting. A sample course in a graduate-level course would be to teach an understanding of the Bible's content, contexts, structure, and message; and to have the student demonstrate the ability to conduct solid research with a goal of properly applying the Bible to modern life.
Job Prospects: 18% growth through 2022
Median Salary: $52,100
46. Reading and Literacy
This is a fascination field within the parameter of a master's in education. Here, graduate students are instructed in the foundations of reading, diagnosis and remediation of reading difficulties, reading practicum, language arts, literature, media, and ESOL. Teachers will not only gain expertise in addressing reading/writing difficulties but also will learn how to support students' growth as learners who can decode, use, and create many different kinds of texts, such as textbooks, primary source documents, literature, and media.
Job Outlook: 13% through 2022
Median Salary: $52,300
45. Master of Fine Arts
Master of Fine Arts, or MFA, programs are designed for bachelor's degree graduates who wish to advance their abilities and knowledge through focused study in a chosen creative field. It is different from (#48) in that this is a less focused more general fine arts degree. MFA programs teach graduate students creative and technical skills to prepare them for jobs in their chosen artistic fields and the programs depend on the student's creative discipline, which may include various forms of visual and performing arts, film, writing and music. Some popular career choices would include screenwriter, film director, actor, graphic designer.
Job Prospects: 4% [Well, you never know in the fine arts. Prospects over the next 10 years are lower than most other fields. But you already knew that, didn't you? Going into the fine arts is a passion.]
Median Salary: $55,900
44. Master of Music in Music Education
IMAGE SOURCE: Wikimedia Commons, public domain
Most programs strive to build a community of music educators exhibiting excellence in leadership, pedagogy, musicianship, critical thinking and integrity through the rigorous application of scholarly research, performance skills and personalized mentoring. Some required courses (typically…it changes from school to school) include elementary and secondary teaching methods, music education "foundations" (e.g., the philosophy and psychology of music teaching) and music technology.
Job Prospects: Many graduates will be self-employed. However, in some fields the prospects are measurable by BLS. For example, employment growth for choreographers is expected to be 24% over the next 20 years. But if you choose to be a sound engineer, prospects are a mere 1% growth through 2022.
Median Salary: $56,900
43. Anthropology/Archaeology
IMAGE SOURCE: Wikimedia Commons, public domain
Archaeology graduate programs train students for careers in archaeology-related fields, preparing students to work in government, construction and transportation, and cultural resource management. With field experience, a degree from an archaeology grad school may even lead to teaching in university classrooms. Some graduate schools offer options for students looking to enter museum work, cultural resource management, and contract archaeology.
Job Prospects: 19% through 2022
Average Salary: $57,420
42. Curriculum & Instruction
Earning a master's in curriculum and instruction allows educators to advance their education as they study teaching theories and curriculum design, often with a particular focus, like elementary education or special education. The degree can also open doors for teachers want to become instructional coordinators – educators who help develop curriculum and work with teachers and school administrators to improve instruction. Core course work often includes curriculum development, educational tests and measurements, curriculum theory, educational research, diversity, instruction improvement and classroom management.
Job Prospects: 13% growth through 2022
Median Salary: $58,200
41. Social Work
IMAGE SOURCE: Wikimedia Commons, public domain
There are many different specializations within the field of social work, but in general, the main priority for social workers is to help people cope with challenges in their lives—such as adopting a child, dealing with unemployment, or being diagnosed with a terminal illness. Some social workers work with specific populations—such as child and family social workers, geriatric social workers, school social workers, healthcare social workers or mental health and substance abuse social workers. And clinical social workers have the additional responsibility of diagnosing and treating emotional, behavioral, and mental issues.
Job Prospects: 19% growth through 2022
Median Salary: $59,400
40. Criminal Justice
IMAGE SOURCE: Wikimedia Commons, public domain
More and more the field of criminal justice is growing, not just in number of jobs, but in the variety of positions and in possible salary levels. Of particular concern is homeland security. Meanwhile, competition for jobs is fierce. Highly qualified military veterans and highly educated graduates with field experience are first in line for the jobs that have better pay and more responsibility. Your career choices with this degree could involve some sort of management, whether it is emergency management, crime scene or critical incident management, or the administration of organizations and functions.
Job Prospects: 5% through 2022
Average Salary: $60,500
39. History
Students receiving a master's degree in history will be trained in research methodology, writing skills and content in selected areas of history. The possibilities are numerous. Opportunities include advanced work in history, teaching at the secondary level (with licensure) or in junior and community colleges. Graduates may apply for professional schools, for example, in law, library science, theology, museum curatorship and archival work.
Job Prospects: 6% growth through 2022
Average Salary: $60,951
38. Public Health, Epidemiology
IMAGE SOURCE: Wikimedia Commons, public domain
The Master of Public Health degree is a widely recognized professional credential for those seeking leadership and managerial positions in governmental, nonprofit, and private organizations in the health industry. Graduation from a MPH program affords students a variety of opportunities for employment. Most graduates find employment opportunities in health care settings, non-profit organizations or government agencies. These settings are especially applicable for graduates that have an emphasis in health care policy, administration, epidemiology or communicable diseases.
Job Prospects: 10% through 2022
Average Salary: $65,270
37. Interior Design
Graduate programs in interior design produce future design leaders who can synthesize the conceptual and the practical to change the way people live. These days the principles of sustainability, globalism, and social responsibility infuse many program curriculums. The goal of these programs (no matter the school) is to produce designers who will be the vanguard of interior design.
Job Prospects: 13% growth anticipated through 2022
Average Salary: $69,400
36. Pathology
A Master of Science (M.S.) in Pathology program equips graduates for entry-level positions such as pathology assistants. Pathology is an integrative discipline that looks simultaneously at the whole organism and its component cells, tissues, and molecules to study the causes and mechanisms of disease. It is a discipline that strives to understand the mechanisms of disease at fundamental levels, and to apply this understanding to improve management of these diseases in the clinical setting. Many pathobiology programs provides a strong background in related basic sciences to prepare students for academic, research, teaching, and biotechnology careers.
Job Prospects: 19% growth through 2022
Median Salary: $69,870
35. Biology and Geoscience
Master's in biology programs generally provide a broad base in the principles of modern biology, which frequently includes advanced coursework in cell biology, molecular biology, microbiology, physiology, neurobiology, immunology, genetics genomics and systems. Other courses would focus on developmental biology, environmental studies, mycology, and neuropharmacology.
Job Prospects: 16% growth through 2022
Average Salary: $70,235
34. Orthotics and Prosthesis
IMAGE SOURCE: Wikimedia Commons, public domain
Maybe you've never heard of an Orthotist. But given the aging population, this is a field that will need experts who specialize in braces, supports, and corrective shoes or other devices, while prosthetists specialize in designing and constructing artificial limbs. These fields involve working with patients' physicians to formulate specifications based on prescriptions for orthopedic or prosthetic devices.
Job Prospects: 36% growth through 2022 [aided by the large, aging baby boomer population]
Average Salary: $70,740
33. Architecture
A typical architecture program centers on the design of new buildings and places (urban/suburban/rural) including various functional and conceptual topics related to multiple housing strategies, institutions, mixed-use, public facilities, hi-rise, urban strategies, and land planning fundamentals, facades and details. You might take a course in design that covers professional, technical, and theoretical topics concerning: architectural history; technical coursework in environmental controls systems; structures and tectonics; building enclosures and advanced building technology; sustainability integration; vernacular and regional studies, as well as other cultural and context-based studies.
Job Prospects: 17% growth through 2022
Median Salary: $71,406
32. Occupational Therapy
IMAGE SOURCE: Wikimedia Commons, public domain
One of the fastest growing fields of work in the healthcare business, with great job prospects. First, you need an advanced degree. These therapists provide patients of all ages with therapeutic responses to physical ailments. They may work with injured patients, disabled children and aging adults.
Job Prospects: 29% growth through 2022 (thank the aging baby boomer generation)
Average Salary: $73,502
31. Human Resources Management
IMAGE SOURCE: Wikimedia Commons, public domain
Typically, a master's degree program in human resources management is designed to provide a comprehensive coverage of the major human resource responsibilities, addressing both strategic and operational aspects. Coursework in the human resources management program (almost by definition) has to focuses on maximizing the importance of the human element in organizations.
Job Prospects: 13% through 2022
Median Salary: $75,868
30. Educational Administration
The courses in a master's of arts in education administration and supervision degree are intended to provide a foundation in education finance, school law, principal roles and responsibilities, community relations, and personnel supervision. The knowledge and skills developed from these courses is essential to helping students become successful and ethical administrators.
Job Prospects: 15% through 2022
Median Salary: $77,100
29. Physical Therapy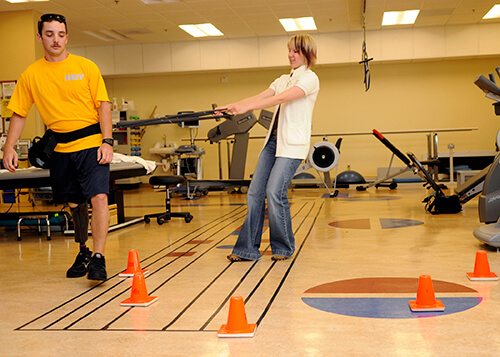 IMAGE SOURCE: Wikimedia Commons, public domain
Maybe you've had need of a physical therapist in your life. Then, you know: a physical therapist evaluates and treats (with physical measures) patients with movement dysfunctions. Primary content areas in a physical therapy master's degree program may include studies on (hold on now), biology/anatomy, cellular histology, physiology, exercise physiology, biomechanics, kinesiology, neuroscience, pharmacology, pathology, behavioral sciences, communication, ethics/values, management sciences, finance, sociology, clinical reasoning, evidence-based practice, cardiovascular and pulmonary, endocrine and metabolic, and musculoskeletal anatomy.
Job Prospects: 36% job growth through 2022. Due largely to the aging baby boomer population.
Median Salary: $81,030
28. Leadership
A Master's of Arts in [organizational] leadership in an all-encompassing program that in general challenges students to develop advanced leadership practices, project management, conflict resolution, team building, and communication abilities. In the end, graduates should be able to better perform in leadership roles, improve interpersonal relationships, and develop successful and thriving organizations. Some of the coursework will develop and refine leadership style, and cover taking action in a workplace and community.
Job Prospects: 11% growth through 2022
Median Salary: $81,600
27. Educational Leadership
Similar to, but different from a more generalized organizational leadership graduate program in administration (see #28), this program is specifically targeted to helping graduates shape the education industry through advances in technology, curriculum, management, and leadership. Some courses might include school law, school finance and school and community partnerships.
Job Prospects: 15% growth through 2022
Median Salary: 84,490
26. Health Administration
In the workplace, degree holders can find jobs as healthcare executives. The graduate programs typically prepare leaders who can effectively respond to the dynamic and ever-changing health care industry. Some of course concentrations may include coverage of issues in finance, policy, research, technology, quality improvement, economics and strategic planning.
Job Prospects: 23% increase in the number of jobs through 2022
Average Salary: $84,642
25. Industrial Organizational Psychology
This is a highly specialized niche within organizations. The specialty of industrial-organizational psychology (also referred to as I/O psychology) is, according to the American Psychological Association (APA), characterized by the scientific study of human behavior in organizations and the work place. The specialty focuses on deriving principles of individual, group and organizational behavior and applying this knowledge to the solution of problems at work.
Job Prospects: 53% job growth through 2022. That's a startling increase. But hold on. Also consider this: The BLS reports that because the occupation is still small in relation to other fields, only around 900 new jobs will be added through 2022.
Median Salary: $87,960
24. Civil Engineering
Graduate students in this fascinating field may take courses that focus on: concentrations in structures, construction engineering, reliability and random processes, soil mechanics, fluid mechanics, hydrogeology, continuum mechanics, finite element methods, computational mechanics, experimental mechanics, acoustics, vibrations and dynamics, and earthquake engineering.
Job Prospects: 20% increase in jobs through 2022
Median Salary: $89,523
23. International Relations
If you are interested in government related work then this might be the field of study best suited for you. The coursework will concentrate on international issues and institutions. The graduate school you select might (emphasize might) require proficiency in a foreign language.
Job Prospects: 21% growth through 2022
Median Salary: $89,900
22. Physicians Assistant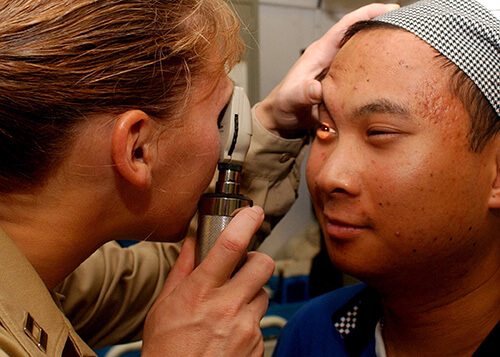 IMAGE SOURCE: Wikimedia Commons, public domain
A much needed field of expertise. If you've been to a doctor recently (who hasn't?) you've probably dealt with physician assistants, or PAs. Physician assistants are health care professionals licensed to practice medicine with physician supervision. As part of their comprehensive responsibilities, PAs conduct physical exams, diagnose and treat illnesses, order and interpret tests, counsel on preventive health care, assist in surgery and write prescriptions. Within the physician-physician assistant relationship, the physician assistant exercises autonomy in medical decision making and provides a broad range of diagnostic and therapeutic tests.
Job Prospects: 38% increase through 2022. As with other healthcare-related work, the aging baby boomer population will create massive needs in the industry.
Median Salary: $92,595
21. Mechanical Engineering
Mechanical engineering is one of the broadest disciplines in the engineering industry, and positions will be available in a wide variety of fields, from agriculture and aerospace to medical and manufacturing. At the school you choose, courses may be organized into key areas of research: alternative and renewable energy, biomechanics, material science, dynamical systems & control and thermal and fluid science.
Job Prospects: 5% increase of jobs predicted by the BLS through 2022
Median Salary: $97,100
20. Nurse Practitioner
IMAGE SOURCE: Wikimedia Commons, public domain
This is an exploding career choice. Practitioners, also known as advanced practice registered nurses (APRNs), provide and coordinate patient care and they may provide primary and specialty health care. Coursework is generally intended to produce nursing leaders, who can provide and improve care to patients, families, and/or communities and to lead educational and complex healthcare systems.
Job Prospects: 31% increase through 2022. As with other healthcare jobs, the increase is due to the aging baby boomer population.
Average Salary: $96,460
19. Nurse Mid-Wifery
Coursework for certified midwifery will rely heavily on teachings about labor and delivery, plus other health issues related to women. Other courses will cover advanced physiology and pathophysiology, applied pharmacology, intrapartum and postpartum care, professional midwifery issues, research methods, public policy leadership and advanced practice nursing roles and issues. Beyond that, some schools might offer students an education and management focus. Typically, some courses will examine the theoretical basis of nursing, and understanding health care dynamics.
Job Prospects: 31% through 2022
Median Salary: $96,460
18. Nurse Anesthetists
A Certified Registered Nurse Anesthetists are consistently one of the highest paid amongst advanced practice registered nurses. In short: nurse anesthetists administer anesthesia for all types of surgery in operating rooms, dental offices, and outpatient surgical centers.
Job Prospects: 31% through 2022
Median Salary: 96,460
17. Petroleum Engineer
A very interesting niche in the engineering field. Obviously, a petroleum engineer must have a good understanding of basic engineering, the natural sciences, and mathematics, in addition to petroleum engineering and an earth science background. Petroleum Engineering involves the technology of economically developing and producing subterranean reservoirs of oil, gas, steam, and hot water and designing underground waste disposal facilities. This technology relies on basic concepts of physics, chemistry, mathematics, geology, fluid mechanics, thermodynamics, and economics.
Job Prospects: 26% through 2022
Median Salary: $96,460
16. Master of Construction Management
Graduates will work in all types of construction including residential, commercial, industrial, highway and heavy construction. Coursework may focus on new and expanding areas of construction programming, cost control and project management. Depending on the school you choose, graduate programs in this field provide students with the expertise needed to effectively lead a construction project or business. Students will learn the technical proficiency, the financial knowledge, the entrepreneurial skills, and the business acumen needed for success in this industry.
Job Prospects: 16% increase through 2022
Average Salary: $99,600
15. Economics
This is a very broad field of study. Generally speaking the Master of Science. Economics is a program designed to provide the foundation students need to succeed in a Ph.D. program or jobs requiring intensive technical, analytical, and quantitative skills. Programs and coursework will likely (depending on the school) provide students with core conceptual knowledge about microeconomics, macroeconomics, and econometrics.
Job Prospects: 14% increase through 2022
Average Salary: $100,173
14. Information Science
A fascinating field of study. Essentially, you learn how to teach others to utilize information in whatever endeavor they are involved in. M.I.S. graduates are the architects of the information culture. They analyze, organize, manage, and manipulate information, always considering how to make the result intuitive and easy to use. They are experts in the latest information technologies and user behaviors. At start-ups and Fortune 500 companies, for nonprofits and the government, they are the bridge between the tech team and the rest of the organization. Is that cool, or what?
Job Prospects: 15% growth projected to 2022
Median Salary: $101,800
13. Finance
In this high-powered field, graduate students learn about financial services such as investing, mergers and acquisitions, raising capital, securities and corporate finance. They are also introduced to financial management principles, concepts, and techniques. Many of the core courses you'll be offere3d include advanced accounting as well as project management.
Job Outlook: 9% increase through 2022
Average Salary: $102,146
12. Physics
IMAGE SOURCE: Wikimedia Commons, public domain
A wide open field of study for graduate students. Here are some of concentration you might want to consider. Physics fields such as mechanics: classical, quantum, statistical and fluid; electrodynamics; biophysics; plasma physics and magnetohydrodynamics; solid state physics; optics: nonlinear, biophotonics, and lasers; mathematical and computational physics.
Job Outlook: 10% increase through 2022
Average Salary: $107,088
11. Statistics
Numbers are everywhere in pop culture as well as business and science. Which makes this specialty so interesting. Statistics, the theory, methodology and practice of analyzing data, is a fundamental tool in all sciences, and has emerged as a central tool for prediction in a host of applications that have evolved around mobile computing, finance, marketing and the internet. Those are just some of the course concentrations you are likely to be offered at the school of your choice.
Job Prospects: 27% increase through 2022
Average Salary: $109,700
10. Electrical Engineering Management
In this rapidly changing technological world, someone with an Electrical Engineering master's degree will be adept at several innovative areas, such as adaptive and reconfigurable mixed signal integrated circuits; antenna networks; bio-signal processing; computer architecture; very-large-scale integration (VLSI) and computer-aided design (CAD); computer networks; control systems; high speed switching architectures; signal, image and multimedia processing; nanotechnology; optical communications; photonics; and quantum information processing.
Job Prospects: 5% increase through 2022
Average Salary: $111,807
9. MBA
In this rapidly changing, engrossing global economy, business leaders almost have to have an MBA in their educational background. Specialties in the field are numerous, but the MBA core curriculum covers corporate management best practices, as well as practical skills including quantitative analysis, effective communication, leadership and teamwork.
Job Prospects: 11% through 2022. But the fields are so wide and the specialties so vast in number that graduates with focus can find work.
Average Salary: $113,000
8. Biostatistics
Biostatisicans work largely in public health. Given the fact that there is a strong effort by governments to rein in spending on health care, it is possible that this subcategory of statistics may see a larger amount of job growth in the future.
More government agencies are generally employing more statisticians to provide better and more accurate data upon which to make informed policy decisions. Biostatisticians will likely be needed in the life sciences and possibly in engineering, and they will be more needed in pharmaceuticals.
Job Prospects: 15% growth through 2022
Average Salary: $113,400
7. Human Computer Interaction
IMAGE SOURCE: Wikimedia Commons, public domain
Is this sci-fi or what? The M.S. in Human-Computer Interaction is generally a program that integrates interactive computing, user experience (UX), usability, interaction and interface design, and the social sciences in the research, design and development of user-centered and socially acceptable interactive technologies, applications, and information systems.​ As a graduate, students will be well prepared for a career in private industry or academia, or for admission to the Ph.D.in Informatics program with a human-computer interaction specialization.
Job Prospects: 15 % through 2022
Median Salary: $115,200
6. Telecom Engineering
If you are considering taking on leadership roles in the telecommunications industry you might want to look into earning this degree in telecom engineering. Students learn how to manage projects as well as policies and regulations in the industry. Some examples of graduate-level courses include: Telecommunications networks, computer network theory, operating systems for telecommunications, and network engineering.
Job Prospects: 14% through 2022
Average Salary: $119,100
5. Applied Mathematics
Again, a very high level of expertise in a field many find intimidating. But not you. A Master's degree in Applied Mathematics candidate studies the function of mathematics in the actuarial, physical, engineering and biological sciences. Areas of focus include scientific computing, mathematical biology and numerical analysis. Students gain experience in applying mathematical principles to a variety of disciplines, including business and economics.
Job Prospects: 23% through 2022
Median Salary: $121,900
This world was made for you. A Master of Science in Software Engineering degree will qualify you for a variety of positions beyond the entry level. You will be eligible to pursue technically complex and highly skilled positions within business, industry and government. Many software engineers find work in the computer systems design and services field. Here is what you will learn: to analyze user needs. As a software engineer students will be involved with designing, constructing, testing, and maintaining computer applications software or systems. Various kinds of software like software for operating systems and network distribution, and compilers, which convert programs for execution on a computer, are developed by a software engineer. In the programming or coding fields, software engineers give instructions to a computer, line by line; on how on perform a function or operation.
Job Prospects: 22% increase through 2022
Median Salary: $121,300
Another field of expertise that is exploding, and hence, workers are well paid. Students who complete the master's degree in Computer Science should be able to demonstrate: Advanced knowledge of computer language theory, software design, as well as data bases, networks, or security. And have a proficiency in algorithms, operating systems, computer language usage, software development, and the management of data, networks, or security.
Job Prospects: 15% through 2022
Average Salary: $122,100
Marketing helps drive ROI, so it's no surprise that a good marketer is well paid. Graduate student leaders begin at the endpoints: the thoughts, behaviors, and actions of the buyer. They will know the importance of differentiation, and how to establish a unique and own-able brand position in the minds of a target audience. They will learn how to leverage consumer insights to deliver action-inspiring messages and apply new data sources to inform pricing, packaging, and promotional strategies. And top marketers do all this while building high-performing teams and keeping a clear line of sight on market share, volume, and ROI.
Job Prospects: 12% through 2022
Median Salary: $123,200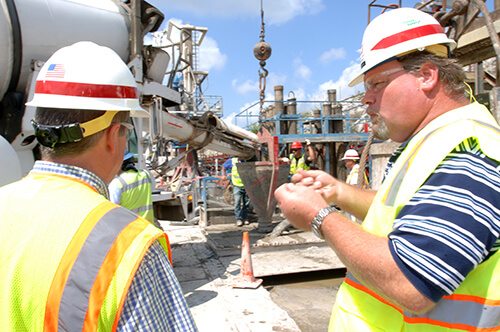 IMAGE SOURCE: Wikimedia Commons, public domain
EMT graduate student, courses will cover: how to lead technology projects as well as manage teams, engineering functions, and companies. In addition, concentrations will include the economic decision making process. This is different from the more narrow fields discussed in #s 4, 6, and 10. Other topics students may encounter: technology creation, management of invention, information systems and more.
Job Prospects: 7% growth through 2022
Median Salary: $124,995