If you're interested in the process of putting a film together, you may wonder how to become a producer. Without film and television producers, your favorite movies and television shows would never exist. Most producers have some level of college education, ideally in an area of study that covers topics like how the film industry operates and the media production process.

What Is Film and TV Production?
In the film and television industry, production refers to the process of making a film. Filmmaking is a complex process that includes several different stages, stakeholders, workers and decisions. Making these decisions and coordinating the plans and logistics of bringing a film together successfully requires the hard work of skilled film professionals with a designated focus on the filmmaking process.
Film production encompasses every stage of making the film, from the initial development of the concept and story to planning, rehearsing, filming, editing video footage, marketing the film and releasing the film, Grand Canyon University reported. Today, filmmaking doesn't just refer to traditional cinema and cable TV broadcasting but also encompasses work in the production of interactive media.
RELATED: What is the Difference Between Film and Video?
What Do Film and Television Producers Do?
The simplest explanation of what film and television producers do is making the business decisions involved in filmmaking, as opposed to the creative decisions that a director is charged with making.
RELATED: What is the Difference Between the Director and the Technical Director?
While these decisions are often more financial than artistic in nature, they are critical to not only getting the film made but also getting it made well. Some of the decisions that may fall under the purview of film or television producers, according to the United States Bureau of Labor Statistics (BLS), include:
Securing funds to make the film
Setting and sticking with a budget
Making timetables and schedules and ensuring that the production progresses on schedule so that the film can be completed on time
Hiring directors, designers, editors, crew members, and potentially even the actors cast in the film production
Approving or rejecting major changes, especially those that could increase the cost of the production or delay the finished film
Managing the routine daily operations of film production
Even though they aren't as directly responsible for the creative and artistic aspects of the film as directors are, producers are, generally, responsible for the finished production, the Bureau of Labor Statistics reported. That's how important the work of film and television producers is to the filmmaking process and to how a film turns out.
Types of Film and Television Producers
Although film and TV producers share common responsibilities for the financial and business decisions involved in film production, film producers don't always perform the same job duties. Some film and television producer jobs are more specialized than others.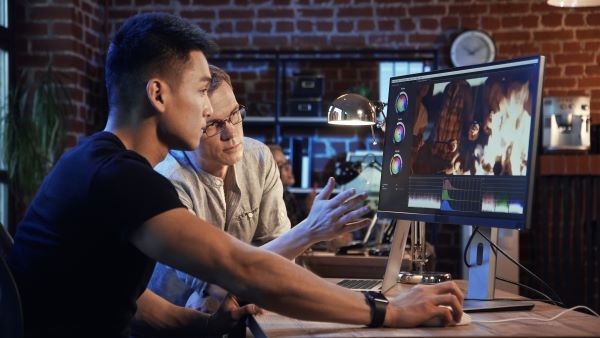 Generally, smaller productions – that is, lower-budget productions and films produced for smaller markets – are more likely to have only one or a few producers involved in the production. On the other hand, the job duties of the numerous producers working on individual large productions, like blockbuster films and movies with star-studded casts and budgets in excess of $50 million or even $100 million, may vary widely.
Most large productions have executive producers who oversee the production as a whole and are responsible for the final product, as well as lower-level producers who focus on specific areas or aspects of filmmaking. For example, a line producer may make production decisions that involve direct work on the set and are integral to the routine daily operations of making a movie. Assistant producer roles often involve overseeing narrower areas of focus within the film production process.
Earning Potential for Film and Television Producers
For all film and television directors and producers, the BLS reported a median salary of $79,000 in 2021. Among the top industries of employment for producers and directors, the advertising, public relations and related services industry paid the best, with a median annual salary of $99,810.
RELATED: 15 Degrees That Are Perfect for Becoming Your Own Boss
The median yearly salary for the motion picture and video industries followed close behind at $98,680. Directors and producers working in the performing arts, spectator sports and related industries made a median wage of $80,570, while those employed in radio and television broadcasting reported a much lower median income of $60,550.
The Job Outlook for Film and TV Producers
Between 2021 and 2031, the BLS predicts faster than average job growth rates for film and television producers and directors.
What Level of Degree Do You Need to Become a Film or Television Producer?
The field of film and TV production isn't a highly regulated field where you're required to obtain licensure or meet other strict career requirements. To convince prospective employers that they're deserving of roles like associate producers, aspiring filmmakers must develop a reputation for having the skills needed to successfully produce a film or TV show. Part of the process of acquiring these skills and cultivating this reputation, for most producers, involves a formal college education.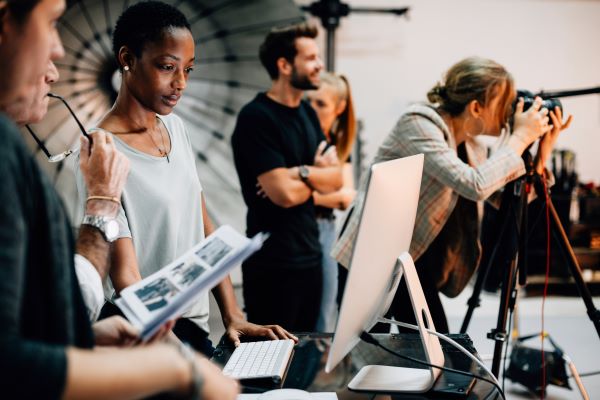 The most common levels of college education for aspiring producers are the associate degree, the bachelor's degree and the master's degree.
Associate Degree
Technically speaking, it's possible to become a producer even without a college degree. After all, the second most common level of education reported by industry experts to O*NET is a high school diploma or equivalent, such as a GED. Around 15% of respondents said they considered a high school diploma to be the minimum required level of education for new hires in this field.
Still, your chances of actually becoming a TV or film producer are better when you have a formal college education. Generally, the lowest level of college education you might consider pursuing is an associate's degree. According to O*NET, 13% of industry experts who were surveyed responded that an associate's degree is the required level of education for new film and television producers.
An associate's degree program is a two-year program typically offered through junior colleges and community colleges.
Bachelor's Degree
If you really want to become a producer, your best path forward is to pursue a bachelor's degree. This four-year undergraduate degree equips you with a well-rounded knowledge base that combines general education courses in a variety of subjects with major-specific courses in your chosen area of interest. Taking at least some minimal coursework in a foreign language may also be valuable for an aspiring producer or production assistant, especially when a movie or television show is being filmed on location in an area where English is not commonly spoken.
The BLS considers a bachelor's degree to be the typical level of education required for entry-level film and TV producer job roles. According to O*NET, the majority of industry professionals surveyed – 57% – say that a bachelor's degree is the required level of education needed to be successful as a film or television producer.
Master's Degree
The highest level of education most aspiring producers consider is the master's degree, since doctoral studies in the field are typically reserved for those interested in working in research, theory and academic scholarship. Master's programs are an option if you want to build more specialized skills. You might also consider master's programs if you want to develop knowledge in the areas needed to shift careers.
Generally, graduate programs of study are more specialized in nature than undergraduate programs. While an aspiring television producer may opt to pursue a more general program of study at the graduate level, they should focus on coursework more relevant to the field of film and TV production if they attend graduate school.
Film studies programs at the graduate level are usually offered as Master of Arts (MA) or Master of Fine Arts (MFA) degrees. Some schools offer Master of Business Administration (MBA) degree programs in film, entertainment and media, either as standalone master's programs or dual-degree programs that award MBA and MA or MFA degrees simultaneously.
Film and TV Producer Degree Options
What should you major in to become a producer? Technically, no specific major is required for this field, but pursuing a specific film and television producer education or a related bachelor's degree program is preferred because these majors can put you on the path to a production assistant job faster.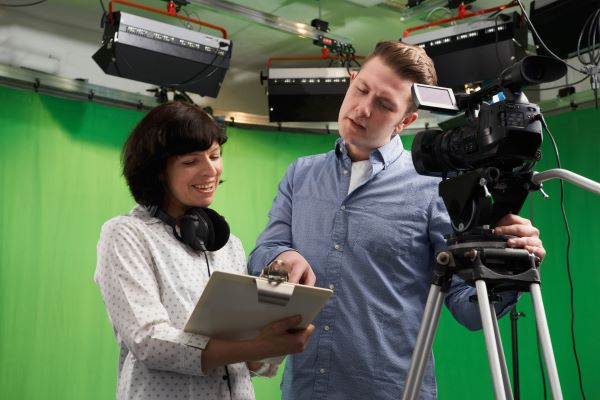 For certain types of films, having a specific background may prove valuable. For example, majoring in political science or sociology as an undergraduate – while also cultivating filmmaking skills through a double major, a minor or simply taking elective courses or being involved in school media productions – may make sense if your goal is to produce documentaries.
If your goal is instead to become a production assistant and eventually a producer of movies and television shows more generally, the most relevant major to pursue for a producer education is film or cinema studies. Producers also often come from degree programs in areas like arts management, business, communications or theatre. If you choose a major outside of film and cinema studies, minoring in film or taking media classes as electives can help you build your technical knowledge of the industry.
Film or Cinema Studies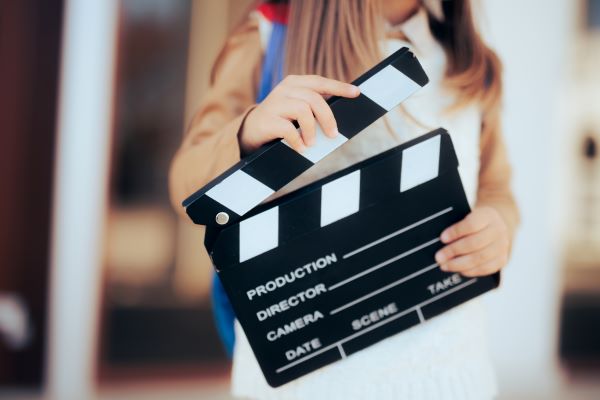 If you're specifically looking to get a film and television producer education, your best option is to pursue a bachelor's degree program in a field like film studies or cinema studies. In a film studies bachelor's program, students learn about all aspects of filmmaking. Today, it's not unusual for film schools to include more modern technologies in the curriculum, sometimes using terms such as "film, television and digital production program" to communicate this emphasis on cutting-edge digital technology.
RELATED: What Can I Do With a Film Studies Degree?
For example, the undergraduate Bachelor of Fine Arts film and television major offered at New York University includes coursework in film and TV history and criticism, the craft of filmmaking, screenwriting, core production and production safety. The New York University community – including students, faculty and staff – is consistently productive and prolific in its work, producing upwards of 5,000 films every year.
Film studies programs aren't available at every college or university, but at schools that do offer this major, both traditional on-campus and online courses may be available.
RELATED: The 10 Best Online Bachelor's Degrees In Videography and Video Production
Arts Management
Producers are essentially the managers of a film or TV show and the filmmaking process behind it. If you want to develop management skills that could be applied to a wide array of arts-related areas – from theatre companies and film studios to museums, orchestras and arts education programs – you might consider majoring in arts management.
Business
A successful film producer must possess sharp business acumen. After all, the filmmaking decisions for which you will be responsible in this role are primarily business decisions rather than artistic ones.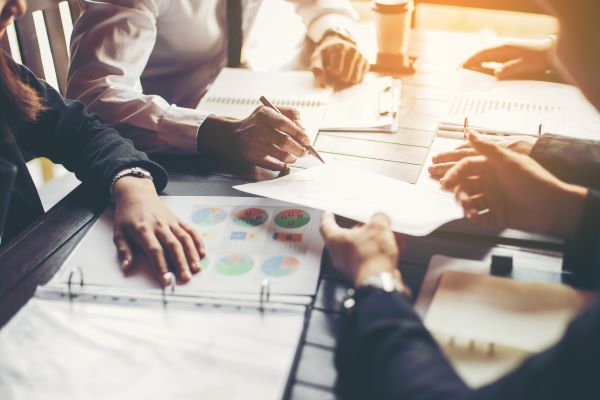 Majoring in business administration or a related area of business can help you develop relevant skills such as organizational leadership, recruiting personnel, budgeting and accounting, project management and marketing.
Communications or Communications Technology
Some of the most basic skills required for a film or television producer are communication skills – specifically, the ability to tell a good story that resonates with the audience. While technical skills in areas like visual and audio production and editing matter, so do your storytelling abilities and your writing skills. Further, communication studies programs often include analyses of mass media as an industry and of stories and representations that appear in the media.
RELATED: What Degree Do I Need to Be a Music Producer?  
Theatre or Performing Arts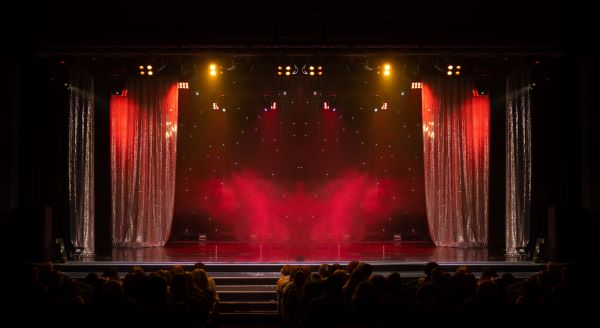 A film is the recording of performances, so majoring in theatre or performing arts can help you develop a strong understanding of how these industries operate and what makes a performance successful.
Producer Requirements Beyond a Formal Education
Your film producer education is only part of the requirements for becoming a film or TV producer. To make it in this career path, you typically need a portfolio of work that demonstrates your skills in filmmaking and work experience in the film or TV industry.
Putting Together a Portfolio
Obviously, a recent college graduate won't have numerous feature-length big-budget film credits to their name. However, filmmaking work that you do during college – in your courses, through internships, and working on projects for school radio or television stations – can all become part of a portfolio for a film professional who is just starting out. Students in film studies degree programs, in particular, are encouraged to take every opportunity available to them so that they can produce as much quality work as possible to begin building a strong portfolio.
Gaining Work Experience in the Film Industry
No matter what major you choose or what level of education you possess, you're not going to land a high-level film producer job right out of school – at least, not unless you already have connections within a professional network of industry leaders already. Most prospective producers have to obtain related employment first to build their knowledge of and reputation in the film industry.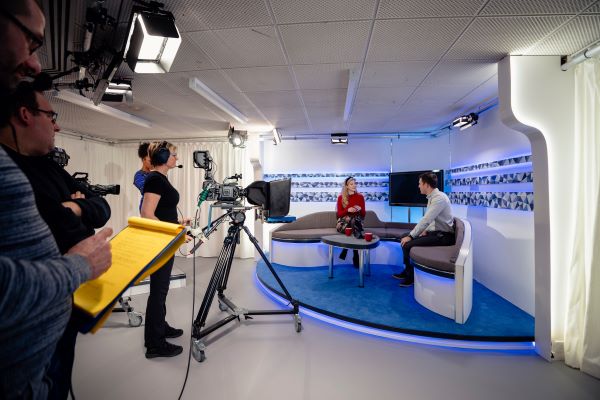 An aspiring film or television producer may start out working in other roles involved in camera operation, film editing, film production and assistant-level business management roles for film studios and companies. Internships and entry-level jobs in any area of the film industry can serve as your first relevant work experiences. These roles can lead to production assistant jobs later on, and production assistants can eventually move up to full-fledged producer roles.
Where Film and TV Producers Work
Working in film and television production may require you to relocate or at least travel for work on a regular basis. Most of the large film and television studios and companies are concentrated in certain geographical areas – namely, New York and Los Angeles.
Moving to New York or California will make it easier for you to attend industry events where you will have the opportunity to connect with and build a rapport with your fellow producers and other industry insiders.
Making It Big in the Film Production Industry
Once you have established your name and reputation in the industry, you will have an opportunity to take on higher-level roles that involve more complex project development and more leadership duties. It's not unusual to see established actors, directors, and screenwriters – usually those who are household names – produce their own projects.
Related Resources:
Can I Get an MFA in Two Areas at the Same Time?
Do I Need to Take the GRE to Get Into an MFA Program?
Will an MFA Help Me Get Jobs, Or Is My Portfolio More Important?
What Degree Do I Need to Become a Lighting Designer?
For Further Reading: