How do you get accepted into a Master of Fine Arts (MFA) program, one of the highest paying master's degree programs out there? Of the many pieces that go into a prospective MFA student's application package, perhaps the most confusing is scores on standardized tests like the Graduate Record Exam (GRE) General Test. Whether you need to take the GRE at all depends on the specific requirements of the individual MFA programs to which you're considering applying. While you're considering your options regarding the GRE test, remember that you may also need a lot of other components to have a strong application package.
MFA Programs' Approaches to GRE Scores: Required, Recommended and Not Needed
How MFA programs treat GRE scores as an admissions requirement is all over the place. Some MFA programs require all applicants to submit scores for the GRE General Test as part of their application but do not require students to complete any of the GRE subject tests. Other MFA programs refer to the standardized test as "recommended" rather than required.
MFA programs are increasingly dropping GRE score requirements from their MFA program admissions criteria, but this isn't an entirely new trend. Plenty of MFA schools have viewed GRE scores as optional, or not considered them at all, for several years.
If you want to be able to apply to the broadest array of MFA programs available and feel confident that you could perform well on the GRE, it may be worth taking this test. If you have doubts about your testing performance and don't mind taking yourself out of the running at schools that require the GRE test, it may make more sense to focus on other aspects of your MFA application.
What college or department your MFA program is based out of can play a part in determining if you must take the GRE. GRE scores are slightly more likely to be required in programs run out of a Graduate School English department than a School of Art.
What You Need to Apply for an MFA Program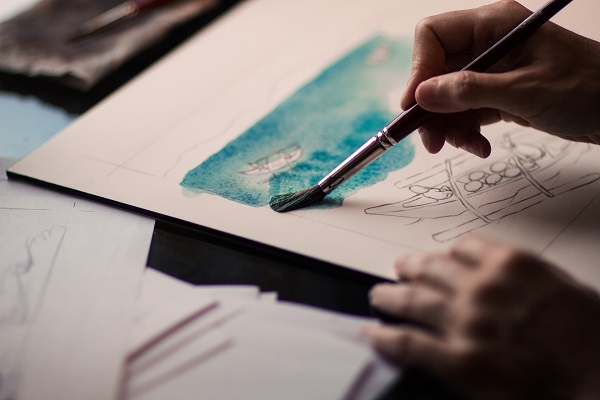 IMAGE SOURCE: Pixabay, public domain
Even if an MFA program to which you're applying does recommend or require you to submit GRE scores, not having an outstanding score isn't necessarily a dealbreaker. The admissions personnel looking at MFA applications are more likely to evaluate your entire package of application materials than they are to automatically disqualify you based on your standardized test scores.
Generally, the strength of your portfolio is the factor that MFA programs weigh most heavily when reviewing your application, according to U.S. News & World Report. Your portfolio matters so much because it is the representation you submit that showcases the best works of art you have created so far. Admissions personnel in an MFA program in any type of art want to see your level of talent and mastery of technique so that they can determine if you would be a good fit for their program. Depending on what kind of MFA program you are applying to, your portfolio could consist of reproductions of your own original artwork in any visual medium; a writing sample of fiction, nonfiction or poetry; or a filmed performance. Some MFA programs may require in-person auditions for students intending to study performance-based arts.
Beyond the portfolio, your application to an MFA program will include a personal essay or statement. This essay is your chance to convince the admissions team that you belong in the MFA program. Although the specific requirements for the essay can vary from one MFA program to another, you will likely discuss your background and its relevance to the arts, what insights or passion your participation can bring to the program and what you hope to achieve by earning your MFA. You will also be required to submit a transcript of your undergraduate coursework. Many MFA programs require two to three letters of recommendation from someone who can speak to your artistic or academic abilities, especially from the perspective of a former instructor or a supervisor.
Whether or not your MFA program requires GRE scores, you may have to take a standardized test, the Test of English as a Foreign Language (TOEFL), if English isn't your native language. This test evaluates your proficiency in communicating in English.
Additional Resources
It's Been a Long Time Since I Graduated From College. What Do I Do for Recommendations for an MFA Program?
How Does Someone Apply for an MFA in Writing? Do I Have to Have Been an English Undergraduate Major?
I'm Not Very Good at Standardized Tests. Do Most Graduate Art Education Programs Ask for GRE Scores? 
Are There Any Master's Programs in Art History That Don't Require a GRE Score?
Do I Need to Take a Standardized Test to Get Into Most Master of Studio Arts Programs?