Creative writing is one of the many possible areas of focus in a Master of Fine Arts (MFA) program, a terminal graduate degree that happens to be one of the highest paying master's degrees. If you dream of writing a bestselling novel or joining the elite ranks of the most revered poets in recent history, pursuing an MFA in writing may be your next step toward polishing your writing skills. You don't necessarily need to have majored in English as an undergraduate student to get into an MFA program later. You might, however, have to prove your writing skills even more than other applicants do through your writing samples and your other application materials.
Bachelor's Degree Options for Aspiring MFA Students
An MFA in creative writing program will often welcome applicants with an undergraduate degree in either creative writing or English. After all, someone who devoted their undergraduate studies to earning a bachelor's degree in the field likely has proficiency in writing techniques and a solid understanding of the writing process and literary conventions and innovations.
That said, writing well is an art rather than a science. Unlike programs in many of the natural and physical sciences, you don't necessarily need a rigid set of foundational knowledge that you will build on with advanced studies. What you do need is to have strong writing skills, which certainly can be developed outside of a formal writing program, and the willingness to listen to feedback and criticism while working to improve your writing.
You might apply to a creative writing MFA degree program after majoring or working in an adjacent field, like communications, marketing, or journalism. An undergraduate degree in the humanities or liberal arts may be good preparation for this program, because these degrees often require considerable critical thinking and writing skills. Students in a creative writing MFA program sometimes come from undergraduate backgrounds in a completely separate subject area, including science, history and psychology.
Although many MFA in writing program will consider applicants with an unrelated bachelor's degree, they won't consider applicants with no bachelor's degree. An MFA program is intense. Completing a bachelor's degree speaks to your perseverance.
The Process of Applying for a Creative Writing MFA Program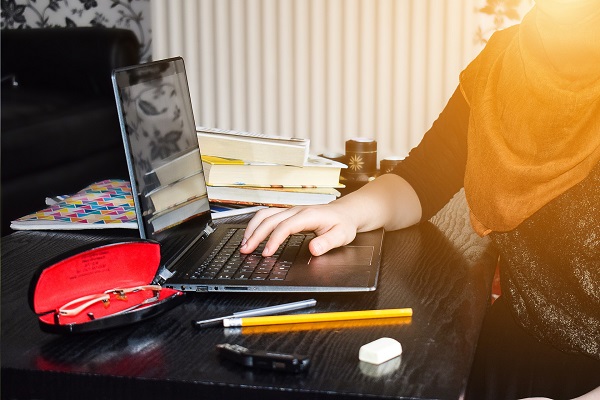 IMAGE SOURCE: Pixabay, public domain
To apply for an MFA in writing program, you will typically need to compile an application package. In addition to the actual application, this usually includes a combination of a personal essay or statement of purpose, writing samples that demonstrate your skills, letters of recommendation and your undergraduate transcript. Non-native English speaking students who are applying for a program that will be taught in English may have to take the standardized Test of English as a Foreign Language (TOEFL) and submit your score as part of your application.
If you weren't an English or creative writing major as an undergraduate, your application package might have a little more work to do. Your personal essay or statement of purpose should talk about what you can bring to the program and what skills and experience you hope to gain from it. If your undergraduate degree isn't obviously related to writing, your personal essay is your opportunity to sell your skills and passions. Have you continued to devote time to your first love, writing, while majoring in another field? Does your job include a writing aspect to it that has made you want to focus more on becoming the best writer you can be?
The writing sample you submit as part of your application will play a big role in determining whether you get accepted into an MFA in creative writing program. Students who previously majored in creative writing are at an advantage, because they may have some polished work that they created during their undergraduate studies and that has benefitted from the critiques of professional writing instructors.
However, one of the best ways to improve your writing is simply to practice by writing a lot. If you spend your evening working on a novel or write poems in the park on weekend afternoons, you're still practicing and, most likely, getting better at writing. The admissions team doesn't necessarily know or even care whether the writing sample you submit was workshopped and critiqued by instructors and undergraduate writing students or composed and revised completely on your own.
Different MFA in creative writing programs have different application requirements, so make sure each application you submit meets all of that school's requirements.
Additional Resources
Is a Final Project in an MFA in Writing Something That I Could Later Publish, Like a Novel?
How Many Pages of Writing Do I Need to Offer for a Writing MFA Portfolio?
It's Been a Long Time Since I Graduated From College. What Do I Do for Recommendations for an MFA Program?