One way to excel in the field of business is to be a stellar communicator. Compared to the highly technical advanced subject matter found in other graduate school programs, a master's degree in corporate communications is one of the easiest online master's degrees available. However, the curriculum isn't without its challenges. You'll be taking high-level and often writing-intensive coursework in subjects such as organizational communication, strategic communication, ethics and a variety of elective topics pertinent to professional communication practices.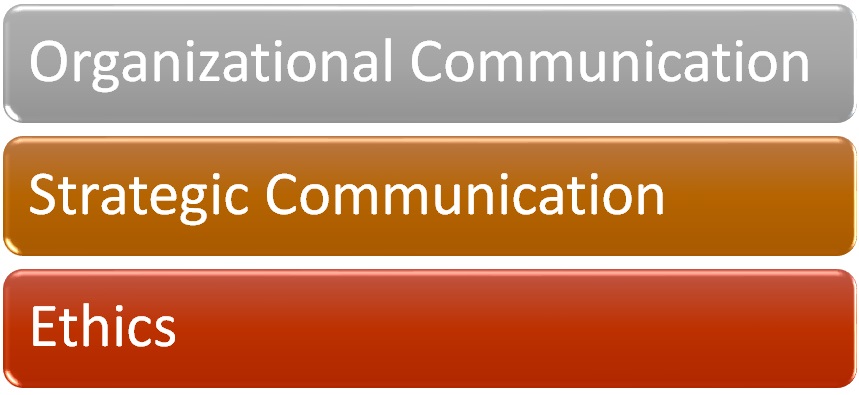 DegreeQuery.com is an advertising-supported site. Featured or trusted partner programs and all school search, finder, or match results are for schools that compensate us. This compensation does not influence our school rankings, resource guides, or other editorially-independent information published on this site.
Organizational and Strategic Communication
Two essential topics in a corporate communications master's degree program are organizational communication and strategic communication. These types of communication studies may overlap to some degree, but they're also separate and distinct topics.
Organizational communication emphasizes the application of communication theories and practices to the workplace, often in the context of using communication as a tool for company management and leadership. Studying organizational communication encompasses learning about how to create messages that relate to change management, conflict management, team building and management, the development of an appropriate organizational culture, and more. Often, students practice creating business communications, including both written assignments and oral presentations, in their organizational communications courses.
Effective corporate communication doesn't just happen. It needs to be thoughtfully planned out so that each individual message is consistent with the overall tone and goals of the organization's corporate communications efforts. Strategic communication is a facet of the field of communication that focuses on this planning of communications efforts. Students learn not only the methodology of how to effectively plan an organization's corporate communications but also the various theories, methods of application and best practices of strategic, persuasive communication.
To succeed in a corporate communications role, you need to understand the concepts and applications of both organizational communication and strategic communication planning. More importantly, you should develop the ability to synthesize these two types of communication expertise to develop communication plans and messages that work well together.
Because organizational and strategic communications together make up a big part of your knowledge base, your curriculum may include multiple courses in these areas, such as classes in organizational communication assessment and strategic marketing.
Ethics in Communication
Words can be powerful. They can express poignant truths, but they can also be maneuvered to mislead and manipulate. Your job in corporate communications may be to persuade consumers to buy a product, potential investors to contribute money or employees to adapt to new processes and procedures, but you must do this ethically. Otherwise, companies could face legal trouble and other serious consequences for false advertising, misleading investors or violating employment contracts.
It's no surprise, then, that the study of ethics has a place in an education in corporate communications. In a class in professional and organizational ethics, you will learn about different ethical issues, corporate ethical responsibilities and frameworks for making ethical decisions about the communication messages you create. You might also take classes in business ethics more generally, which cover subjects such as a company's ethical usage and responsibilities pertaining to environmental matters and technology.
Part of corporate communications is choosing what information to share with an audience and how to "spin" that information. Having strong ethics is crucial when making this choice, because leaving out the wrong information can constitute unethical behavior.
Specialized Coursework in Areas of Business Communication
IMAGE SOURCE: Pixabay, public domain
Beyond organizational and strategic communications and the study of ethics, the coursework in a corporate communications program can be diverse. These master's degree programs often include a good deal of elective credits in their curriculum requirements, allowing students to customize their program to meet their career needs.
Electives in a corporate communications program can range from investor relations to employee communication and from theories of persuasive communication to the role and use of information technology for communication. Some students of corporate communications programs focus their careers on branding and consumer behavior, often to dive into a marketing role, while others emphasize the use of communication in human resources and in their interpersonal management skills.
What electives you should choose depends on where you want to take your career. If you're looking to rise to a leadership role, courses more in line with cultivating management skills are a great choice. You might study media relations and crisis communications if you're interested in reputation management and public relations.
Other elective options in a corporate communications program might include project management, global business, website creation, digital tools and platforms for communication, and data analytics.
Additional Resources
What Is the Difference Between Corporate Communications and PR?
Are Companies Looking for Something More Than a Social Media Expert When Thinking About Corporate Communications?
What Areas of Writing Should I Focus on to Be Successful in Corporate Communications?
What Are the Salary Benefits of Getting a Master's Degree in Corporate Communications?