If you're a great writer exploring your graduate school options, you may be comparing programs in corporate communications – one of the easiest online master's degrees – and public relations (PR). These programs often include different coursework and prepare you to hold different job titles. However, there's also some overlap between the skills used in these fields and even graduate programs in these disciplines.
DegreeQuery.com is an advertising-supported site. Featured or trusted partner programs and all school search, finder, or match results are for schools that compensate us. This compensation does not influence our school rankings, resource guides, or other editorially-independent information published on this site.
Corporate Communications and PR as Separate Fields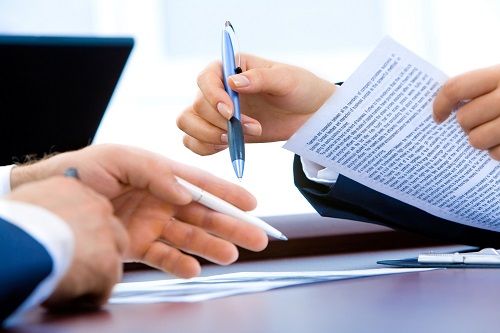 IMAGE SOURCE: Pixabay, public domain
The biggest difference between corporate communications and public relations isn't the skills you use in these occupations or even the job duties you hold. Rather, it's the area of focus to which you apply your communication skills. Generally, corporate communications, sometimes called strategic communications, has a broader and less specialized scope. The field of corporate communications encompasses both internal and external communications. In this profession, you may work in crafting the messages used for company employees and administration as well as those distributed to the public.
Public relations is a field that focuses more narrowly on communication with the public and, particularly, on managing an organization's reputation. This can refer to different populations outside the organization, rather than the company's own leadership or employees. PR professionals often cultivate relationships with members of the media, including reporters and editors at newspapers and other publications. This responsibility is less prevalent among corporate communications personnel.
One factor that blurs the line between PR and corporate communications is the existence of corporate public relations. Most PR students work in corporate PR, whether in an in-house role or in an agency, but PR professionals can also focus on publicizing nonprofit causes.
Curriculum Differences Between Corporate Communications and Public Relations
Just as the scope and focus of the fields of corporate communications and PR differ, so do the courses you take in these graduate school programs. A public relations student should expect to focus on PR strategy, crisis management, research methodology for brand development and ethics, according to U.S. News & World Report. In a corporate communications program, you may be more likely to study communication theories more generally as well as topics like interpersonal communication, conflict resolution and organizational communication, according to U.S. News & World Report.
While a PR master's degree program might emphasize coursework in media writing and relations, programs in corporate communications include more coursework on organizational communication, strategic communication and organizational culture. 
Distinctions in Your Most Likely Career Opportunities
Both corporate communications and public relations master's degrees equip you with versatile skills in communications. However, you may be more likely to move into different roles depending on your area of focus. With a PR degree, you're more likely to become a public relations specialist, media specialist or public relations manager. A corporate communications background is more likely to lead to a role as a corporate communications officer, a manager of internal or external communications or an in-house role as a company's marketing manager or advertising manager.
This distinction may also affect your work environment. Corporate communications professionals typically work as employees of one company and focus on crafting that company's communication plans and messages. Although PR professionals may work as an in-house employee of a company whose reputation they manage, many public relations specialists work for a PR agency, instead. That means the PR professional may be responsible for managing the reputations of different clients with whom the agency contracts.
Both corporate communications and PR specialists may choose to work in consulting roles instead of traditional in-house positions. Some corporate communications and PR professionals with an entrepreneurial spirit launch their own agencies or consulting firms.
How Corporate Communications and Public Relations Overlap
Of course, these important differences don't change the fact that there's considerable overlap between the fields of corporate communications and public relations. The two fields require many of the same strengths, including abilities in writing, persuasive speaking, and determining how to express information appropriately to different audiences. A corporate communications officer may sometimes work to get messages out to the public or to media representatives, while a PR professional may lend a hand in crafting internal messages, particularly regarding delicate subjects.
Some graduate programs offer a combined major in corporate communications and public relations. If you choose one of these programs, you should expect to take foundation courses such as public relations writing, communications planning, communications research, and ethics. Often, students then have the opportunity to round out their curriculum with electives that best fit their interests and career aspirations, such as courses in advanced corporate communications, internal communications, media relations, crisis communications and digital communications strategy.
Because there is so much overlap in terms of the skills and job duties of corporate communications and public relations professionals, you may move between these paths over the course of your career, according to The Houston Chronicle.
Additional Resources
Are Companies Looking for Something More Than a Social Media Expert When Thinking About Corporate Communications?
What Are Some Typical Courses I Would Take in a Corporate Communications Master's Program?
What Areas of Writing Should I Focus on to Be Successful in Corporate Communications?
What Are the Salary Benefits of Getting a Master's Degree in Corporate Communications?