As a lover of music, there are many ways to incorporate your passion into your career. Full-time careers as professional musicians may be few and far between, and the United States Bureau of Labor Statistics reports that most jobs for musicians are part-time or temporary, making this a career that offers little stability. Two popular, and generally more secure, occupational options are music therapy and music education. As you weigh these two choices against each other, you are likely to notice both similarities and differences. The differences that may jump out at you include distinctions in the purposes of these job roles, the coursework and field experience needed to qualify for them and the process of attaining the professional credentials and licenses needed to work in each field.
A Difference in Career Function
The biggest distinction between these two paths is clear from their titles: therapy versus education. With a degree in music education, you would work in a teaching role, educating students about music in general or teaching them to perform using voice or musical instruments. With a degree in music therapy, you would instead use music as a therapeutic tool that helps clients through the emotional and physiological effects it produces.
Of course, when it comes to the real-world practice of these careers, there's bound to be some overlap between these two related fields. Much of the reason for studying music has to do with its power to elevate mood, express emotions and speak to human thoughts, feelings and needs. As a music teacher working with students one-on-one or in a group, you may tailor your lessons to address your pupils' interests and emotions. You may choose uplifting songs to perform or study to cheer up students who are upset, a soothing song to calm anxious students or a mournful song that speaks to the feelings of students who are struggling with problems in their personal lives. In this way, music education can make use of some of the foundations of music therapy, even though it doesn't qualify as clinical practice.
Likewise, music therapists often impart some amount of education to their clients through their work together toward healing. As a music therapist, your goal is not to teach clients to read music, learn chords or sing in tune. Instead, you strive to use music in ways that help clients achieve goals such as the expression of difficult emotions, feeling calmer or happier and achieving physiological changes such as lowering blood pressure and pulse rate. While music educators evaluate students' performances for technical skill and accuracy, music therapists' feedback has a less critical nature and focuses on understanding and finding insights, often in non-judgmental ways.
When choosing between careers in music education and music therapy, the question you must answer is whether your interest is in helping people learn musical skills or helping them improve their lives through music.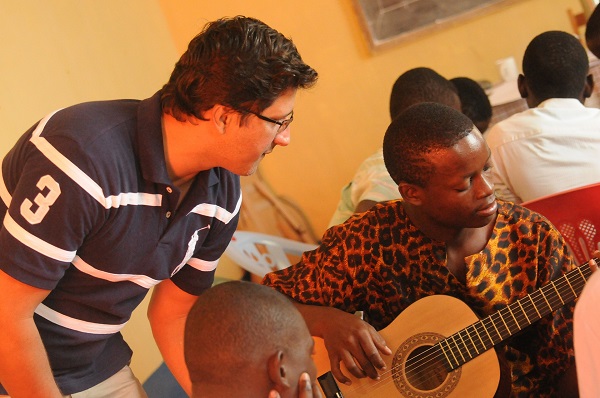 IMAGE SOURCE: Pixabay, public domain
Differences in Curriculum
Degree programs in music therapy and music education share some similarities, especially early on, when much of the curricula focus on developing technical skills in musical performance. Music therapy majors study the basics of psychology and counseling theories and strategies and then delve into their major coursework in this interdisciplinary clinical practice. Music educators learn how to manage classrooms, conduct vocal and instrumental performances and teach effectively to pupils of different age groups.
Fieldwork is an important part of the academic curriculum in both music therapy and music education programs. The American Music Therapy Association requires students in approved undergraduate music therapy programs to complete at least 1,2000 hours of clinical training, usually split between one or more shorter practicum experiences and at least one longer internship. A music therapy internship can take place at any site where a music therapist would work – from a hospital to an outpatient community clinic to a private therapy practice – and would include supervision from a board-certified professional music therapist.
On the other hand, the fieldwork expected of music education majors revolves around student teaching experience. Like prospective teachers of other subjects, music education majors gain hands-on teaching experience in classrooms in elementary, middle or high school settings.
Music therapists should seek the Music Therapist – Board Certified credential and, if their state is one of the 10 that requires a license, pursue licensure. All states require educators working in public school districts to hold a teaching license or certification.
Additional Resources
What Degree Do I Need to Be a Music Therapist?
What Classes Will I Have to Take for a Degree in Music Therapy?
Do You Need Clinical Experience to Become a Music Therapist?