For aspiring authors, poets and playwrights, a Master of Fine Arts (MFA) degree – one of the highest paying master's degrees – in writing can help you on your way. Although each graduate school that offers an MFA program in writing sets its own requirements for admission and graduation, virtually all of them will require proof of your writing skills. At both the time you apply for the program and the time you graduate with your MFA degree, you may need to offer a portfolio of your work.
The Writing Samples Required for MFA Admission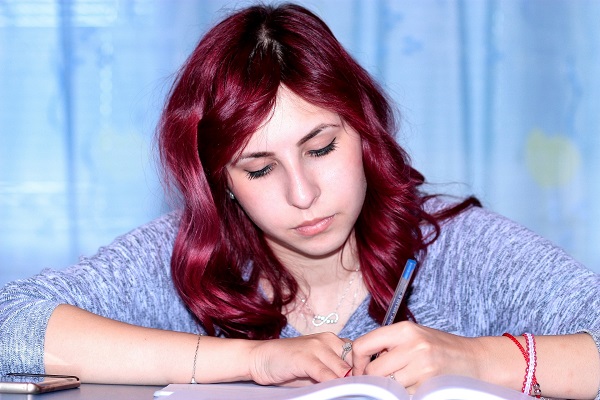 IMAGE SOURCE: Pixabay, public domain
Many college degree programs at both the undergraduate and graduate levels require a writing sample as part of the admissions process. However, few programs put as much emphasis on the skills and technique that your writing sample demonstrates as an MFA in writing does. After all, students seeking a degree in a content area are writing to demonstrate their knowledge of the subject. For students pursuing an MFA in writing degree, the quality of their writing isn't just a means of expressing their strengths but instead the strength to be assessed by admissions personnel.
Most MFA programs want to see a sample that provides considerable insight into your writing skills. The exact number of pages required for a writing sample varies from one school to another and from one area of concentration to another. It's not unusual for schools to ask writers to submit 20, 25 or 30 pages of prose, but some schools distinguish between the page limits for fiction and nonfiction. If pursuing an MFA with an emphasis in poetry, you may be limited to a smaller number of pages, like 10, or to a number of individual poems, like 5 or 10.
What should you submit? That depends on your area of interest. While portfolios in the visual arts often aim to showcase the breadth of the artist's talent, that may not be the case for all types of writers. If you want to earn a writing MFA in fiction, for example, you may include a full short story, a couple of very short stories or an excerpt from a novel.
Writers of poetry might choose to compile a set of poems that fits their unique style or an assortment of samples that include more diversity of technique. Nonfiction writers could choose to submit an excerpt of a longer memoir or a collection of shorter pieces, such as personal essays and opinion pieces. In most cases, you want to avoid submitting academic papers as your writing samples for an MFA in writing program and instead focus on submitting works of literary quality.
In most cases, writing MFA programs specify a maximum page count rather than a minimum page count. Use your best judgment to provide plenty of material for admissions officers to assess your writing skills without going over the maximum page count.
The Portfolio or Thesis for Graduation From an MFA in Writing Program
Throughout the two, three or more years it takes to complete your MFA program, you will be busily cultivating a body of literary work. As you approach your graduation date, you will most likely be preparing either a portfolio or thesis that demonstrates the skills you have developed through the program. The thesis or portfolio you create for graduation from an MFA program is lengthy. Although different programs might have different length requirements, don't be surprised if your creative writing MFA program requires a minimum of 90 pages or more of fiction or nonfiction prose or, for writers of poetry, at least 35 pages.
The big difference between the thesis required for an MFA in writing program and a thesis for a traditional master's degree program is that an MFA thesis is typically a creative work, not an academic research paper. Although you don't have to conduct original research, you still have a lot to work to do. Every page of your thesis should be carefully polished, reviewed by your advisors and formatted to precise specifications.
Students who write a creative thesis for an MFA in writing program have to "defend" their thesis much as graduate students in other programs defend a traditional academic thesis. This may include giving a public reading and answering questions in front of a committee.
Additional Resources
How Does Someone Apply for an MFA in Writing? Do I Have to Have Been an English Undergraduate Major?
Is a Final Project in an MFA in Writing Something That I Could Later Publish, Like a Novel?
Will an MFA Help Me Get Jobs, Or Is My Portfolio More Important?