As a graduate-level program, you can expect any master's degree program to include advanced coursework and focus on the development of strong skills needed for success in high-level roles in the field. Although the topics you are teaching may be elementary in nature, the strategies you need to help your young students reach their full potential are not. Although most master's programs in elementary education incorporate studies in core subject areas, specialized subdisciplines and hands-on experience requirements, the single biggest factor that differentiates master's programs in education is whether that program is intended for initial teaching certification.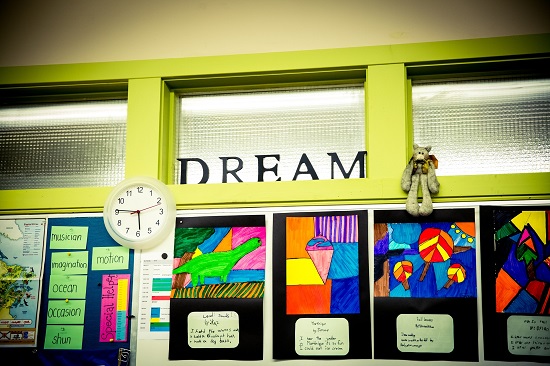 IMAGE SOURCE: Pixabay, public domain
Licensure and Non-Licensure Degree Programs
There are important distinctions between the Master of Elementary Education degree, usually meant for students who are established teachers, and the Master of Arts in Teaching – Elementary Education program. A Master of Education program is often, though not always, a non-licensure program. These degree programs don't meet their state's typical teaching certification requirements, largely because they are tailored toward students who already have a teaching license and classroom experience. They build upon students' established knowledge of practical teaching strategies and classroom management skills to impart more advanced knowledge in both practical and theoretical areas of education.
Master of Arts in Teaching Programs follow a different structure than Master of Education programs. Although both programs may focus on elementary education, the Master of Arts in Teaching option emphasizes the development of those crucial skills in running a classroom and teaching lessons that first-time teachers will need, not the advanced theoretical concepts of interest to teachers who are old pros in the fields. Initial licensure programs may take longer to complete than a Master of Education program, often requiring a lengthy full-time student-teaching experience similar to what you would find at the culmination of a bachelor's degree program in teaching.
A Master of Arts in Teaching program typically fulfills the requirements for alternative route teaching certification in the college or university's state. Every state in America offers some form of alternative route option, according to the Bureau of Labor Statistics.
Core Courses in Elementary Education Fundamentals
The heart of your coursework in a master's program in elementary education is your core courses, the ones that cover the foundational concepts, theories and practical skills upon which your later, more advanced classes will build. Often, core courses include philosophy-based classes like Foundations of Education as well as skill-based classes like Assessment Strategies. Although different programs are structured differently, it's not unusual for today's core classes in elementary education to touch upon areas like teaching and learning, digital learning, curriculum and instructional design, leadership and even research methods.
Some elementary education programs focus on teaching and learning from the kindergarten to fifth-grade level, while others go up to the sixth- or even eighth-grade level.  
Specialized Studies in a Concentration Area
One reason why established teachers go back to school is to enhance their existing skills or develop new proficiencies in an area of specialization. A teacher who works with the general student population may develop an interest in teaching special education and will need specialized coursework and credentials to begin working in special education classrooms. Students of a master's degree program in elementary special education will learn the skills to work with kindergarten to fifth- to eighth-grade students with disabilities, including inclusive environments for young learners, teaching students with autism spectrum disorder and other disabilities and how to provide appropriate emotional and behavioral support to students with low-incident and high-incident disabilities. In addition to learning the skills and underlying theories of running an inclusive classroom, graduate students in special education programs often study topics in special education law.
Many concentrations exist in elementary education programs. You might study a specific content area to become more proficient in teaching mathematics or reading, learn to teach in an ESL classroom or prepare for non-teaching roles in elementary school settings.
Experience Requirements in Graduate Elementary Education Programs
Mastering a subject like elementary education requires hands-on work in an elementary school classroom. Whether you're learning to teach for the first time or simply striving to teach even more effectively, you need to put into practice the concepts and skills you are learning in the college classroom. As such, some form or practicum or internship experience is required for a typical master's in elementary education degree.
For students enrolled in a master's in education program, hands-on experience may be as little as a single one-credit practicum course. Those in a Master of Arts in Teaching program have much more extensive experience requirements.
In certain states and school districts, Master of Arts in Teaching students may be eligible to do their student-teaching internships as full-time, paid employees of the school. Otherwise, they may have to end their graduate studies with a semester of unpaid internship work.
Additional Resources
Are There Various Types of Master's Under the Umbrella of Elementary Education?
What Is a Master of Arts in Teaching Degree?