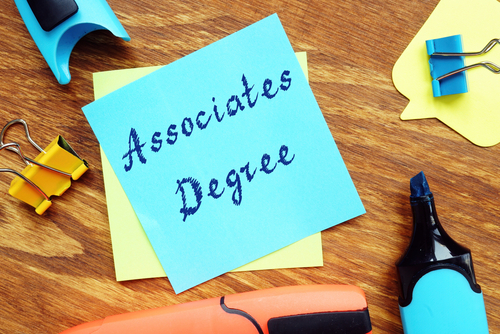 You may wonder, what are the advantages and disadvantages of earning an associate of arts degree (AA) versus an associate of science degree (AS)? There are likely more specific job opportunities for someone with an AS. An AA lays the groundwork for further education. Both degrees include studies that will allow a student to go on and earn a bachelor's degree in art or science.
The following looks at some of the significant details involved in earning either an AA or an AS.
What is an Associate's Degree?
An associates degree can be a quick and more cost-effective path to a better paying career. If 4 years of school seems daunting, the associate's degree may be a good fit for you. Two years is generally how long it takes to earn an associate's degree. It is typically 60 credit hours. Students can take 15 credit hours per semester and complete the degree in four semesters. An associate's degree can also be a way to get your grades up before applying for a bachelor's degree.
Related: What Can I Do With an Associate's Degree?
What is the Salary Potential for an Associate's Degree?
According to the Bureau of Labor and Statistics, employees with an associate's degree earned a median salary of $52,830 in 2017. Occupations in the computer and engineering field offer the best paying jobs for those with an associate's degree. For example, a web developer earns an average salary of $73,760 with an associate's degree.
Related: Highest Paying Associates Degree
Earning an Associate of Arts Degree
When a student studies for an associate of arts degree, he or she may be learning general studies about:
performing arts

literature

languages

history

writing

communication

fine arts such as music or art
This degree is helpful for those who plan to earn a bachelor's degree with a focus on any of those specialties. It is easy to transfer to a bachelor's degree program with an AA degree. You will get many liberal arts classes in your AA program.
One of the advantages of having an associate of arts degree is that it doesn't limit a person to one career. An individual can use what he or she learned in a variety of career fields including sales, restaurant management and education along with others. After high school graduation, if you are not 100% sure which bachelor's you want to pursue, you may consider an associate's of arts degree to move you forward before deciding.
It is common to get an associate of arts degree from a community college. Other schools that offer an AA include:
Earning an Associate of Science Degree
Someone who spends two years earning an associate of science degree may have more career options open after graduation. For instance, a registered nurse may have an associate's degree on his or her resume. Of course, if a registered nurse plans to progress in the career field, he or she will likely need to invest in more education. Some registered nurses have bachelor's degrees in science, master's degrees and sometimes they have Ph.Ds.
An AS degree focuses on careers in the math and sciences fields. There are other careers in the healthcare field that are open to people who have an associate of science degree. Some examples include:
medical assistant

dental hygienist

caregiver

administrative assistant in a physician's office

social worker

computer programmer

air traffic controller
Many will earn their associate of science degree from a community college. However, these universities offer an AS degree:
Quick Comparison of an AA vs an AS
Associate of Arts
Associate of Science
Available Online
yes
yes
Focus
Humanities
Science and Math
Degrees
Psychology
Communication
Graphic Design
Criminal Justice
Health Information Technology
Construction Project Management
Typical Careers
Preschool Teacher
Paralegal
Occupational Therapy Assistant
Dental Hygienist
Web Developer
Registered Nurse
Mechanical Engineer Technician
What is the Difference Between an AA and an AS?
Finally, the biggest difference between having an AA or an AS degree is that an associate of science degree can lead to more specific occupations while an AA degree may lead to jobs in a number of career fields. A student must remember that the main purpose of getting an associate degree in either the arts or sciences is to continue on to earn a higher level of education. This gives students a deeper knowledge of the subject they want to study.
If you are a high school graduate who is looking to find employment, own a home, earn a higher salary, earning an associate's degree is a good choice for you. If you are good at science and math, you might go the associates of science route. If you want a more general education to get a feel for what you might student later, an associate of arts would be the best choice.
DQ Staff
Updated September 2020
More Articles of Interest: