Journalism is printing what someone else does not want printed; everything else is public relations.― George Orwell  
Whether you seek to tell the truth or seek to spin a good story, the way you do it is changing. The highest paying careers in communications are different today than they were 50 years ago.  Print newspapers and magazines are on the decline while at the same time online media has skyrocketed. 
Public relations requires individuals and teams with crossover skills and what defines journalism is debatable. 
The types of careers one can have with a background in communication is vast from very technical careers such as a career in editing to extremely creative careers like that of an animator.  Additionally many communication jobs require both creative flare and technical skills.    
Good communication keeps us alive and keeps us safe.  Communication careers are not dead, they're just different and we need individuals with a background in communication now more than ever.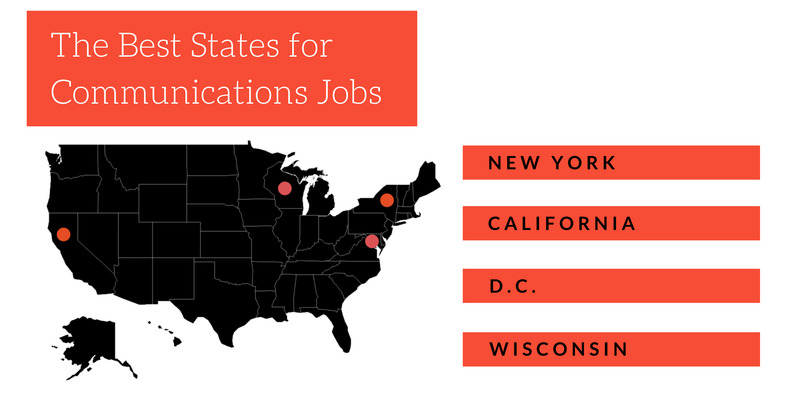 Words and images tell a story. They show things as they are and they also have the potential to show people what could be.  If you feel passionate about communication- great! Passion is what it will take to be successful in this profession. 
Not all communication jobs are on the rise, in fact, many are on the decline.  Meaning it will take that much more drive and persistence to land one of these positions.  Even advertising and sales is on the decline according to the Bureau of Labor Statistics. Market research analyst jobs, however, are growing at a rate that is much faster than the national average! 
Each position is different, and while we will discuss projected job growth, the focus of this guide will be the jobs that are the best paid.
Skip to: 
For the purposes of this guide, we are going to look at the highest paying communications jobs and discuss a bit about what is required to do those positions and what makes the job so high-paying.  
Additionally, we'll take a look at how you obtain one of those jobs.  We'll look at the degrees that many people receive in order to land those jobs and take a peak at what it will take to complete those degree programs. 
We'll also provide you with additional resources as we know initiating a career in anything is a big step. 
So you want to work in communications and you want to make a good living to boot! Then you are in the right place.  Before diving into the highest paying careers in the industry, we're going to take some time to consider a few key points.  
Keep these questions and considerations in mind as you explore this resource:
Past experience matters. It can serve as an inspirational jumping off point or directly as applicable skills that you can use on-the-job. What are your past experiences? Is there something about one or a few of them that really inspired you? Do you have direct experiences in say writing for a school newspaper that may be applicable to the field? 
We mentioned earlier that it will take a lot of passion and persistence to get the job that you want. Do you have grit? Can you grow your own grit?  This single quality according to psychologist Angela Duckworth is the greatest indicator of success in life above and beyond talent and good grades. Hard work is not for the birds, it's for the fiercest of the pack.  You will need to be persistent and try hard to obtain any high-paying job.  Are you that type of person?  
Do you have the necessary soft skills to work in communications? Some communication jobs require you to communicate effectively with a team of professionals especially if you choose public relations.  Are you a good listener and a good speaker?  Do you have interpersonal skills that encourage people to open up to you and be honest with you? That is the mark of an excellent journalist.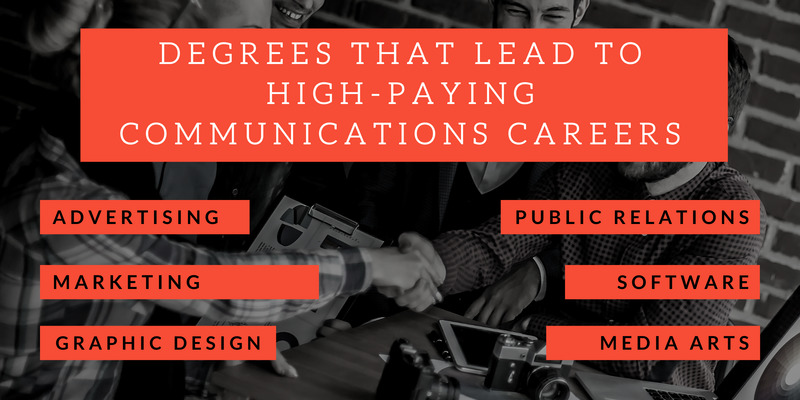 Next consider your time. How much of it can you devote to furthering your education.Your current employment levels and family responsibilities are going to dictate the majority of your time.  But not everyone considers the additional sacrifices. You'll have less time for yourself. You will likely have less time to see friends and make connections with your family.  Being prepared for these sacrifices is important. You'll be more likely to stick with your program if you are prepared for them and willing to make them. 
Remember a part-time degree typically requires an additional 20 hours per week while a full-time degree requires 40.  This is just a general guideline but something to keep in mind when making this decision. 
What additional skills do you have?  Do you have an awareness of different media? Maybe you have experience with social media that may become useful in your career.  Are you creative? Creative skills come in handy regularly with communications positions.  Don't be shy.  You never know how a creative piece or idea can impact your career! 
As you can see there is much to consider before initiating the start to any career.  Take some time to create a pros and cons list or analyze your work and life load as it stands now. These steps, though often overlooked, are entirely worth it. 
OK, let's move on to some of the most lucrative careers you can get with a degree in communications. 
DegreeQuery.com is an advertising-supported site. Featured or trusted partner programs and all school search, finder, or match results are for schools that compensate us. This compensation does not influence our school rankings, resource guides, or other editorially-independent information published on this site.
What are the Highest Paying Communications Positions?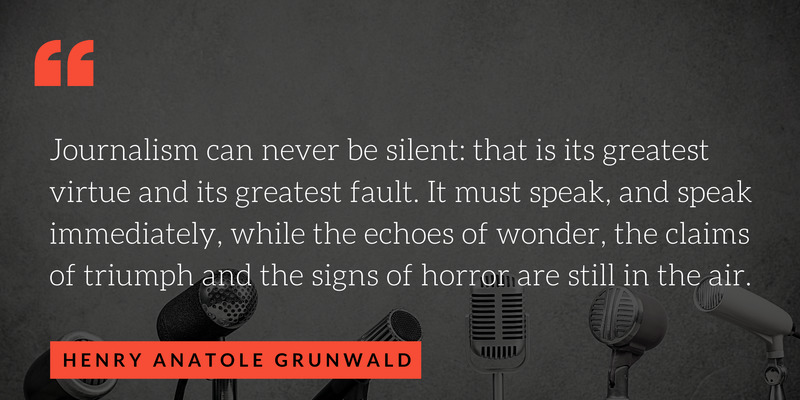 In this next section we'll take a look at some of the highest paying jobs in communications. Even within a profession there is a wide range of pay as pay does increase with certain qualifications as well as with years of experience.  Let's take a look. 
Advertising, Promotions, and Marketing Managers 
According to the Bureau of Labor Statistics (BLS), advertising, promotions, and marketing managers earned a median salary of $135,900.  This position is growing at a rate of 8% which is faster than the national average. The BLS projects 21,800 new jobs between 2018 and 2028. The majority of what a marketing manager does is create opportunities that generate an interest in a product or a company. The manager works with the heads of company as well as marketing team members and discusses budget concerns before planning advertising and media content.  The marketing manager may be in charge of content that is printed or digital. They may be involved in advertising campaigns and determine if their campaign is right for T.V., the radio, print, or online media as well as on billboards. Some managers specialize in a specific type of media and for that reason you may see job advertisements seeking out these types of individuals. Marketing managers identify the market as well as additional potential markets that a company may connect with.  (Learn more about how much you can make with a degree in digital marketing.)
Related Job Titles: vice president of marketing, senior product marketing manager, product marketing director
Soft Skills
Leadership
Oral and Written Communication 
Creative Thinking 
The perfect balance between technically savvy and people savvy
Public Relations and Fundraising Managers 
According to the Bureau of Labor Statistics, public relations and fundraising managers make a median salary of $116,180 per year. This means an average of $55.86 per hour. The projected growth is 8% which is faster than the national average and one that is projected to add 6,300 new jobs between 2018 and 2028. PR specialists are concerned with branding and a corporation's image. They develop creative relationships with others in the public to generate interest and awareness around a company.  Fundraising managers typically work for an organization and are in charge of all fundraising strategies. They also apply for grants and create events that generate donations for an organization.  Similarly to a public relations specialist the fundraising manager helps an organization achieve their financial goals by creating a buzz around the organization.  Each of these roles shares similar soft skills. Let's take a look! 
Soft Skills
Communication
Problem Solving 
Interpersonal
Connected 
Multimedia Artists and Animators 
The Bureau of Labor Statistics lists multimedia artists and animators' median salary as $75,270. The projected growth for these positions is 4% which is on par with the national average. Between 2018 and 2028 there will be 3,000 new jobs.  This position is a highly creative one and  a great option for any person who is looking to make that leap either into a creative career or initiate their career in a creative field. Animators and multimedia artists create images that move and provide special effects for a variety of media.  Film and video are an essential part of many company's growth. Artists and animators typically work with a creative team to make the movies and other moving graphics for a company. They meet with directors and help to consolidate their vision into one piece that can be used to promote a company or product. Many media artists specialize in one specific medium. 
Soft Skills 
Oral and Written Communication
Team Player
Market Research Analysts 
A market research analyst earned a median salary of $63,790 in 2019. The average growth rate for a market research analyst is 20% which is much faster than the national average of 4%.  This means 139,200 additional jobs between 2018 and 2028. The outlook is very good for analytics! Market research analysts study the market to determine the potential for a product or a company. The analyst also measures how effective a program or strategy is and will pivote depending on the market's trends.  This position is data-driven and so a market analyst typically has experience with data and strong math skills especially in statistics. From there the market analyst has to explain the data to other members of the marketing team as well as senior members of the company. This often means that the market research analyst has to communicate well with others and typically does so by creating easy-to-follow graphs and other visualizations. 
Soft Skills
Oral and Written Communication
Public Speaking 
Detail Oriented 
Technical Writers 
As of 2019, the median salary for a technical writer was $72, 850.  The projected growth for this position is 8%. As the need for science and tech products grows so does the need for technical writers. Technical writers are not always what you think of when it comes to communications. None-the-less much of what a technical writer creates makes it to the public eye and for many companies is an essential component to their business especially STEM subject companies.  As you can imagine, a technical writer needs to be able to write and write technically but additionally will need to be able to be creative when making the materials for a company.  Technical writers create materials, how-to guides, journals, and articles that teach and are often required to add in videos as well as images to enhance their materials.  Knowledge of a technical subject such as engineering is extremely beneficial for a technical writer.  Years of experience, the company and location will all impact the salary of a technical writer. 
Soft Skills 
Oral and Written Communication
Attention to Details
Creative
Writers and Authors 
Writers and authors are an essential part of any business and they are often employed to work alongside a team of marketers and other writers to create content for a website or company. According to the Bureau of Labor Statistics, writers and authors earned a median salary of $63,200 per year. The job growth for this position is unfortunately not growing and the projected growth is -100 jobs between 2018 and 2028.  To prepare for the deliverable, the writer will research a topic and typically gathers factual information. Next the writer will present their first draft to an editor and make changes accordingly.  Many writers today are self employed and write in the genre of their choosing.  Even self employed writers tend to utilize an editor.  The main goal of a writer is to turn the appropriate phrase and that includes for their own personal endeavors as well as for a company.    
Soft Skills
Oral and Written Communication
Patience
Detail Oriented 
Other communications positions that are lucrative: 
Editors 
Wholesale and Manufacturing Sales Representatives 
Event Planners 
Advertising Sales Agents 
Reporters Correspondents and Broadcast News Analysts 
Public Relations Specialist 
What Are the Highest Paying Communications Degrees?
The highest paying degrees in mental health are psychiatry degrees as well as psychology PhD.  Those positions are different from counseling positions though there is some overlap.  For the purposes of this guide, we are going to look specifically at counselling degrees and the ones that lead to some of the highest paying counseling positions.  Let's take a look at those:
Advertising and Marketing MBA 
The advertising and marketing MBA is an MBA in two parts: the core MBA with the marketing course material.  An MBA degree typically includes course material on leadership, economics both micro and macro, accounting, finance, and data analytics. The marketing core includes course material on marketing management, strategic marketing, and dynamic marketing. The best programs typically include course material on operations and strategies to help you succeed in marketing.  You'll learn to take and analyze data, research methods in marketing and how to run your own business.  These programs often lead to great starting salaries and opportunities with companies of all sizes including Fortune 500 companies. 
Public Relations and Organizational Communication 
A bachelor of science in public relations ensures that you develop skills based in the art and science of public relations. All of these programs teach students how to develop their storytelling skills including how to be an effective storyteller to a variety of audiences. Students of these programs will learn about communication theory as well as research. Some of the courses you'll take in a bachelors of communication include introduction to communication writing, the principal and practice of public relations, understanding media, writing for communication, non-profit public relations, media law and policy, design strategy, government affairs, and more.  As you can see undergraduate programs tend to provide the more broad programming for communications majors.  
Media Arts and Technology MAT 
Media Arts and Technology is a transdisciplinary degree that incorporates a number of courses in the creative arts as well as technology and engineering. These programs are new and constantly evolving.  These degrees typically include courses in digital audio programming,  art and technology, music and technology, digital media technology and engineering, media signal processing, advanced computer graphics, digital audio programming, arts engineering, and internships. As you can see these programs are highly specialized. This is a 
Here's a resource list from DegreeQuery to help set you up for success in a career in counseling. 
How Can We Help You Achieve Your Goals In The Field of Communications?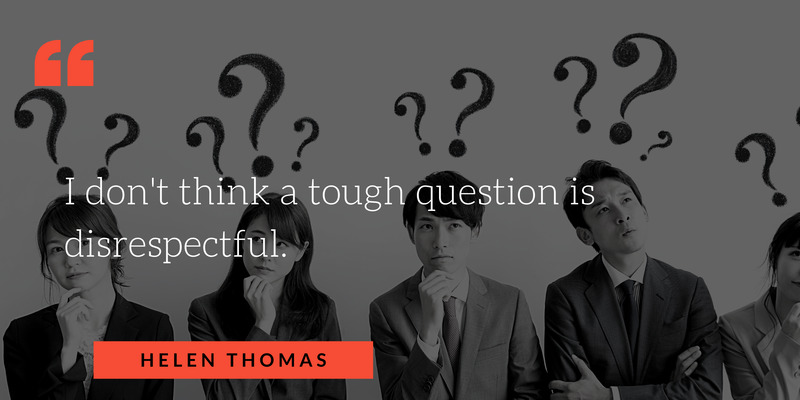 Here at Degree Query, we've created a variety of content to help you research and determine your career path.  We've answered common questions, provided in-depth guides about careers, ranked degrees on many metrics, ranked occupations, and much more. Here's some of the work we've done related to communication careers and degrees:
Communication Degree Rankings
Communication Degree Guides
Common Questions About Communications Degrees
This is just part of the work we've created that discusses communications. We invite you to explore our homepage and search functions to better tailor the content that is right for your. 
Fast Facts About Lucrative Communications Careers  
Before we go, let's take a look at some employment numbers from the U.S. Bureau of Labor Statistics on some of the most lucrative communications positions:
Wholesale and Manufacturing sales Representatives: In 2019 the median pay for these roles was $63,000 annually or $30.29 per hour.
There were 305,500 of these roles in 2018. This was expected to grow by 2% between 2018-28, creating 35,400 new jobs in the field which is much faster than the national average.
Advertising Sales Agents: In 2019 the median annual pay for these positions was $55,310 or $25.63 per hour.
The typical entry-level education was a high school diploma. 
Public Relations Specialists: In 2019 the median pay for these workers was $61,150 annually, or $33.64 per hour.
There were 270,000 of these jobs in 2018. This was predicted to climb by 6% between 2018-28, creating 17,300 new roles in the field.
Graphic Designer: In 2019 the median annual pay for these positions was $52,110, or $25.05 per hour.
There were 290,100 of these jobs in 2018. This was expected to grow by 3% between 2018-28, with 8,800 new roles created. 
As you can say there is a wide range of jobs that are related to communications and many more in the visual communications field that we didn't cover here.  Some positions are growing at a faster rate than others but if you are passionate about communications, we recommend you go for it!   We hope you were able to find what you were looking for in our guide.  
Good luck in your career! 
For Further Reading: 
Top 10 Paying Jobs With an Associate's Degree