So you love animals? We do too here at DegreeQuery. And we also love connecting future students with the right degree programs for landing a fulfilling and stable career. For many students, veterinary medicine fits the bill. And it doesn't take going to vet school to be able to get into the door. Veterinary medicine degrees are available at the associates through doctoral levels, and can lead to stable jobs in rural and urban environments.
If you're a particularly strong student, or willing to work hard for a number of years, doctoral degrees in veterinary medicine can lead to the title of Doctor of Veterinary Medicine. These degrees can graduates to open their own practice, specialize in rare animal types, or find employment in a variety of governmental agencies, zoos, or university settings.
As with all of our degree guides at DegreeQuery, we're going to tackle the most common questions we get asked about this degree type. A list of the major topics we'll cover in this guide can be seen below.
Table of Contents
Don't see what you're looking for? Be sure to check out DegreeQuery's related coverage below:
What Veterinary Medicine Degrees Are Available?

Veterinary medicine is a field comprised of many roles other than full-fledged vets. Veterinary medicine degrees start at the associates level, and work their way up to doctor of veterinary medicine degrees.
At the associates level, degrees are available in veterinary technology, veterinary medicine, or veterinary education. Many schools offer these degree programs at the bachelor's level as well, though associates degrees can be used to get your foot in the door career wise.
As with other associates-level programs, students should expect to spend 1.3-3 years of study (2 is the most common program length) working through general education and major courses. General education courses are meant to ensure students are exposed to a broad range of college-level academic disciplines. General education courses are also meant to ensure that students are well-rounded thinkers. Common general education courses taught in associates degrees include:
Courses in Social Sciences
Courses in Religion, Philosophy, or Ethics
Courses in Natural Science
Courses in Basic College-level Mathematics
Courses in Data Literacy
Courses in Literature and Composition
A Physical Education Course
Others
Once students have completed some of their general education requirements, they then begin on major courses. Among associates degree programs in veterinary technology, education, or medicine, students take many similar courses. Some courses all three of these degrees have in common include:
Nutrition in Animals
Radiology
Pharmacology
Methods for Clinical Labs
Veterinary Technology
Anatomy and Physiology
At the bachelor's level, students can continue any three of the degrees listed at the associates level. In more competitive markets, or at certain experience levels, gaining a bachelor's can help you to secure a more lucrative position or more employment opportunities.
Bachelor's in veterinary medicine also function as a solid preparation for doctoral-level study of veterinary medicine. Similarly to associates-level requirements for a veterinary medicine degree, students are expected to work through general education requirements. Wondering what these are? Check the list in the previous section.


Upon completion of general education requirements, students begin an intensive life sciences curriculum that includes courses in the following:
Physiology and Anatomy
Physics and Chemistry
Biology
Cell Biology
Lab Methods
Microbiology
Immunology
Mammalian Physiology
Animal Parasitology
Vertebrate Zoology
Pharmacology
Animal Nutrition
Veterinary Technology
And other courses
At the master's level students can begin to specialize in one area of study. This can lead to research roles both dealing directly with animals, as epidemiologists, or as public health researchers. While master's in veterinary medicine are more common in the UK, there are some available in the United States as well.
Common degree titles and specialization areas for master's in veterinary medicine degrees include:
Livestock Health and Reproduction
Veterinary Epidemiology
Veterinary Education
Veterinary Research
Animal Sciences
Advanced Veterinary Nursing
Veterinary Microbiology
Veterinary Infectious Diseases
Among others
Finally, at the doctoral level students may continue to focus in many of the research-centered topics listed in the section above, or pursue the primary degree by which someone gains the title of veterinarian a doctor of veterinary medicine degree.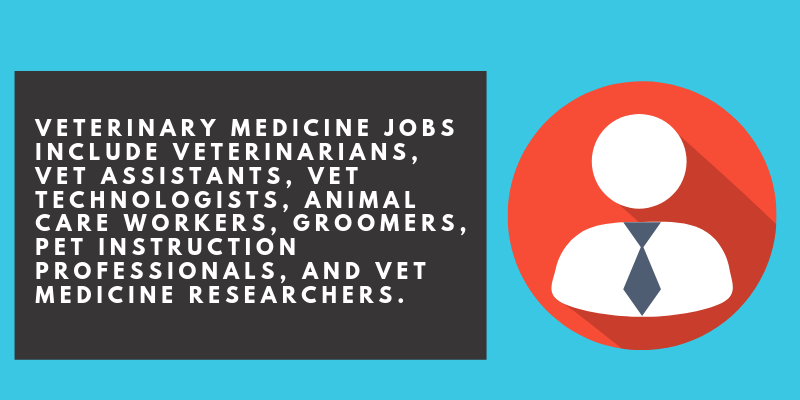 Doctor of veterinary medicine degrees are terminal, professional degrees that prepare students to sit for board exams and practice as doctors of veterinary medicine. In this case, professional means their focus is on preparing future vets, rather than focusing on the research elements of a doctorate. Many professional degrees, including doctor of veterinary medicine degrees do not require dissertations, or several hundred page documents of original research. Though some programs may require students write a thesis. Theses are different from dissertation through the fact that they are around 100 pages. Instead of original research they are comprised of a summary of current research in a field arranged into an argument.
Doctor of veterinary medicine degree programs typically require four years of study. Students work through a variety of natural science and health background courses, as well as in-person, hands-on experience diagnosing and caring for animals.
Coursework within doctor of veterinary medicine includes the following:
Anatomy of Animals
Relationships between humans and animals
Anesthesia for Vet settings
Diagnostic microbiology
Animal Surgery methods for a variety of animals
Diagnostic Image Procedures
Furthermore, similarly to medical school, students may elect to pursue a further specialization or "residency." Some of the most common veterinary medicine residencies include:
Laboratory Procedures for Animals
Animal Biosciences
Equine Field Service
Equine Emergency Service
Equine Medicine
Equine Surgery
Anesthesia
Behavioral Medicine
Cardiology
Animal Dermatology
Radiation Oncology
Ophthalmology
Food Animal Medicine
Theriogenology
Small Animal Surgery
Small Animal Emergency Care
Small Animal Internal Medicine
Radiation Oncology
Oncology
Don't see what you're looking for? Be sure to check out DegreeQuery's related coverage below:
Can I Gain a Veterinary Medicine Degree Online?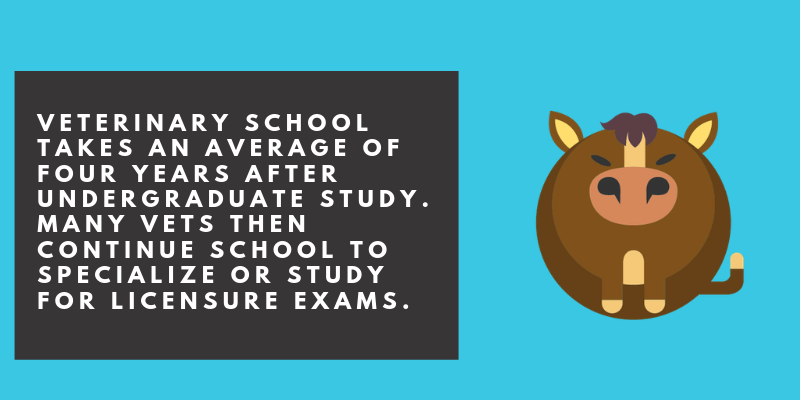 Every level of veterinary medicine degree short of a doctor of veterinary medicine can be completed online. This is particularly the case with associates and bachelor's-level degrees.
One should note that most veterinary medicine degrees do require some hands-on components. Though some online programs will allow you to complete these components at a location close to you and not on-campus.
While millions of students have succeeded with online education, potential online students should consider a number of factors before deciding about their delivery method. Online degrees can be a game changer for some students. While for others, online is harder. Let's take a look at some of the pros and cons of online education below:
Pros of Online Education
Studying Online Can Lower Fees
No Need to Move
Often Built For Adult Learners
No Need to Quit Your Job
You Get the Same Degree as In-Person Programs
Cons of Online Education
Doesn't Have the Same "Feel" as In-Person Education
Lack of Access to In-Person Events
Harder to Get to Know Classmates and Professors
Less Support
More of a Need to be a Self Starter
As you can likely see, there are some definite trade-offs between online and in-person degrees. And in many veterinary medicine degrees, you won't have to choose. But for those seeking associates through master's degrees in veterinary medicine (or related degrees), either route can work.

How Do I Gain Admission to a Veterinary Medicine Degree Program?
Admission to veterinary medicine degree programs depends on the level of the degree you're seeking. At the associates level, students pursuing degrees from community colleges may find that they have the option of attending programs with "open admission" policies. These policies allow any student with a high school diploma (or equivalent) entrance to local community colleges. Open admission policies are often contingent upon students keeping their college grades above a certain level.
At the bachelor's level, students at most colleges and universities should seek to gain admission to the college for undergraduate study. This often involves taking a standardized entrance exam such as the ACT or SAT. Students should also submit transcripts, be prepared to complete admissions essays, and potentially sit for interviews.
Bachelor's degree programs can vary tremendously in admissions standards. Some bachelor's level programs are essentially open admission. While other bachelor's programs admit a tiny percentage of students who apply. A number of tools online can help you estimate you chances at gaining admission, as well as information on the program of interest's website.


At the master's level, students should have undertaken a rigorous health or natural sciences course of study in their undergraduate years. Some students seeking master's in specialized areas may even already hold their doctor of veterinary medicine. Typically GRE standardized tests are used for entrance into master's in veterinary or animal science programs. As professional master's degrees, many programs are also willing to take the professional experience of candidates into considerion when granting admission.
Finally, doctor of veterinary medicine degrees are the most competitive degree programs to gain entrance to in this guide. Before applying, make sure you read all prerequisites for the programs you're interested in. You certainly don't want to be turned away on a small technicality.
Many veterinary programs accept centralized applications from the Veterinary Medical College Application Service. Applying through this program can allow you to submit multiple applications at once and expand the reach of your application process. The typical standardized test used for entrance to a DVM program is a GRE. And students should also submit a statement of purpose, other admissions essays, a resume, and past transcripts. Some programs may also require interviews. One final tip, state schools often have a quota of students they must accept from a given state (or nearby states). If interested, make sure to apply to at least one state school to increase your odds of acceptance.
What Can I Do With a Degree in Veterinary Medicine?
Some of the most common jobs in veterinary medicine include:
Veterinary Assistant/Technician
Veterinary Technologist
Veterinary Nurse
And Veterinarian
Though there are additional jobs in public health, epidemiology, and research, numbers wise the above careers are much more prevalent.


There are degree programs that can prepare you for any of the above roles, starting at the associates level and ending with a doctor of veterinary medicine (DVM) degree.
Veterinary assistants often hold associates in a field related to veterinary medicine. In some locations, individuals may be hired with only a high school diploma.
Veterinary assistants help with a variety of logistical and animal care related tasks. They may help with medical procedures, clean surgical equipment, clean and transport animals, and perform customer service related activities.
For those who know they want a career with animals, and need a place to start, veterinary assistant roles can be a great starting point.
Though this rate varies by location and experience, the average veterinary assistant makes around $30,000 nationwide.
Veterinary technologists (also known as technicians) commonly hold associates or bachelor's degrees in veterinary technology, medicine, or animal science. Vet technologists hold positions similar to nursing positions within human-centered medicine.
Common job responsibilities for veterinary technologists include initial animal intake and examination, administering of common medicines and vaccines, assisting in surgery or diagnostic procedures, sterilization and storage of medical equipment, and customer service. Within emergency veterinary or boarding facilities, veterinary technologists may work night or weekend shifts, much as nurses at hospitals.
The most common entry into a veterinary technologist career is through an associates in veterinary technology and passage of a licensure exam (depending on your state of residence). The average salary for veterinary technologists is around $34,000 nationwide.
Veterinary nurse positions are primarily available in British commonwealth nations as well as other nations throughout the world. With training in-between a veterinary technologist and a doctor of veterinary medicine, veterinary nurse positions mirror the levels of nursing positions in human-centered medicine.
There are several levels of veterinary nursing, all of which require university degrees. Programs accredited by the Royal College of Veterinary Surgeons and located in the United Kingdom are primary routes towards becoming a veterinary nurse.


Common duties of veterinary nurses include the administration of medicines and vaccines, assisting during surgical procedures, procurement of samples for testing, administration of X-rays, sterilizing surgery equipment, and general intake and care of animals.
Salaries for veterinary nurses range from $30,000-$50,000 depending on location of practice.
Finally, veterinarians are perhaps the central career we associate with the study of veterinary medicine. These highly trained animal doctors work in a variety of settings including emergency vet clinics, private practice, for government agencies, in zoos, and in research settings.
The most common setting for employment of vets are small private practices, often managed by a handful of vets who take turns taking shifts throughout the week. Most small towns in America can support several veterinary medicine clinics. Rural agricultural regions also require a solid concentration of vets. And obviously urban settings require large number of vets.
The most common tasks that veterinarians perform include the examination of animals, the researching of treatment plans, overseeing surgery or diagnostic procedures, and for smaller practices the business tasks associated with running a small business.
Veterinarians are generally compensated quite well. Though some do run the risks that are part of running a small business. The average salary for a veterinarian is presently $94,620. The lowest 10% of earners make around $60,000. While the highest earning vets can earn $100,000's a year.