For many counselor and therapist roles, the job outlook is positive. Some jobs in counseling and therapy are growing by nearly twice the rate of all occupations. The counseling occupations that are seeing the most rapid increases in career opportunities are growing more than three times as fast as average. This favorable job outlook is good news for anyone pondering a career in counseling, but students who choose to prepare for the careers with the most promising growth rates will have the best prospects.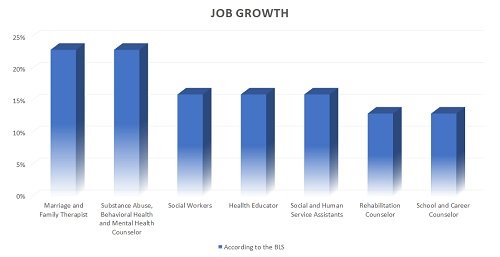 DegreeQuery.com is an advertising-supported site. Featured or trusted partner programs and all school search, finder, or match results are for schools that compensate us. This compensation does not influence our school rankings, resource guides, or other editorially-independent information published on this site.
Job Growth in Counseling Occupations
The federal Bureau of Labor Statistics (BLS) uses data to predict job growth for occupations across the United States. For all careers, the BLS expects jobs to grow by just seven percent, but for the occupational grouping of counselors, social workers and community and social service specialists, a 16 percent job growth rate is expected.
All of the counseling and therapist roles in the community and social service sphere happen to have positive job outlooks, but some jobs are growing much faster than others. Jobs for rehabilitation counselors and for school and career counselors are growing at a rate of 13 percent. For rehabilitation counselor, a role with a below-average wage of just $35,630, this growth should add 15,100 new jobs, raising the total number of workers to 134,400. School and career counselor, with the highest median wage of all counseling jobs at $56,310, is already a larger occupation. A 13 percent increase in career opportunities in this field means 36,700 new jobs, bringing the total workforce up to 328,400.
The two counseling and therapy roles growing the fastest are marriage and family therapist and substance abuse, behavioral health and mental health counselor. Marriage and family therapist is a comparably small occupation, employing just 41,500 workers across the United States. Although the BLS expects opportunities in this profession to grow by 23 percent, this will only add 9,700 new jobs. The occupational grouping of substance abuse, behavioral health and mental health counselors is also expected to grow by 23 percent. Because this profession is already much larger, employing 260,200 Americans, the job gains will be more significant. The BLS expects to see 60,300 new positions become available, with 36,500 in mental health counseling and 36,500 in substance abuse and behavioral disorder counseling.
The only fields in community and social service occupations not seeing faster than average job growth rates are probation officers and correctional treatment specialists. Social worker, health educator and social and human service assistant jobs are growing. 
Preparing for the Counseling Jobs With the Best Career Outlooks
A college education is required for the vast majority of counseling jobs, and many roles require a master's degree and a license. Different types of counseling and therapy degrees equip students with the specialized skills to work in different roles, so prospective students need to figure out which counseling occupation is right for them before they apply for graduate school.
If you want to work in mental health counseling, you will need a degree in mental health counseling that includes hundreds of hours of supervised clinical experience. Clinical mental health counseling programs cover a breadth of counseling models, theories, techniques and professional practices, because mental health counseling encompasses a broader scope of client mental health disorders and life problems. The BLS reports that geographical area is an important factor in job prospects for mental health counselors, with rural and underserved communities offering an abundance of job openings in the field.
The field of substance abuse and behavioral disorder counseling is the only counseling career that offers opportunities with a bachelor's degree, but these opportunities are limited and vary on a state-by-state basis. If you want to work in addiction counseling, earning a master's degree will give you the best career prospects, including the ability to attain a license and to establish a private practice. Your coursework will include general counseling principles and techniques as well as specialized coursework on drugs, their effects and the application of counseling theories to recovery from substance abuse disorders.
For a career as a marriage and family therapist, you need to complete a master's degree program specific to marriage, couples and family therapy. Through your studies, you will develop a new perspective on the dynamics of couples and family groups. In the classroom and in hands-on practice, aspiring marriage and family therapists learn how to apply cognitive-behavioral therapy and other therapeutic interventions to help clients learn to better understand and communicate their feelings. Marriage and family therapists work with individuals as well as couples and family units, but they use a family-centered approach to do so, the BLS reported.
Many factors contribute to the growing job opportunities in these fields, including a greater need for mental healthcare providers, a growing trend for courts to refer substance users to treatment and workers leaving the field.
Additional Resources
What Classes Will I Take for a Degree in Mental Health Counseling?
What Classes Will I Take for a Degree in Addiction Counseling?
What Classes Will I Take for a Degree in Marriage and Family Therapy?
What Is the Salary Potential for Someone With a Counseling Degree?