If you want to help couples and families communicate better and function in healthier ways, graduate school may be in your future. Professional marriage and family therapists typically need a master's degree in this rapidly-growing field, according to the United States Bureau of Labor Statistics (BLS). Although the different accreditation bodies that are active in this field base their approval on different sets of standards, there are certain areas of study that students can expect to encounter in any quality marriage and family therapy (MFT) program.
Coursework in the Field of Marriage and Family Therapy
At its simplest, a marriage and family therapy curriculum explores the dynamics of relationships, especially marriages and families, as well as how they function and the ways the impact mental health issues, the BLS reported. Field-based training, provided through supervised internships in which the student conducts therapy with real clients, is an important part of a marriage and family therapy program. Most MFT programs require students to complete hundreds of hours of fieldwork during their studies, and most states require an additional 2,000- to 4,000-hour internship or residency period after you earn your degree before you can attain your license.
Many MFT programs start with studies in the theories and practices of couple and family therapy. Early on in the program, students will likely learn the foundations of systemic practice, which incorporates a focus on relationship dynamics as well as individual behaviors, and apply those foundations to the understanding of human development across the lifespan. Often, MFT students begin their fieldwork through a practicum course as early as their first semester of graduate school.
As students continue to study family therapy practices at more advanced levels, they are also exposed to coursework in mental health diagnosis and treatment, sex therapy, group and community-based interventions, and issues of violence and abuse in families. It is common for MFT programs to include coursework in diversity in counseling practice, research in the field and the legal, professional and ethical issues involved in marriage and family therapy.
Since family units are dynamic, coursework on transition in family units is particularly helpful in this field. This area of study helps students who will go on to provide counseling services to families coping with separation and divorce, incarceration, military deployment, employment changes and other stressful life changes. By the time they complete the program, MFT students should be familiar with counseling strategies for children and adults, used in individual, couple, family and group settings. Through their internships in agencies, clinics and nonprofit organizations, they learn how to apply those strategies to the challenges faced by real clients.
Some colleges with large MFT and counseling programs have their own on-site clinics run through the school. No matter where you fulfill your internship requirement, you can count on having direct client contact, particularly while counseling couples and families. 
Learning Outcomes in Accredited Marriage and Family Therapy Programs
The BLS reported that a number of accrediting bodies grant programmatic accreditation to MFT programs. The Council for Accreditation of Counseling & Related Educational Programs (CACREP) accredits almost 50 marriage, couple and family therapy or counseling degree programs. The high standards set by CACREP include coursework that covers a variety of factors that influence marriages and families, including crisis and trauma, interpersonal violence, unemployment, addiction, career demands, gender roles, cultural factors and physical and mental health concerns. Even normal and natural factors like human sexuality and aging can affect couple and family units.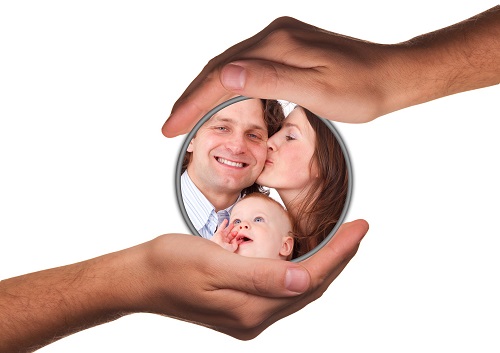 IMAGE SOURCE: Pixabay, public domain
The Commission on Accreditation for Marriage and Family Therapy Education (COAMFTE) accredits more than 90 master's degree programs in marriage and family therapy. For a program to achieve COAMFTE accreditation, it must cover foundational curricular areas in the following subjects:
The foundations, including models and theories, of systemic or relational practice
Clinical treatment competencies working with individuals, couples and family units
Competencies in working with multicultural, diverse or underserved communities
Evidence-based research and evaluation in marriage and family therapy methods
The role of identity, ethics, legal issues and social responsibility in MFT practice
Biopsychosocial health and development across the lifespan
Assessment and mental health diagnosis and treatment through the lens of systemic practice
Contemporary issues in marriage and family therapy
Community intersections and collaboration
Although there's a bit of overlap between the accreditation standards for different accrediting agencies, most MFT programs only seek accreditation from one organization. However, there are exceptions.
One benefit to earning your degree from an accredited MFT program is a more streamlined path to licensure. In most states, candidates usually need a master's degree and a minimum of one to two years of post-degree internship experience.
Additional Resources
What Classes Will I Take for a Degree in Mental Health Counseling?
What Classes Will I Take for a Degree in Addiction Counseling?