A master's degree is required for school counselors in most states. During this extensive graduate program, you will take advanced coursework that combines competencies in counseling practice and educational processes. An internship in a school setting is an important part of a school counseling degree program, as well. Although an undergraduate major in school counseling typically is not an option, the courses you take while pursuing your bachelor's degree also can affect your qualifications to work in the field of school counseling.
DegreeQuery.com is an advertising-supported site. Featured or trusted partner programs and all school search, finder, or match results are for schools that compensate us. This compensation does not influence our school rankings, resource guides, or other editorially-independent information published on this site.
School Counseling Coursework at the Graduate Level
Although counseling programs in other areas have more to do with clinical practices and proficiencies in conducting psychotherapy, school counseling applies the concepts and theories of counseling to young clients in a school setting. There's much more of an educational and academic focus among school counselors compared to mental health or family counselors who happen to be working with children. The coursework in a school counseling program reflects this dual focus on psychological counseling and academics by integrating both subject areas into the curriculum.
There are a few different types of school counseling graduate programs. A master's degree can take the form of a Master of Arts (M.A.), Master of Science (M.S.) or Master of Education (M.Ed.) degree. Master's degree programs in school counseling may require fewer than 30 college credits, allowing students to complete them faster, but these less extensive programs aren't eligible accreditation through the Council for Accreditation of Counseling & Related Educational Programs. Educational Specialist (Ed.S.) degree programs are another option for aspiring school counselors. At the doctorate level, school counseling options include the Doctor of Education (Ed.D.), Doctor of Philosophy (Ph.D.) and Doctor of Psychology (Psy.D.) degrees. A master's degree is the typical education requirement for school counselors, according to the United States Bureau of Labor Statistics (BLS).
The more advanced your level of study, the more specialized and advanced you can expect the coursework to be. However, regardless of which degree you pursue, you can expect to cover similar subject areas. Expect to learn about counseling principles and practices, including counseling techniques and theories that work well in a school setting, multicultural counseling, grief and trauma counseling, group counseling and child and adolescent counseling. Studies in educational assessment, leadership and advocacy in schools and academic and career counseling focus more on the academic and educational side of the field.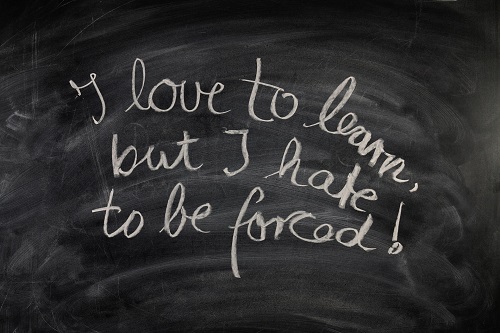 IMAGE SOURCE: Pixabay, public domain
Although studying both the educational and counseling aspects of the program matters, it is often the school or department that offers the program that determines how extensively you will study each facet. Some school counseling programs are part of a school of education, while others are part of a school of psychology and counseling.
Although they don't all have CACREP accreditation, the American School Counselor Association recognizes more than 500 programs at the master's, Ed.S., Ed.D., Ph.D. and Psy.D. levels of study across the U.S., including more than two dozen online programs. 
Counseling Experience in School Settings
Success as a school counselor means not only understanding the theory of counseling principles and educational assessments but also being able to apply what you have learned. Aspiring school counselors typically spend hundreds of hours completing internships in real elementary and secondary schools. During their internships, they are required to provide direct service to students as well as gain experience in performing other professional tasks under the supervision of an experienced school counselor.
Typically, graduate school counseling students spend one semester interning in an elementary school setting and a second semester at a middle school or high school to get a taste of what working in each environment is like.
Your Undergraduate Coursework Matters
When it comes to careers like school counselor, where a graduate degree is an entry-level requirement for the occupation, you might think that the classes you took while earning your bachelor's degree aren't that significant. In fact, your undergraduate program of study can be very important, and not just for fulfilling prerequisites or earning you admission into the master's degree program. Depending on your state's requirements, you may need a teaching license or certification and potentially teaching experience before you can become a school counselor.
If you are thinking about working in school counseling, it's important that you find out what your state's requirements are and consider those requirements in your choice of a college major. You may need to major in education even if you don't plan on becoming a teacher long-term. In a bachelor's degree program in education, you will study teaching and learning methods and classroom management strategies and work as a student-teacher to gain experience in the classroom.
Education majors may potentially have to declare a content area of study, as well. For aspiring counselors who have to major in education, it can be frustrating that this coursework doesn't really affect your future plans of being a school counselor. However, knowing how things work in the classroom can help you understand what is going wrong when students struggle academically and what accommodations teachers can reasonably make.
If your state has no such requirement, you have more freedom in choosing an undergraduate major. Because school counseling is so closely related to teaching, majoring in education is never a bad choice for this career path. However, you might also explore majors in psychology, sociology, human services or even communication. If you have an idea where you want to go to graduate school, consider whether that institution's school counseling program is part of the school of education or school of counseling or psychology and what background might help you fit into that program best.
Often, education majors have to choose a grade level, like early childhood, elementary or secondary education. Even though you may not have much interest in teaching, you should choose the grade level you're most interested in working with in a counseling capacity.
Additional Resources
What Is the Difference Between an Education Degree and a School Counseling Degree?
What Is the Difference Between a School Counseling Degree and a School Psychology Degree?
What Is the Difference Between a Marriage and Family Therapy Degree and a School Counseling Degree?