Overview of Visual Communications
A Visual Communications Degree is a field of study where the disciplines of photojournalism, painting and graphic design converge. A degree in this field will include courses in applied communications and technical skills along with history and theory of communications in different forms. Visual communications is any image that is used to communicate an idea, whether it's a sign, poster, drawing, photograph, or television advertisement. It is the study of how people communicate visually. Individuals with a creative flair for visual media may be excellent candidates to pursue an education and career in visual communications.
Graphic designers, advertising designers, art directors, and visual artists all utilize various forms of visual media to communicate their ideas to their desired audiences. Modern visual communicators know how to use various types of visual technology to create artistic images that communicate with the public. As a student in this discipline, your coursework focuses on communication-oriented material. In contrast to graphic design that concentrates on the medium or the visual presentation more than the message.
The following are examples of areas where you can use this degree.
Advertising
Researchers have found that a picture in print ad captures more than twice as many readers as a headline does. The visual effects of a printed advertisement can be a valuable marketing tool for a variety of businesses.
An example of the marriage of graphic design and visual communication is advertising with color. Color is powerful because it can influence our buying mood. Choosing the right color in your design and advertising projects plays a very important role in the success of your visual campaigns. Advertisements, posters, and billboards use color to captivate the audience's attention.
Video Editing
Those with a background in visual communications might edit videos for a wide variety of platforms to make material coherent and visually appealing. Video editors, who range from helping produce advertisements to online how-to tutorials, also go beyond the visual to add music and sound effects to videos.
Videos are an effective learning and advertising medium. People only remember 10 percent of what they hear after three days, but if the same information pairs with a relevant image/video, retention increases to 65 percent. Humans are a visual species; in fact, 30% of our brains are engaged in the task of processing visual information, as compared with only 8% for touch and 3% for hearing. (Life Learn).
Photojournalism
Photography is a compelling medium to convey messages. It is applicable to the visual reporting of news, marketing, advertising, political campaigns, and other societal issues. On the Internet, people are being exposed to more information than ever before in history. We receive approximately 174 newspapers worth of information every day. Thanks to the digital age, the ability to process all this information with computers has doubled every 18 months.
If this is an area of interest, there are visual communications programs beginning at the associate degree level with photography concentrations. At the bachelor's degree, you can tailor your studies for photojournalism, graphic design, multimedia, and advertising.
Infographics
An infographic takes complicated information and transforms it into a visual message that is more comprehensible and relevant for the reader. Reading text is a visual, yet inefficient means to present information. We don't understand text as quickly as we do images. Each letter represents a symbol, and the brain must decode each symbol in order to understand it. Humans can process images quicker than the printed word.
Companies employ designers to work in communications and infographics. An example is an internet media company with a portfolio of high-traffic online brands. They specialize in presenting engaging content to more than 100 million visitors monthly. The job posting on Glassdoor seeks a Junior Designer to research and design final graphics for data visualizations, infographics, photographic styles/compilations, video support graphics, presentation support graphics, and more. The education requirement is an Associate's or B.S. degree in graphic design or related field, or 1-3 years related experience.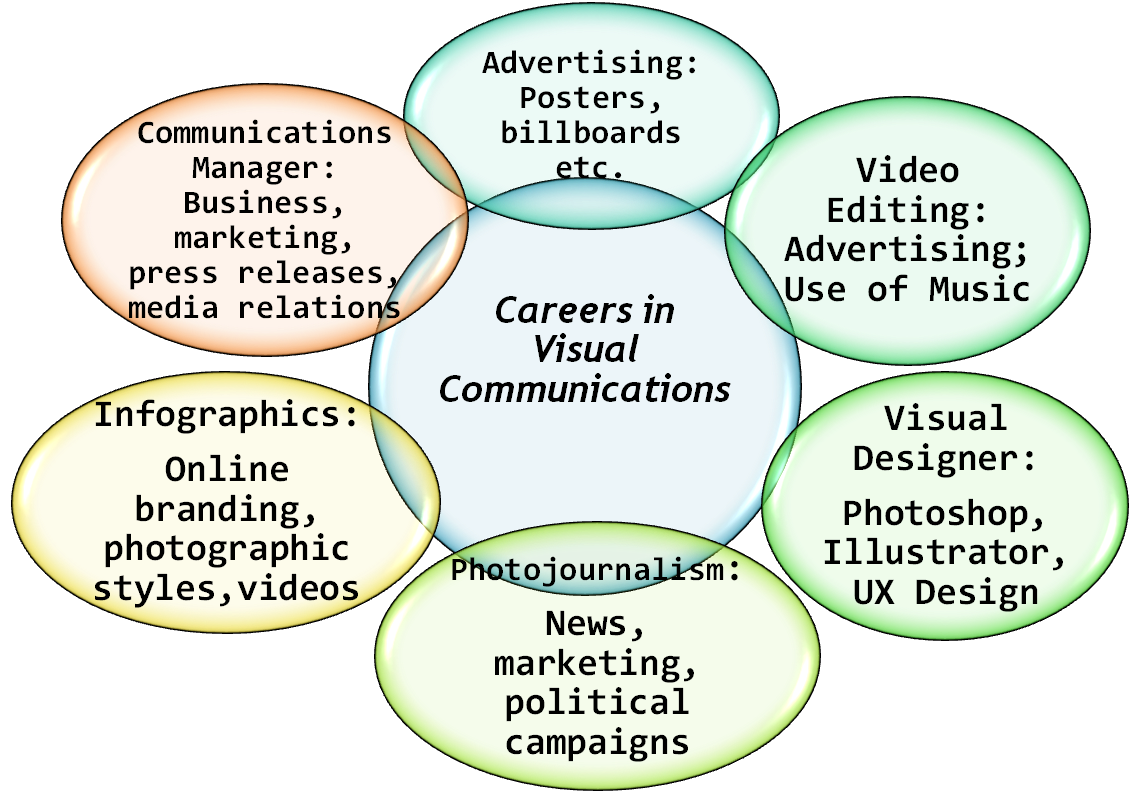 Communications Manager
This role opens up more degree choices in business, communications, marketing, and journalism. You could be developing and producing creative, informative, and interesting press releases, press kits, and related materials. You may also be required to plan, create, and oversee the design, content, and production of marketing materials.
Depending on the type of business, you may be more involved in advertising, marketing, and media relations. This entails the creation, implementation, and supervising of communications programs that effectively describe and promote the organization, its brands, and its products.
Visual Designer
Companies as diverse as financial services and banking hire visual designers to work with a team of Visual and User Experience Designers. Their role is to create a variety of digital assets used to engage and attract customers to the company's products and services. A job posting on Glassdoor seeks a candidate for such a position. The person requires creative thinking to conceptualize and implement quickly, independently or collaboratively. The applicants must also possess expert knowledge of Photoshop, Illustrator, and other image optimizing applications.
The above job posting requires a Bachelor's degree in Graphic Design or Visual Communications or equivalent work experience.
Salary
According to 3,208 employee submissions to Glassdoor, a Visual Communications Specialist earns an average of $61,002/year. Another popular employment site, Payscale, reports a salary range of $38,021 to $84,854, with a Bachelor of Fine Arts in Visual Communications.
Related Articles:
What is the difference between a Degree in Visual Communications and Graphic Design?
What are my Degree Choices to work in Visual Communications?
What Classes will I take with a Bachelor's Degree in Interaction Design?
What are my Bachelor's Degree Choices in Graphic Design?
What is the Difference between a Degree in Graphic Design and Web Design?
What are my Choices for a Master's Degree in Graphic Design?