What is Visual Communications?
As the name suggests, it is a form of communication using images, signs, graphic designs, and typography, for example, to convey a message. In its earliest forms, some over 40,000 years ago, prehistoric humans created cave paintings in Bulgaria, Spain, France, and Australia, perhaps for visual communication.
Visual communication is a medium to present information that can be easily understood – sometimes across language barriers. Many road signs throughout Europe use visual communication instead of words. For example, most drivers recognize the DO NOT ENTER sign as a read background with the wide white horizontal bar in the middle. Drivers know the octagon stop sign, used in the United States since 1922, even without STOP in English or any foreign language printed on it.
Visual Communication Applications
A Visual Communications Degree is a field of study where photojournalism, painting, and graphic design converge. A degree in this field will include courses in applied communications and technical skills along with history and theory of communications in different forms. Visual communications is any image used to communicate an idea, whether it is a sign, poster, drawing, photograph, or television advertisement. It is the study of how people communicate visually. Individuals with a creative flair for visual media may be interested in pursuing an education and career in visual communications.
Graphic designers, advertising designers, art directors, and visual artists utilize various forms of visual media to communicate their ideas to their desired audiences. Modern visual communicators know how to use multiple visual technologies to create artistic images that connect with the public. As a student in this discipline, your coursework focuses on communication-oriented material, in contrast to graphic design that concentrates on the medium or the visual presentation more than the message.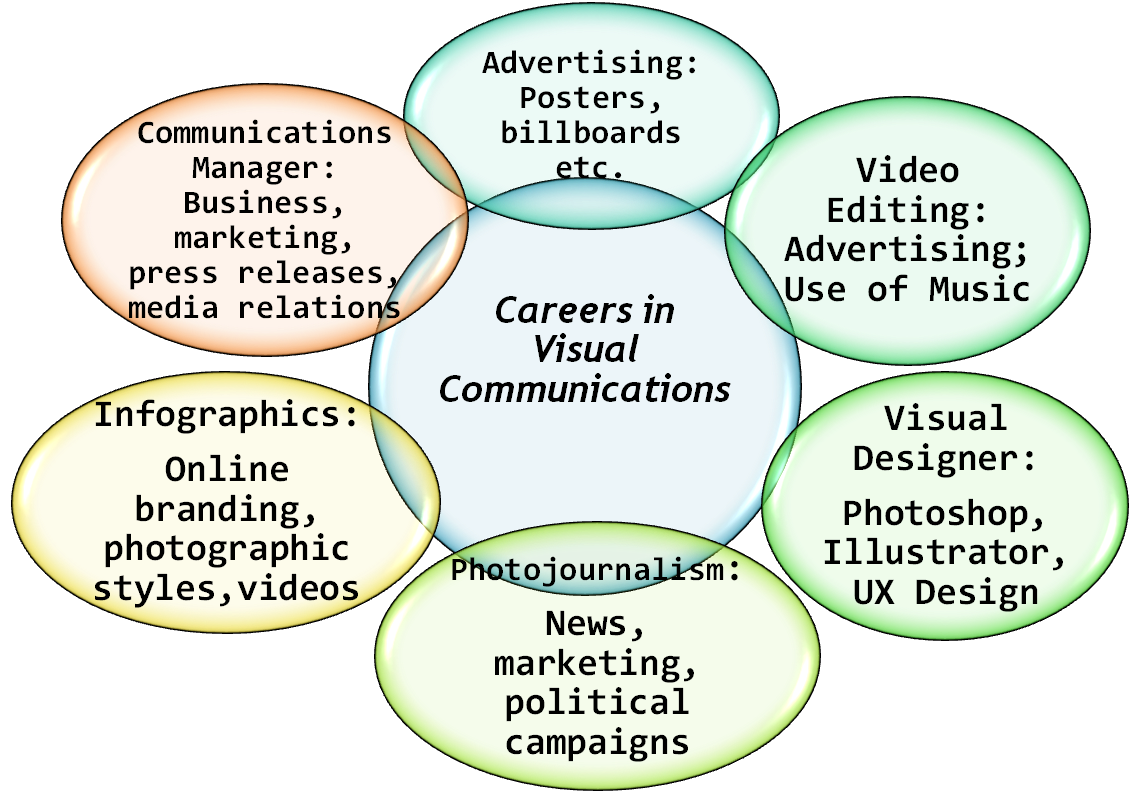 Visual Communication Degrees
Individuals interested in a visual communication career would benefit from starting with a bachelor's degree, of which there are several options. Graduates should have a grasp of the ethical and legal aspects of visual communication and an understanding of digital technologies. Armed with these learning outcomes will provide grads the skills to use typography, aesthetics and compose and construct compelling images in various positions.
Many visual communication branches allow future college students to choose a specific area of concentration. Below are examples of these.
The School of Visual Communication Design at Kent University (Ohio) offers a Bachelor of Arts in Visual Communication (VCD). Their major requirements include graphic design, visual ethics, interaction design, typography, exhibition design, photography, digital imaging, and more.
Kent University also has a Bachelor of Fine Arts (B.F.A.) in Visual Communication Design that emphasizes upper-level studio courses, allowing students to gain expertise in a given specialty. Both the B.A. and the B.F.A. have near-identical classes; the exception being is that the latter is for students who plan to pursue a graduate program or combine this degree with another field of study. Therefore, as a terminal degree for some, the program requires students to present a portfolio suitable for public display upon graduation.
Individuals who prefer to focus on digital technology may consider a B.A. in Visual Communication Design specializing in Interactive Web Design. Cedarville University, a Christian school in Ohio, has this degree that teaches interactive web design using JavaScript, HTML, and CSS. With these skills, students can create mobile apps, digital interfaces, interactive websites, and related forms of visual communication. Students must complete an internship before graduation, preparing them for a career in advertising, cable networking, design studios, and digital technology companies.
Online learners can check out Louisiana State University's (L.S.U.) B.A. in Communication Studies with a concentration in Visual Communication. The 120-hour program is $291 per credit hour with the possibility of transferring up to 75% of previous credits. The courses include graphic design, mass media law, digital photography, persuasive communication, General Education Fine Arts, and advanced graphic design.
Presented in a synchronous format, students interact in real-time with instructors via video conferences with enough flexibility for students to tailor to their schedules. Graduates will qualify to obtain entry-level jobs in photojournalism, advertising, graphic design, public relations, and visual communication specialist.
Students opting for a graduate program also have numerous opportunities to specialize in the field of visual communication. For example, Texas State, in San Marcos, Texas, offers a Master of Fine Arts (M.F.A.) in Communication Design at their School of Art and Design. Noteworthy is the College of Fine Arts and Communication statement that enrolled students are constantly evaluated to ensure they meet the performance standards. A faculty member can report a student with underperforming academic fitness to the Communication Design Program Standards Committee.
The 60-semester credit hours program at Texas State consists of 18 hours of required courses and 30 hours of Prescribed Electives, in addition to a thesis. Graduates from this master's program will have the skills to pursue jobs in education, visual design, design research, and interactive design.
The following are examples of areas where you can use your visual communication degree.
Advertising
Researchers have found that a picture in a print ad captures more than twice as many readers as a headline does. The visual effects of a printed advertisement can be a valuable marketing tool for a variety of businesses.
An example of the marriage of graphic design and visual communication is advertising with color. Advertisements, posters, and billboards use color to captivate the audience's attention. Color is powerful because it can influence our buying mood. Choosing the right color in your design and advertising projects plays a crucial role in the success of your visual campaigns.
During your college education, an internship is one way to gain valuable experience. Choosing a program that affords this opportunity would be beneficial. As mentioned above, Kent University's B.A. and B.F.A. programs include a 300-hour off-campus internship as part of the 123-credit coursework.
Individuals interested in advertising could opt for a two-year associate degree in Studio Production for Advertising and Design – available at the Academy of Art University in San Francisco. The classes cover web design for social media, email marketing, digital ads, and presentation materials to apply to the advertising and print production industries.
Video Editing
Those with a background in visual communications might edit videos for a wide variety of platforms to make material coherent and visually appealing. Video editors, who range from helping produce advertisements to online how-to tutorials, also go beyond the visual to add music and sound effects to videos. Therefore, these professionals use computers and editing software to manipulate moving images or work with a film director to ensure the finished product meets the project's goal.
Typically, a minimum of a bachelor's degree in visual communication with a concentration in film studies or production is necessary to land a job in this field. People interested in this area should look into arts and film schools. However, many of the programs may veer away from visual communication into the realm of digital film, filmmaking, and film production. Degrees in these specialties can lead to a career in the production of documentary and narrative films.
Videos are an effective learning and advertising medium. People only remember 10 percent of what they hear after three days, but if the same information pairs with a relevant image/video, retention increases to 65 percent. Humans are a visual species; in fact, 30% of our brains are engaged in processing visual information, compared with only 8% for touch and 3% for hearing. (Life Learn).
Photojournalism
As the name implies, it is a blend of photography with journalism. Hence, photographs with words require expertise with a camera and the talent to write creatively and effectively. Again, there are specialty programs at the associate and bachelor's degree levels for aspiring photojournalists to learn photographic techniques and writing skills. The National Press Photographers Association (NPPA) is a place for more information.
Photography is a compelling medium to convey messages, and it applies to the visual reporting of news, marketing, advertising, political campaigns, and other societal issues. On the Internet, people are being exposed to more information than ever before in history. We receive approximately 174 newspapers worth of material every day. Thanks to the digital age, the ability to process all this information with computers has doubled every 18 months.
If this is an area of interest, there are visual communications programs beginning at the associate degree level with photography concentrations. You can tailor your studies for photojournalism, graphic design, multimedia, and advertising with a bachelor's degree.
Infographics
An infographic takes detailed information and transforms it into a visual message that is more understandable and relevant for the reader. Reading text is a visual yet inefficient means to present information. Humans don't understand the text as quickly as we do images. Each letter represents a symbol, and the brain must decode each character to understand it. Humans can process images quicker than the printed word.
Companies employ designers to work in communications and infographics. An example is an internet media company with a portfolio of high-traffic online brands. They specialize in presenting engaging content to more than 100 million visitors monthly. The job posting on Glassdoor seeks a Junior Designer to research and design final graphics for data visualizations, infographics, photographic styles/compilations, video support graphics, presentation support graphics, and more. The education requirement is an Associate's or B.S. degree in graphic design or related field, or 1-3 years related experience.
Communications Manager
This role opens up more degree choices in business, communications, marketing, and journalism. You could develop and produce creative, informative, exciting press releases, press kits, and related materials. You may also be required to plan, create, and oversee marketing materials' design, content, and production.
Depending on the type of business, you may be more involved in advertising, marketing, and media relations. These positions entail creating, implementing, and supervising communications programs that effectively describe and promote the organization, its brands, and its products.
Generally, attaining management status requires several years' experience in email marketing, print or online advertising, website development, content development, writing articles, creating press releases, public relations work, or marketing.
Visual Designer
Companies as diverse as financial services and banking hire visual designers to work with a team of Visual and User Experience Designers. Their role is to create various digital assets to engage and attract customers to its products and services. A job posting on Glassdoor seeks a candidate for such a position. The person requires creative thinking to conceptualize and implement quickly, independently, or collaboratively. The applicants must also possess expert knowledge of Photoshop, Illustrator, and other image optimizing applications.
The above job posting requires a Bachelor's degree in Graphic Design or Visual Communications or equivalent work experience. Graduates may apply for jobs in the visual communication arena that aim at what the user sees on a screen. However, the designer will also establish websites, apps, screen mockups, and logos. Therefore, this person is entrenched in the production or creation and the end product intended for the viewer or audience.
Salary
Because of the jobs' diversity, it's difficult to determine a median income in the visual communication field. According to the Creative Group 2020 Salary Guide, the median wage for visual designers was $81,250.  The U.S. Bureau of Labor Statistics (BLS) reported in 2020, the average salary for Graphic Designers with a bachelor's degree was $53,380, with declining employment projected.
According to Glassdoor's online employment site, a Visual Communications Specialist earns an average of $52,915/year, with senior positions earning an average of $99,627. A 2021 job posting on Indeed seeks a Visual Information Specialist with the U.S. National Geospatial-Intelligence Agency at $66,450 to $123,124 per year. Applicants need experience in graphic design, including layout, visual hierarchy, typography, color, composition, in addition to mastery of Adobe Creative Suite. The degree qualifications are a baccalaureate in Commercial Arts, Graphic Arts, Graphic Design, Visual Communication, Data Visualization, Imaging and Digital Arts, or a related field.
Employment sites provide a myriad of information on the potential job market in the visual communication field, particularly regarding the required qualifications. Also, the BLS is valuable as it tells you the number of current positions and the projected growth or decline. A key consideration is the prospects in this diversified job sector.
Related Articles:
What is the difference between a Degree in Visual Communications and Graphic Design?
What are my Degree Choices to work in Visual Communications?
What Classes will I take with a Bachelor's Degree in Interaction Design?
What are my Bachelor's Degree Choices in Graphic Design?
What is the Difference between a Degree in Graphic Design and Web Design?
What are my Choices for a Master's Degree in Graphic Design?