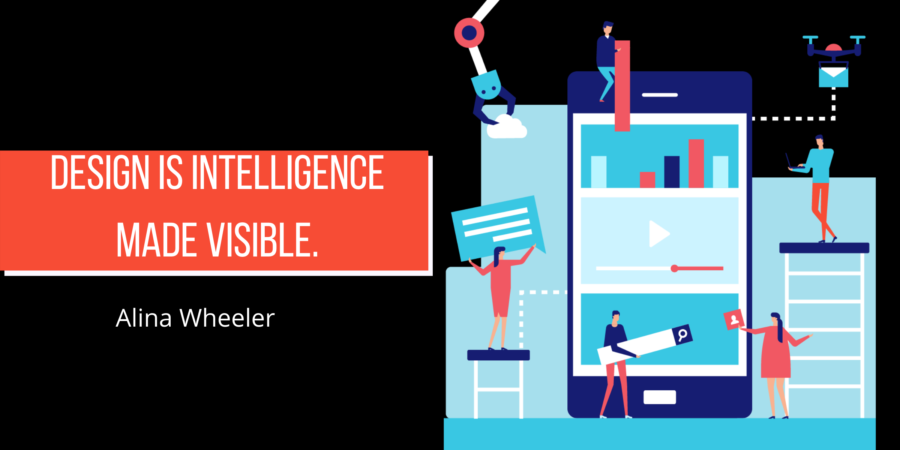 If you are looking to become a graphic designer then you are in good hands. Chances are you are already an artist or have a very creative mind and are thinking that this is how you want to spend your time making a living. Excellent! There are multiple routes towards a career in graphic design. You can teach yourself, get a degree online, or you can go to school for graphic design. All three have pros and cons which we will discuss shortly. Let's take a look at what it takes for the self-taught designer.
DegreeQuery.com is an advertising-supported site. Featured or trusted partner programs and all school search, finder, or match results are for schools that compensate us. This compensation does not influence our school rankings, resource guides, or other editorially-independent information published on this site.
Autodidactic Design
Teaching yourself is probably one of the most valuable skills you can ever acquire as a graphic designer. There are always going to be new trends and styles and if you want to have a broad client base, you'll need to be able to emulate a wide range of styles. For this reason, every designer will need to learn how to teach themselves whether they go to school for design or not. "Innovate or Die." is the saying of almost every person with any experience in the tech industry. Learning on your own is how you stay alive as a graphic designer. A client may approach you and be looking for "something" but have little more than "no not that" when it comes to feedback. If you want to hang onto that client you are going to want to show them that you can deliver multiple styles.
Learn Photoshop
Learn Adobe Illustrator
Figure Out What's Trendy
Develop a Habit of Learning Every Day
Practice Making Designs Every Day
Gain General Understanding Of UX/UI
Start a Portfolio
If you're teaching yourself, you'll want to look for online tutorial in Adobe Illustrator and Photoshop. Here are some great online tutorials that are regularly offered at a deep discount:
First of all, learn what you need for the job. Learn Adobe Illustrator, Photoshop, InDesign, and other design programs so that you have plenty of tools to choose from. Definitely take tutorials and practice practice practice. Do a little learning every day to get yourself in the habit of learning. This is likely the step most "self-taught" individuals need the most and for some is the hardest one to learn. Habit is powerful. Getting into good habits with design is essential for your longevity and innovation.
As you start to become proficient with these programs then you are ready to make a portfolio. Your portfolio is a living and breathing document and you are going to be editing this document for your entire career. You can make your own website and upload examples of your work to it or you can make an account with any one of these popular sites.
Pros and Cons
It is understandable if you are still unsure about whether or not you can become a graphic designer all on your own. If you're not ready to take the plunge, consider the following pros and cons:
Pros
No School No Debt
Learn At Your Own Pace
Can Focus All of Your Energy Where You Want To
Affordable Approach
Cons
No Network
Fewer Job Opportunities and Connections
You Have to Design Your Own Course of Study
Not a Great Fit For All Type of Learners
If you are ready to take the plunge and begin your self-taught career as a graphic designer, that's awesome! You'll want to bookmark these design blogs for when you're in need of some extra inspiration:
Learning to Design through Online Education
It's natural to need a little guidance for your career. It's normal to want to take some classes online while still having your freedom to roam and gather inspiration from the world around you. That's one of the benefits of online education. There are of course other benefits like no time commuting, taking a class from anywhere and others.
Another benefit to an online degree in graphic design is, of course, the curriculum. Earlier we discussed ways to become a graphic designer completely on your own. We mentioned one of the "cons" to autodidactic learning is that there simply is no curriculum. How do you know what your teaching yourself is up to industry standard? If you really don't want to guess, then an online degree is a great option. Most online bachelor's degree programs will focus on at least the following as part of their programming:
Art, Culture and Technology
Interactive Publication
Introduction to Typography
Vector Illustration
Introduction to Graphic Design
Fundamentals of Web Design
After completing your degree and a few years of experience as a designer you may want to specialize in a specific area of design like say for example animation or you may want to gain some more in-depth knowledge in design through an online master's degree in design. A master's degree in design will vary depending on your emphasis but may include courses like:
Visual Voice and Narrative
Professional Practices For Designers
UX UI Design
Design Research
Thesis
Human-Machine Interaction
Pros and Cons
Completing a Degree Online is not for everyone. We encourage you to research all of the programs you're interested in before taking the plunge and certainly consider the following pros and cons:
Pros
Study from Anywhere
Lots of Relative Material at Your Fingertips
A Good Opportunity to Get Exposure To the Industry Standards
Working and Studying Are Possible
Cons
Not a lot of In-Person Experience
The Curriculum Won't Necessarily Cover All of Your Needs
May Take Years Before You're Applying to Jobs
There's Always More to Learn
Traditional Route Towards Design
If you are the type of person who learns kinetically and loves to interact with a group and have a discussion with professors and teachers, then you are likely going to have to head into a brick and mortar location to do your design degree. Some artists like to be rogues and work alone while many others like the tactile experience of being inside of a classroom learning amongst their peers. Many would agree that online education has not been able to replace this feeling. If this is you, then save yourself a headache, and apply to a brick and mortar location. You'll avoid frustrations and setbacks if you determine this about yourself and listen to your intuition.
To get accepted to a top-notch school like RISD or Cal Arts, you're going to need a squeaky clean near-perfect portfolio, a great personality, and a statement of purpose that puts chills up the spine of all who read it. We recommend you get started on those as soon as you even get the slightest inclination that you believe this is the career for you. These schools only accept a small group of students and are merciless. Still, if you want to get in you've got to apply. We recommend you include at least one "shoot for the moon" school with your applications.
Not sure which degree is right for you? Check out our piece What is the best degree to earn to become a graphic designer?
Here are some important things to reflect upon before making the leap and applying to traditional programming in graphic design:
Pros
Lots of Internship Opportunities
Study Among Your Peers
Plenty of Feedback and Interactions for Tactile Learners
Get Access to a Fantastic Curriculum
Networking
Cons
Extra Expenses
Requires More Time/ Typically Not Accelerated
You Will Always Need to Learn At This Job (School is Never Done)
Not A Flexible Option
Best Schools for Graphic Design
Salvador Dali, of course, had the artist in mind when making that quote. When it comes to design, you are going to always be striving and always stretching to new heights. The job absolutely demands it. You won't ever find perfection but you'll aim for the highest standards. No matter if you teach yourself how to design, take an online course or pack your bags to head to school there's never going to come a time when you're no longer learning.
Further Reading: