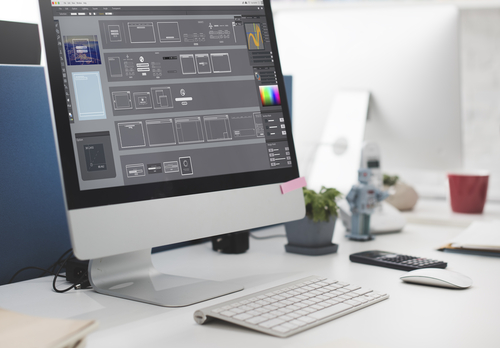 When it comes to what programs are the best to know if I want to become a graphic designer, there are plenty on the market to become acquainted with. It never hurts to be familiar with as many major graphic design software options as possible. Although some are more widely used than others, some employers as well as self-employed designers might use several of these programs in their work.
Adobe PhotoShop
Graphic designers nearly have to have a subscription to the Adobe Creative Suite. When students wonder what programs are the best to know when studying to become a graphic designer, Adobe usually tops the list. Several of their programs are used by graphic design professionals almost exclusively. PhotoShop is one of the most popular and well-known of those products. It is the leading image manipulation software on the market and allows for editing images in layers, typography, 3D modeling and many other features.
Adobe Illustrator
One feature PhotoShop does not have is the ability to create vector art. This is where Illustrator comes in, another program included in Adobe's suite of products. Vector art is a type of art that is defined by mathematical lines and points so it can be scaled down to fit on a business card or large enough for a billboard without losing quality. Illustrator is the premiere software on the market for creating and editing vector art. Similarly to Adobe's other products, Illustrator offers robust features for graphic designers to use, and its interface will be familiar to creatives already initiated into PhotoShop. It is worth it for aspiring graphic designers to learn how to use Illustrator too.
Adobe InDesign
InDesign is used for page layouts, which can be utilized by graphic designers to create magazines, newspapers, books and other publications. This includes newer digital content such as ebooks and interactive documents. Like Illustrator and PhotoShop, it is integrated into the Adobe Creative Suite, allowing graphic designers to work more seamlessly across different software from their Creative Cloud libraries. It also has a similar interface as well as a truly massive library of downloadable fonts for designers to use. As the Bureau of Labor Statistics points out, it is useful for graphic designers to get certification credentials from individual software vendors, of which Adobe is the foremost. They offer Adobe Certified Expert credentials for InDesign as well as their other products.
Microsoft Publisher
Microsoft Publisher may not enjoy as widespread use in the graphic design industry as Adobe products, but it is still important for graphic designers to understand and know how to use it. Many businesses use Publisher for simple desktop publishing tasks, such as creating brochures and flyers. Some graphic designers like it too and prefer to use it for desktop publishing purposes, or need to use it because their clients do. It is therefore advantageous for an aspiring graphic designer to learn how to use Publisher. It is available by itself or as part of a subscription to Office 365.
CorelDRAW Graphics Suite
The CorelDRAW Suite is often seen as Adobe's main competitor and is thus used by some organizations. Unlike Adobe, Corel still allows a one-time purchase of their software, making it a good alternative for graphic designers who do not want a subscription service. It offers a few features Illustrator does not, such as a Block Shadow Tool, an Impact Tool, a Symmetry Tool and others. Its major downside is that it is for Windows only, which can rule it out for graphic designers and graphic design firms that use Macs. CorelDRAW allows for image manipulation, the drawing of vector art and desktop publishing as well, making it a solid all-in-one package for graphic designers.
Affinity Designer
TechRadar named Affinity Designer first in their list of best graphic design software for 2019. It is also relatively inexpensive compared to its competitors, so it is worth learning for aspiring graphic designers working on a budget. Affinity Designer can handle a lot of different design work, including concept art, typography and repeating patterns. It has ingrained cloud functionality that is great for graphic design teams, which may convince some businesses and graphic design firms to use it.
Inkscape
Inkscape is a free program that boasts several features for graphic designers. Although free software is not always held in especially high regard by professionals, PC Magazine ranked this program among the best graphic design software of 2019. It can be used for drawing and designing vector art and has a large variety of extensions for additional functionality. Because it is open-source, the source code can be changed according to a graphic designer's needs if he or she so chooses. Because of its active community, graphic designers can easily find help and get their questions answered by other users.
GIMP
GIMP (GNU Image Manipulation Program) is the most powerful open-source image editor available, making it the best free alternative to PhotoShop. It has many of the same features and is a solid alternative for graphic designers who are just starting and don't have the money to invest in the Adobe or Corel suites. Basic features include layered image editing, free-form drawing, image file conversion and more. GIMP has many third-party plugins and customization options so graphic designers can customize the program as they see fit. Both it and Inkscape, due to being open-source, can be used with relative ease for graphic designers running Linux.
The right software is integral to the work a graphic designer does. It is worth it for students to learn how to use the major graphic design programs. Doing so helps future graphic designers discover which programs they like best and gives them a wider variety of hard tech skills to list on a resume.
Related Resources:
What is a Typical Salary for a Graphic Designer?
Do Graphic Designers Work on Movies or Only on Still Pictures?
Is It Better to Work For Myself as a Graphic Designer or Work for a Company?