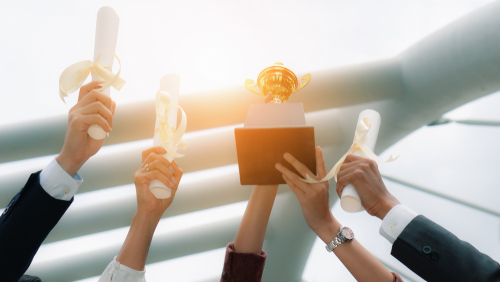 Graphic design work, like most other professions, is decorated with not only college degrees but also certifications to mark prowess in knowledge and education. What are some of the certifications that are attributed to the graphic design trade? The following represent some of the great certification options for graphic designers out there today.
DegreeQuery.com is an advertising-supported site. Featured or trusted partner programs and all school search, finder, or match results are for schools that compensate us. This compensation does not influence our school rankings, resource guides, or other editorially-independent information published on this site.
Adobe CS5 Certification
The Adobe CS5 Certification is a popular graphic design certification goal, and for good reason. This certificate program is exclusively for graphic design professionals only and enforces and tests the ability to thoroughly and effectively utilize the very important Adobe CS5 program. Within this important certification exam, tested students will encounter a wide variety of subject matter – project design, graphic formatting, the use of different vector processes, and more.
Autodesk 3DS Max Certification
Autodesk 3DS Max is another important program and subsequent skill set for today's graphic designer, and certificate-holders here demonstrate another important area of industry proficiency. The exam one must pass in order to receive this certification consists of 30 questions of which 70% must be answered correctly to secure a final pass. Candidates are given one hour to complete the exam.
CIW Web Design Certification
CIW Web Design represents the next most important and popular certification sought by graphic designers. In this certificate program and its accompanying exam, students learn and are tested on a whole line of website design and publishing tools and methods. To ultimately satisfy and earn this certificate, students must be able to effectively work with CSS, XML, JavaScript, Dreamweaver, Adobe Flash, and other important tools of the trade.
Additional Certification Options
The three above-mentioned certifications are the most important and well known in the graphic design trade. However, there are several other miscellaneous certifications that exist in the graphic design world. The following are some of those lesser-known accolades and certification options.
After Effects CC 2019: Complete Course from Novice to Expert – This online course and certification is facilitated by renowned trainer Louay Zambarakji and focuses on a thorough understanding of the Adobe After Effects program.
Learn Professional 2D Game Asset Graphic Design in Photoshop – This online course is taught by industry expert Jaysen Batchelor and teaches the ins and outs of graphic design use in creating video game assets. Photoshop is the central program of focus in this certification course.
Web Designing Certification by the University of Michigan – More of an introductory and summarizing course, the Web Designing Certification by University of Michigan course is an offering of the University of Michigan in partnership with Coursera, a well-known online educational platform. Learn how to utilize correct HTML5 and CSS3 languages, develop a variety of online assets, and go on to develop your own, personal professional graphic designer portfolio here.
Graphic design work can be an excellent and very enjoyable profession to get into today. Getting certified is one great way to build up personal skills and credentials in this line of work. The above-mentioned graphic design certifications are among some of the most pivotal and well-known across this particular industry today. In conclusion, for additional resources on graphic design or the educational paths to becoming a graphic designer, the Professional Association for Design is a leading organization representing this industry with which further inquiry is recommended.
Related Resources:
What Can I Do with a Graphic Design Degree?
Am I Likely to Be Hired as a Graphic Designer Without a Degree if My Portfolio is Good?
What is The Best Way to Prepare For Applying To Undergraduate Programs in Graphic Design?
What Kind of Things Will I Learn in a Bachelor Program of Graphic Design?
Do I Need to Provide a Portfolio of My Work When Applying To a Bachelor Program in Graphic Design?
Am I More Likely to Find Independent Contract Work or a Full-Time Position as a Graphic Designer?