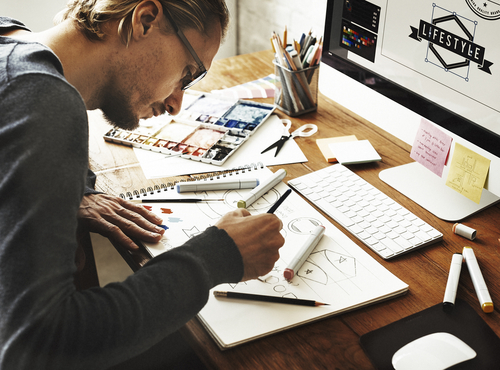 Independent contract work or full-time positions as employees for graphic designers are both viable options. Both options have different considerations regarding earnings, taxation, and the overall job market worth considering.
What Graphic Designers Do
Graphic designers enjoy a median pay rate of over $50,000 a year according to the Bureau of Labor Statistics. Most work done in this industry uses popular design software, regardless of whether done for websites or print media. Anyone who does design work for either websites or print media will have skills that include using popular software that is in high demand. As more businesses expand their Internet presence, the need for professionals skilled in design will grow along with the companies.
Technology as a Game Changer
The job market has changed a lot in the last ten years. For professionals who do design work and many other pros, the job market has undergone serious changes. One of the most noteworthy changes that have taken place has been an increase in the number of jobs that can be performed remotely. As a result of increased tasks that can be performed remotely, many designers prefer to seek employment as independent contractors, which is more commonplace with remote positions.
Decreasing Tenure Prospects
Millennials have shorter job durations than those of older generations, lasting less than three years on average. Many younger workers find the idea of retiring from a company after decades of work unappealing. Retirement is no longer the end goal for many younger workers, which has made permanence at any one position less likely overall. With an increasing number of workers investing their money in retirement funds that they manage and working at startups that may not last in the long run, tenured employment may become a part of the past.
Changing Between Job Types
The job market for designers and other creative professionals is one of the most flexible ones currently available to job-seekers. Making the switch between full-time employment, contract positions, and freelancing is easier for professionals in creative industries than many other professions. The flexibility that is possible with these types of positions helps provide an extra degree of protection against changes in the job market. For example, a spouse needing to relocate or an employer going out of business might necessitate a change in your job status from employee to contract worker or freelancer.
Benefits and Taxation Differences
Full-time employees often have access to benefits that are not available to contract workers, such as health and life insurance, and 401K plans, as well as tax withholding. Freelance or contract workers must pay for their insurance, pay self-employment taxes, and set up personal retirement accounts. However, even though having these benefits may seem like an advantage, weighing them against the advantages of self-employment is worth considering. For example, being self-employed might have advantages for people not planning on living in their location permanently or those who have part-time caregiving responsibilities for children, disabled, or elderly relatives.
Even though independent contract work is more readily available in many cases than full-time positions, both job options are worth considering. Graphic designers seeking ideal employment would do well to consider the full range of options.
Related Resources:
What Can I Do with a Graphic Design Degree?
Am I Likely to Be Hired as a Graphic Designer Without a Degree if My Portfolio is Good?
What is The Best Way to Prepare For Applying To Undergraduate Programs in Graphic Design?
What Kind of Things Will I Learn in a Bachelor Program of Graphic Design?
Do I Need to Provide a Portfolio of My Work When Applying To a Bachelor Program in Graphic Design?