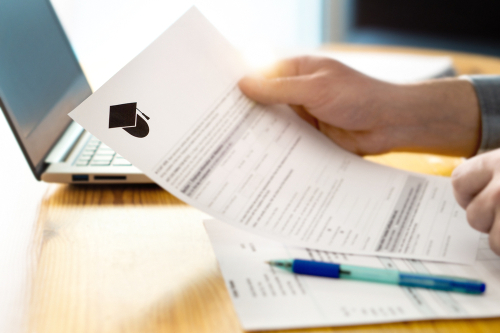 For many aspiring graphic designers, the first step they needed to take is attending art school. It's at art school that they'll learn the tools they need to become professionals. However, in some cases applying to a bachelor's degree program in graphic design isn't the same as applying to other bachelor's degree programs. The primary difference is the art and graphic design portfolio. Many students wonder if their portfolio samples are good enough, or they wonder if there's a way to get into graphic design school without a portfolio. The answer to this question isn't as cut and dry as it seems. Here's what would-be graphic designers need to know about portfolios and bachelor's degree programs.
Most Fine Arts Colleges
Some art colleges, like the Rhode Island School of Design (RISD) and the Art Center College of Design, are competitive. Lots of students apply, but in some cases, only a few are accepted. In these cases, a portfolio is necessary, partially to weed unqualified applicants out. This is a common practice in most competitive art colleges. This encompasses all of the fine arts and not just the visual arts. For example, it's very difficult to get into the undergraduate theater programs at both Juilliard and New York University.
Competitive schools like these require applicants to audition in the acting programs, submit a design portfolio for the theatrical design programs or writing samples for the dramatic writing programs. Additionally, some colleges that aren't art colleges are still difficult to get into. For example, both Yale and Harvard have art departments of note. In these cases, it is generally difficult to get accepted into these schools. It's not necessarily because they are competitive art colleges, though that probably factors into the equation, too.
For any of the schools in this category, it is almost always the case that students applying to such schools will be required to have a graphic design portfolio to be considered for admission.
State Schools
Many state colleges and universities have art departments that offer bachelor's degrees in graphic design. Some of them are competitive even though they are state schools. Other state schools aren't as academically competitive, though they may still have an art department. In these cases, one school may require a portfolio for admission, while another may not.
Additionally, some state schools, like the University of Idaho and even some private schools, like Suffolk University, have portfolio requirements, but they are more flexible. At the University of Idaho, students can take art and design classes for their freshman and sophomore years. They then must submit a portfolio to be admitted into upper-division.
At Suffolk, students have a choice. If they already have a portfolio of suitable work, they can submit it with their original application. If they don't, they can follow a similar track as the one laid out by U of I, meaning they can take art classes for the first two years, then they must be admitted to the upper-division.
Finally, it's important to note that the type of bachelor's degree a person is going for also makes a difference. For example, students who are pursuing a Bachelor of Fine Arts will usually have to have a portfolio at some point in their academic careers. However, students who are pursuing a Bachelor of Arts usually do not have to have a portfolio.
Special Cases
There is another category of art schools. These schools may have very good programs and good industry contacts and yet have no portfolio requirements, or if they do, they're very specific to the program. For example, Full Sail University, which is primarily an arts and entertainment college, does not require its applicants to submit a portfolio. Despite this, Full Sail has been named one of the country's top graphic design schools by Graphic Design USA. While a school's competitive rank may also be synonymous with an output of excellent work, that's not always the case, as the Full Sail example shows.
Preparing a Portfolio
As Art Prof points out, creating a portfolio for admission into graphic design school doesn't happen overnight. For some high school students, building up a basic portfolio can take several months, if not up to a year. Additionally, every design school has different admission requirements in terms of what they want to see in a student's portfolio. These requirements could include needing to see examples of art in a certain medium, some sample pages from the students' sketchbooks or specific drawings from life.
It's for this reason that aspiring graphic design students should begin the process of gathering together their portfolios by mid- to late-Junior year. They should start looking at the portfolio requirements for each specific school they'd like to apply to. This allows them to tailor their portfolios to each school, though they may have some pieces that they can include with every application.
If they haven't taken art classes in high school, they do have the option of attending a community college or a state school before applying to a more competitive graphic design school. The classes they take at the community college or state university will allow them to create portfolio pieces and earn college credit at the same time.
Most graphic designers know that they'll need a portfolio at some point in their careers. However, many wonder if they need a portfolio to apply to graphic design school. The admission requirements for some school's bachelor's degree programs in graphic design require that students submit a portfolio with their application materials. Other programs don't require a portfolio until the student is ready to enter upper-division, and often only if the student is pursuing a BFA. Finally, some graphic design schools don't require a portfolio at all. The students in these programs will build one as they move through their degree on the way to graduation.
Related Resources:
What Can I Do with a Graphic Design Degree?
Am I Likely to Be Hired as a Graphic Designer Without a Degree if My Portfolio is Good?
What is The Best Way to Prepare For Applying To Undergraduate Programs in Graphic Design?
What Kind of Things Will I Learn in a Bachelor Program of Graphic Design?