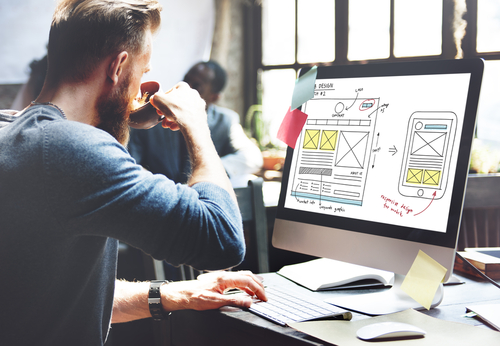 Web developers and graphic designers are two types of professionals that often work together while fulfilling two different but equally essential functions. In short, the difference between a web developer and a graphic designer is that a web designer or developer handles the technical part of building a website, while a graphic or visual designer is more involved with creating graphics and typography.
DegreeQuery.com is an advertising-supported site. Featured or trusted partner programs and all school search, finder, or match results are for schools that compensate us. This compensation does not influence our school rankings, resource guides, or other editorially-independent information published on this site.
What Web Developers Do
Both web designers/developers and graphic/visual designers are in high demand in the technical and creative industries. Web designers fulfill a variety of professional roles, from authoring code to performing the functions of graphic designers. Developers will need to have skills in HTML and other programming languages used in creating websites. In cases of developers who work with e-commerce sites, staying updated on compliance with laws about data and cookie usage is also essential.
The Role of Graphic Designers
Building a website will often involve collaboration with other professions, including graphic designers, copywriters, search engine optimization professionals, and app developers. Even though both of these roles are distinct from each other, they are both essential. Graphic designers are involved with designing more than just website graphics or online image manipulation. A professional with a background in graphic design might also find positions with print publishers and advertisers, as an example.
Website Developer Pay Rates
Website developers make some of the highest salaries possible with just an associate degree. Even though many website developers with associate's degrees go on to earn bachelor's degrees, many of these degree-holders find satisfactory employment with two years of education. With median pay averaging nearly $70,000 a year and hourly wages around $33 an hour according to the Bureau of Labor Statistics, many find this type of position quite satisfactory. There is usually little or no on-the-job-training required, and the demand for this position has a 13 percent growth rate.
Graphic Designer Pay Rates
Graphic designers average slightly lower pay than website developers, despite usually requiring more education. The pay rate for graphic designers, according to Bureau of Labor Statistics estimates, is about $24 an hour or $50,000 a year. Like website developers, on-the-job-training is minimal if required. However, a graphic designer is likely to require a Bachelor's degree to have the best chances of high-paying jobs. Job growth for this position is also slow, averaging 3 percent.
What Classes Might Overlap in These Concentrations
Some students benefit from studying elements of both programs before specializing in one of them. Schools that offer the option of studying both concentrations allow students to appreciate the difference between a web developer and a graphic designer. Examples of courses that both concentrations might have in common include art-related courses, as well as mathematics and other core courses.
Different Classes These Students Take
Web developers will take a greater number of technical courses than students studying graphic or visual design. Examples of the types of courses specific to web development include basic and advanced digital imaging courses, animation, and multi-platform design. Courses more specific to graphic design concentrations focus more heavily on art, as well as visual theory and possibly studio-based courses.
Although there are differences between web designers and graphic designers, both professions provide access to well-paying jobs. Pursuing a degree in either of these concentrations is a wise choice.
Related Resources:
What Can I Do with a Graphic Design Degree?
Am I Likely to Be Hired as a Graphic Designer Without a Degree if My Portfolio is Good?
What is The Best Way to Prepare For Applying To Undergraduate Programs in Graphic Design?
What Kind of Things Will I Learn in a Bachelor Program of Graphic Design?
Do I Need to Provide a Portfolio of My Work When Applying To a Bachelor Program in Graphic Design?
Am I More Likely to Find Independent Contract Work or a Full-Time Position as a Graphic Designer?