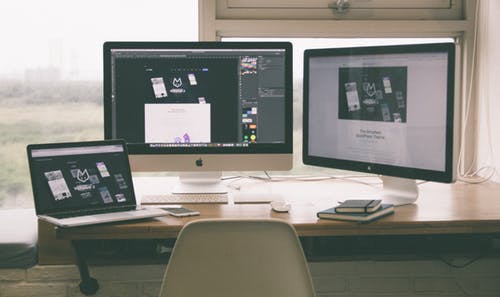 A person who would like to become a web developer may wonder if employers look at degrees in web development from online schools differently than campus-based schools. For many students, this is important because their work, family or other obligations interfere with a traditional campus-based program. Some people may also live a considerable distance away from campus, or they may have to travel for their jobs, making attendance at a campus-based program difficult or even impossible.
Accreditation of the School
Employers want proof that the online school is accredited. According to a survey conducted by CNN of employers and hiring managers, 83 percent of the hiring executives said that an online degree is as respected as a campus-based degree, so long as the degree comes from an accredited educational institution. There are several accreditation bodies for both types of programs. In particular, employers look for those that are accredited by the Council for Higher Education Accreditation. Before paying any tuition or application fees for a degree in web development, the student should verify the legitimacy of the accrediting body.
Employers Understand the Value of Online Education
Employers know that adult learners are rarely accommodated by a traditional learning environment on campus. Working a full-time job makes it difficult for a person to also commute to a campus and attend nighttime classes. If the person has family or household obligations their likelihood of fitting into a campus-based program is even lower. Employers recognize that online programs fit the need of adult learners who already have a full plate. They often look at candidates with respect when those applicants can do well in a full-time or part-time job, handle their personal lives and complete an online certification or degree in web development at a well-regarded educational institution.
Hybrid Programs Are Filling a Unique Need
According to Money Under 30, about 90 percent of campus-based programs are now offering courses online. In some cases, a student may be able to complete most or even all of their certification or degree online. This is especially true for majors that do not require a hands-on training component. Web development is one such major. Hybrid programs involve online courses and occasional visits to campus, such as for an oral examination or the completion of a test in a controlled environment. Nearly all employers look kindly upon hybrid programs such as these.
Employers Care More About Skills and Performance
Hiring managers care more about a person's web development skills than whether or not the person took their web development courses online. According to the New York Daily News, some of the most highly-respected educational institutions in the United States now offer massive open online courses and distance education options for earning a degree or a certification. The Massachusetts Institute of Technology, Stanford University, Duke University and Johns Hopkins University are a few of the institutions that offer online learning. The fact that these top-notch universities offer these programs has provided much more respect and authenticity to online learning as a whole.
The Type of Institution Matters
Online degrees from nonprofit institutions hold more sway with employers than degrees from for-profit institutions. In the past, some of the for-profit online learning institutions were strongly associated with degree mills. This resulted in a higher standard for online programs from employers. According to U.S. News and World Report, employers prefer that an online degree come from a nonprofit institution compared to a for-profit institution. The idea behind this is that a nonprofit institution is likely to be more focused on the qualifications of the students and graduates and the learning process as a whole. A for-profit institution may be more focused on getting more students through its virtual doors.
Employers have different requirements for the education of their employees, but they do not always list whether the degree they require can be from an online program, campus-based program or if both types are acceptable. A candidate who has a strong preference for a certain type of work environment might want to inquire to the human resources departments at a range of companies to determine if they accept people with an online degree as meeting the education component for the job description. Understanding if employers look at degrees in web development from online schools differently than campus-based schools is critical to the peace of mind, resources and plans of a person who wants to be a web developer.
Related Resources:
Should I Get a Master's Degree to Be a Programmer?
Are There Any Good Blogs About Programming?
How Should I Prepare for a Job Interview as a Programmer?
Do Many Companies Hire People Without a Degree in Programming?