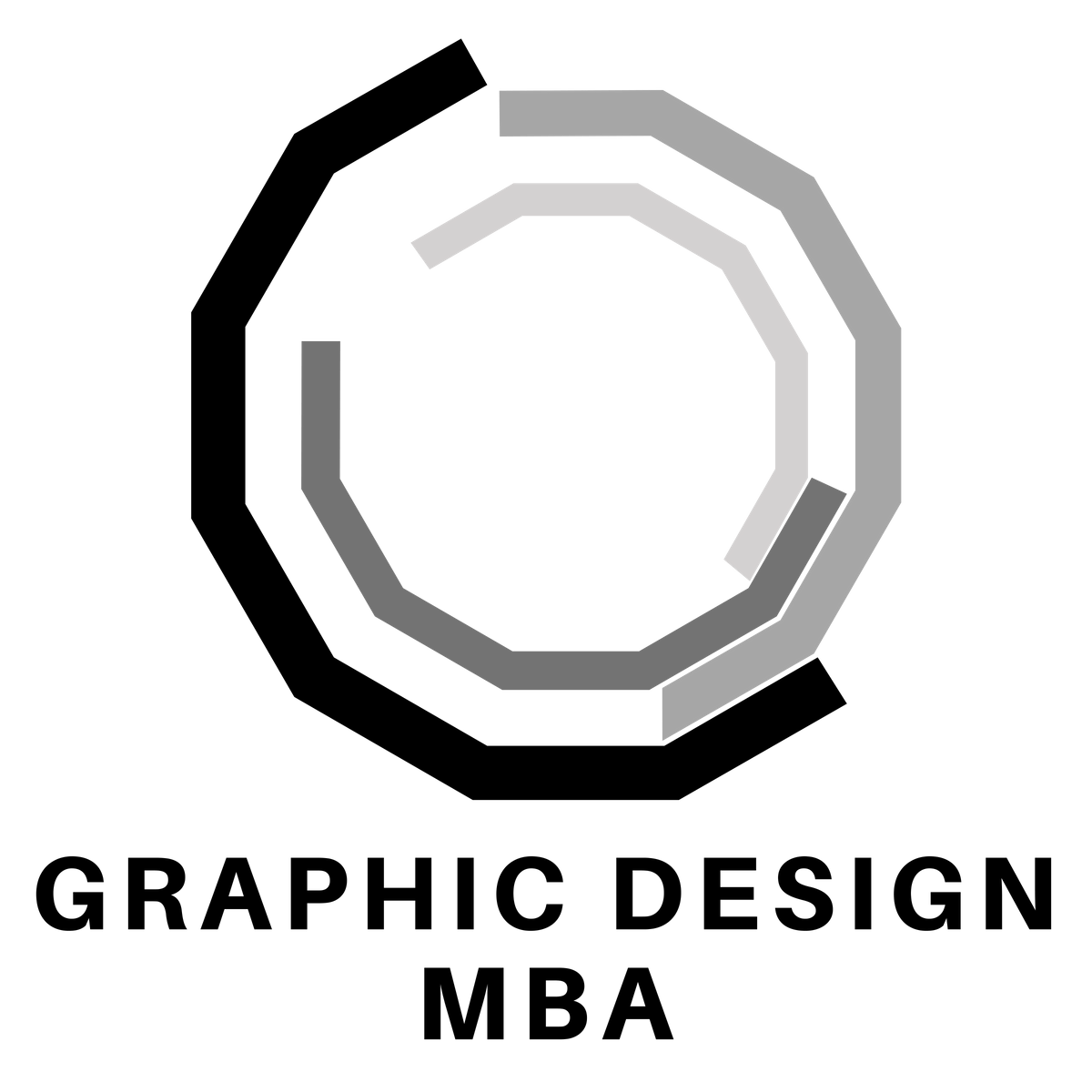 Choose your own adventure, be it the alluring and somewhat seedy ad-world of Mad Men, or the office of a trendy new health food product, or in the studio editing video footage from a drone. With the way modern societies consume media, design is everywhere!
While the adage of the "starving artist" still persists, there are undeniably more ways than ever to capitalize on your passion for making visual goods.
Where the internet of 20 years ago was mainly text-based, site visitors of today expect a sleek and usable interface, compelling visual information, and highly curated visual experiences.
The rise of the WWW has also led to a host of new graphic design-related titles: UX researcher, UI designer, experience analyst, among others.
If you find yourself compelled to figure out how the best designs "work," how they were made, (and how you can make them yourself) you might be a great candidate for pursuing graphic design.
And luckily for you, there are more academic paths to help prepare you for this process then ever before.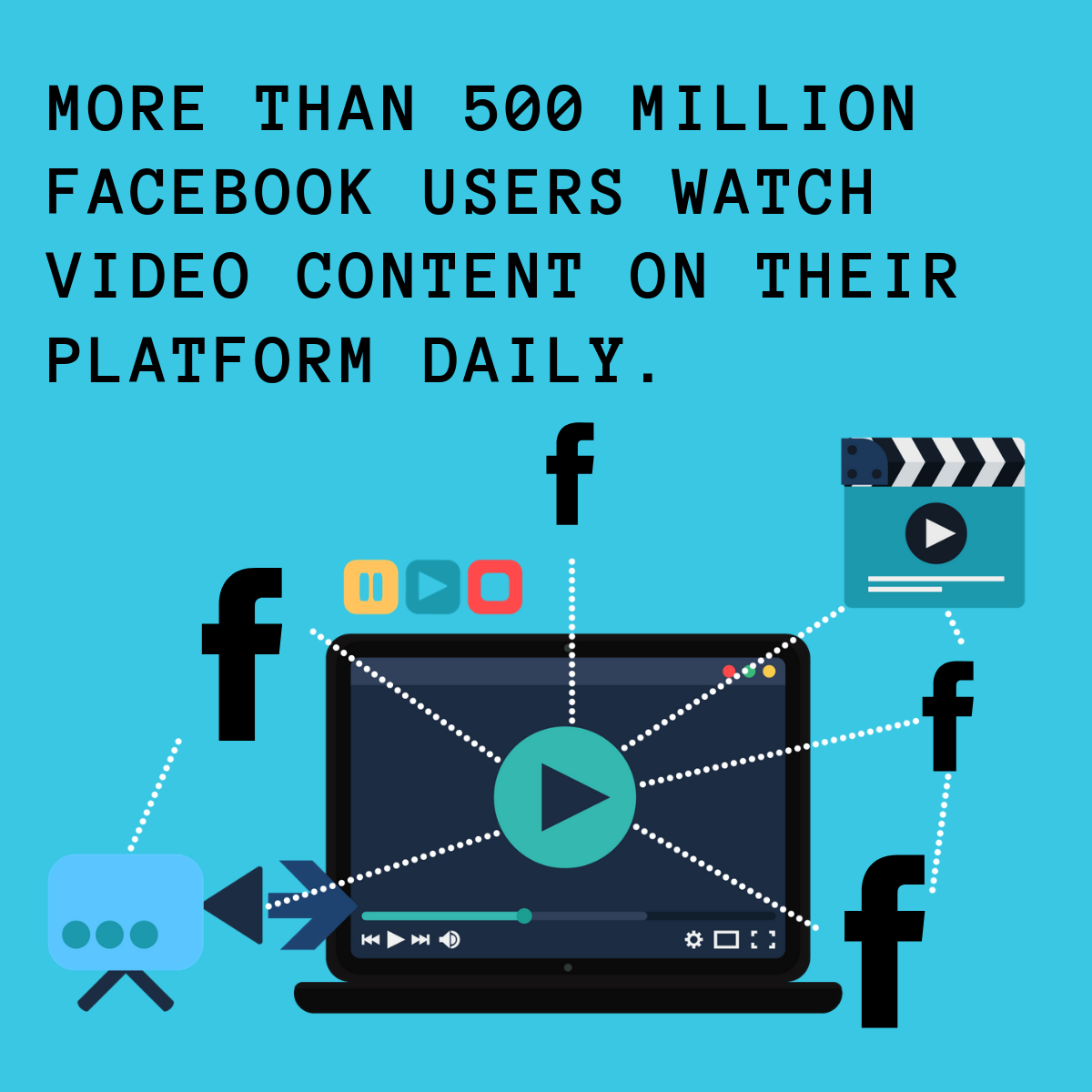 Table of Contents
Don't see what you're looking for in this guide. Be sure to check out some of our related resources on graphic design:
DegreeQuery.com is an advertising-supported site. Featured or trusted partner programs and all school search, finder, or match results are for schools that compensate us. This compensation does not influence our school rankings, resource guides, or other editorially-independent information published on this site.
What is a Graphic Design Degree?
Graphic design degrees are applied degree programs that draw from coursework traditionally offered in art, communications, marketing, and computer science departments.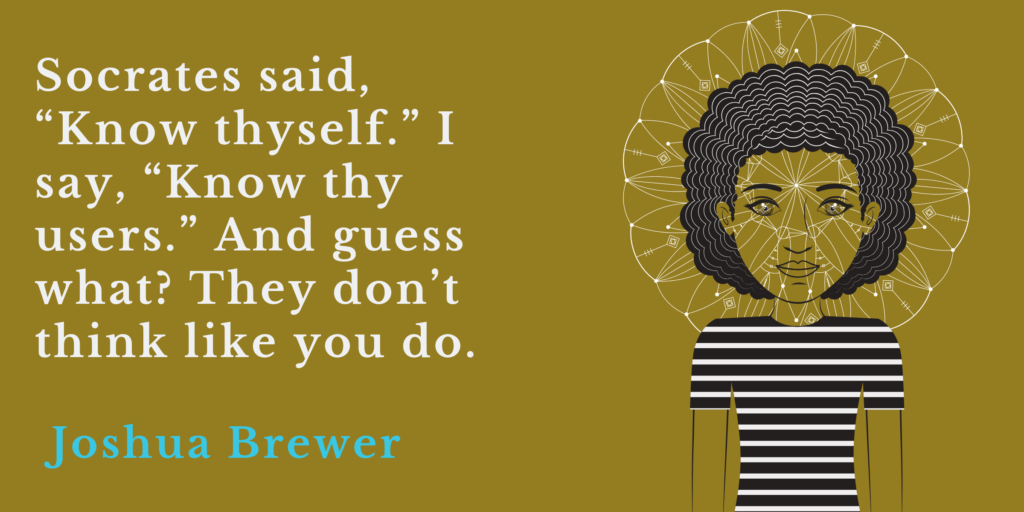 Depending on the degree level, courses will likely be offered in some of the following topics:
Drawing
Advertising design
Computer graphics
2-D and 3-D design
Typography
Visual communication
Branding
Web design
Videography
And others
At higher degree levels, students may choose to focus on one area of graphic design including:
Product design
Web design
User experience (UX)
User interface (UI)
Videography
Animation
And others
Are There Different Levels of Graphic Design Degrees?
Degrees are available for graphic design at the associate's through master's levels. A wide range of certification, self-learning, and bootcamp options are also available.
Students may elect to attend community colleges, 4-year university programs, as well as art conservatories to obtain graphic design degrees.
Starting with the lowest degree level, associates degrees in graphic design present a strong case for being the most cost-effective way to enter the field. Many metro community college districts as well as entire states offer free tuition to in-state or district residents at community colleges.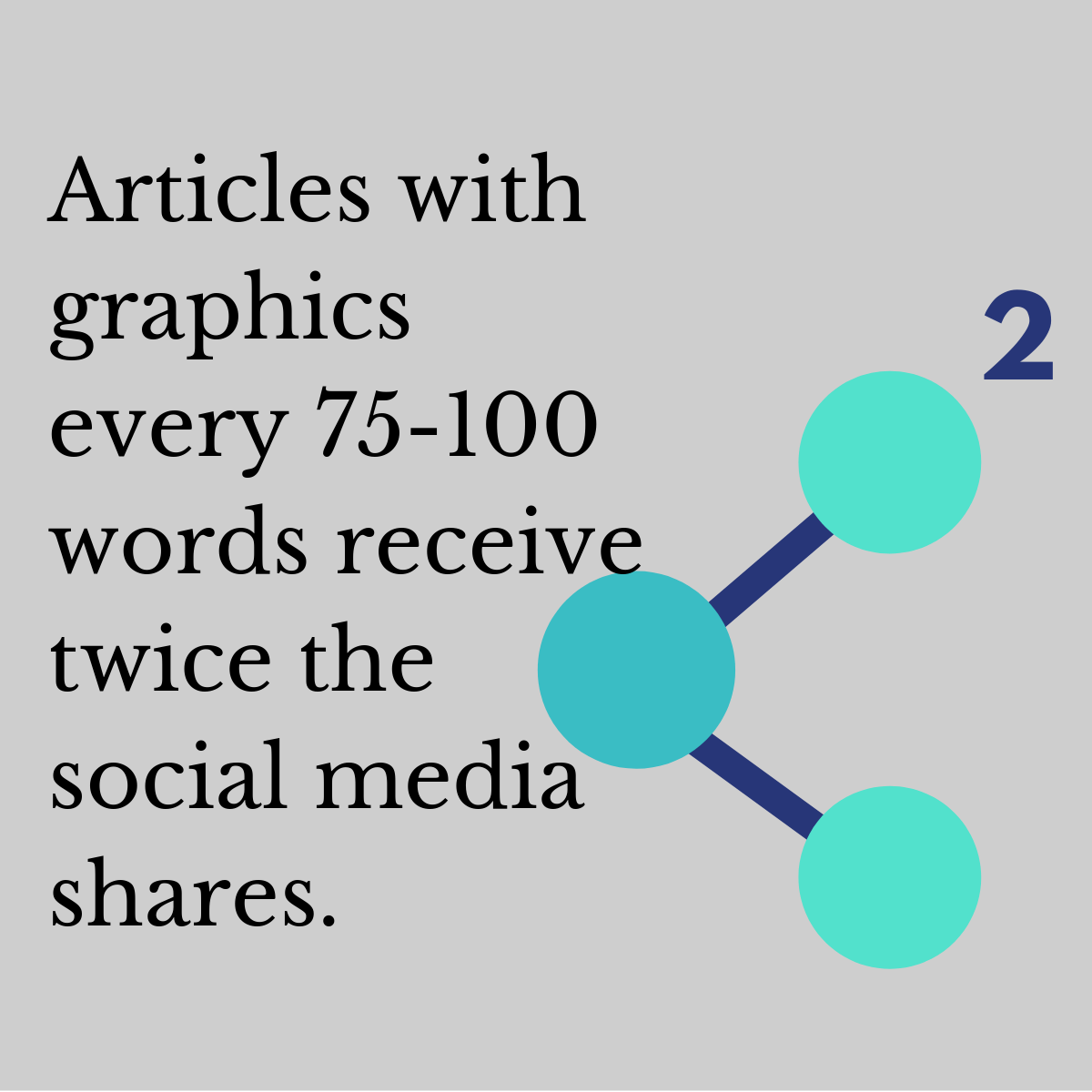 Associates degrees in graphic design require 1.5-2.5 years to complete (the same as most other associates degrees). Students begin their course of study with general education courses. These courses are meant to ensure graduates are competent in a range of common arts and sciences, are competent readers, writers, communicators, and quantitative thinkers.
Courses included in general education requirements often include:
2 social science courses
Philosophy or Religion
English Composition and Literature
Mathematics
A Foreign Language
Natural Sciences
As students progress through their general education courses, they'll begin to start taking graphic design-centered courses. Some of the most common courses taken at the associates level include the following:
Introduction to Visual Communication
Introduction to Adobe Creative Cloud
Drawing
Typography
Color Theory
Graphic Design Fundamentals
Web Design Fundamentals
As many graphic design jobs rely heavily on portfolios of work to vet talent, associates degrees are a great way to start working with in-demand tools and skill sets early on in your higher education journey.
For students wanting a full baccalaureate degree, a number of universities offer bachelor's degrees in graphic design.
Bachelor's degrees traditionally require 4 years to finish (6 years part-time), and require 120 credit hours for graduation.
Students begin their bachelor's degree similarly to associates degrees. In fact, generally, the exact same general education courses are required.
General education requirements within bachelor's degrees typically include:
Social Science
Philosophy or Religion
English Composition and Literature
Mathematics
A Foreign Language
Natural Sciences
Once students have progressed through their general education requirements, they begin their major courses. Two benefits of pursuing a graphics design degree at the bachelor's — as opposed to the associate's — level is that bachelor's programs typically provide many more elective choices, and many programs will end with a thesis or capstone project. Thesis or capstone projects within creative disciplines like graphic design can make great initial contributions to portfolios.
Some common major courses within a bachelor's in graphic design degree include:
Language and Practice of Media Arts
Graphics and Layout in Print Media
Hierarchy and Form
Desktop Publishing
Basic Design and Color Theory
Introduction to Digital Imaging
Digital Graphic Design for the Web
Digital Photography
Typography
Advanced Digital Graphic Design for Web
Advanced Digital Imaging
Graphic Design Portfolio
At the bachelor's level, two primary degree types are offered in graphics designs, bachelor's of fine arts in graphic design and bachelor of arts in graphic design. The main difference between these two degree types is that bachelor's of fine arts degrees are bachelors-level professional degrees, while bachelor of arts degrees are more traditional undergraduate degrees.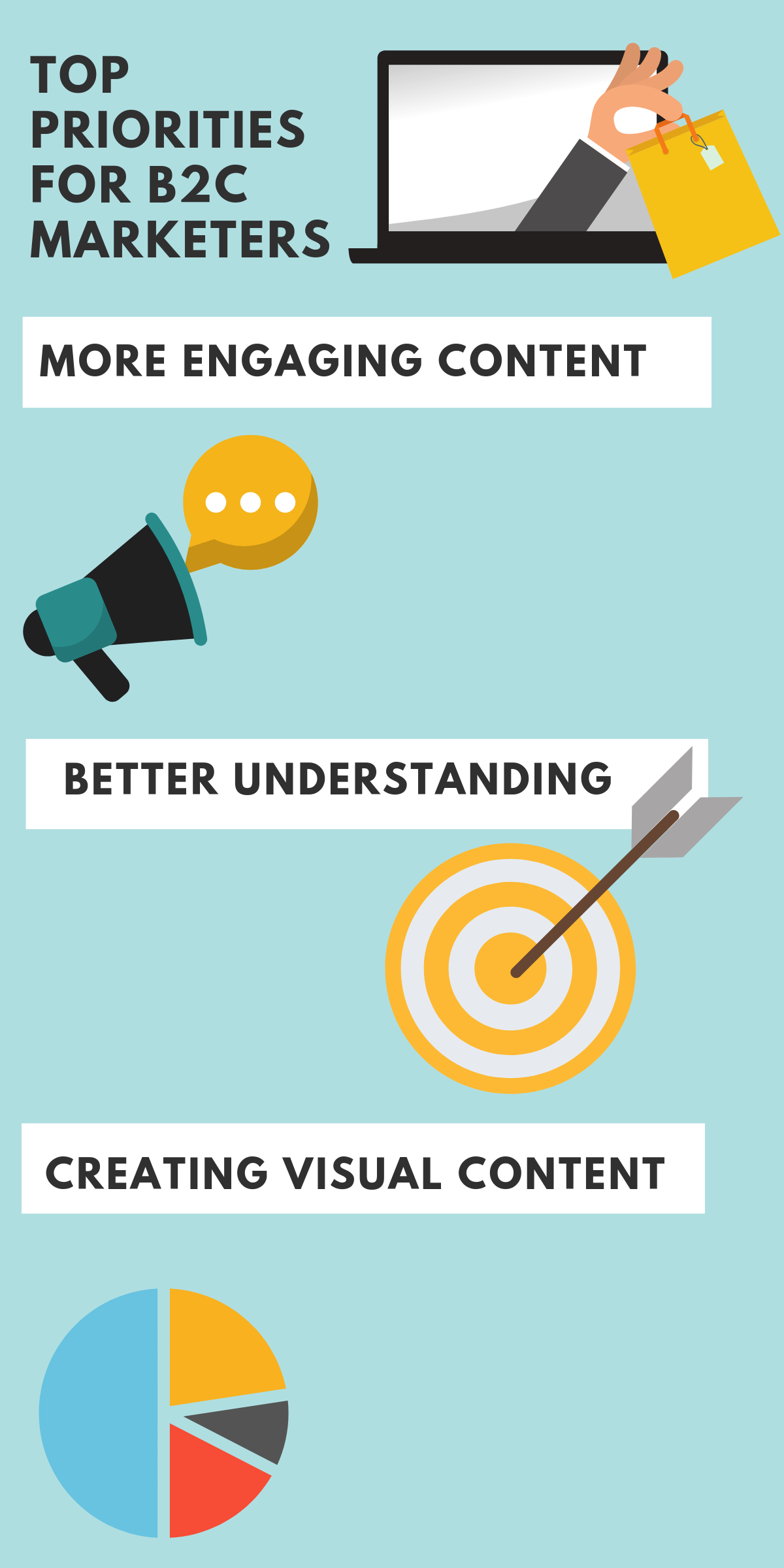 Practically what this looks like is that bachelor's of fine arts degrees spend a great deal more time with hands-on, practical training with the latest graphic design tools. Meanwhile, bachelor of arts degrees have more general education college courses. Students spend more time gaining foundational university-level skills such as reading comprehension, communication, writing, and mathematics.
At the graduate level, there are three main degree types among master's in graphic design degrees. These three degree types include:
Master of Arts in Graphic Design
Master of Fine Arts in Graphic Design
And Master of Professional Studies in Graphic Design
Similarly to at the the bachelor's level, master of fine arts degrees present the most hands-on, career-centered coursework and less time on academic research. While both the master of fine arts and professional studies are professional degrees, many master of professional studies degrees also require original research and a thesis (similarly to the master of arts degree).
By and large, all three degrees can be used to gain advanced academic experience related to graphic design. And your choice of degree should come down to more than the specific degree title.
Common courses within all three master's programs include:
Guided studio experiences
History of Graphic Design
Advanced Typography
UI/UX Theory
Multiple Advanced Graphic Design Topics
4-6 electives
Thesis Preperation
Additionally, some art conservatories offering master of fine arts degrees hold competitions as well as regular gallery displays of work by students.
What Alternatives To a Graphic Design Degree Are There?
While there are no true higher education alternatives to graphic design degrees, there are degrees that dive into one aspect of graphic design, or related topics. Additionally, there are many non-higher education options for becoming a graphic designer.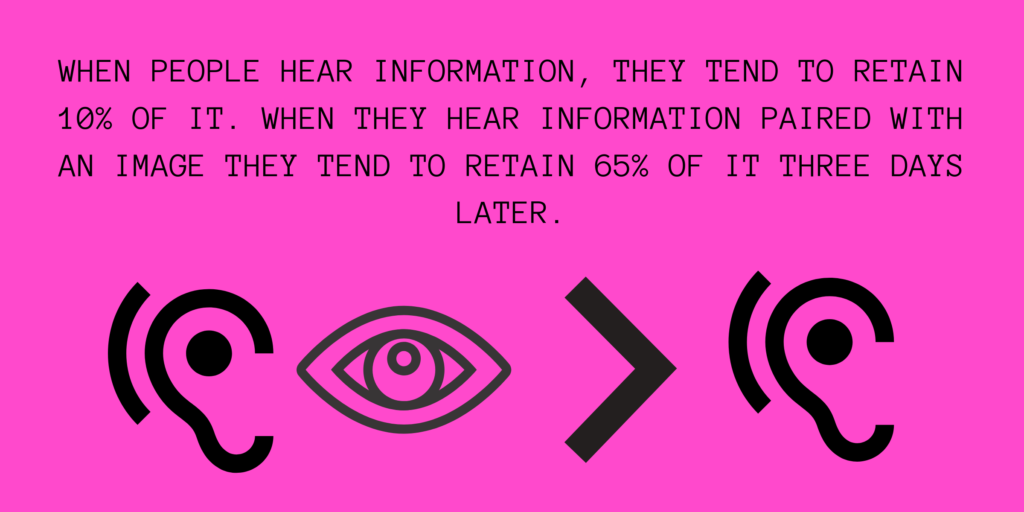 We'll list some of these options below.
Visual art degrees can overlap with some technologies and techniques taught in graphic design programs. The main difference is that visual art degrees don't focus as heavily on professional or vocational education. Where visual arts degrees focus on the creation of design in a fine art context, graphic design focuses on the creation of design to support organizational goals and play a role in the economy.
Can you become a graphic designer with an art degree? Absolutely.
Is an art degree as direct of a route to a graphic design career as a graphic design degree? No.
User interface and experience curricula are often offered as concentrations within bachelors, masters, and doctoral programs in computer science. If you're interested in the science of what makes design aspects (as well as certain functionality) work, as opposed to the art of design, these programs may offer a great "in" to the job of your dreams.
The third alternative form of graphic design education is through self-teaching . You may have a harder time getting your "foot in the door" with this route. But once graphic designers have landed a client or two and have a portfolio, their past experience often matters much more than their degree. While you may miss out on some of the formal design theory classes offered by universities, many of the tools used in contemporary graphic design are 100% self-teachable.
A fourth alternative form of graphic design education is through certificates. Certificates are offered at the undergraduate and graduate level, and typically require 3-5 courses for completion. Think of a certificate as most of the graphic design coursework in a bachelor's degree without any general education requirements. This can be a cost and time efficient way to segue into graphic design if you already have a degree in another field. One downside, however, is that having a university degree in any subject can help with employment prospects. That's worth considering if you're interested in a certificate and don't already have a degree.
One final alternative form of graphic design education is through bootcamps. Bootcamps are immersive, fast-moving professional training programs that skip the "fluff" and jump into contemporary practice. Bootcamps are often led by leaders within the industry and focus on professional skills, not academic knowledge. Many students have great luck with bootcamps. Though as with certificates, pursuing a bootcamp without a degree already could put you at a disadvantage with certain employers.
How Do I Gain Admission To A Graphic Design Degree Program?
Are Graphic Design Degrees Available Online?
The short answer is that yes, many graphic design programs are offered online. And for future designers that will mostly use the computer as their medium, what better way to get an education.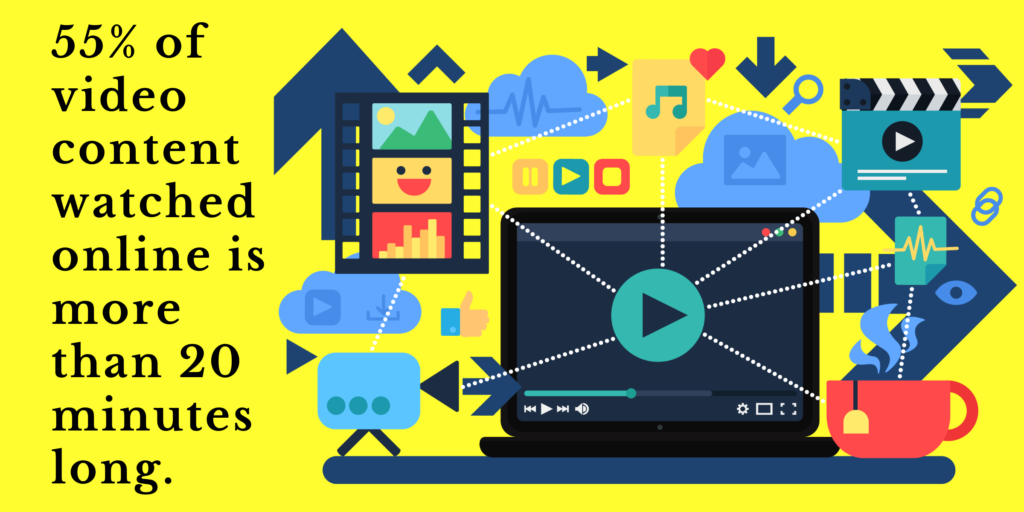 One caveat to this is that many fine art degrees in graphic design offer extensive studio time. Though less important than in visual arts, studios can be great spaces for collaboration, access to expensive technology, and mentorship.
On the flip side, online programs are often much more flexible and can be more affordable. They aren't for everyone, but if you think you may be interested in an online degree, explore some terminology you'll need to know below:
Synchronous vs. Asynchronous Courses

"Chrono" means time, and that's the primary difference between these course types. In synchronous courses you show up to a virtual classroom at the same time as your instructor and classmates. You communicate in a "live" manner. It's like a traditional university course but online. In asynchronous courses you can log on when you want. You'll still have dates that school work is due. But lectures will be prerecorded. And you'll communicate via forums, chatrooms, email, and scheduled appointments.

Hybrid vs. Fully Online Degrees

Fully online degrees are likely slightly more rare than you would think. In these degree programs you don't have to set foot on campus once. Not for orientation, or for graduation. If a program doesn't say "fully" or "100%" online delivery on their page, it likely isn't. With that said, many hybrid degrees are almost as flexible as fully online degrees. Hybrid means that you complete some course events in person. Though this can mean many things. Some hybrid programs require you come to weekly classes in-person, while others may just meet up once or twice a year.
What Can I Do With a Graphic Design Degree?
Finally, the million dollar question (well, after a few years).
What can you do with a graphic design degree?
While you can take a graphic design degree and do many non-graphic design jobs with it, let's assume you're pursuing a degree in graphic design because you love the field.
Some of the most common positions a graphic design degree can lead to include:
Graphic Designer
Multimedia Artist And Animator
Art Director
Creative Director
Photographer
And UX/UI Researcher
Proceeding down the list, graphic designer is by far the most common job title for those with graphic design degrees. Most organizations of any size have multiple graphic designers or outsource their design to a dedicated creative team.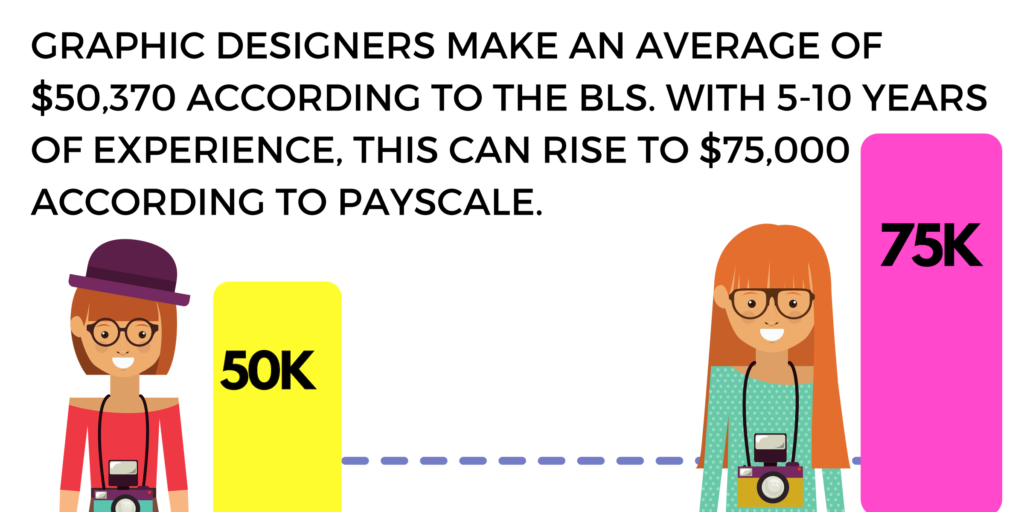 Particularly with the explosion of media online, there are close to 300,000 graphic designers in the US alone. Graphic designers may work freelance, within creative industries, or performing all graphic design functions for non media-based organizations.
Common job duties of graphic designers include:
Develop graphics for online and print media
Help establish branding guides or overall visual direction for clients
Meet with clients and facilitate graphic outcomes that meet their expectations
Establish the scope of each graphic design project
Work with other creative team members to facilitate web or print-based media outcomes
Stay up-to-date with the latest design trends
And more
Graphic designers earn an average salary of close to $50,000 nationwide. Though highly sought after freelance designers, designers in larger markets, and designers in online media may make substantially more.
A second, slightly more specialized job title is that of multimedia artist and animator. These designers typically produce more high-end and specialized work that blends visual fine art with design deliverables. While multimedia artists may work on many of the same projects that graphic designers do, they may also incorporate an advanced knowledge of an additional art form (often animation).
Multimedia artists and animators commonly work in creative agencies, on a freelance basis, for film production companies, and for video game companies
Common job duties of this role include:
Create deliverables within their skillset including special effects, 3D animation, cartoons, or video editing effects.
Liase with clients to define the scope of projects.
Successfully work on teams to create large multimedia projects
Stay up-to-date with new design techniques and tools
Provide creative direction for clients
And more
Multimedia artists and animators perform a wide variety of functions that relate heavily to salary levels. The average across many specialization areas is around $63,000.
Art and Creative Directors (titles often used interchangeably), work in a variety of fields from online media, to film production, to museum spaces. Often experienced designers or some form, art and creative directors have shown managerial acumen and the ability to navigate the unique economies that surrounding design.
Art and creative directors may function more as marketing, focusing on specific organizational outcomes, or more as creative leaders, primarily focusing on the artistic goals of the work being done.
Some of the most common job duties of creative directors include the following:
Manage creative processes from conception through completion
Take business and marketing objectives and translate them into actionable design tasks
Lead the creation of all marketing deliverables
Oversee pitches to clients or other organizational units
Manage career development opportunities for members of your team
Communicate the importance of design and branding to other senior executives
Account for budgeting, payroll, and hiring and firing decisions
While the top paid art and creative directors may make substantially more than what we list below (think, Disney's creative director), the average salary for creative and art directors is presently $120,049. Salaries may vary depending on the size of the market and how central creative assets are to an organization's goals.
Don't see what you're looking for in this guide. Be sure to check out some of our related resources on graphic design:
For Further Reading: