What is Environmental Graphic Design?
Environmental Graphic Design (EGD) embraces many design disciplines including graphic, architectural, interior, landscape, and industrial design. These are all concerned with the visual aspects of wayfinding, communicating identity and information, and shaping the idea of creating experiences that connect people to place. The best example of wayfinding is, as the name suggests, a means of finding your way with signage.
After about 40 years, a group of designers recognized that there was more to the profession than just signs. Consequently, the group formed the Society of Environmental Graphic Design (SEGD). In 2013, they changed the name to the Society for Experiential Graphic Design to reflect the expanding nature of communication in the built environment.
Today, the profession encompasses the broader notion of all communication in the built environment, which included content, moving digital text and images, display content such as museum exhibits, branded content such as football stadiums and corporate headquarters. In addition to wayfinding, several areas fall under the umbrella of Experiential Graphic Design (EGD). These are exhibition design, public spaces, research, placemaking, and master planning. Placemaking is the design activity that uses communications to create experiences that connect people to place.
Education
Based upon the above information, is EGD more akin to environmental design, architecture, graphic design, or a combination of the three? One way to answer this question is to review the education requirements posted on major online employment sites. One example is Indeed.
An interior architectural firm with ten offices in seven states posted a position in August 2018 for an Experiential Graphic Designer-Junior. As architects, designers, workplace strategists, and environmental specialists, this firm concentrates exclusively on interiors. Their mission is to help clients articulate and align their business strategies and core values with the dynamic use of space. The junior position requires a Bachelor's degree in Graphics, Industrial Design or Interior Design, or equivalent experience. Candidates must be able to design and develop project presentations including coloring and rendering 2D/3D plans and elevations.
Another company advertises as being a full-service experiential marketing agency seeks an EGD. The individual will design all aspects of the event including but not limited to: internal presentations, spatial design, invites, printed collateral, and event builds. Applicants need to have expertise in Adobe Creative Suite, Sketch-Up or another 3D program, and Microsoft Office.
These job postings seem more aligned to graphic design. Many of the jobs require a Bachelor of Arts, or equivalent degree, within disciplines such as Graphic Arts, Marketing, Advertising, Event/Theatrical Production, or similar combination of education and experience. Knowledge of Adobe Suite, primarily Illustrator, InDesign, and Photoshop are part of a graphic design degree program.
A Bachelor of Arts degree in Graphic Communication teaches graphic art and design. You will become well versed in the language of design and adept at the Adobe Suite of software, including Photoshop, Illustrator, InDesign, Premiere, After Effects, and Flash.
A Bachelor of Fine Arts in Graphic Design trains students in 2D and 3D design, publication design, digital photography, and other areas of graphic design. Students will also gain foundational knowledge in interactive designing and professional practices. Coursework may include an understanding of art history. This knowledge provides a better grasp of the critical elements of design such as typography, design principles, page layout, and image manipulation. All integral to the EGD profession.
Another degree to consider is a Bachelor of Arts or Fine Arts in Visual Communications. Visual communications or visual communications design is a creative process that combines the visual arts and technology to communicate ideas. It begins with a message that, in the hands of a talented designer, is transformed into visual communication that transcends mere words and pictures.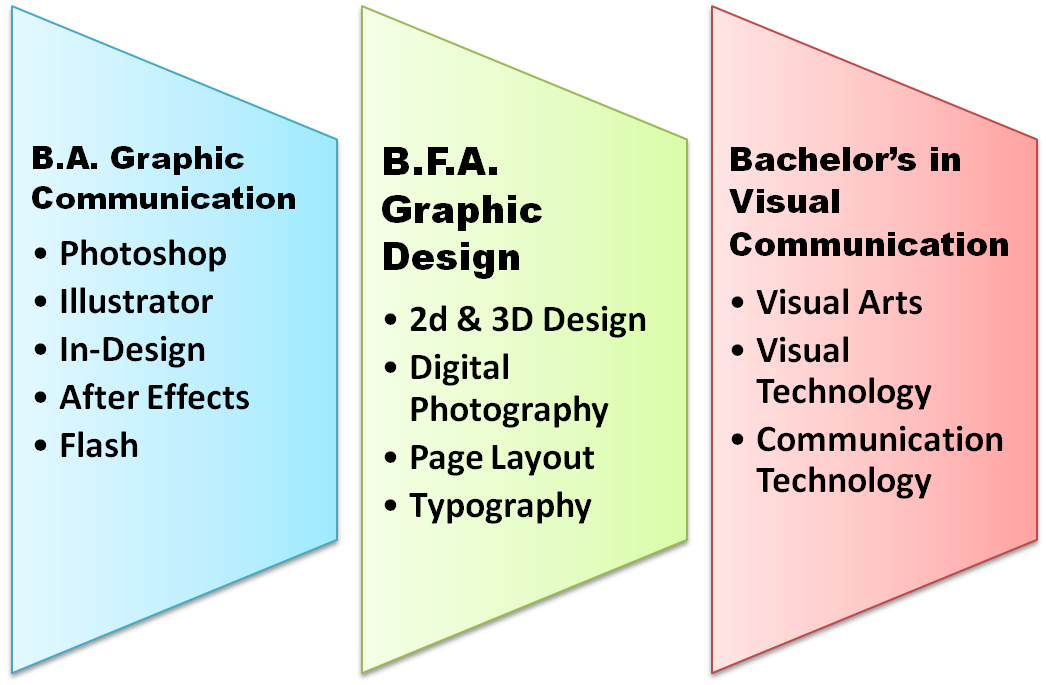 You may also start with an Associate's degree in graphic design. Courses should provide Adobe Flash and other Adobe programs such as Dreamweaver, Illustrator, and Photoshop. Graphic design programs may be the better choice since they tend to focus on creativity and design. As opposed to a program emphasizing web design that might be more technical in nature.
Education Resource
Individuals interested in pursuing a career in EGD can learn more about the profession at the SEGD website. They have numerous podcasts available to non-members for $30. For example, a 75-minute course title EDG Foundations begins with an overview of research and its impact on design and building codes. Then learn which research sources exist and where they are applicable.
You may also want to join the SEGD, a non-profit association of professionals who plan, design, and build experiences that connect people to place. They are a community of over 2,200 members from 35 countries who gather locally in 34 local chapters and internationally at the annual SEGD Conference and 6 other education events.
Additional Resources
What is a Degree in Graphic Design?
What are my Bachelor's Degree Choices in Graphic Design?
What are my Associate's Degree Choices in Graphic Design?
What is the Difference between a Degree in Graphic Design and Web Design?
What are my Choices for a Master's Degree in Graphic Design?
What Classes will I take in a Graphic Design Degree?
What Jobs are available with a Degree in Graphic Arts?