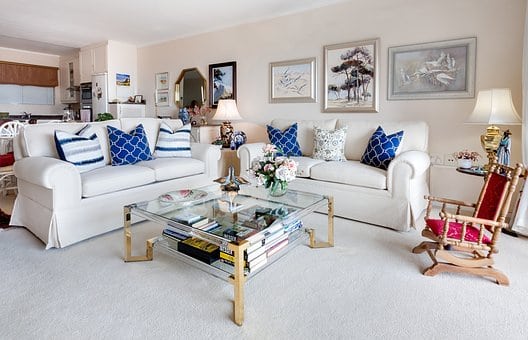 IMAGE SOURCE
Interior decorating refers to the art and science of making an interior space more aesthetically pleasing and functionally useful for its inhabitants. While the exterior of a building can sometimes also be included in interior decorating, the term usually refers solely to the interior design. The job of an interior decorator is to select the components of an interior space that best meet the wishes of the client. When faced with the task of decorating a room, an interior decorator has an array of techniques from which to choose. Some of the elements that must be considered include the furniture style and arrangement; traffic flow; bright or dull colors; blinds, curtains, and drapes; paint, wallpaper, and fabric; carpet, hardwood, laminate, tile, or other materials for the floor; and accessories such as lamps, sculptures, fans, etc.
Interior design is the art and science of understanding people's behavior to create functional spaces within a building. Decorating is the furnishing or adorning of a space with fashionable or beautiful things. In short, interior designers may decorate, but decorators do not design. Interior designers apply creative and technical solutions within a structure that are functional, attractive and beneficial to the occupants' quality of life and culture. Designers respond to, coordinate within the building shell, and acknowledge the physical location and social context of the project.
Interior decorators are all about aesthetics. They handle tasks such as selecting color schemes, purchasing new design items, arranging furniture layouts, and hanging wall art. Think of them as an expert who helps bring an entirely new look to an existing space.
Education
Since interior decorators generally focus solely on decorative details, there is less of a need for them to have a standardized education. Most will have undergone some sort of training program to learn about the foundational principles of interior design. Furthermore, a degree is not necessary. Though it may add to your credentials and benefit you in securing clients.
One way to start your training is to enroll in an online interior decorating course (not a degree) at the college level. The courses teach you the art of creating beautiful commercial and residential spaces. You learn to create color schemes, arrange furniture, choose flooring, and more. Other program topics include construction components and codes, space planning, and lighting and electrical requirements.
As a graduate of this type of program, you will be able to explain and apply general design theory fundamentals, such as design elements and principles, color theories and principles, and theories of composition. You will have a grasp of the human factors and functional considerations that come into account when designing living and working spaces.
In addition to learning about the aesthetic aspect of decorating, courses should address the skills to assess your clients. Since many interior decorators are self-employed, you need the skills to earn new clients and establish a rapport with them. Typically, it is the more affluent who hire interior decorators. Today, more middle-income families also understand the benefit of using these professionals. This will require professionalism and diplomacy dealing with varying personalities.
You can complete the interior decorating training online in as few as four months for about $700.
Certification Programs
Certified Interior Decorators International (C.I.D.) serves as a dual purpose certifying body and professional membership association exclusively for Certified Interior Decorators. Becoming a member of C.I.D. will increase your potential for acquiring clients and provide total access to the wholesale trade workrooms and furniture showrooms.
Their exclusive Certification program is taught in an easy, informative, and concise manner using online education or the Direct Workbook correspondence program. Teachings include Function of Interior Spaces, History of Furniture, Trade Showrooms, Use of Color, Lighting, Scale, and service charges as a Certified Interior Decorator. C.I.D. is also the only organization that can educate, test, and certify Interior Decorators.
This home study program consists of eight sessions with question and answer reviews after each, a session test, four enjoyable projects, drafting templates, an interior design color wheel, and the printed workbook for future reference. The 50-question final exam, which is included, is also the Certified International Decorators Entrance Exam. The cost is $895.00
Upon completion of the program and passing the C.I.D. Entrance Exam, you will be qualified to join C.I.D. Your first year of membership is included-a savings of $295.00.
There are other Interior Design courses approved by Certified Interior Decorators International. Graduates of these courses may qualify you to take the C.I.D. International preparation course and entrance exam after completing their coursework.
You may want to select a certificate program certified by the Designer Society of America (DSA). That means all Interior Design Students and Graduates are eligible for DSA's Residential Interior Design Qualification Certification (RIDQC). The RIDQC Interior Design Certification Exam is available to design individuals who have completed a course in interior design or have practiced interior design for 7 years or more.
The DSA also offers a Certified Residential Interior Designer Program. It is a self-paced online learning format that takes six months to complete. The current cost is $1,995 for 120 course hours. Graduates will be ready to take the Residential Interior Designer Exam and may participate in an optional 40-hour internship through DSA.