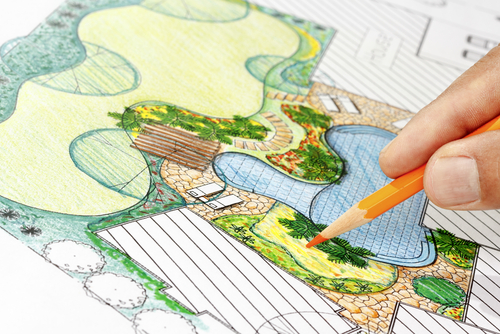 Earning a degree in landscape architecture may be an investment of time and money, but it opens up the profession for those wanting to be landscape architects. Indeed, some people have gone into the field and learned by experience, but the demands of a sophisticated and ecologically-minded culture make it highly unlikely experience alone will provide success today. To find out why this is true, we need to understand what a landscape architect is.
Landscape Architecture
Landscape architecture is designed in natural and created surroundings using the resources present. Landscape architects design parks and golf courses, hiking trails, urban plazas, housing development layouts and other outdoor spaces. According to the American Society of Landscape Architects, their work defines a community. That implies that they must first understand the community including its history, geology, usage and other factors.
What Does a Landscape Architect Do?
Landscape architects research, plan and design a project. They work with clients and construction companies and make field visits to ensure things are going according to the plans. These professionals are often utilized to design usable space that may restore endangered wetlands, remove toxins from rainwater in a public area and employ other environmentally responsible concepts so that people can interface with their natural surroundings. The little green area of refuge outside of the hospital is certainly an example of landscape architecture and may be an important factor in healing, according to an article on healing gardens on a governmental website. Other projects might include designing a college campus, a user-friendly hiking trail or an urban oasis where people can brown bag at lunchtime that also creates a way to combat erosion.
Those things are the big picture, but when looking at why this profession requires an advanced education, it is necessary to "zoom in" to daily activities. Again, referencing the American Society of Landscape Architects, the first thing a landscape architect will do when starting a project is visit with his client to discern the need and the vision. Next, the professional visits the site and looks at geological features, notes any problems and assesses the available resources. If the project impacts more than one or two people, the architect will visit with community members to get their input. He or she will brainstorm things like what makes the project special and how will it affect the personality of the surrounding community.
Only after getting that sense of the mission will the next step occur. The landscape architect makes sketches of his ideas and then further refines his ideas into a virtual or actual 3-D model which he presents to the client for his input. Once the details are solidified, the architect meets with the construction supervisor to ensure he or she understands the vision. The landscape professional visits the site regularly during construction and then afterward to make certain the design functions the way it was intended to.
Skills Needed
It is obvious that the professional needs many different aptitudes and skills. In an article in The Field Magazine architects were asked what skills they deemed most important. Although technical issues were listed, the most frequent response was communication skills. The responders also mentioned the ability to visualize and think in three dimensions. They noted that landscape architects had to be able to think in terms of how a project would involve transportation, architecture, sociological processes, ecology, engineering and other disciplines. Self-confidence was another trait professionals thought important. All the things listed by professional landscape architects as vital stem from training.
Kinds of Degrees
People can get into this field with the equivalent of an associate degree. The problem is that to be proficient they must understand concepts in engineering, geology, ecology, psychology and other disciplines. Those competencies require more than a few months of training.
The Bachelor of Landscape and the Bachelor of Science in Landscape Architecture are offered at many universities. The Bachelor of Landscape Architecture may take longer to earn, and contain more fieldwork. It also concentrates more on design with work in studios and stresses cooperative urban planners, engineers and ecologists among others. The Bachelor of Science in Landscape Architecture is a four-year program that includes courses in things like soil science, landscaping plants, ecology, and other disciplines. The degree is broader in focus. Both degrees will require field experiences and internships. There are, of course, graduate degrees for people who want to work in management in a firm or at an advanced level in governmental positions.
Another reason to earn a degree in this field is that almost all states require landscape architects to be licensed, and licensing requires that they have a degree and internship experience. The primary licensing examination is the Landscape Architects Registration Examination.
Job Outlook and Salary
Landscape architects earn good salaries, and they impact the economy in many ways. For one thing, their contribution to housing developments make the homes more attractive to residents and also to businesses, creating a more robust economy in the area. In 2015, landscape architect services contributed 2.7 billion dollars to the US economy. For that reason, these professionals are in demand and the competition for jobs is keen. The Bureau of Labor Statistics says the median pay for these professionals is $68,230 per year. Professionals working for the government earned the most at $87,150. Only about 20 percent of landscape architects are self-employed.
While some people work at this profession who maintain that on-the-job- training is adequate for employment, it is obvious that practitioners need degrees for several reasons. The skills and competencies they must have across many disciplines would take several years to learn outside of a degree program. Additionally, states require that all professional landscape architects must be licensed, and a degree is required for licensing. While people without degrees may work as landscape architects, to be licensed and recognized as this type of professional by the state and by employers practitioners must have degrees from accredited schools.
Related Resources:
What Degree Do I Need To Become A Landscape Architect?
What Does a Landscape Architect Actually Do?
What Other Kinds of Jobs Can a Landscape Architect Do?
Are Landscape Architects in Demand These Days?
What is Landscape Architecture?
What is the Typical Salary for a Landscape Architect?
If I Want to Be a Landscape Architect, What Kind of Bachelor's Degree Should I Look For at a School?
What Skills Does a Landscape Architect Need?
Which Computer Programs Will I Need to Learn and Excel at as a Landscape Architect?
If I Want to be a Landscape Architect, Am I Likely to be Self-Employed or Are There Companies That Hire People For This Job?
Does a Landscape Architect Only Work on Outdoor Projects?
Is a Degree or experience more important in Landscape Architecture?